Spring 2021 Guide to the Momentary

Springtime is blooming, and the Momentary is alive with art and activities! From contemporary art and new exhibitions found all around the galleries and grounds to new programs and culinary offerings, there is plenty to do both inside and outside at the Momentary this spring.
But first, your safety is our top priority. We are fully aware that we are still in the midst of COVID-19 cases in the area, so we are taking extra precautions to help you enjoy your visit with peace of mind. The Momentary requires visitors and staff to wear face coverings for ages 10 and older indoors and outdoors, except when eating and drinking. Face shields and face coverings with exhaust valves or vents are not allowed. Masks are available for those who do not have one.
Use this guide to plan your spring 2021 trip to the Momentary: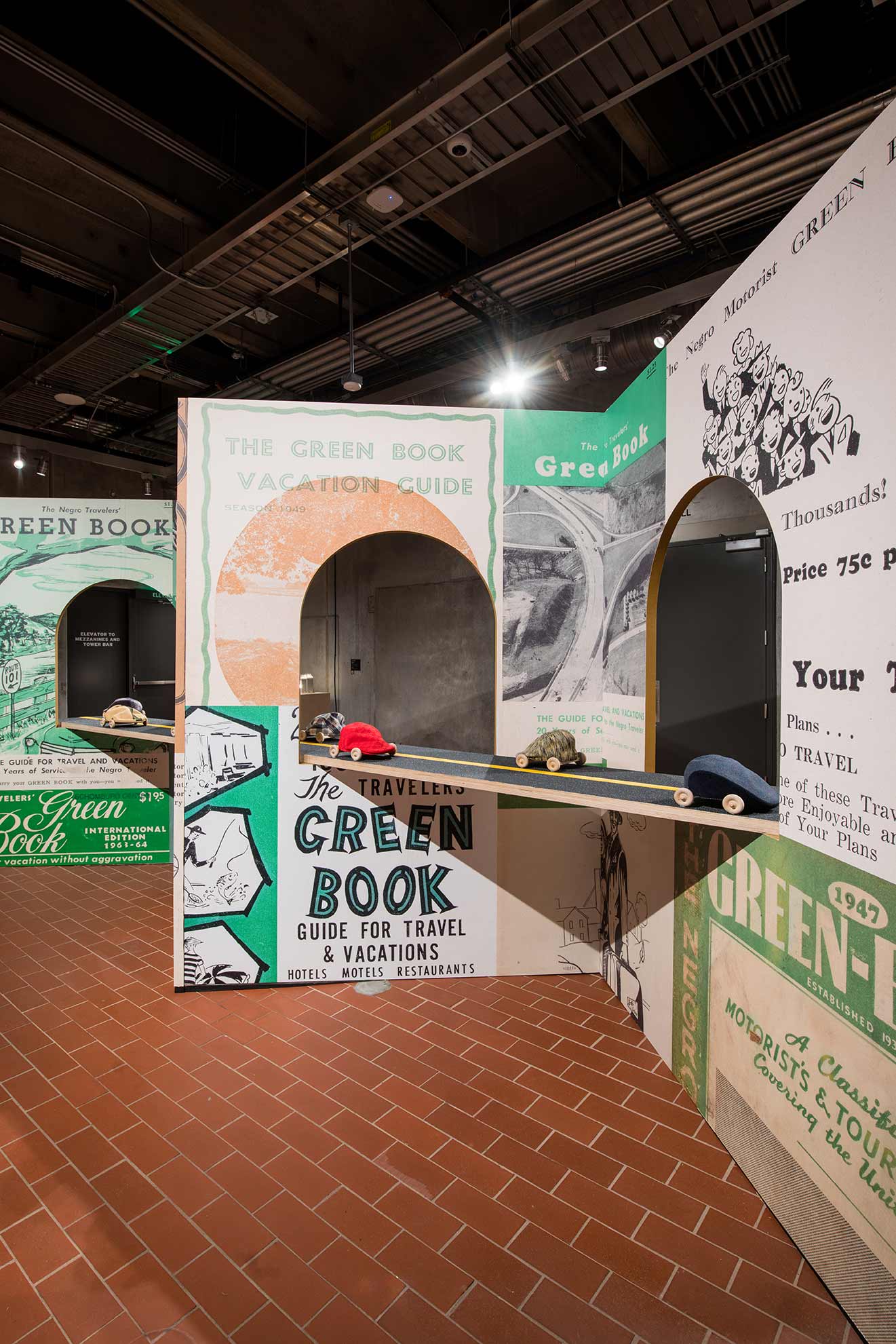 The Galleries are brimming with visual art
Three new exhibitions are now open in the Momentary's Galleries for everyone to enjoy. Sarah Cain: In Nature can be found in the Lobby Gallery, Derrick Adams: Sanctuary is located in Galleries 1 and 3, and Diana Al-Hadid: Ash in the Trade Winds is located in Gallery 2.
Bonus! Continue exploring the themes found in Derrick Adams: Sanctuary in our engagement space, located in the Breakroom area (just off Gallery 1). The space will offer recommendations for books, films, and podcasts to learn more about Black American travel. It also offers a "Plan Your Road Trip" activity, where visitors can plan an American road trip using locations approved in The Green Book. The activity examines how the size of the world can change depending on the color of your skin.
And the best part? All three exhibitions are FREE to view!
Any other new visual artworks? 
I'm glad you asked! Check them out below: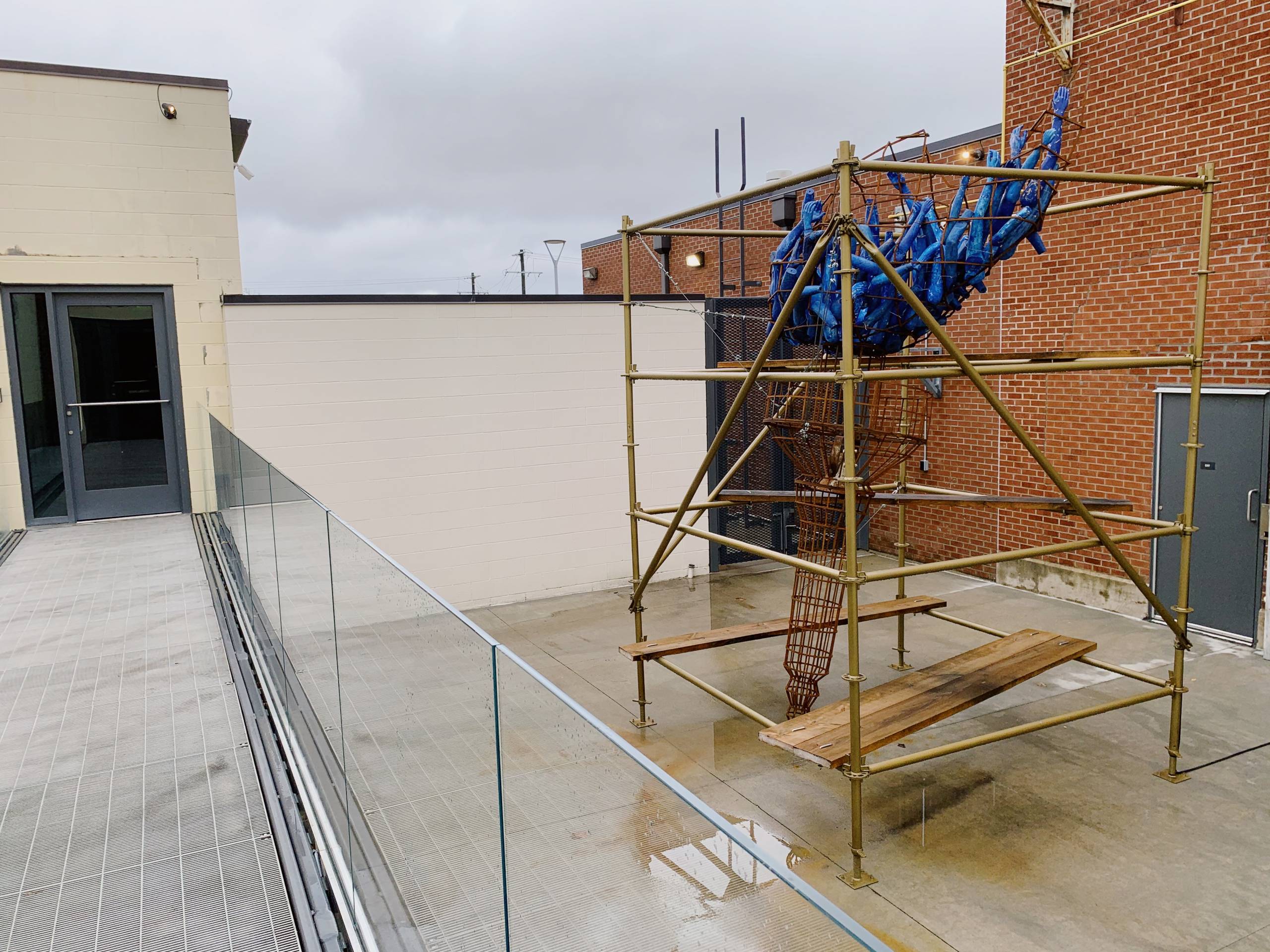 Light of Freedom by Abigail DeVille
Abigail DeVille's newly commissioned public work, Light of Freedom, is installed outdoors at the Momentary (accessed through the galleries). The project is a 13-foot-tall reference to the Statue of Liberty's torch encased in scaffolding and filled with found objects. With this work, DeVille reflects the despair and exultation of this turbulent period of pandemic and protest.
Any upcoming events I can engage in? 
YES. Wow, you ask the best questions! We have several events happening this season (keep checking in for updates), as varied and unparalleled as what you expect from the Momentary. All you need is an open mind: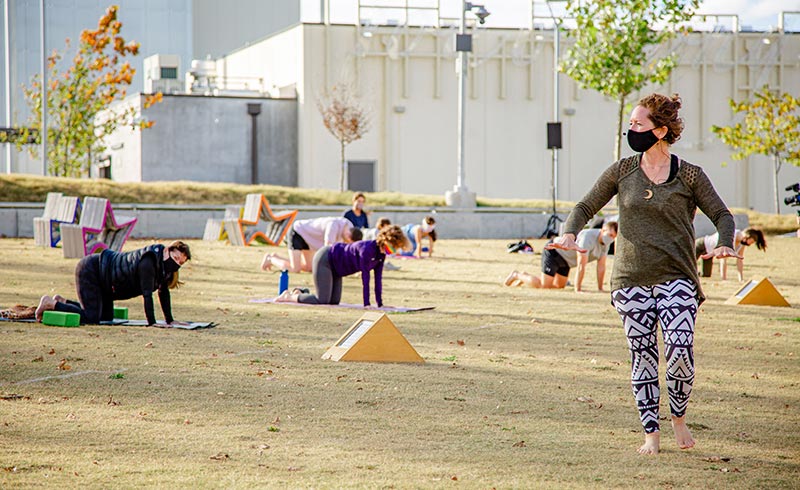 Do Some Yoga on the Momentary Green
Sunday, April 18, 2 pm
Join us on the Momentary Green for a Sunday Reset yoga practice led by Suzie Atkin. We'll explore meditative yoga, combining slow and gentle movement with breath to create an inner atmosphere of calm and groundedness. A beautiful and simple way to reset and release built-up stress in the body and mind. Be sure to bring your own yoga mat or picnic blanket, water bottle, and any props you may need for your yoga practice. We'll have circles outlined on the green for your practice, and masks are required.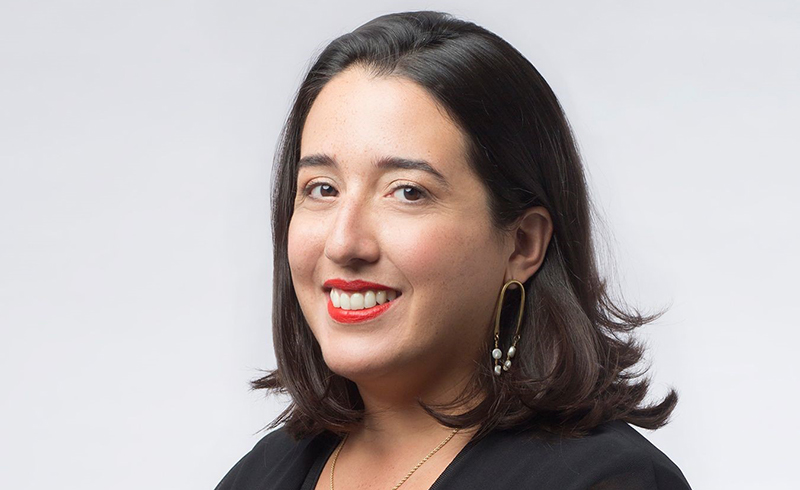 Have Lunch with Live in America
Tuesday, April 27, 12 pm
So we have this really cool event called the 2021 Live in America Festival coming to the Momentary this fall. In advance of the event, the Momentary is hosting virtual conversations to share additional insight about the festival between Carra Martinez, director of Live in America, Cynthia Post Hunt, programmer of theater and dance at the Momentary, and the artists and facilitators from select communities. Join us for the next virtual lunch with Puerto Rico facilitator Marina Reyes Franco. It's free!
Spend time outside at the Momentary
It's time to get back outside in the warm, fresh air. At the Momentary, there are plenty of opportunities for the whole family to enjoy the grounds, grab a bite, sip on a cool drink, and even play a game of bocce ball!
Grab a bite at the Momentary Food Truck
Feeling hungry? The Momentary Food Truck offers delicious kebabs, loaded fries, and beverages. Hours are Tuesday-Thursday, 4 to 9 pm; Friday, 4 to 10 pm; Saturday, 12 to 10 pm; Sunday, 10 am to 2 pm.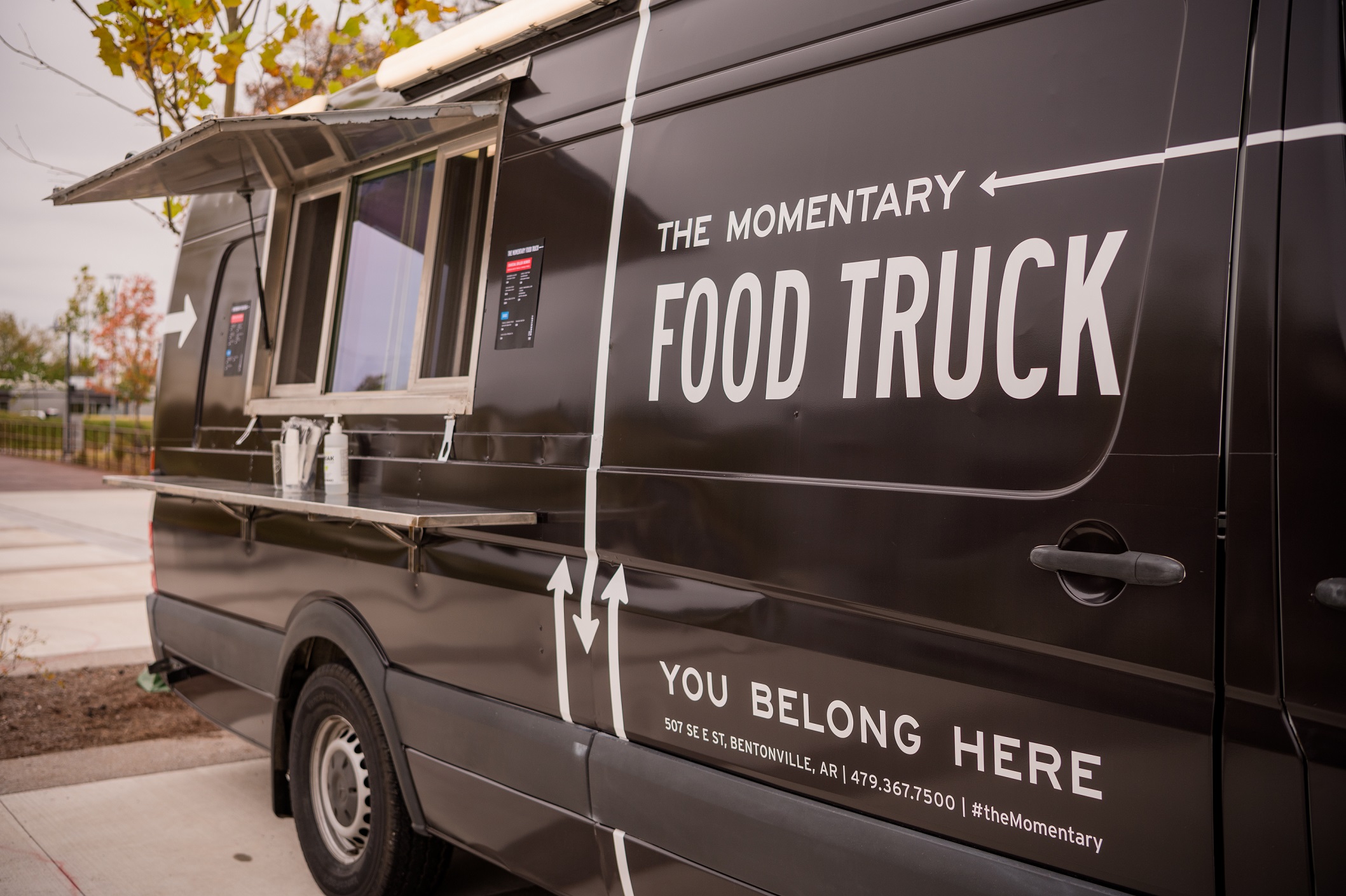 Grab a drink at the RØDE Bar
Cool off at the patio-style outdoor RØDE Bar with a selection of snacks and drinks. The RØDE Bar also offers fun, kid-friendly drinks such as Lil' Cookie Monster (double hot chocolate, whipped cream, cookie crumbles), Lollipop Fizz (grenadine syrup, sparkling water, fruit), and beginning in April, a Lemonade Stand drink infused with different fruits!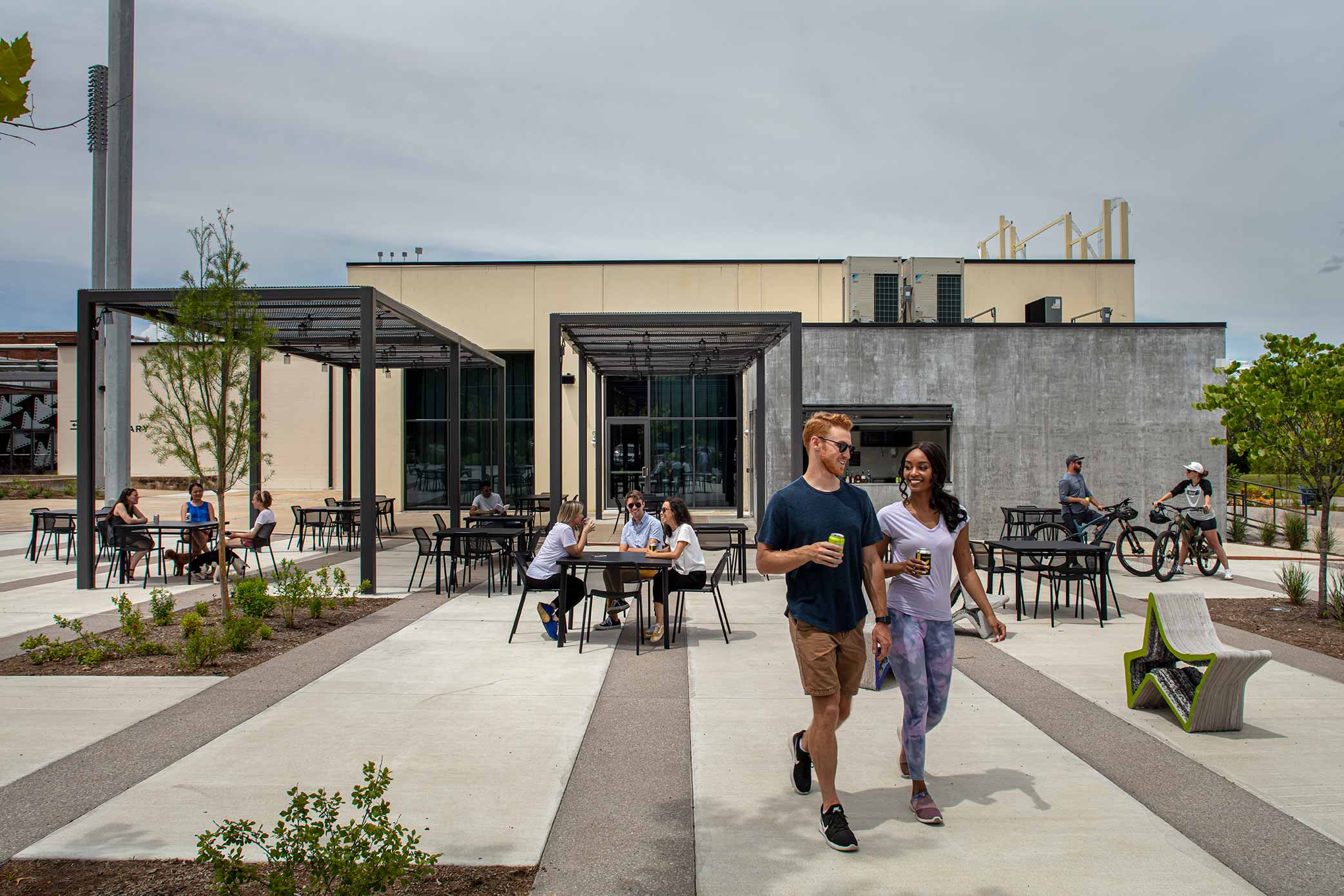 Rent a bocce ball court
Our bocce ball lane is back! Nestled under the You Belong Here neon sculpture (not under the Canopy), our bocce lane is first come, first served. Bocce ball is $10/hour ($8/members), and if you're a Momentary member, enjoy FREE bocce ball on Wednesdays. Have a ball!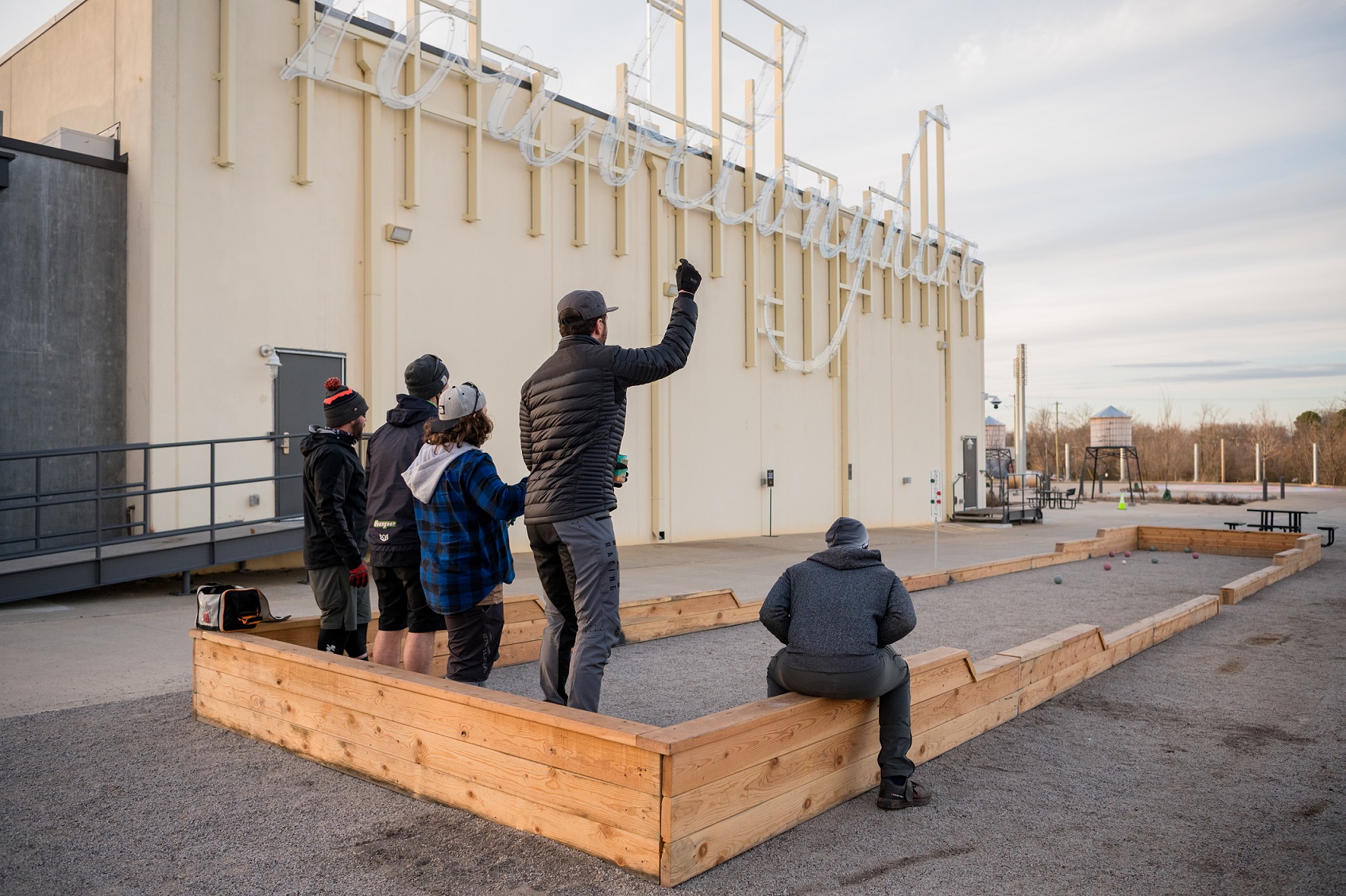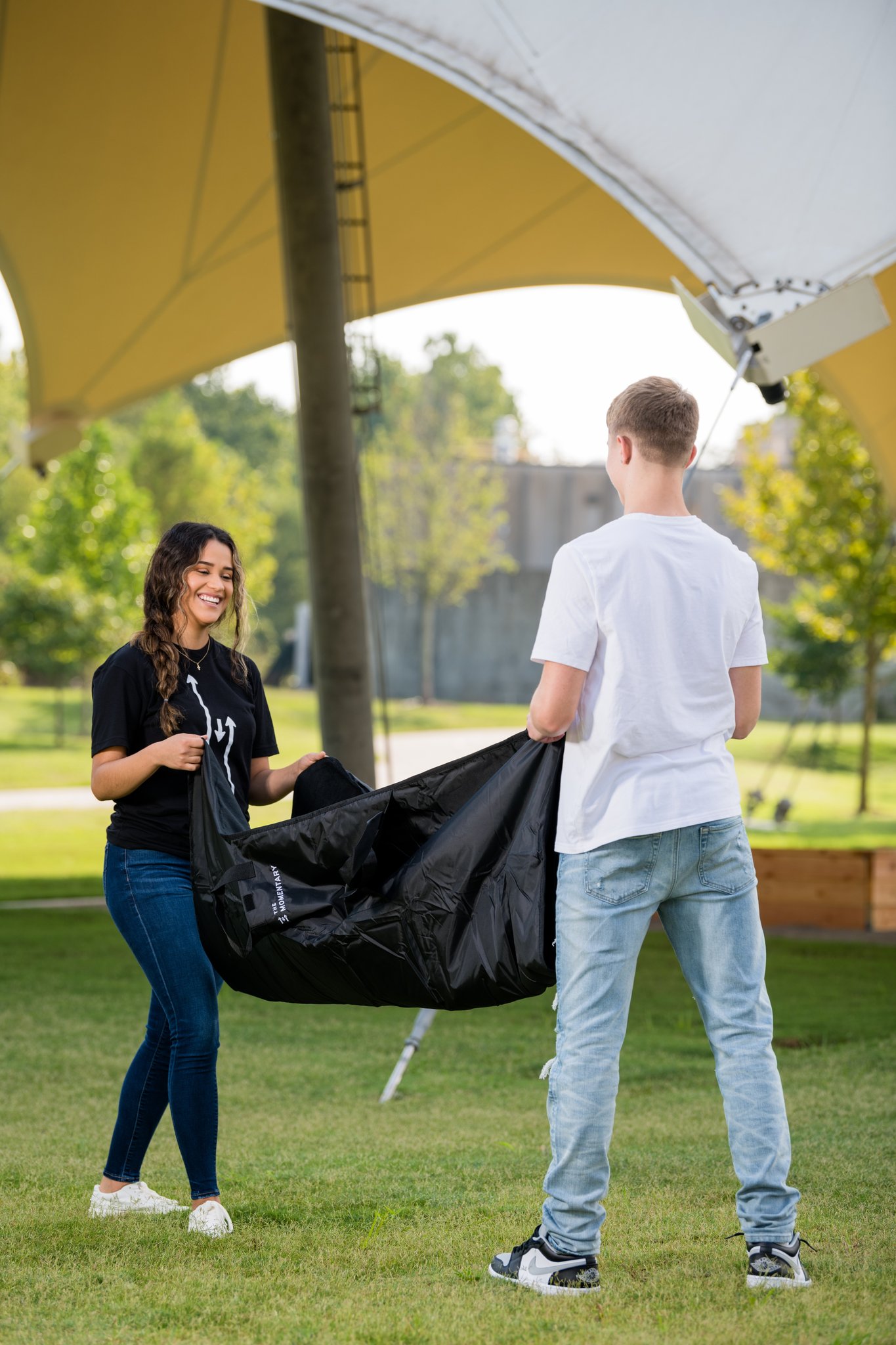 Pick up an outdoor blanket at the Momentary Shop
Want to spread out on the Momentary Green with your food truck bites and RØDE Bar drinks? Pop into the Momentary Shop (or shop online!) and pick up a branded Momentary outdoor blanket. The soft, durable polyester microfleece is great for picnicking, napping, or wrapping up. The bottom layer has a durable, water-repellent finish and it is machine washable. Sink into the soft fleece and relax.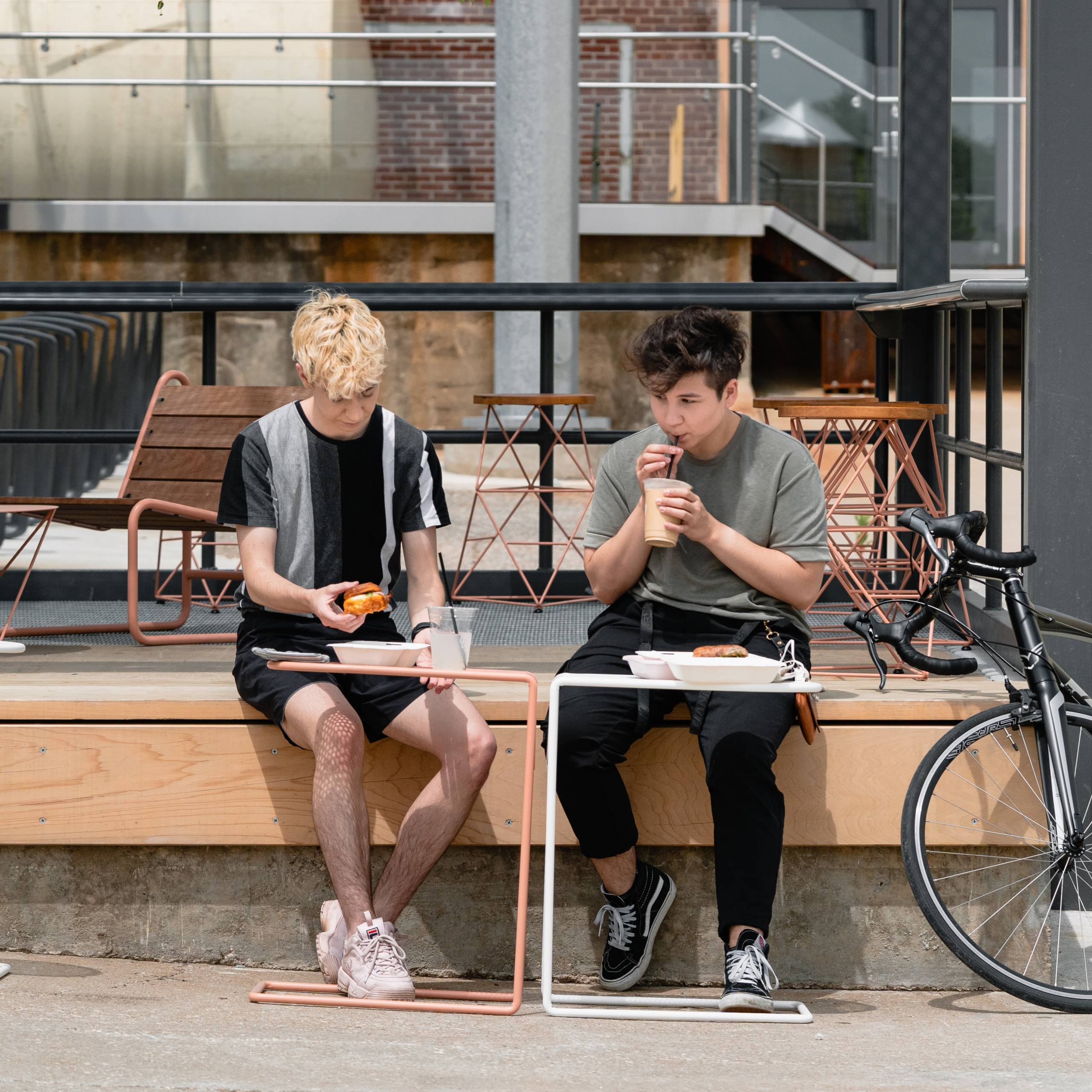 Grab an iced coffee at Onyx Coffee Lab
Why not pick up an iced coffee to sip on while sprawled on your picnic blanket on the Momentary Green? Luckily, Onyx Coffee Lab is just steps away and offers all the cold (and hot) drinks you know and love from the coffee brand. Enjoy springtime drinks such as a Cherry Blossom Latte, Yuzu White Mocha, or a Blintro (nitro cold brew with blueberry foam and maple spritz). Bonus: our Onyx location has an outdoor walk-up window for ordering drinks outside or on-the-go!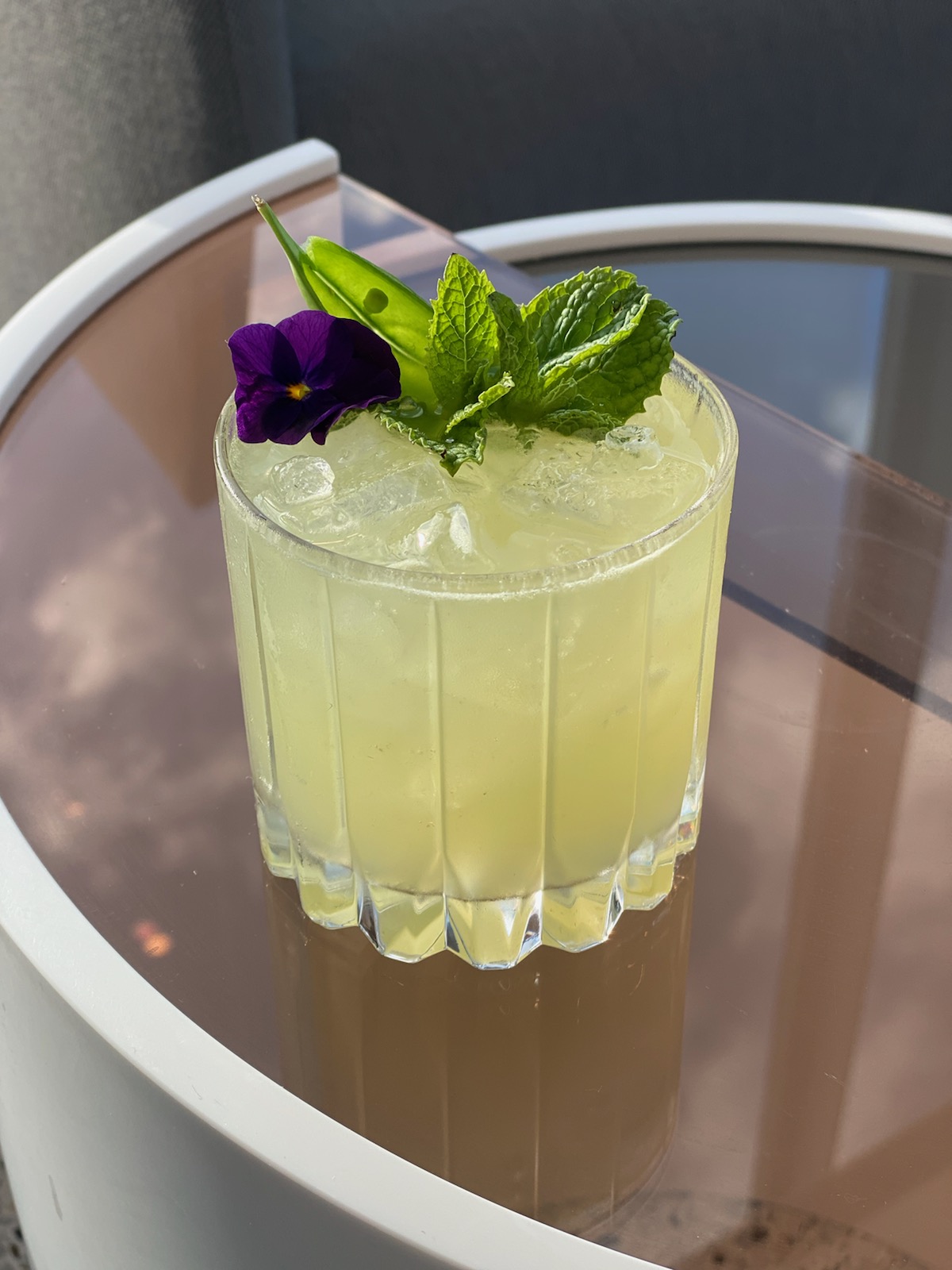 …For a Springtime Cocktail
Oh, snap, the Tower Bar-tenders are at it again! Come up to the Tower Bar and try their newest creation. This lovely cocktail is inspired by anticipation of spring and all that is new and fresh. It has a vibrant and bright flavor profile with a bit of pepper spice. It will put you in the mood for warmer days, too!
OH, SNAP!
Maestro Dobel Diamante tequila, house-made sugar snap pea syrup, fresh lime juice, dry vermouth, English cucumber, house-made black pepper tincture, fresh mint, and viola pansy.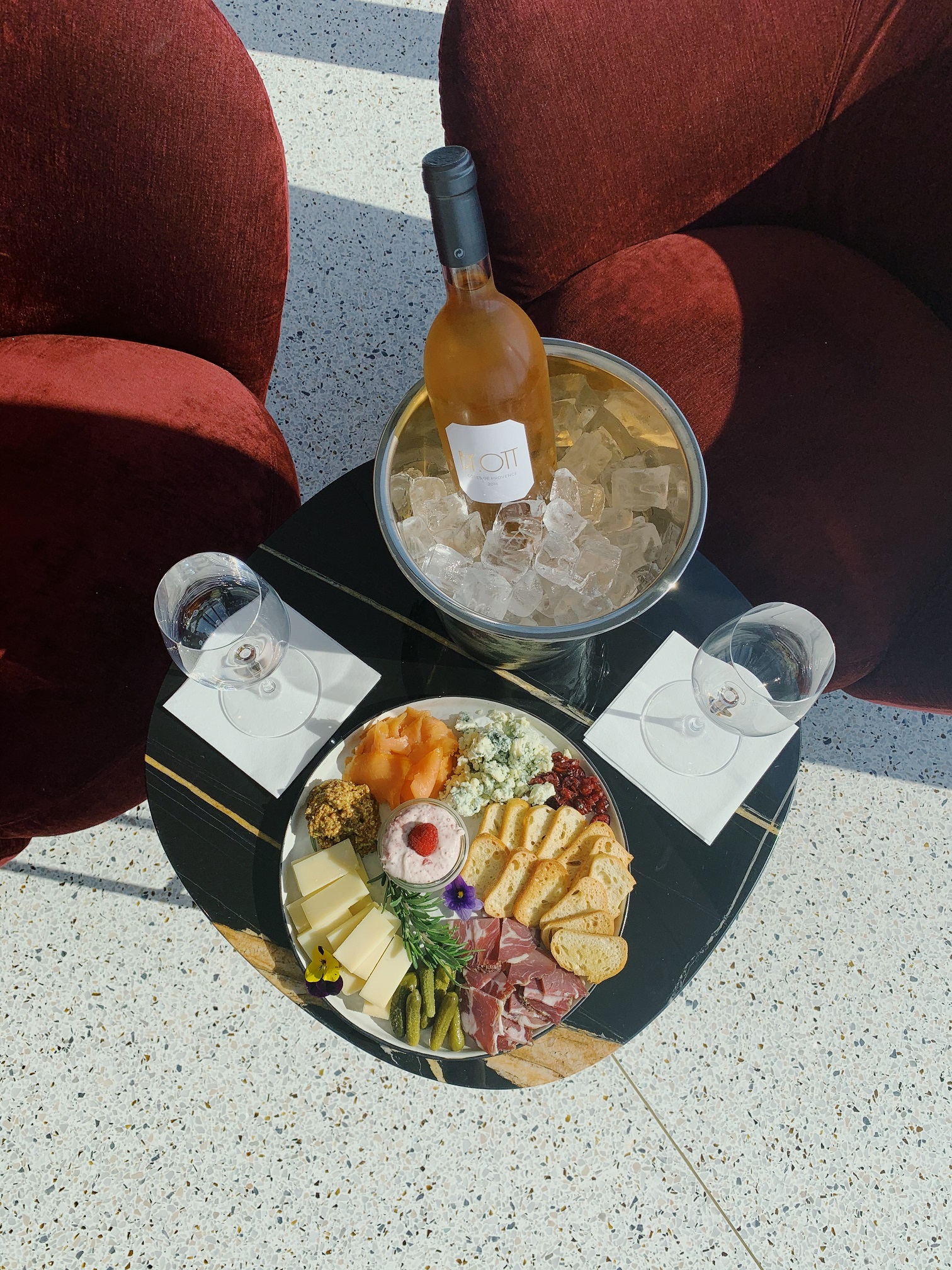 …For a Weekday Special
Want to avoid lines at the Tower Bar? Come visit us on Tuesday, Wednesday, and Thursday nights and indulge in a weekday special that can't be beaten! On weekday evenings, the Tower Bar is offering a charcuterie board and full bottle of wine special for $40. Split it with a friend and save while enjoying soaring views of Bentonville with your bestie.
See you at the Momentary!