EMERGE: Design as Practice | Big Sister and Bruce Davis
Presented in collaboration with Arkansas Arts & Fashion Forum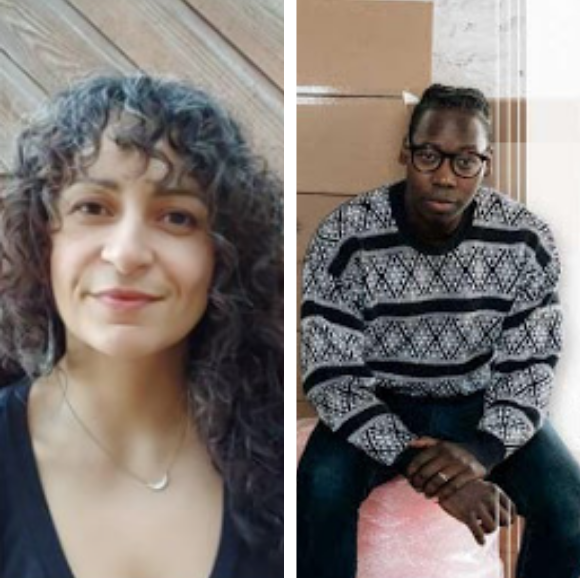 Designers Big Sister and Bruce Davis will each present four looks inspired by Nick Cave: Until. The pieces are all created in response to conversations between the designers and artist Nick Cave, and are developed as part of the EMERGE program with Arkansas Arts & Fashion Forum. Their work will be shown on models moving throughout Gallery 2 over the course of an hour, allowing guests to visit anytime during that time period to ensure proper distancing in the Gallery.
Free, no registration required.
Safety is the Momentary's top priority. The Momentary is operating at a one-third capacity with staff monitoring onsite to ensure proper distancing is taking place. The Momentary requires visitors and staff to wear face coverings for ages 10 and older indoors and outdoors. Following the most recent recommendations from the CDC, face shields and face coverings with exhaust valves or vents are not allowed. Masks are available upon entry for those who do not have one.
ABOUT THE DESIGNS
In her work, Big Sister ponders the word "until" and it's caged-like quality — a functional word that withholds an outcome as in "guilty, until proven innocent." She further draws inspiration from the caged, web-like or netted imagery of Nick Cave: Until — the beaded walls, the butterfly nets, the spinners as they rotate, creating patterns within patterns.
In his work, Bruce Davis uses his own vivid dreams as a response to the question "is there racism in heaven?" and further explores whether racism is an inherited or a learned trait. Through his presentation, Davis allows and encourages viewers to look beyond the surface of standard racism and privilege and consider what it does to families, the economy, and our hearts.
The Fashion Show is part of the Artist Responses to Nick Cave: Until, and is presented in collaboration with Arkansas Arts & Fashion Forum.
ABOUT BIG SISTER
Big Sister is a Fashion Design Studio started in 2017 by Brandy Lee in Austin, Texas. Brandy Lee's goal is for Big Sister fashion to "feel good for everyone." Lee was one of two winners of Northwest Arkansas's first Fashion Week runway competition in 2019. She was the recipient of the 2019 AAFF Designer Cohort Award. She was selected by guest judges Deanah Bake, Senior Vice President of Walmart Apparel US, Jayne Harkness, President of J.H.G & Partners and Business Mentor for the Council of Fashion Designers of America, and Gabrielle Korn, Fashion Writer, Editor, and former Editor-in-Chief of Nylon Magazine. Lee, who now lives in Fayetteville, Arkansas, is a member of the 2020 EMERGE cohort and designs and handcrafts each garment with an attention to detail and superb craftsmanship for her brand.
ABOUT BRUCE DAVIS
Bruce Davis began freelance fashion design as a teenager. Although he majored in biology at the University of Arkansas as a concession to his father, Davis created a bowtie to wear to a wedding in 2015 which ultimately led to launching his own accessory line, later known as 22nd Element. Naturally, his creations evolved to include cutting edge prep fashions with deep meaning and undeniable style. After a 2019 fire destroyed his creations for Arkansas Fashion Week, Davis took inspiration from the event to create the Rebirth Collection on a tight timeline. In 2020, Davis serves as the inaugural Designer in Residence for EMERGE presented by the Springdale-based Arkansas Arts & Fashion Forum.
ABOUT THE ARKANSAS ARTS & FASHION FORUM
The Arkansas Arts & Fashion Forum (AAFF) is an arts and culture organization that provides educational and social programming dedicated to fostering the growth of the fashion and creative industries in Arkansas. AAFF has a programmatic focus on teaching transferable skills that can be utilized across mediums in pursuit of entrepreneurial opportunities for those invested in creating and making through arts and fashion. Inclusivity is at the core of AAFF's values and is not only something the organization constantly recognizes, it is a central element of the AAFF strategy.