Tastemakers | Matthew Cooper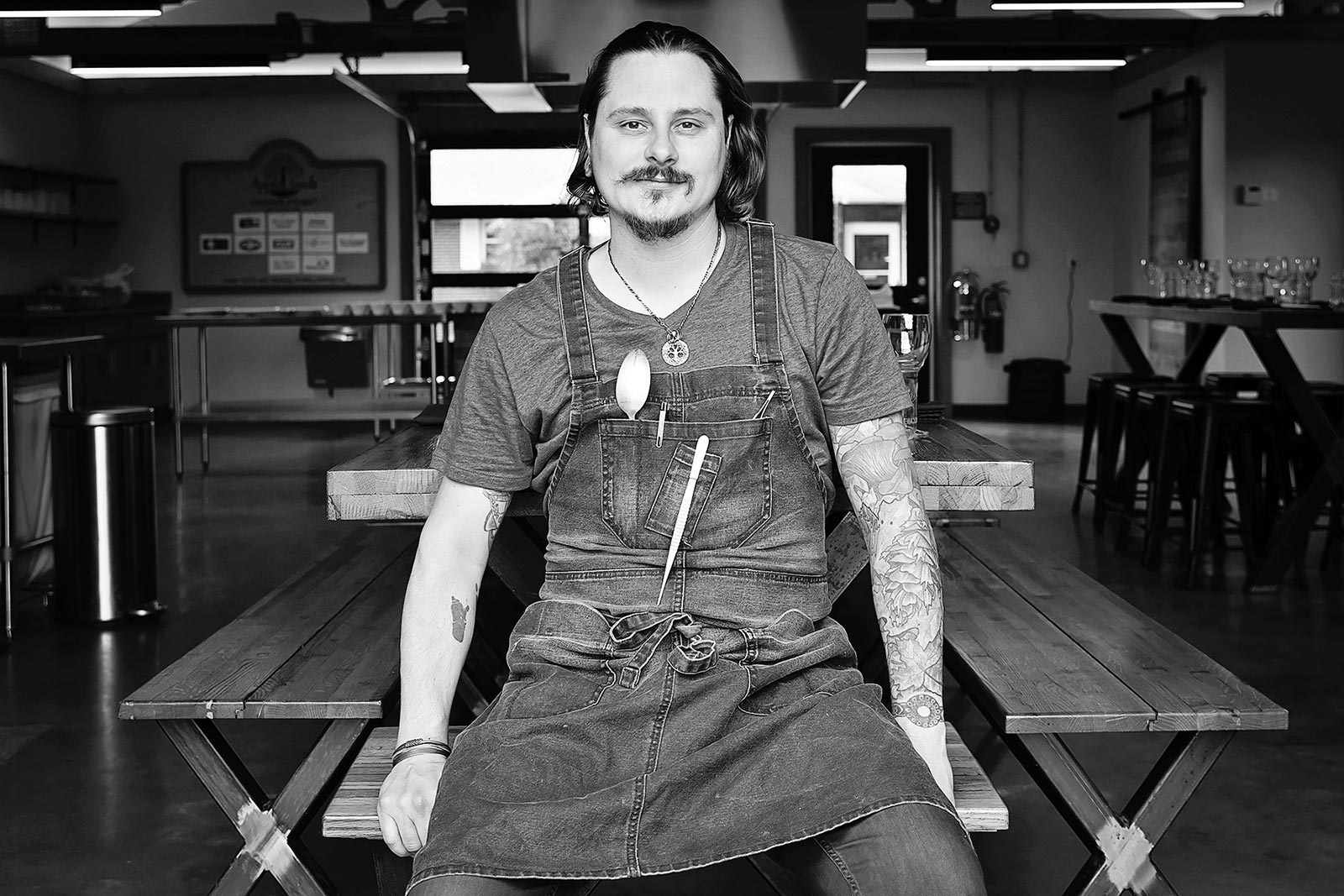 Let's do holiday dining, Momentary-style.
This December, we've invited beloved local Chef Matthew Cooper (who is slated to open a new restaurant on the Bentonville Square in spring 2022) to create a showstopper of a holiday spread as only he can do. Gather your loved ones and treat yourself to a special three-course dinner served in the RØDE House, complete with a welcome cocktail and wine pairing selections with each course. A cash bar will be available for the purchase of beer or liquor during the event. All of Chef Cooper's menus are gluten-free. A vegetarian menu is available, however no other substitutions are offered.
ABOUT THE CHEF
Matthew Cooper was born and raised in Arkansas with a family steeped in food and community building. His mother's side of the family were food technologists and educators, his grandfather was one of the founders of the food technology program at the University of Arkansas at Fayetteville. Matthew attended Le Cordon Bleu in the Pacific Northwest, learning the importance of farm-to-table dining in the region.  He then returned to Arkansas to connect with local farmers and dive into teaching and building restaurants. Matthew's latest project was creating the atmosphere, food, and relationships with local farmers while at The Preacher's Son.  Matthew prioritizes his family both in and out of work, where he spends time with his wife of 20 years, Priscilla, their daughter, and two dogs.
ABOUT THE SERIES
Our Tastemaker Series spotlights local, regional, and national innovators who are making an impact in the world of food today. From panel discussions and masterclasses to tastings and dinners, each event is designed to spotlight the very best of today's culinary arts.
Tickets are $125 + tax ($100 + tax/members), register online or with Guest Services at (479) 657-2335 to reserve your spot today.
Must be age 21+ to attend. 
HEALTH POLICY + ENTRY REQUIREMENTS
Safety is our top priority. Full COVID-19 vaccination or proof of a negative COVID-19 diagnostic test within 72 hours (3 days) will be required for all attendees to the Tastemaker series at the Momentary. Proof must be shown upon entry alongside a valid photo ID. At-home COVID-19 tests will not be accepted. Additionally, we require all visitors and staff to wear a face covering during their visit. Guests may remove their face covering to eat or drink. Masks will be available upon entry for those who do not have one.
All attendees must have received a negative COVID-19 diagnostic test within 72-hours before the event and provide printed proof of a negative result prior to entering the venue OR be fully vaccinated against COVID-19 (at least two weeks after final dose) and provide proof of vaccination – either the original vaccination card or a printed/digital copy of the vaccination card. At-home COVID-19 tests will not be accepted.
A list of nearby COVID-19 testing locations can be found online here.