Virtually There | Gospel Trio: "A Song in the Night"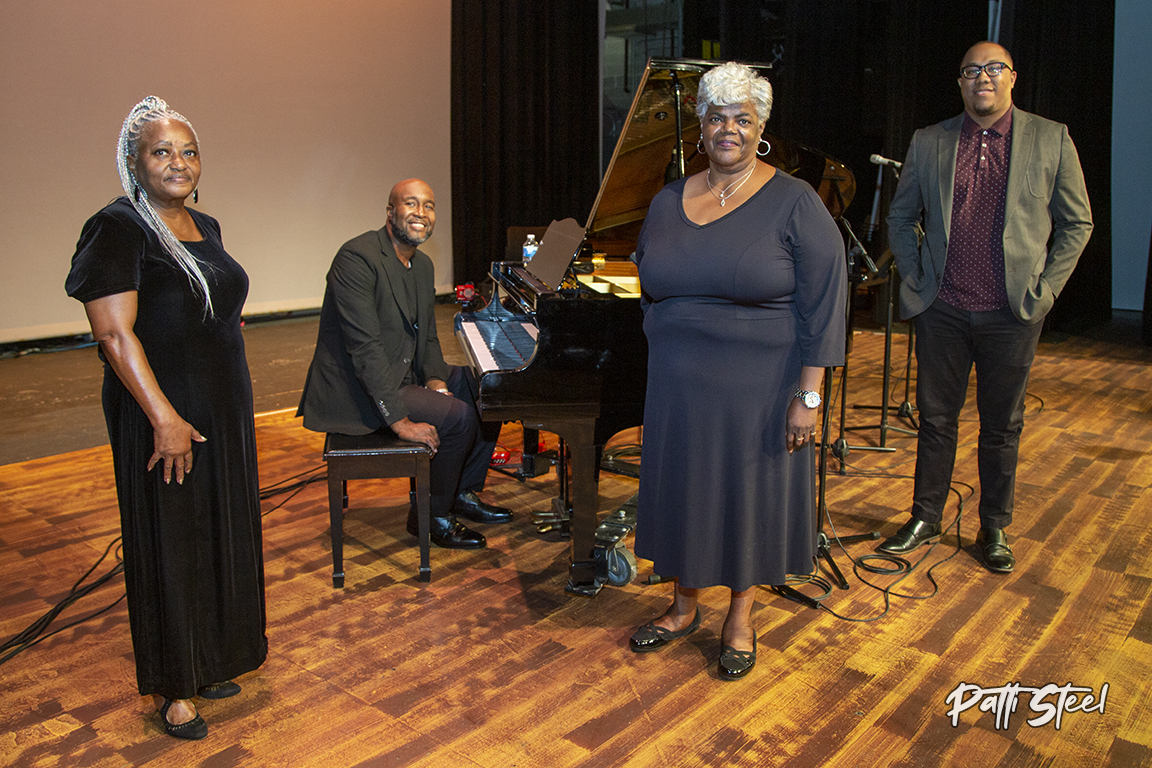 Take a step into the homes, studios, and lives of different artists from around the world with Virtually There, a new monthly series by the Momentary. Featuring artists spanning dance, theater, and music, you'll be able to learn more about the artists, experience some of their work, and have the opportunity to engage in conversation with them – all virtually! New artists and programs will be announced each month!
For this iteration of Virtually There, guest curator Anthony Ball brings a gospel music experience to you in celebration of National Gospel Music Month with Gospel Trio: "A Song in the Night," featuring multi-talented Northwest Arkansas pianist Reginald James and vocal powerhouses Ella Donnell Lambey and Ocie Fisher.
A Note from Guest Curator Anthony Ball:
"This event is designed to share the gospel music experience with you. Gospel music provides a message of hope for the ages. We'd like to use gospel music to take you on a journey for Black America that represents the quest for God, freedom, and family in America. Many of these compositions will be from the early twentieth century.
A key figure in the development of gospel music was Thomas A. Dorsey (1899 to 1993). Referred to today as the father of gospel music, Dorsey pioneered the form in Chicago. Before devoting his career to the development of gospel, Dorsey, the son of a Georgia Baptist preacher, was a prolific blues and jazz composer and pianist. The energetic rhythms and primal growls of secular music heavily influenced Dorsey's sacred composing style.
The shift from spirituals to gospel is evident in the recordings of African American religious songs recorded in the 1930s and '40s. The Holloway High School Quartet of Murfreesboro, Tennessee, recorded by John W. Work, III in 1941, provides an example of a traditional spiritual arrangement with a four-part harmony in "Old ship of Zion." These songs and others like them ushered in a new period of sound for black music in America.
Tonight our soloist herald from Northwest Arkansas."
About the Featured Artists:
Ocie Fisher was born and raised in Northwest Arkansas. She joined her church choir at a very young age and blossomed quickly with vocal talent. Fisher is in the Northwest Arkansas Music Awards Hall of Fame, and is a four-time Female Vocalist of the Year. Today, Fisher enjoys singing her favorite artists' tunes with an original twist, provided by a backing band of well-seasoned musicians.
Ella Donnell Lambey is a native of Altus, Oklahoma, but has been an Arkansas resident since 2002. One of her favorite things to do is sing. She began singing at a very early age in the children's choir at her home church in Altus, Oklahoma. Lambey had the honor of singing for the dedication of the Richard B. Atkinson Memorial Courtyard at the University of Arkansas School of Law where President Bill Clinton was the keynote speaker.  Lambey has been featured as the lead singer of the St. James Missionary Church CD, which charted on XM Radio in 2016.
Reginald James is a 1997 graduate of the University of Arkansas with a B.S. in Computer Science and Mathematics. He completed a M.S. in Education in 2004 from Bethel College in McKenzie, Tennessee. James is a pianist and organist, and enjoys playing a wide variety of music from jazz and country to R&B, but his passion is church music. He has performed and shared the stage with gospel music greats including Kirk Franklin, Walter Hawkins, Point of Grace, Ben Rector, Dorinda Clark-Cole, O'Landa Draper, and The Associates to name a few. For over 30 years, James has been involved in Music Ministry, and directed several local, regional, and national bands and choirs. In 2007, he joined the Christian Life Cathedral staff in Fayetteville, Arkansas as the Worship and Arts Pastor. During the last decade James has been actively involved in music production, and has arranged, recorded and produced several projects for individuals all across the country. James finds fulfilment in helping other organizations and individual musicians achieve their goals and visions.
About Guest Curator Anthony Ball:
Anthony Ball was born ten minutes from Music City Memphis, in West Memphis, Arkansas. His family is filled with musically gifted musicians and singers. Raised by his grandfather Paul Mosley, an old-school barber, his Grandmother Evelena Ball, and his mom Mary Ball, both church singers, Ball was raised on music like Al Green, The Temptations, Shirley Caesar, Fred Hammond, and others.
While his training ground was the gospel church, Ball's professional career started after moving to Fayetteville, Arkansas in May 2007 to attend the University of Arkansas on a full scholarship to study music and business. He began touring all over the country, and has worked with Paul Jackson Jr., Myles Savage of The Platters, Vernon Reid of Living Colour, Blind Boys of Alabama, Byron Cage, Bobby Rush, Richard Smallwood and more.
In 2010, Ball started his booking agency, Smoothman Music Production, to provide premier party bands and DJ entertainment experiences throughout the Midwest region. He now employs over 30 musicians and DJs. In the fall of 2019, Ball co-founded Music Moves, a nonprofit organization promoting African American Black music through curriculum and performance.
Free, no registration required.