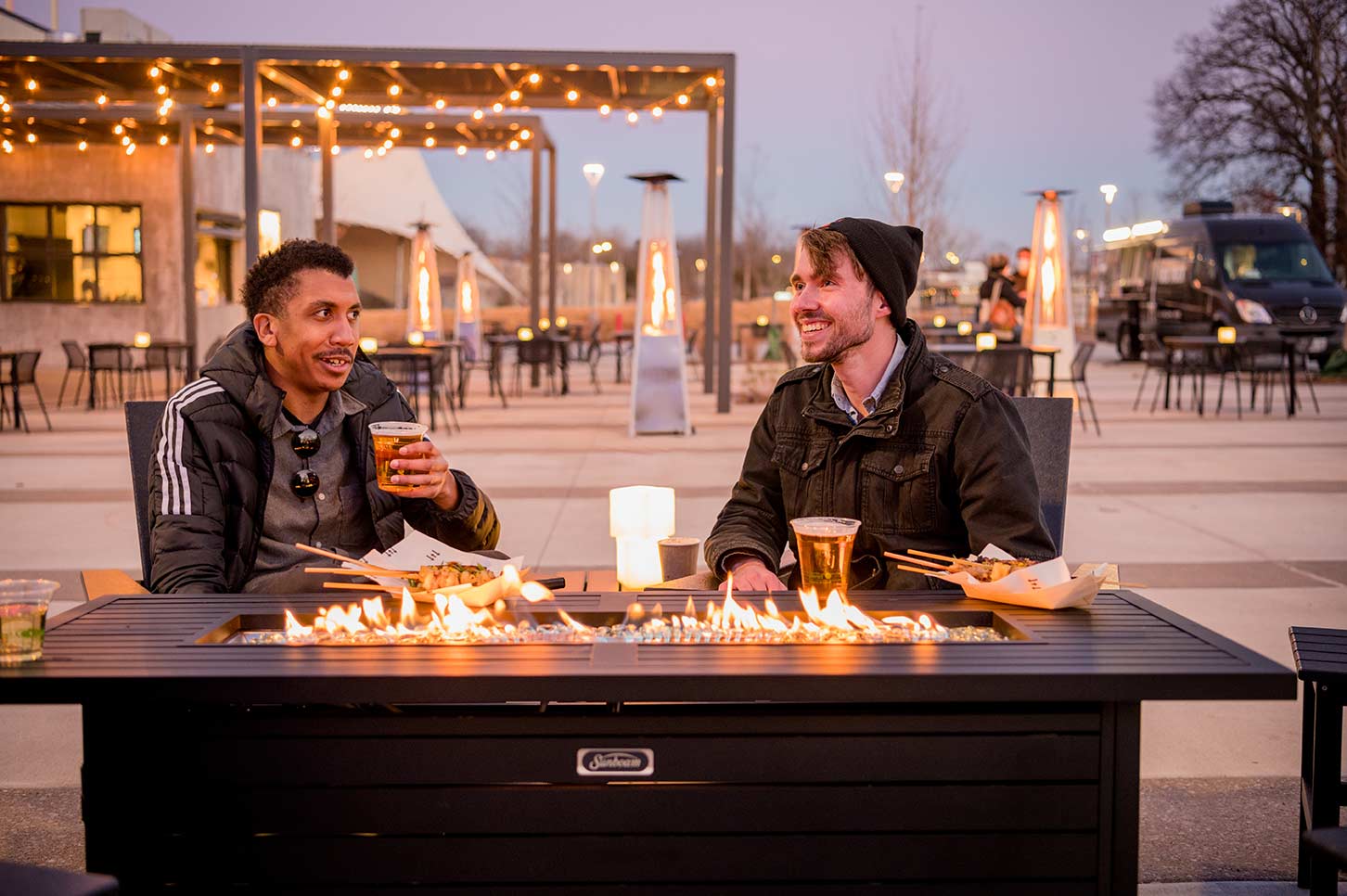 Enjoy crafted beverages, skewers, s'mores, and more around tableside fire pits at Winter Glow, a pop-up outdoor experience at the Momentary. Open Tuesday–Sunday, featuring the RØDE Bar and the Momentary Food Truck. Scroll down for more!
Winter Glow Hours: (Weather Depending)
Tuesday—Thursday: 2—7 pm
Friday: 2—9 pm
Saturday: 12—9 pm
Sunday: 12—7 pm
Monday: Closed
Turn up the heat with happy hour from 5—7 pm, daily.
WANT TO ADD MORE TO YOUR EXPERIENCE? HOW ABOUT BOCCE BALL!
Two lanes of bocce ball are waiting for you underneath the iconic You Belong Here! Ball sets will be available for hourly rental ($10/hour, $8/members, first come first served) and are sanitized thoroughly after each use.
If you've never played bocce ball before, don't fret. It's easy to pick up and a very casual game to play. Get a head start here.
Bocce Ball Sets: $10 rental per hour ($8 for members)
Bonus! Members play free on Wednesdays in February.
Safety first! We are fully aware that we are still in the midst of COVID-19 cases in the area, so we are taking extra precautions to help you enjoy your visit with peace of mind. The Momentary requires visitors and staff to wear face coverings for ages 10 and older indoors and outdoors, except when eating and drinking. Face shields and face coverings with exhaust valves or vents are not allowed. Masks are available for those who do not have one.
PLANNING YOUR VISIT:
Parking is available in the parking lots adjacent to the Momentary.
Restrooms are located just inside the Momentary in the Atrium.
Strollers and personal mobility devices are welcome.
Dogs on a leash are allowed at Winter Glow. Dog owners are asked to clean up after their dogs and keep them under control at all times. Only ADA service animals are allowed inside the Momentary.
In case of inclement weather, Winter Glow will be closed and you'll be refunded your reservation ticket. Call the Inclement Weather line at 479.657.2488 to check on any cancellations.