Artist-In-Residence Program

The Momentary invites visual artists from around the world to take up residence in one of our three dedicated studio spaces and work on projects in the middle of the Heartland, encouraging them to create work that engages with the landscape of Northwest Arkansas and how our connection to the land informs our varied identities. The artists-in-residence program also includes performing and culinary artists who may occupy spaces outside of the studios.
The program is currently invitation only.
CURRENT ARTISTS-IN-RESIDENCE
There are currently no artists-in-residence.
FUTURE ARTISTS-IN-RESIDENCE
Holly Wilson : 2022
Multi-media artist Holly Wilson creates figures which serve as her storytellers to the world, conveying stories of the sacred and precious, capturing moments of our day, our vulnerabilities and our strengths. During her residency, Wilson will be working on a new sculpture exploring and addressing the intersections of how colonialism has affected Indigenous land in the Ozarks.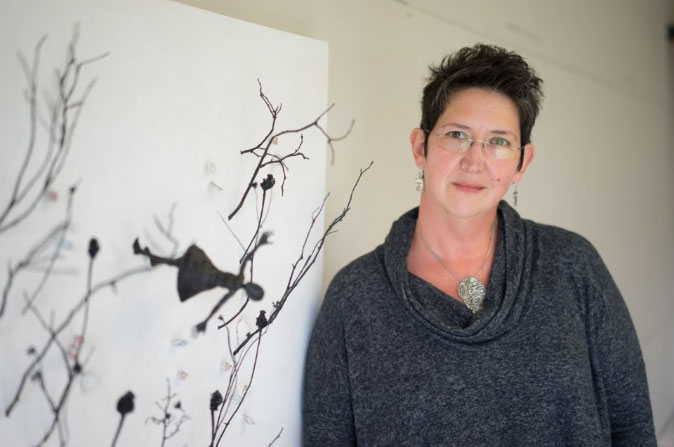 PAST ARTISTS-IN-RESIDENCE

Justin Favela : October 1—31,  2021
Based in Las Vegas, Nevada, and known for large-scale installations and sculptures that manifest his interactions with American pop culture and the Latinx experience, Justin Favela has exhibited his work both internationally and across the United States. His installations have been commissioned by museums including the El Museo del Barrio in New York and Crystal Bridges Museum of American Art in Arkansas. He is the recipient of the 2018 Alan Turing LGTBIQ Award for International Artist. Favela hosts two culture-oriented podcasts, Latinos Who Lunch and The Art People Podcast. He holds a BFA in fine art from the University of Nevada, Las Vegas.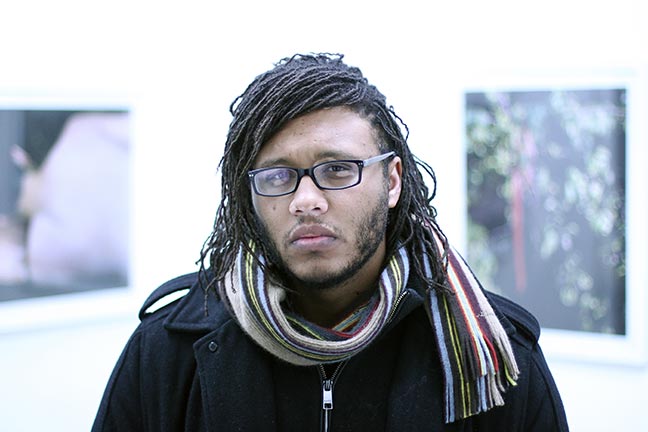 RASHAWN GRIFFIN : JULY 1—SEPTEMBER 14,  2021
Rashawn Griffin uses diverse materials such as bed sheets, tassels, food, and flora to create large-scale sculpture and paintings.  After receiving a MFA from Yale University in 2005, he has exhibited in multiple solo and group exhibitions in the United States and abroad.  Often pushing the boundaries between object and installation, his work challenges viewers to engage in their own past experiences when confronting his art.  A haunting installation in the 2008 Whitney Biennial, for example, is punctuated by a live audio feed from a field in Kansas, where the artist was raised.  A lumbering garbage bag man/sculpture wanders through a field in "To bring love/terrible things", highlighting his exploration of place, site specificity, and identity.  Griffin's installations explore the relationship between architecture and the traditions of painting with a series of stretched fabric walls; as the picture becomes the space, the pictorial space highlights the architecture.
Living and working in Olathe, KS, he was a 2006 resident of the Studio Museum in Harlem's AIR program. Along with the 2008 Whitney Biennial, his work has been exhibited widely, including a two-person exhibition at the Studio Museum with artist Senga Nengudi (RSVP), as well as "Freeway Balconies" at the Deutsche Guggenheim in Berlin, Germany, and "THREADS:  Textiles and Fiber in the works of African American Artists" at EK Projects in Beijing, China.  Recently the subject of the solo exhibition "A hole-in-the-wall country" at the Nerman Museum of Contemporary Art in Overland Park, Kansas, as well as participating in the exhibition "Minimal Baroque" at Rønnebæksholm in Næstved, Denmark, and in December his work will be featured in "The Regional", a biennial of midwest-based artists opening at the Contemporary Arts Center Cincinnati in December, before traveling to the Kemper Museum in Kansas City.  
During his residency at the Momentary, Griffin will work on a large-scale painting and a series of new drawings for upcoming exhibitions opening later this year (2021).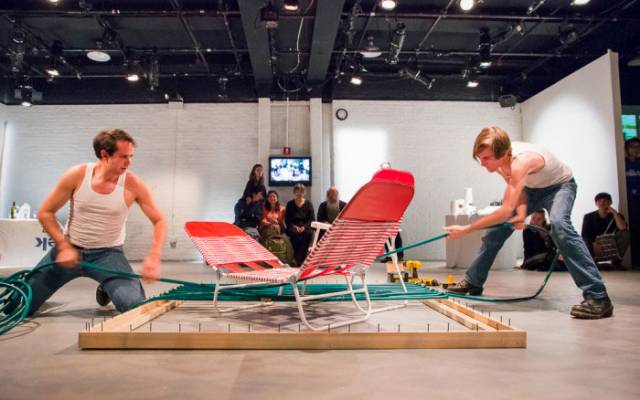 Nick Vaughan + Jake Margolin : April 27—May 4, 2020
Houston-based interdisciplinary artists Nick Vaughan and Jake Margolin were the Momentary's first virtual artists-in-residence. Over the course of a week, Vaughan and Margolin continued developing their Arkansas-centered project, The Ballad(s) of Jesse. Part of their 50 States Project, The Ballad(s) of Jesse is inspired by a Harrison-based, 1920s interracial same-sex couple and explores the murkiness of queer histories that have been casually or intentionally erased.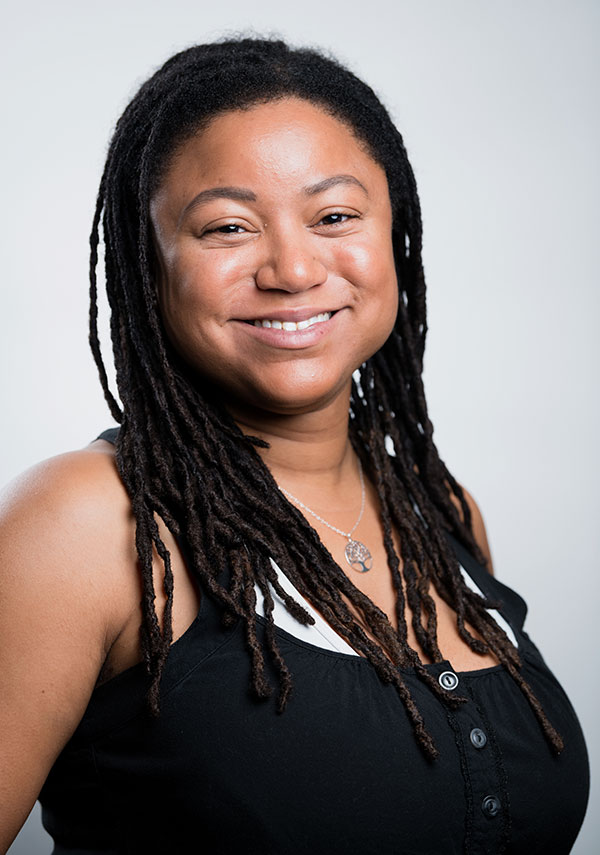 Ariel RenÉ Jackson : September 9—October 21, 2019
Ariel René Jackson considers the effect that recalling past experiences has on understanding present conditions of belonging. During her residency, Jackson worked on how identity and landscape collide, looking at sundown towns and the confederate statue. She filmed a pop-up performance at the confederate statue on the downtown Bentonville square and will be part of a larger cross-disciplinary artwork.
Jackson currently lives and works in Austin, TX where she completed her MFA at The University of Texas at Austin.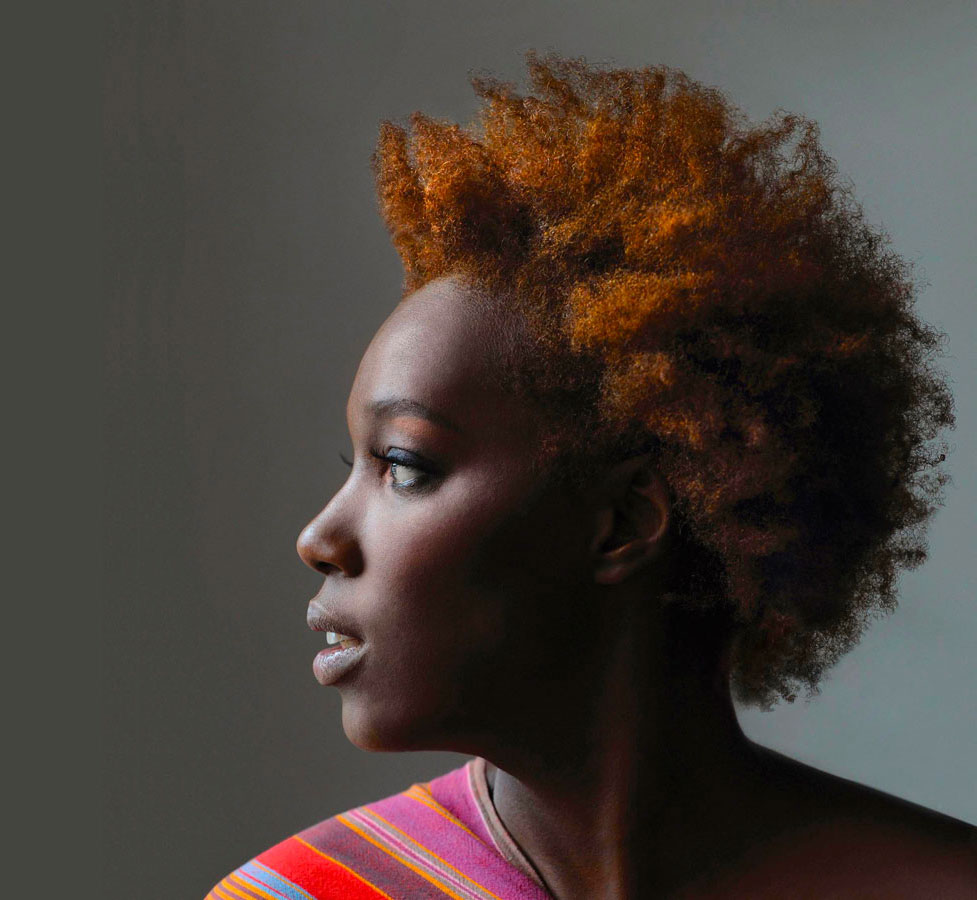 Imani Uzuri : August 16—22, 2019
Composer, librettist, and vocalist Imani Uzuri composes and researches music that reflects her rural North Carolina roots where she grew up singing Spirituals and line-singing hymns with her grandmother and extended family. During her residency, Uzuri developed her forthcoming chamber opera, Hush Arbor (The Opera), a mercurial musical meditation exploring themes of death, transcendence, impermanence, and liminality (standing at the threshhold) that will premiere at the Momentary in 2021. This work is inspired by hidden gathering places called "hush arbors" created by enslaved African Americans in wooded areas in the American South to secretly worship, commune, and strategize rebellion.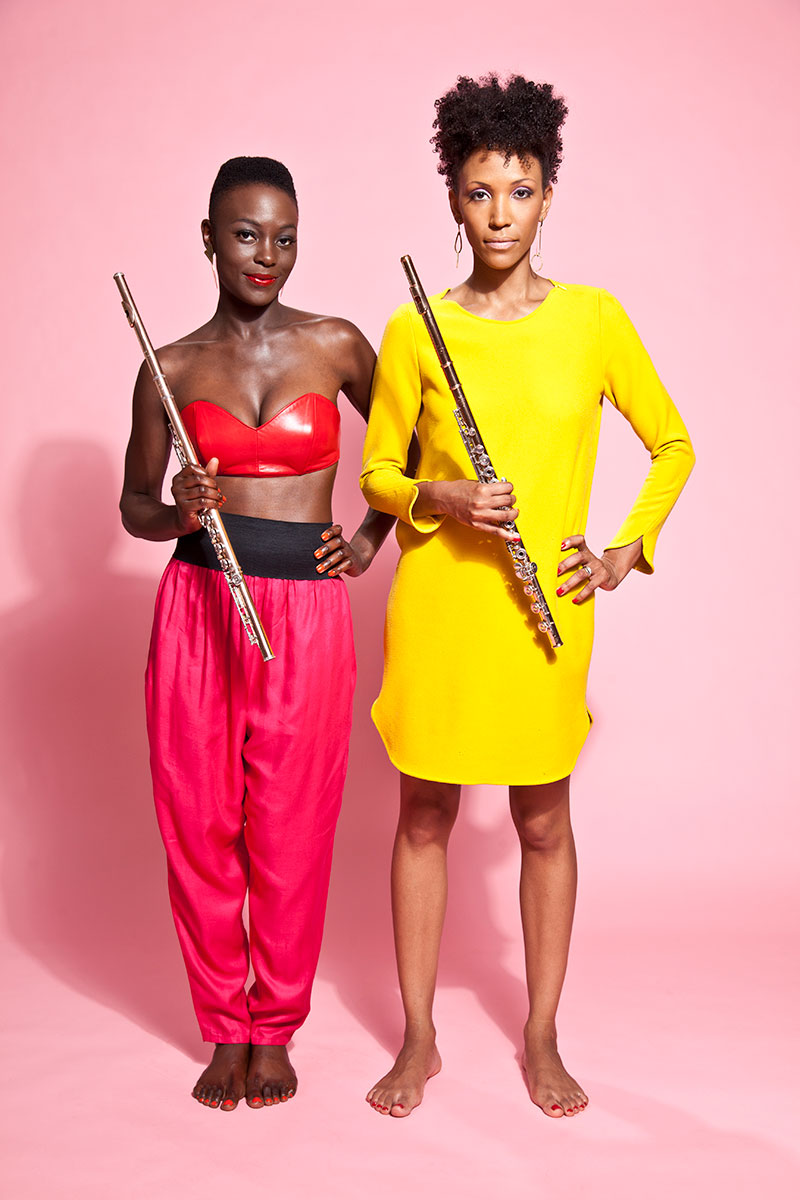 Flutronix : May 4—10, 2019
Flutronix, Nathalie Joachim and Allison Loggins-Hull, is two distinguished flutists and composers known for their "unique blend of classical music, hip-hop, electronic programming and soulful vocals reminiscent of neo-R&B stars like Erykah Badu" (The Wall Street Journal). During their residency, Flutronix worked on Discourse, a musical conversation across the community to encourage community members to share stories of common experiences across our various identities.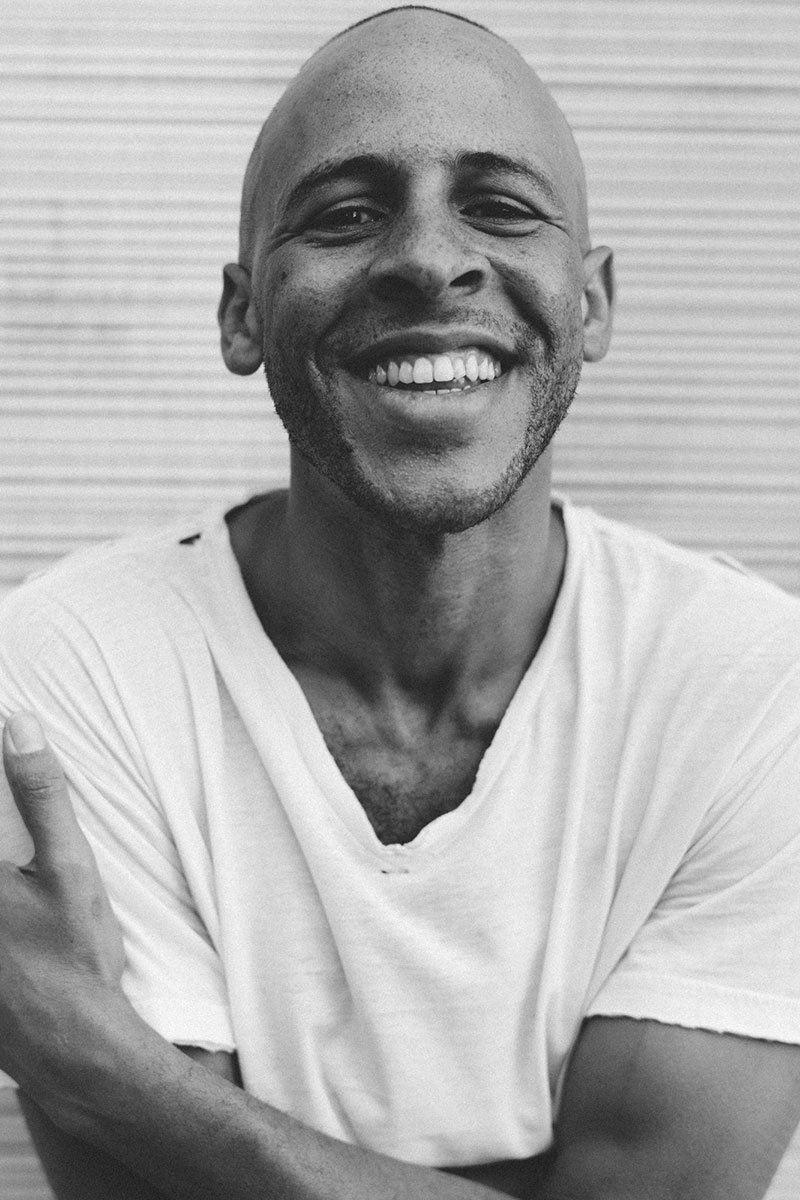 Will Rawls : April 16—May 31, 2019
New York-based choreographer, performance artist, curator, and writer Will Rawls focuses on relationship and transitions between dance and language in order to consider the poetics of blackness, abstraction, and opacity. During his residency, Rawls worked on a dance piece exploring cursor movement.
"When one puts finger to cursor, which way will the language run, towards radical differences or the submission to the same old story? A cursor is polyamorous. It's more comfortable that way. Can a dance unfold like a cursor, moving back and forth, up and down in space, revising and even misspelling our perceptions, perhaps for our own good?"
Rawls is a recipient of a Guggenheim Fellowship, a Robert Rauschenberg Residency, and a Foundation for Contemporary Arts grant.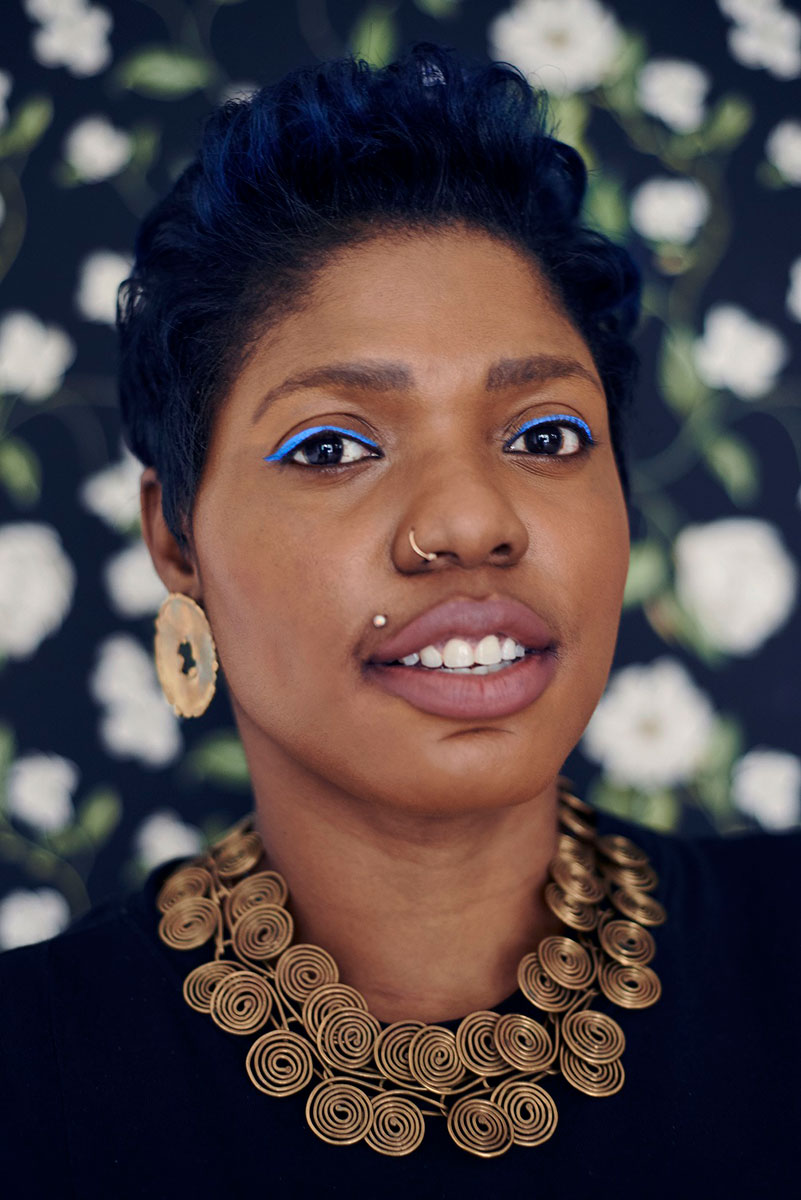 Ebony G. Patterson : April 1—June 28, 2019 & September 1-15, 2019
Visual and mixed media artist Ebony G. Patteron lives and works between Kingston, Jamaica and Lexington, KY. During her residency, Patterson planted a garden at Crystal Bridges Museum of American Art as a test site to explore survival and colonialism.
FREQUENTLY ASKED QUESTIONS
How are artists selected?
Artists are chosen by a selection committee comprised of Momentary and Crystal Bridges staff members.
What kind of artists does the Momentary feature?
We invite artists from all disciplines, including but not limited to visual, performing, and culinary artists.
Can I apply? Is there an open application process?
Currently there is not an open application process.
How long is the typical residency?
Residencies range from six weeks to three months.
Is there public presentation expected as part of the residency?
The residency is process-based rather than product-based with artists not expected to complete projects while in residence. The artist can determine whether or not a public presentation will be conducted as part of their residency. Artists will be asked to have an open studio for the general public.
Are artists expected to cover travel and housing expenses?
Housing for all artists in residence is provided, as well as travel expenses.
Does the Momentary provide supplies?
A limited amount of supplies is provided, arranged with the artists beforehand.
Will there be a private studio?
Yes, artists will have access to a dedicated studio located in the Momentary.
Does the program accommodate family or pets?
The artist-in-residence program is a working community of professional artists and art space. We cannot accommodate family members or friends of invited guests, for either overnight stays or meals. Service animals are the animals allowed to accompany the artists.
What can artists do when they're not working?
The Momentary is right in the heart of Bentonville! When artists aren't working, there is an abundance of restaurants, museums, performing arts centers, and hiking and biking trails to discover in Northwest Arkansas.
Artists will receive a welcome packet and guide to the area upon arrival. Our artist liaison will be able to supply information and recommendations for activities around town.