Exhibitions
Check Out What's Going On at the Momentary.

EXHIBITIONS: ON VIEW

A Divided Landscape
MAY 14—SEP 25, 2022
In A Divided Landscape, seven contemporary artists confront the historical and cultural narratives of the American West. Through paintings, drawings, sculpture, and mixed-media installations, this sweeping exhibition reclaims space throughout the Momentary galleries and outside around the grounds. Themes encompass ideas of wilderness and indigeneity, interactions between humans and animals, and humans' conquest of nature.
FREE: No tickets required.
MORE INFO

Esteban Cabeza de Baca: Let Earth Breathe
APR 23—SEP 25, 2022
In his solo exhibition Let Earth Breathe, Esteban Cabeza de Baca interrogates the American landscape tradition by deconstructing its linear, colonial narratives with original works of painting, sculpture, and outdoor, site-specific installations conceived as collaborations with nature. 
FREE: No tickets required.
MORE INFO

Rashawn Griffin: we no longer recognize the backs of our hands
DEC 21, 2021—AUG 28, 2022
After spending several weeks in residence at the Momentary in 2021, Kansas-City based artist Rashawn Griffin was inspired by the challenges and possibilities posed by the space's unique architecture, prompting the question: "how can I paint this room without actually painting it?"
The end result is called we no longer recognize the backs of our hands, an immersive installation of panels and objects, including mirrors, wooden frames, and pictorial paintings, that form a bridge between painting and sculpture.
FREE: No tickets required.
MORE INFO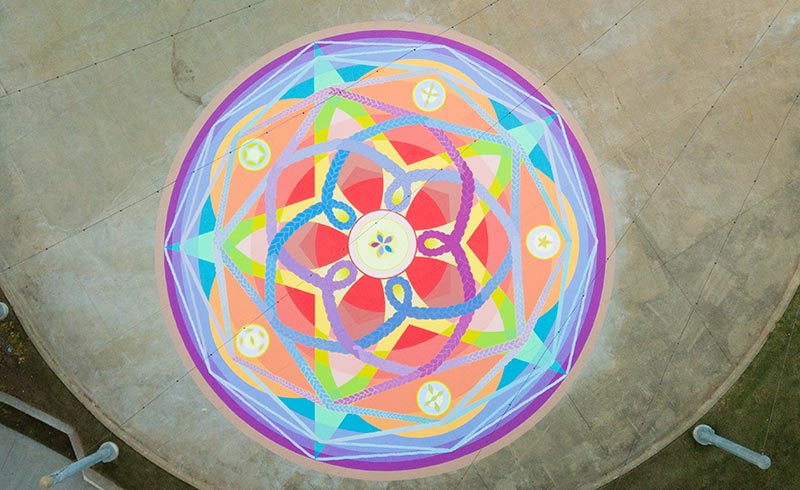 VENUSIAN ROSACEAE (FIVE SEEDED STAR)
Inspired by the history of the Momentary's site as a former apple orchard, Maria Molteni's Venusian Rosaceae explores the myriad of colors, shapes, and symbols associated with apples. Stretching 50 feet in diameter, the circular composition includes layers of five-point stars and infinitely connected braids, referencing the pentagonal shape of an apple's core and the Dance of Venus—an astrological map of Venus retrogrades. For Molteni, the 2020 Venus retrograde (May 13 to June 25, 2020) was particularly significant as it coincided with the resurgence of the Black Lives Matter movement across the world. Molteni dedicates this mural to Queen Morgan and Baby Rose.
FREE: No tickets required.

The Momentary Flag Project
In the spirit of our adaptive reuse architecture, the Momentary Flag Project offers a rotating series of artist-designed flags that are raised on the factory's historic flag pole. The series asks artists to explore the symbolic resonance of flags and consider how they shape our understanding of place and identity.
MAY 14—SEP 25, 2022: Andrea Carlson, Earthdivers. Read more about the flag here.
NOV 9, 2021—MAY 9, 2022: Neka King, To Enter Recorded History. Read more about the flag here.
MAY 24—NOV 8, 2021: Jaime Carrejo, Pa'lante (2021). Read more about the flag here.
JAN 15—MAY 23, 2021: Olalekan Jeyifous, All you touch you change. All you change, changes you (2020). Read more about the flag here.
OCT 7, 2020—JAN 10, 2021: Gabriella Sanchez, WE REAP WHAT WE SEW (Past and Present Patterns), (2020). Read more about the flag here.
JUN 24—OCT 6, 2020: Christopher Myers, Icarus Falling (2020). Read more about the flag here.
FREE: No tickets required.

RRRolling Stones 2.0
Constructed with 3D printed concrete, RRRolling Stones 2.0 is an adaptable outdoor seating system that explores a range of seating archetypes: chairs, benches, stools, and lounge chairs. While they may look similar, each seat is one-of-a-kind. This project was manufactured in collaboration with Cornell RCL (Robotic Construction Laboratory) and Cornell UCL (Urban Construction Laboratory) and designed by HANNAH, an experimental design practice based in Ithaca, NY.
FREE: No tickets required.

YOU BELONG HERE
Tavares Strachan's monumental neon sculpture, You Belong Here, is installed on the east-facing exterior wall of the Momentary, stretching 78 feet across and 25 feet high. This work is part of an ongoing series of site-responsive neon sculptures, and initiates a dialogue about how we define place and create a sense of belonging in our community.
FREE: No tickets required.

Sway
In 2018, Oklahoma-based artist Addie Roanhorse became the first artist commissioned to create a work of art for the Momentary. Her arrow pattern artwork, called Sway, is featured on the exterior glass of the Tower, the Container, and main entryway. A member of the Osage Nation, Roanhorse took inspiration from Osage attire to create the pattern, paying homage to the history of the land around the Momentary. With this artwork, we invite all to think about the Indigenous peoples with a connection to Northwest Arkansas.
FREE: No tickets required.

ABOVE & BELOW
Chad "Nish" Earles (Caddo) designed the glass scrim titled Above & Below that is located on the southwest and southeast corners of the structure. The design entails a pattern providing cultural reference to the Indigenous peoples of Arkansas and the land the Momentary currently occupies. The pattern references designs found in pottery created by ancestors of the Caddo Nation. The name of the design, Above & Below, recognizes that the Caddo are still here today, above and below the ground.
FREE: No tickets required.
EXHIBITIONS: UPCOMING

YVETTE MAYORGA: WHAT A TIME TO BE
OCTOBER 29, 2022—MARCH 12, 2023
In her solo exhibition What a Time to be, multidisciplinary artist Yvette Mayorga combines images of family, found objects, '90s nostalgia, moments of Midwest life, and her signature pink and frosted style to interrogate the art historical canon and the meaning of belonging. From elaborate collage portraits of her family members posed to resemble seventeenth-century Rococo paintings to sculptures that weave together symbols of family and memory to a reimagined installation of her bedroom from the '90s, Mayorga pushes beyond her comfort zone in her first solo museum presentation to introduce new, original works that interrupt the landscape of art history.
FREE: No tickets required.
MORE INFO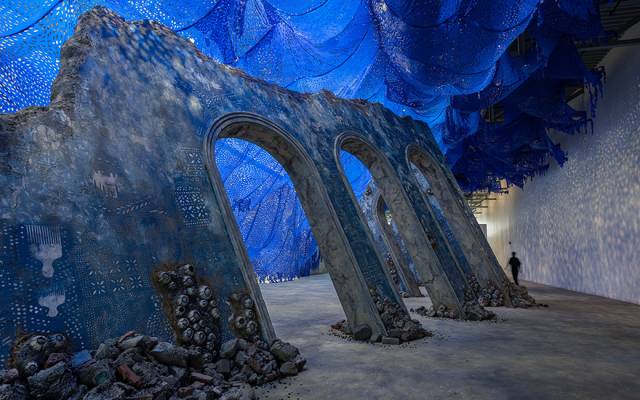 FIRELEI BÁEZ
NOVEMBER 19, 2022—MARCH 26, 2023
In her largest sculptural installation to date, Firelei Báez invites visitors to traverse passageways and travel through time and space, engaging with streams of intervention and interconnectedness. In its second iteration, Báez's sculpture revisits the centuries-long exchange of ideas and influence between Europe, the African continent, and the Americas, reclaiming and revisiting the Caribbean's place in the story of Western world history through a presentation that the New York Times calls "history meets flamboyant fantasy."
FREE: No tickets required.
MORE INFO
EXHIBITIONS: PAST

IN SOME FORM OR FASHION
NOV 20, 2021—MAR 27, 2022
In Some Form or Fashion is a new, Momentary-organized exhibition that explores the cultural implications of fashion and how we shape our identities with the garments we purchase, wear, and dispose of.
Embracing the unique architecture of the Momentary, the artists' installations will be on view throughout the building, creating a diverse and engaging exploration of the intersection of art and fashion while examining the role of consumer culture in our society.
FREE: No tickets required.
MORE INFO

KENNY RIVERO: THE FLOOR IS CROOKED
JUN 22—OCT 24, 2021
New York City-based painter Kenny Rivero presents The Floor Is Crooked, a solo exhibition of paintings that focuses on works made over the last 10 years. This exhibition is intended to be an investigation of Rivero's artistic practice and a focused look at themes that have been present in his work for the last decade.
FREE: No tickets required.
MORE INFO

SPACE STATION: RADIANT BEHIND THE SUN | Cauleen Smith
JUL 20—OCT 17, 2021
In Space Station: Radiant Behind the Sun, interdisciplinary filmmaker Cauleen Smith immerses audiences in a world that draws from Afrofuturism, science fiction, and experimental cinema. Visitors will walk through a transformed gallery space―a "space station" with a 1970s aesthetic, new installations, banners, and immersive elements―while two of Smith's films, Sojourner and Pilgrim, play on alternating loops.
FREE: No tickets required.
MORE INFO

ABIGAIL DEVILLE: LIGHT OF FREEDOM
MAR 25—SEP 26, 2021
In response to history and to the present, Abigail DeVille's newly commissioned public work, Light of Freedom, will be installed outdoors at the Momentary. The project is a 13-foot-tall reference to the Statue of Liberty's torch encased in scaffolding and filled with found objects.
FREE: No tickets required.
MORE INFO

Garrett Bradley: American Rhapsody
JUL 3—SEP 19, 2021
New Orleans-based artist and filmmaker Garrett Bradley works across narrative, documentary, and experimental modes of filmmaking to explore the social, economic, and racial politics of everyday life. Garrett Bradley: American Rhapsody features a selection of three recent works by the artist—two single-channel videos and a multi-channel video installation—America (2019), AKA (2019), and Alone (2017).
FREE: No tickets required.
MORE INFO

State of the Art 2020
Feb 22—Jul 12, 2020
The 61 individuals in State of the Art 2020 represent a cross-section of artists working today and their artwork will be organized into thematic sections including world-building: creating real and fictional spaces; sense of place: investigating ideas of home, family, immigration, and more; mapping: connections to and relationships with landscapes and power, and temporality: the concept of time and how we perceive it.
MORE INFO

Sarah Cain: In Nature
FEB 13—MAY 30, 2021
Los Angeles-based artist Sarah Cain creates a site-responsive exhibition for the Momentary. Sarah Cain: In Nature includes colorful abstract works on canvas, functional floor paintings, sculpture, and a stained-glass window. Known for her brightly colored installations that blur the boundaries between painting and sculpture, Cain's work moves over and off the canvas, responding to architecture at large.
Supported by: Coca-Cola, Soapbox Influence, Juan, Marcy, and Joaquin Camacho
MORE INFO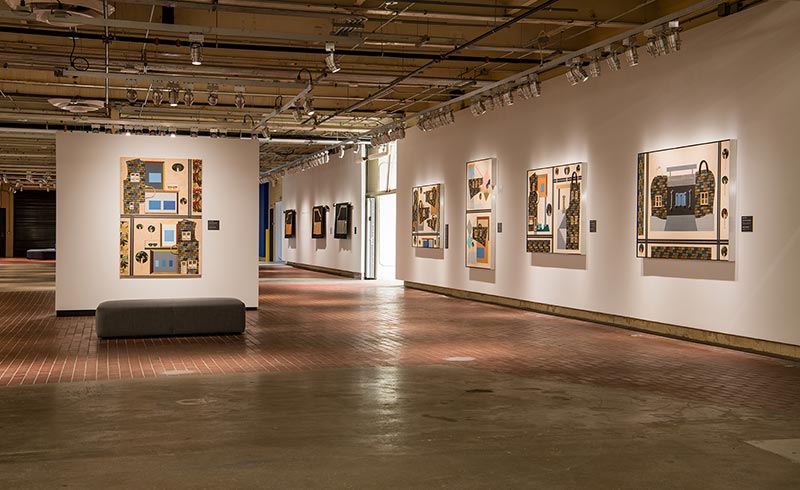 Derrick Adams: Sanctuary 
FEB 23—JUN 6, 2021
From 1936 to 1967, during the Jim Crow era, Black American road-trippers referenced a guidebook, The Negro Motorist Green Book, also known as The Green Book, to identify businesses, including hotels, restaurants, state parks, beauty parlors, and nightclubs, that were nondiscriminatory and welcoming. In Derrick Adams: Sanctuary, this reference material serves as inspiration to reimagine safe destinations for the Black American traveler in an exhibition featuring mixed-media collage and sculpture.
Supported by: Coca-Cola, Sarah Simmons, Kate and Greg Schaffer, Tony Waller
MORE INFO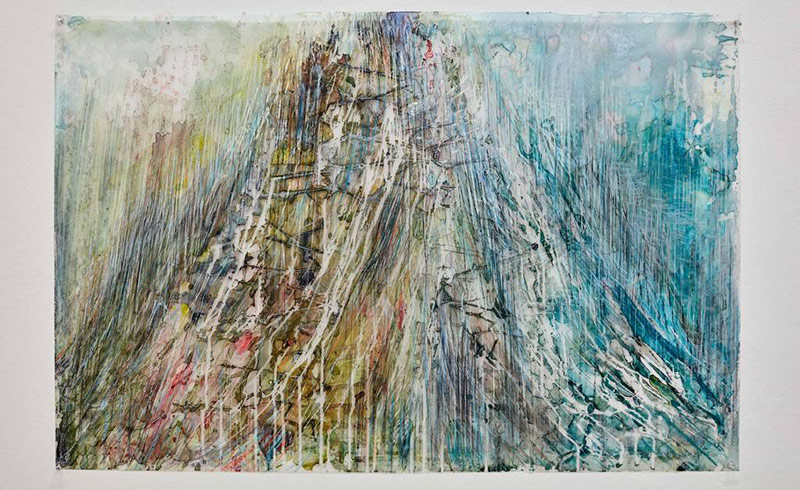 Diana Al-Hadid: Ash in the Trade Winds 
MAR 5—JUN 13, 2021
The Momentary presents a solo exhibition of works by Diana Al-Hadid who utilizes a wide range of materials that explore notions of memory, ruin, progress, and globalism. Diana Al-Hadid: Ash in the Trade Winds features 10 wall panels, drawings, and sculptures that were created between 2018 and 2021, highlighting recent developments in Al-Hadid's signature process of layering pigments onto classical and contemporary materials, including bronze, plaster, fiberglass, and polymer gypsum.
Supported by: Coca-Cola, Sarah Simmons, Kate and Greg Schaffer
MORE INFO

Tower Views
In Tower Views, the Momentary presents a rotating series of videos and short films created by artists that explore various themes. The videos are projected nightly on the Momentary's Tower, located outside in the Arvest Bank Courtyard, offering a unique viewing experience with 80 feet of projection space, dynamic lighting, and sound capabilities.
DEC 13—FEB 13, 2022: Primordial 3 | Jennifer Steinkamp. Read more about the film here.
OCT 1—31, 2021: A New Between | Jaimie Henthorn. Read more about the film here.
JUN 29—SEP 26, 2021: Smash | Marilyn Minter. Read more about the film here.
APR 13—JUN 13, 2021: Jeffrey Gibson, She Never Dances Alone. Read more about the film here.
FEB 23—APR 11, 2021: Robert Wilson, KOOL Snowy Owl. Read more about the film here.
JAN 21—FEB 14, 2021: Nick Cave, Drive-By Remix. Read more about the film here.
FREE: no tickets required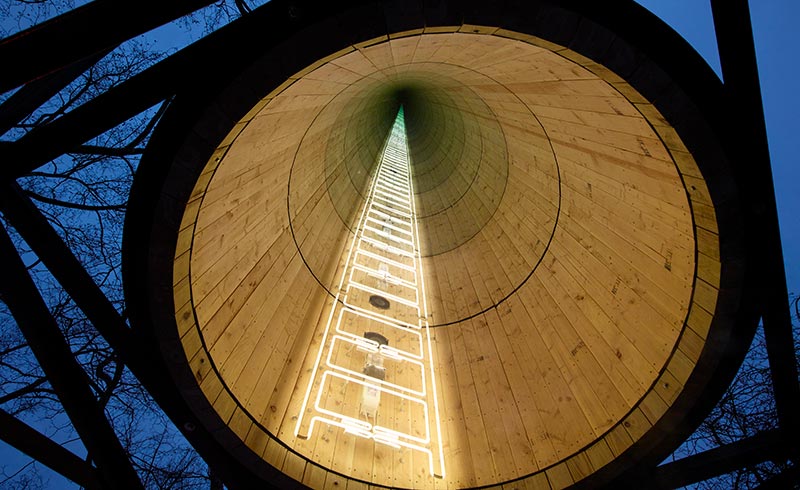 This Land is Your Land
Inspired by Woody Guthrie's iconic 1940 song of the same name, Iván Navarro's series of three water towers examines the history of migration in the Americas and the United States. During the Great Depression, the water tower became a symbol of hope and opportunity for nomadic workers. According to Navarro, "every time they saw a water tower, they jumped out of the train because it signaled economic activity in that town." Visitors can step beneath the towers and look up at the repeated messages that are inspired by Navarro's personal history as an immigrant. "Bed" recalls our most intimate form of inhabited space. The ascending ladder symbolizes progress, while the inverted words "me" and "we" reference Guthrie's call for collective belonging.
FREE: No tickets required.
Sponsored by: Olivia Tyson, Larry and Winnie Kearns, Visit Bentonville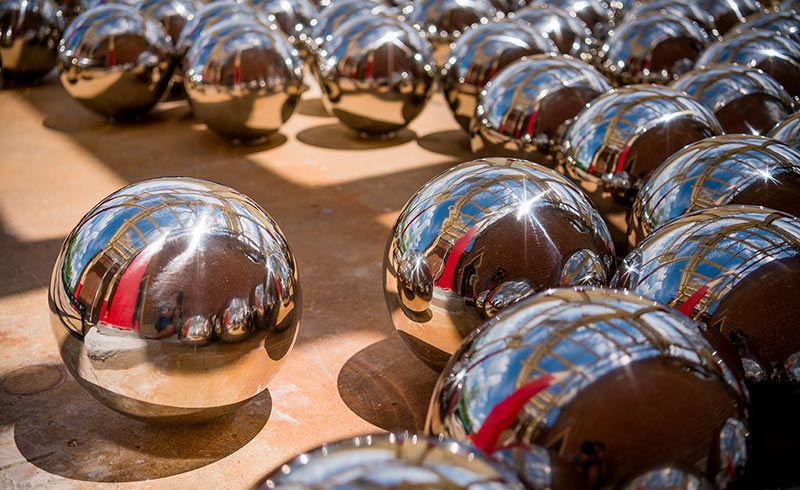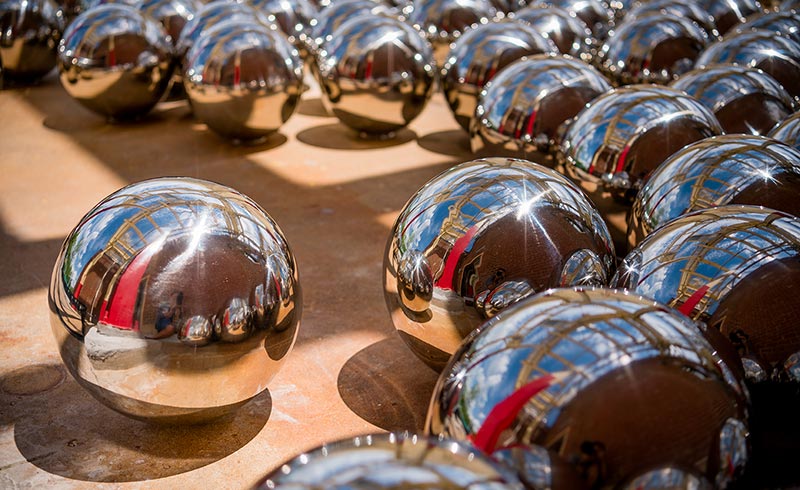 Narcissus Garden
First installed in 1966, Yayoi Kusama's Narcissus Garden invites us to slow down and appreciate our surroundings. Comprised of nearly 900 mirrored spheres, this playful installation creates unique reflections of people, architecture, and nature. The mirrored spheres symbolize those orbs that occur in nature—sun, moon, and Earth—while also referencing the polka dot, a common motif in Kusama's work. Through this mesmerizing field of possibilities, the artist encourages us to see ourselves as one sphere within an interconnected universe.
Collection of OZ Art. Courtesy of Ota Fine Art and Victoria Miro © YAYOI KUSAMA.
MORE INFO