Exhibitions
Check Out What's Going On at The Momentary.

EXHIBITIONS: ON VIEW

YVETTE MAYORGA: WHAT A TIME TO BE
OCTOBER 29, 2022—MAY 21, 2023
In her solo exhibition What a Time to be, multidisciplinary artist Yvette Mayorga combines images of family, found objects, '90s nostalgia, moments of Midwest life, and her signature pink and frosted style to interrogate the art historical canon and the meaning of belonging. From elaborate collage portraits of her family members posed to resemble seventeenth-century Rococo paintings to sculptures that weave together symbols of family and memory to a reimagined installation of her bedroom from the '90s, Mayorga pushes beyond her comfort zone in her first solo museum presentation to introduce new, original works that interrupt the landscape of art history.
FREE: No tickets required.
MORE INFO

HANNAH PERRY: Rage Fluids
OCTOBER 22, 2022—FEBRUARY 19, 2023
The immersive installation Rage Fluids by London-based artist Hannah Perry presents a fluid version of reality. The massive, labyrinthine sound sculpture flows from solid to liquid as its surface pulsates, distorting the viewer's reflection as subwoofers rumble with increasingly violent menace. The effect is physical and destabilizing, reaching a point just before the metal frame is torn apart by vibration before retreating to calm, stable silence. Experience unsteady feelings of an unpredictable environment that was in part inspired by the automobile industry and the cult surrounding it.
FREE: No tickets required.
MORE INFO

Tower Views
In Tower Views, the Momentary presents a rotating series of videos and short films created by artists that explore various themes. The videos are projected nightly on the Momentary's Tower, located outside in the Arvest Bank Courtyard, offering a unique viewing experience with 80 feet of projection space, dynamic lighting, and sound capabilities.
OCT 5 – DEC 5, 2022: A Logo for America | Alfredo Jaar.
FREE: no tickets required

The Momentary Flag Project
In the spirit of our adaptive reuse architecture, the Momentary Flag Project offers a rotating series of artist-designed flags that are raised on the factory's historic flag pole. The series asks artists to explore the symbolic resonance of flags and consider how they shape our understanding of place and identity.
MAY 14—SEP 25, 2022: Andrea Carlson, Earthdivers. Read more about the flag here.
NOV 9, 2021—MAY 9, 2022: Neka King, To Enter Recorded History. Read more about the flag here.
MAY 24—NOV 8, 2021: Jaime Carrejo, Pa'lante (2021). Read more about the flag here.
JAN 15—MAY 23, 2021: Olalekan Jeyifous, All you touch you change. All you change, changes you (2020). Read more about the flag here.
OCT 7, 2020—JAN 10, 2021: Gabriella Sanchez, WE REAP WHAT WE SEW (Past and Present Patterns), (2020). Read more about the flag here.
JUN 24—OCT 6, 2020: Christopher Myers, Icarus Falling (2020). Read more about the flag here.
FREE: No tickets required.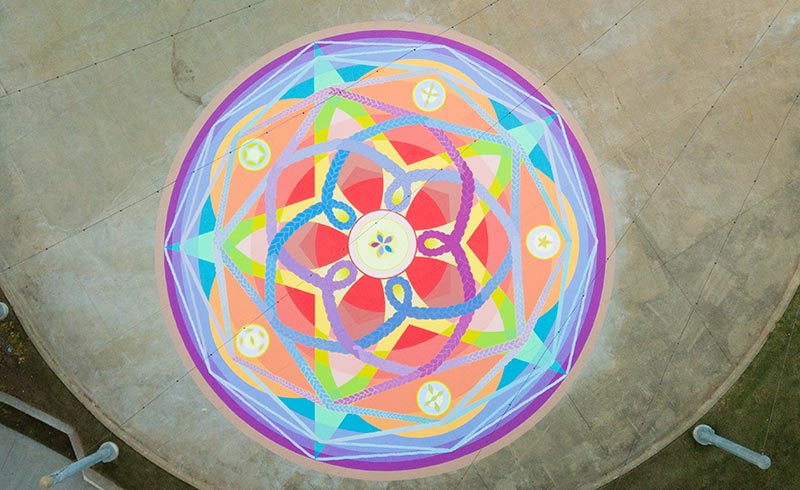 VENUSIAN ROSACEAE (FIVE SEEDED STAR)
Inspired by the history of the Momentary's site as a former apple orchard, Maria Molteni's Venusian Rosaceae explores the myriad of colors, shapes, and symbols associated with apples. Stretching 50 feet in diameter, the circular composition includes layers of five-point stars and infinitely connected braids, referencing the pentagonal shape of an apple's core and the Dance of Venus—an astrological map of Venus retrogrades. For Molteni, the 2020 Venus retrograde (May 13 to June 25, 2020) was particularly significant as it coincided with the resurgence of the Black Lives Matter movement across the world. Molteni dedicates this mural to Queen Morgan and Baby Rose.
FREE: No tickets required.

RRRolling Stones 2.0
Constructed with 3D printed concrete, RRRolling Stones 2.0 is an adaptable outdoor seating system that explores a range of seating archetypes: chairs, benches, stools, and lounge chairs. While they may look similar, each seat is one-of-a-kind. This project was manufactured in collaboration with Cornell RCL (Robotic Construction Laboratory) and Cornell UCL (Urban Construction Laboratory) and designed by HANNAH, an experimental design practice based in Ithaca, NY.
FREE: No tickets required.

YOU BELONG HERE
Tavares Strachan's monumental neon sculpture, You Belong Here, is installed on the east-facing exterior wall of the Momentary, stretching 78 feet across and 25 feet high. This work is part of an ongoing series of site-responsive neon sculptures, and initiates a dialogue about how we define place and create a sense of belonging in our community.
FREE: No tickets required.

Sway
In 2018, Oklahoma-based artist Addie Roanhorse became the first artist commissioned to create a work of art for the Momentary. Her arrow pattern artwork, called Sway, is featured on the exterior glass of the Tower, the Container, and main entryway. A member of the Osage Nation, Roanhorse took inspiration from Osage attire to create the pattern, paying homage to the history of the land around the Momentary. With this artwork, we invite all to think about the Indigenous peoples with a connection to Northwest Arkansas.
FREE: No tickets required.

ABOVE & BELOW
Chad "Nish" Earles (Caddo) designed the glass scrim titled Above & Below that is located on the southwest and southeast corners of the structure. The design entails a pattern providing cultural reference to the Indigenous peoples of Arkansas and the land the Momentary currently occupies. The pattern references designs found in pottery created by ancestors of the Caddo Nation. The name of the design, Above & Below, recognizes that the Caddo are still here today, above and below the ground.
FREE: No tickets required.
EXHIBITIONS: UPCOMING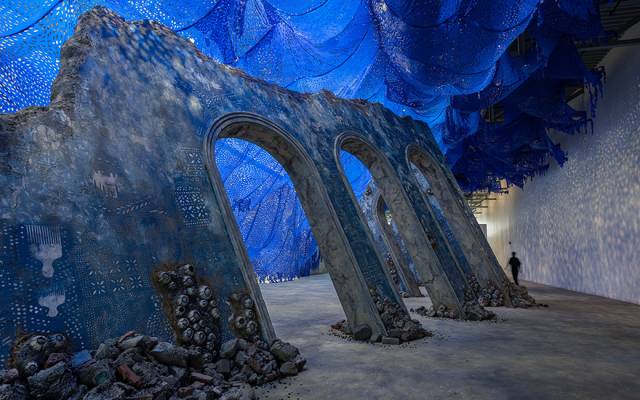 FIRELEI BÁEZ
NOVEMBER 29, 2022—JULY 16, 2023
In her largest sculptural installation to date, Firelei Báez invites visitors to traverse passageways and travel through time and space, engaging with streams of intervention and interconnectedness. In its second iteration, Báez's sculpture revisits the centuries-long exchange of ideas and influence between Europe, the African continent, and the Americas, reclaiming and revisiting the Caribbean's place in the story of Western world history through a presentation that the New York Times calls "history meets flamboyant fantasy."
FREE: No tickets required.
MORE INFO
PROJECTS: UPCOMING
There are currently no upcoming projects on view.
EXHIBITIONS AND PROJECTS: PAST