5 Fun Summertime Beverages for Kids

Adults aren't the only ones who are allowed to have fun drinks! As the start of the summer season is approaching with Memorial Day weekend and the end of the school year, the Tower Bar staff at the Momentary decided to create some kid-friendly, summertime beverages to get the party started. Whether you're having a BBQ this weekend or just planning to spend some time together as a family, these drink recipes are perfect for any occasion and are sure to put a smile on every kid's face.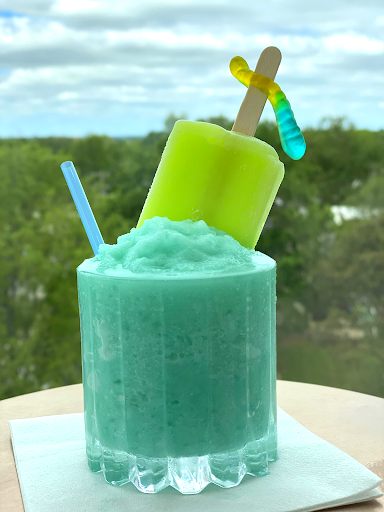 Goin' Fishing 
Ingredients
1 pack Flavored Drink Packet (we used Hawaiian Punch "Berry Blue Typhoon")

2 oz Canned Pineapple Juice

2 oz Canned Mango (we use Jumex brand, but any canned mango drink will work)

2 oz Canned Coconut Cream

2 oz Sprite

1 oz Frozen Limeade
Instructions
Combine ingredients in a blender full of ice, blend, and serve in a 12-ounce glass. Place a popsicle, stick side up, into the slush. Then make a small slice in a gummy worm and tread onto the popsicle stick.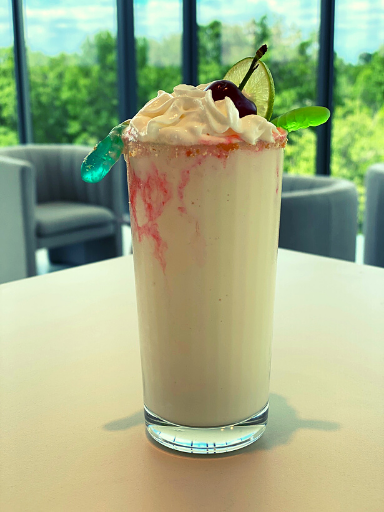 Cherry Sour Slime Aid
Ingredients
6 oz Vanilla Ice Cream (2 Scoops)

2 Tbsp Frozen Limeade

3 Fresh Key Limes

1 tsp Maraschino Cherry Syrup

3 Crushed Vanilla Wafers or Graham Crackers

Toppings can include: 1 fresh cherry, whipped cream, lime wheel, gummy worms
Instructions
Place ice cream and frozen limeade in the blender. Squeeze juice from 3 fresh key limes and blend until smooth.
Using a lime rind and crushed wafers, "salt" the rim of a kid-friendly 8-ounce glass.
Pour ice cream mixture into the glass, then pour a teaspoon of cherry syrup around the top. (Hint: you can make fun designs if you move a straw around the glass and swirl some of the cherry syrup!) Top with a quick blast of whipped cream, crushed nilla wafers, a fresh cherry, a key lime wheel, and a few gummy worms.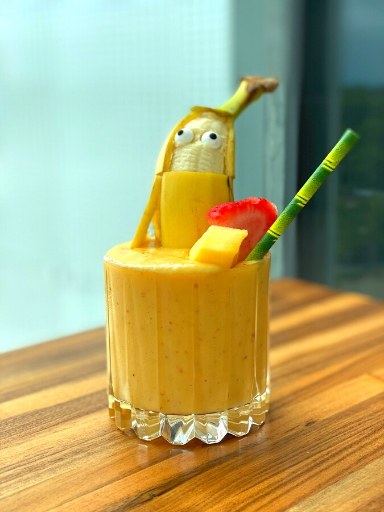 Bananas in Pajamas
Ingredients
½ cup Light Vanilla Yogurt

3 oz Milk

1 ½  Ripe Bananas

1 cup Frozen or Fresh Mango 

1 cup Frozen Tropical Fruit Medley

1 cup Frozen Pineapple Chunks with Juice 

1/2 cup Fresh Peach, peeled and sliced 

2 Edible Eyeballs (for your Banana Man)
Instructions
Combine ingredients in a blender until smooth and garnish with a fun Banana Man and some fresh fruit.  
To make the Banana Man, use ½ banana, place on a wooden skewer, cut one small section of skin to expose a small face area, and add edible eyeballs. You can make the eyeballs yourself with royal icing, or you can get them premade from the grocery store.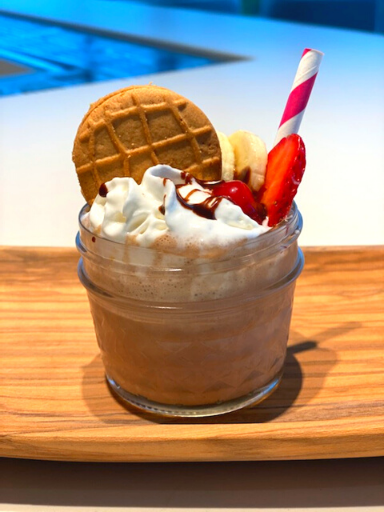 PB n'C ME
Ingredients
6 oz Ice Cream (any flavor will do, but we prefer Chocolate)

2 oz Almond Milk

0.5 oz Peanut Butter

1 oz Chocolate Syrup

1/2 Banana 

Toppings can include: whipped cream, peanut butter cookies, banana slices, strawberry slices, chocolate syrup, and mini chocolate chips
Instructions
Combine ingredients in a blender and serve in a mason jar topped with whipped cream, mini peanut butter cookie, banana slices, fresh strawberry slices, and chocolate drizzle. You may choose to also garnish with mini chocolate chips.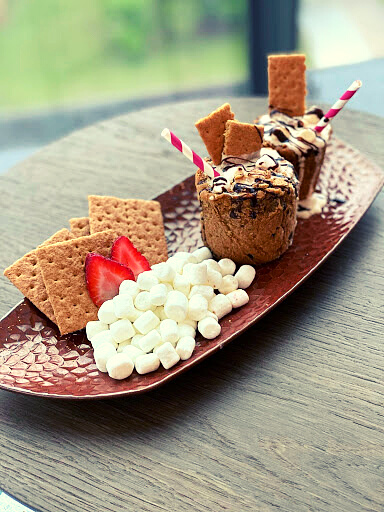 Smookie Monster 
Ingredients
For the cookie cups (yields 8-10 cups): 
1 ¾ cups Flour

¾ tsp Baking Soda 

½ tsp Kosher Salt 

1 stick Unsalted Butter, at room temperature 

1 cup Light Brown Sugar, packed

1 Large Egg

1 tsp Pure Vanilla Extract 

¾ cup Mini Chocolate Chips

2 Tbsp Coconut Oil 
For the filling:
1 Scoop Vanilla Ice Cream
Toppings can include:

chocolate syrup, crumbled graham crackers, mini marshmallows, and fresh strawberries
Kitchen tools needed:
2 medium bowls
Several 4-ounce or 6-ounce mason jars
Foil
Parchment paper
Baking weights or dried beans
Instructions
To make the cookie cups, we recommend using a classic chocolate chip cookie recipe. This is one of our favorites: 
Whisk the flour, baking soda, and salt in a medium bowl. Beat the butter and brown sugar in a large bowl with a mixer on high speed until light and fluffy, about 2 minutes. Beat in the egg and vanilla. Reduce the mixer speed to low and beat in the flour mixture until just combined. Stir in 3/4 cup mini chocolate chips. Working with a small handful at a time, transfer the mixture to a foil-lined medium bowl. Press the dough into the bottom and up the sides of the foil-lined bowl to cover, stopping 1 inch from the rim of the bowl. 
The recipe yields 8-10 cookie cups. To make the cups, grab several 4-ounce glass mason jars or 6-ounce wide-mouth mason jars and line the inside of each jar with foil. Spray the inside of the jar with cooking spray before pressing dough into the bottom and sides of the jar to create a cup shape. Put in the freezer for 15 minutes to help with maintaining shape while baking. Take out of the freezer and line the inside of each jar (on top of the cookie) with parchment paper. Place baking weights or dried beans on top of parchment paper to help maintain shape, and place in the oven. Bake at 350 degrees for 25 minutes. Once cooled, pull up on the foil and the cookies will come right out of the jars.
To make the filling for the cookie cup:
Add a scoop of vanilla ice cream to each cookie cup and top with chocolate syrup, crumbled graham crackers, mini marshmallows, and fresh strawberries.