5 Reasons to Visit Onyx Coffee Lab at the Momentary

What's an art space without coffee? Luckily, the Momentary is proud to feature the newest Onyx Coffee Lab location in Northwest Arkansas. Located in the Atrium, across from the RØDE House, this cute café space has all the food and drink offerings you know and expect from Onyx, nestled in a design motif that can best be described as 50 shades of pink. Or as Onyx says on their website, this café is a nod to high-end, handmade service juxtaposed against robotics.
If you haven't visited the new Onyx Coffee Lab location at the Momentary, here are five reasons why you should: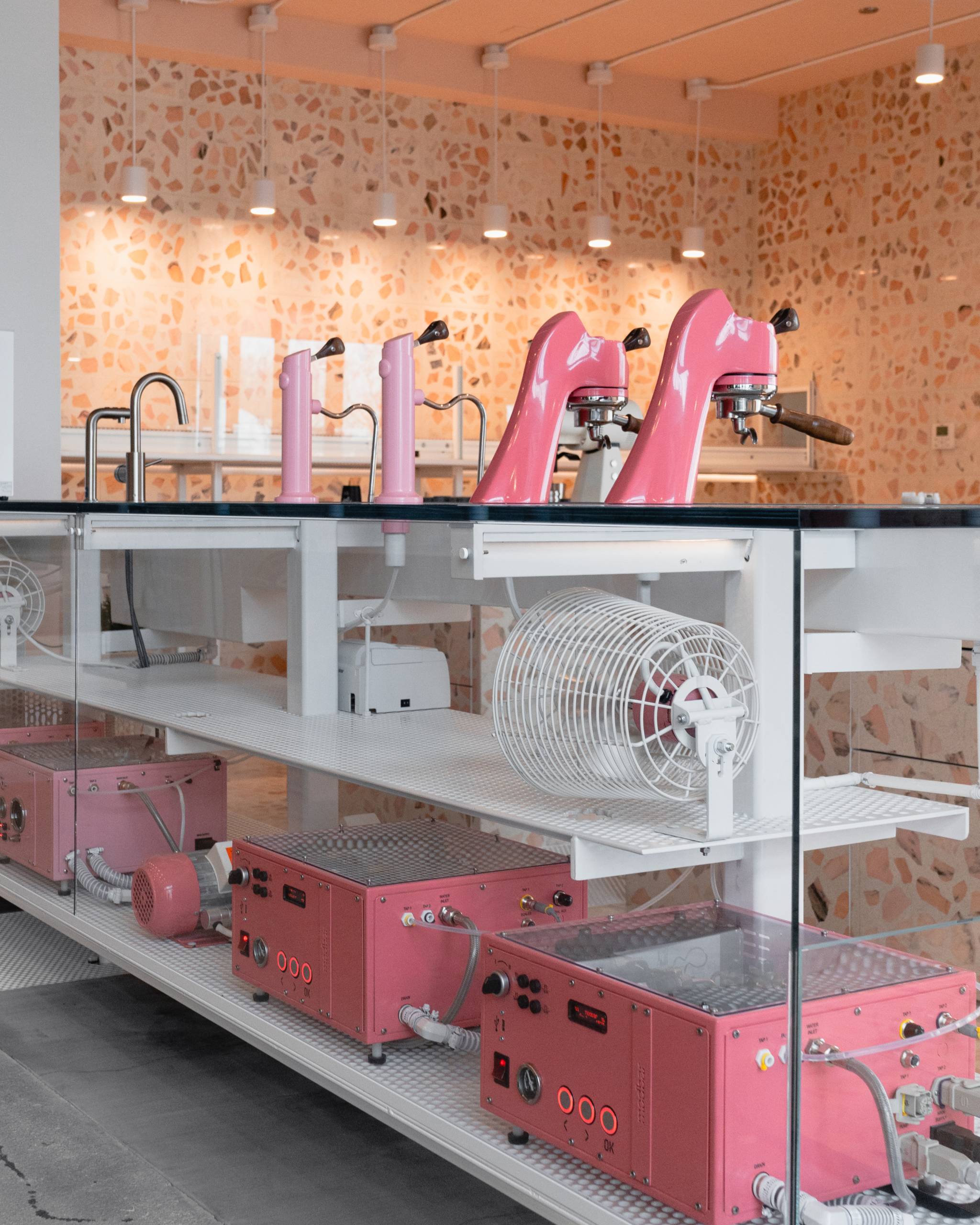 1. Everything is transparent
When I spoke with Jon Allen, co-owner of Onyx Coffee Lab, I learned that the company was named after the stone of the same name, which also shares a quality with the company's identity. "Onyx is the only precious transparent stone that lets light through," said Allen. "Transparency is a unique part of who we are, especially in sourcing."
Transparency blends with design in this café. Clear glass containers and countertops allow customers to see all the machinery that makes their coffee possible. "We want to minimize the barrier between customer and barista… We find it creates a different attitude and conversation in the café," Allen told DailyCoffeeNews last year. "You can see the boilers, which is a little play to the Momentary as well," said Allen. (Yep, if you haven't seen it yet, we have a Boiler Room at the Momentary!)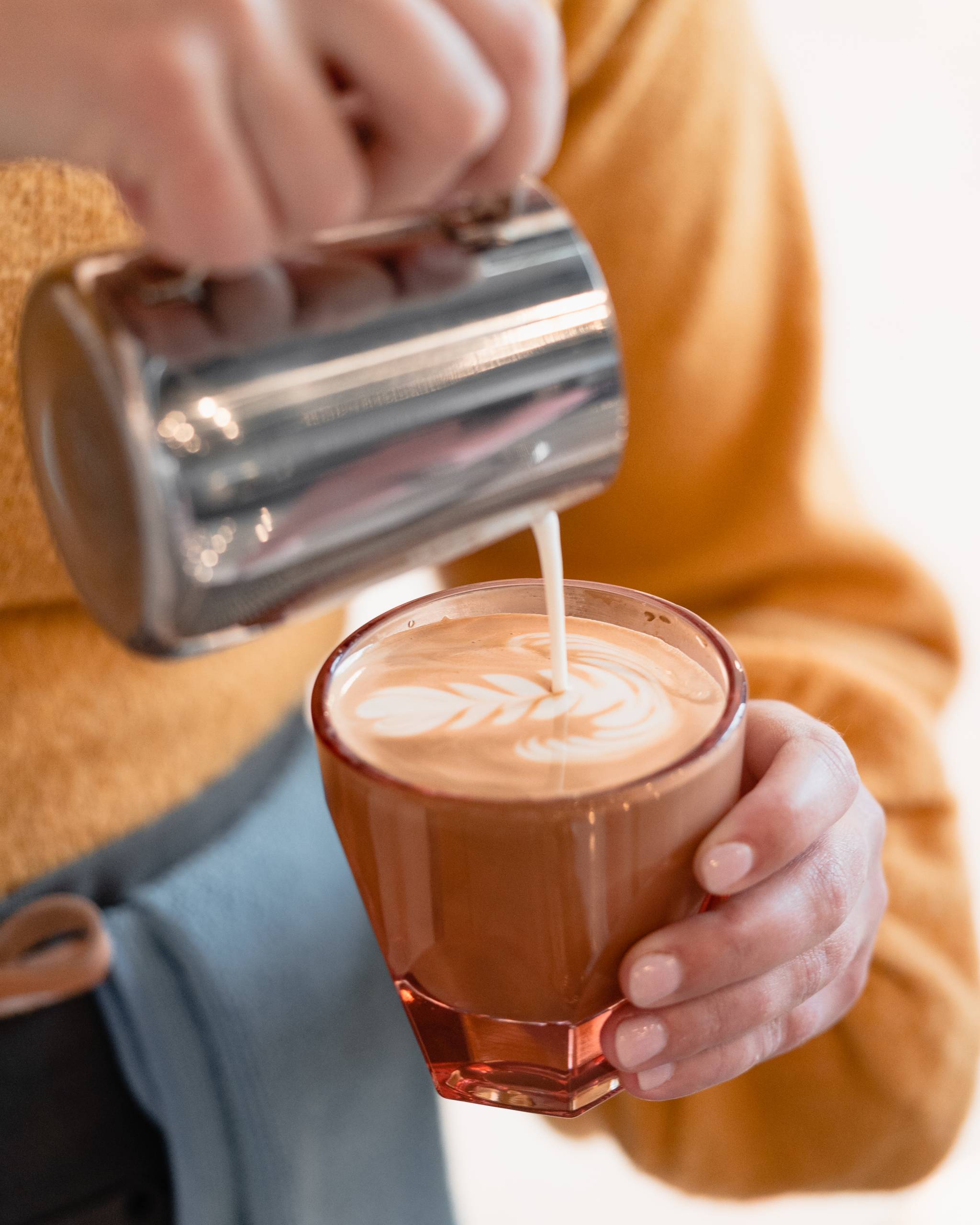 2. Oat milk is the default milk option
Last year, Onyx Coffee Lab announced that their Momentary location would offer oat milk as the default milk option. Traditional cow's milk has a $1 surcharge. "We call it a 'carbon tax' for regular dairy," Allen told DailyCoffeeNews. "It's sort of ironic that [the café] is in the former milk loading dock." (Didn't know that? Read about our history!)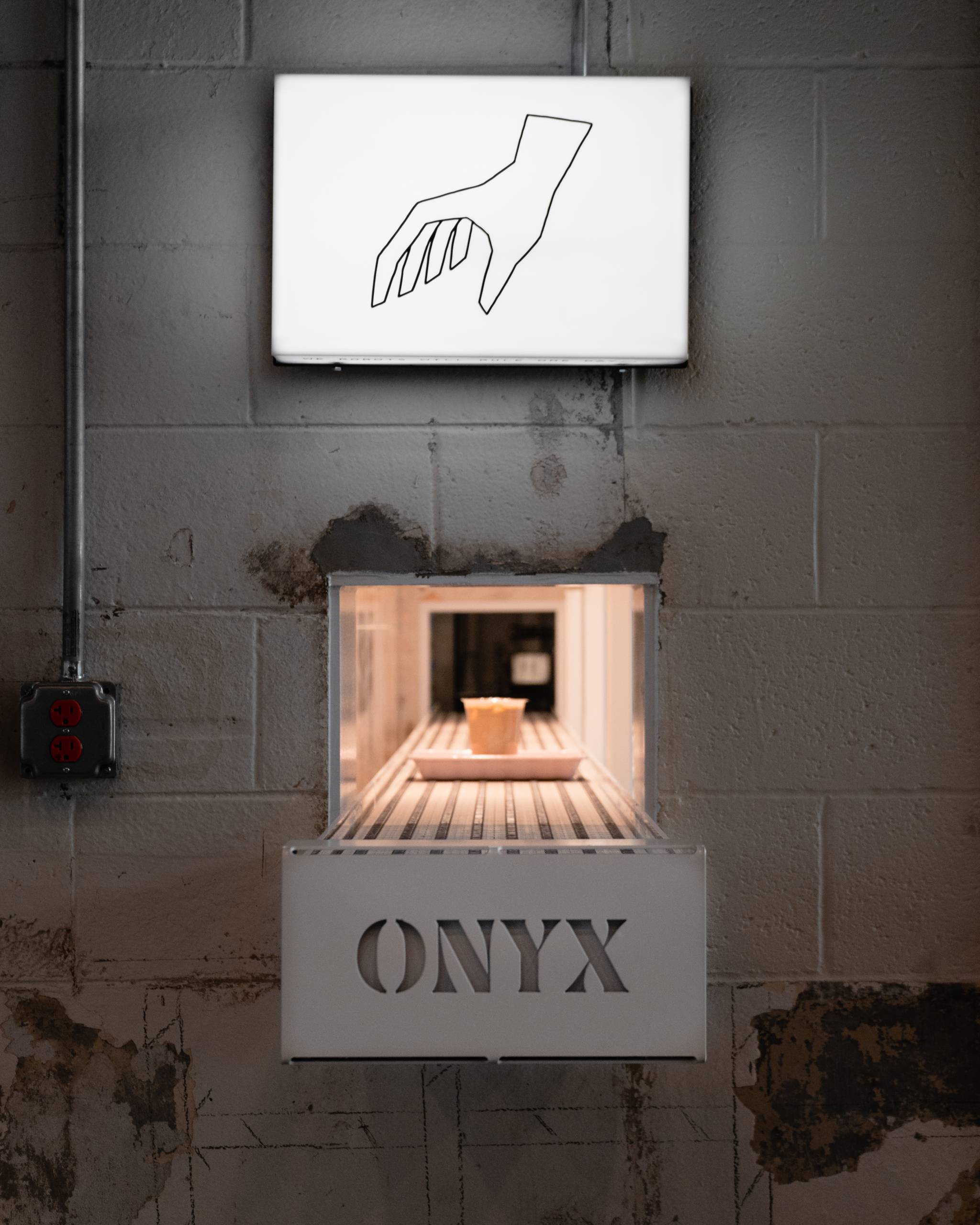 3. Delivery via conveyor belt 
This Onyx Coffee Lab features a sleek, branded conveyor belt on which many drinks are served. This conveyor belt extends past the front of the café to give easy access to coffee on-the-go. If you're anything like me and enjoy watching things move along a conveyor belt, there's also a standing bar where you can watch everyone's orders go by.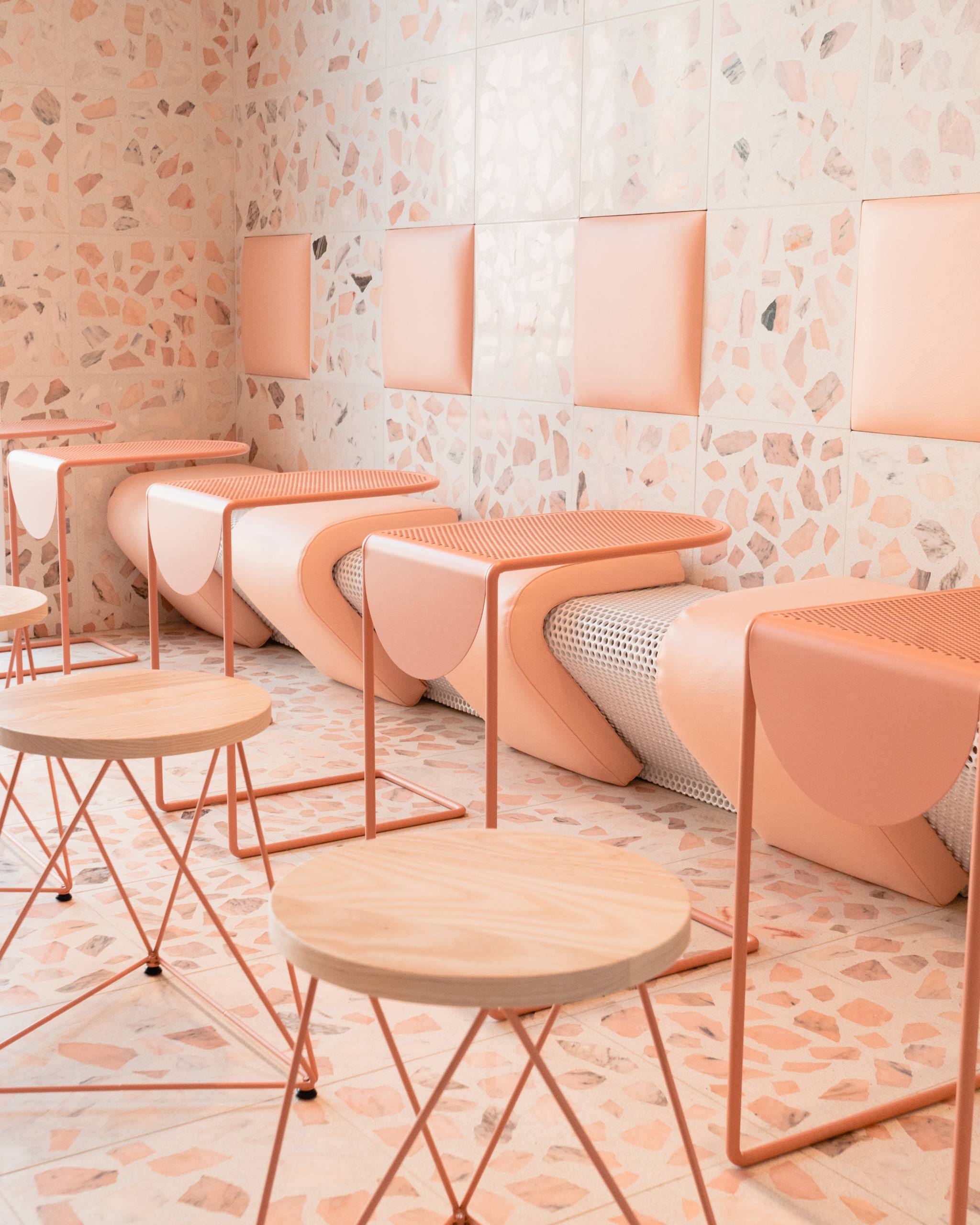 4. The design details 
The details of the Onyx Coffee Lab design were all carefully thought through. The pink tiles that cover the indoor space were custom-made in Italy and took about eight months to make, according to Jon Allen. The signature pink chairs and tables were made from a company in California and, as Allen explained, "it felt like everything came together."
Whether you're someone who has a keen eye for details, enjoys interior design, or just appreciates an aesthetically pleasing space, this Onyx Coffee Lab location is worth the visit just to see the design.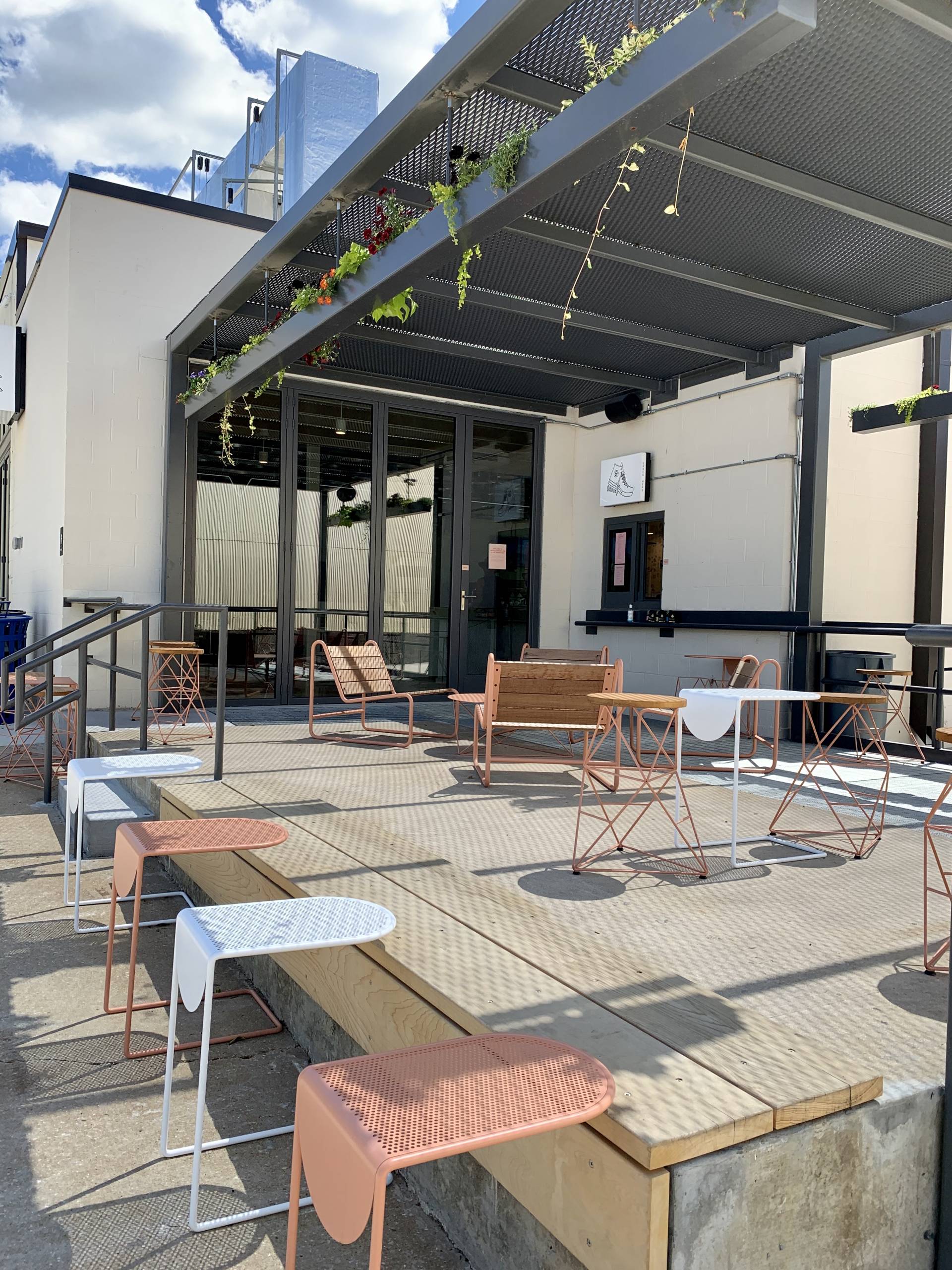 5. Walk-up outdoor window + patio
In addition to its sleek interior, Onyx Coffee Lab at the Momentary also sports a spacious outdoor patio to take your drinks outside. It offers a great view of some of the outdoor art currently at the Momentary as well as the Canopy across the Momentary Green. The patio also features a walk-up window for orders on-the-go. Jon Allen told me that "Onyx is geared toward coffee people." Sometimes coffee people need a quick stop-and-go option!
Another cool feature of the Momentary is that you can walk around the galleries with your coffee! Stop by Onyx Coffee Lab during your next trip to the Momentary, enjoy the unique space, and pair a delicious coffee drink with your art exploration.
Written by Erica Harmon, copywriter.