Installing Nick Cave: Until: A Q&A with Lead Installation Manager, Kevin Haynie

Nick Cave: Until is currently taking over all 24,000 square feet of the Momentary's gallery space. This monumental visual arts exhibition includes thousands of wind spinners, miles of beads, and hundreds of found objects. So…what does it take to install something of this size at the Momentary? 
The Prep department at the Momentary and Crystal Bridges Museum of American Art is responsible for packing, installing, unpacking, and handling all the art that moves in and out of our spaces. I recently connected with the Momentary's Lead Installation Manager, Kevin Haynie, who led the installation of Nick Cave: Until, to learn more about what it took to install the exhibition at the Momentary. I learned some incredible facts (did you know Crystal Cloudscape weighs three tons?!) that inspired me to look at Until in a completely new way.
Enjoy the Q&A with Kevin Haynie below.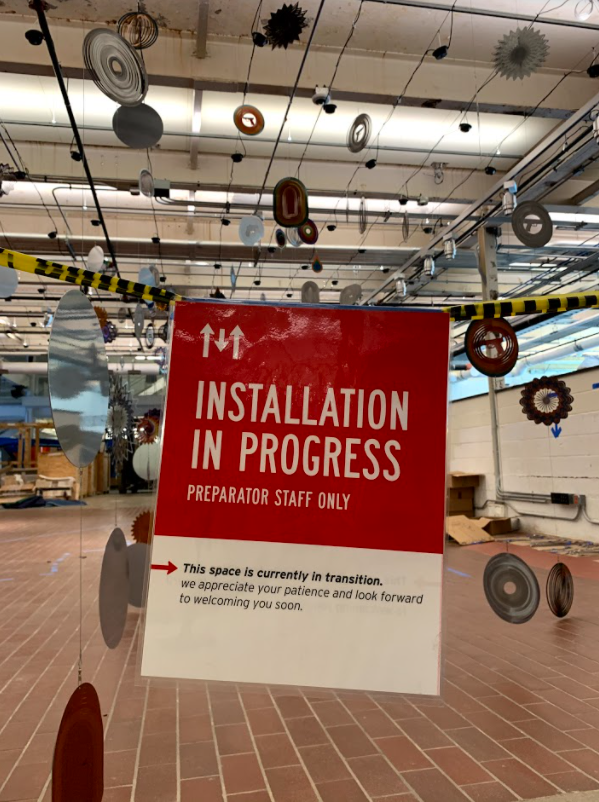 Erica Harmon: How many weeks did this installation take?
Kevin Haynie: Aside from the months of planning, the physical installation took around 7.5 weeks, beginning with the unloading of the transport containers a week and a half prior to erecting the first piece.
EH: How many staff/team members did it take to install this exhibition?
KH: Most of the installation required the use of roughly six to nine Preparators from both the Momentary and Crystal Bridges, as well as the assistance from three team members from MASS MoCA (in North Adams, Massachusetts) for two of the six-week install phase. This includes lighting all of the objects and gallery clean-up. Artist Nick Cave and his partner Bob Faust actually came to Bentonville for a few days to help with the installation, too, which was nice.
EH: What was the heaviest object you had to move, and how much did it weigh?
KH: Crystal Cloudscape was by far the heaviest component to handle. It is comprised of 16 pieces of varying sizes and weights that get assembled to become the single object you see today. Along with those pieces are the many chandeliers, some of which were several hundred pounds each, and other various components that are placed throughout the work bringing the total weight to around three tons.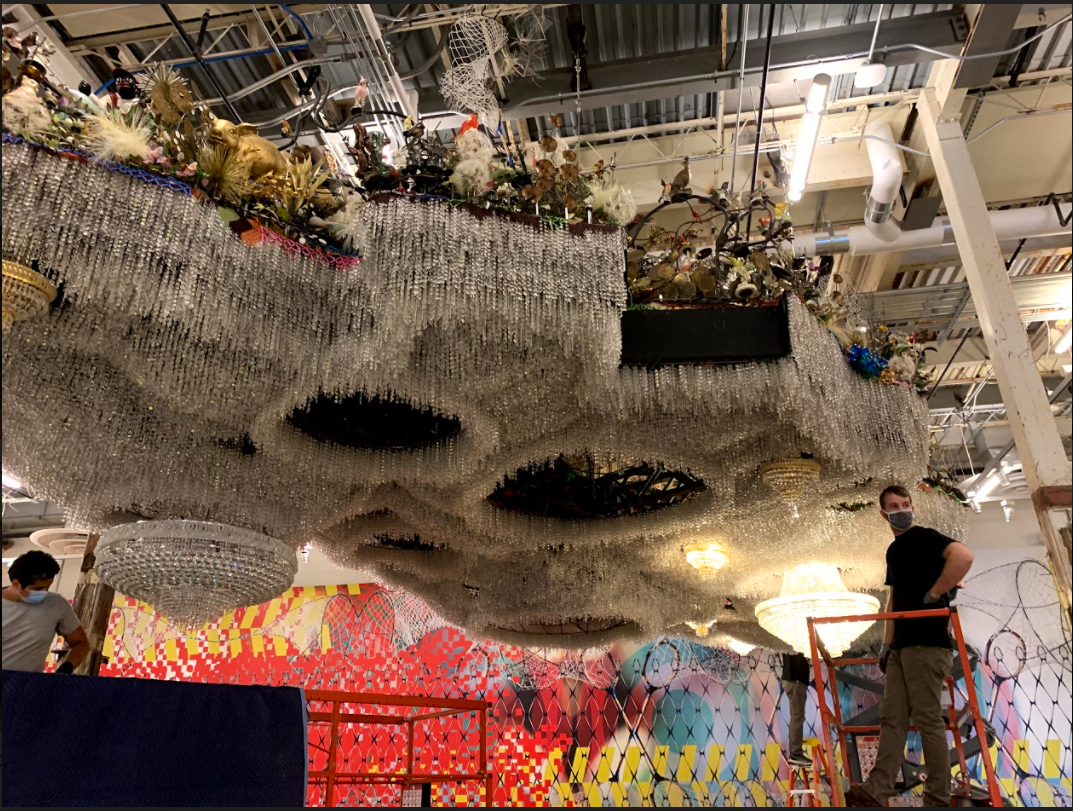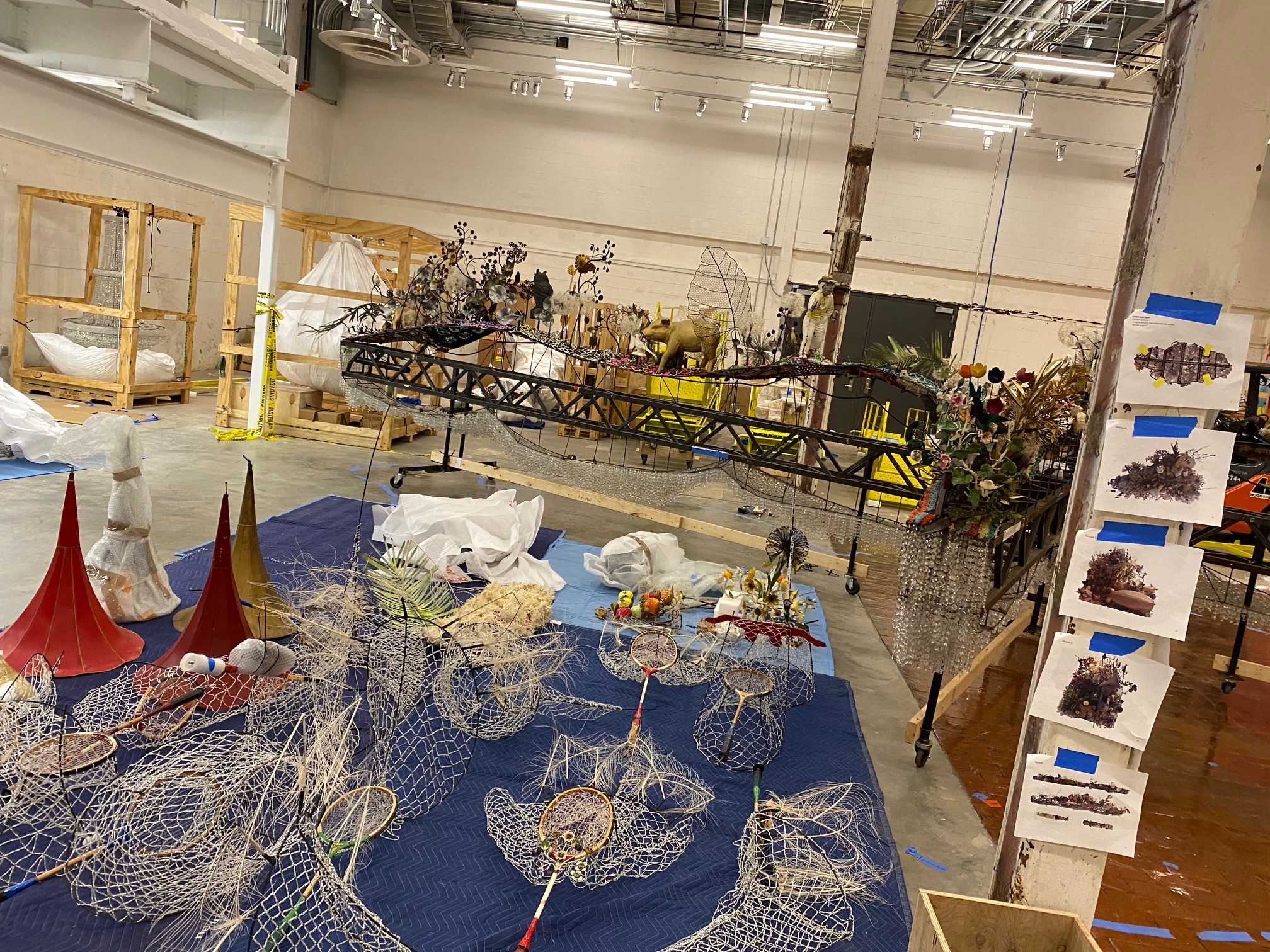 EH: Did you have to install all the individual pieces in the garden at the top of Crystal Cloudscape?
KH: Many of the objects that adorn the upper surface of Crystal Cloudscape are permanently attached and don't need to be handled during installation. However, there are several groups of objects that do. 
The large tree trunk, the gramophones, the nets, the alligator, and a few other objects do need to be placed upon installation. That process can be as simple as a single person carefully placing it in a slot, much like putting a golf club into a golf bag, or can be as intensive as having the entire team rig and hoist an object to then be lowered and bolted in place.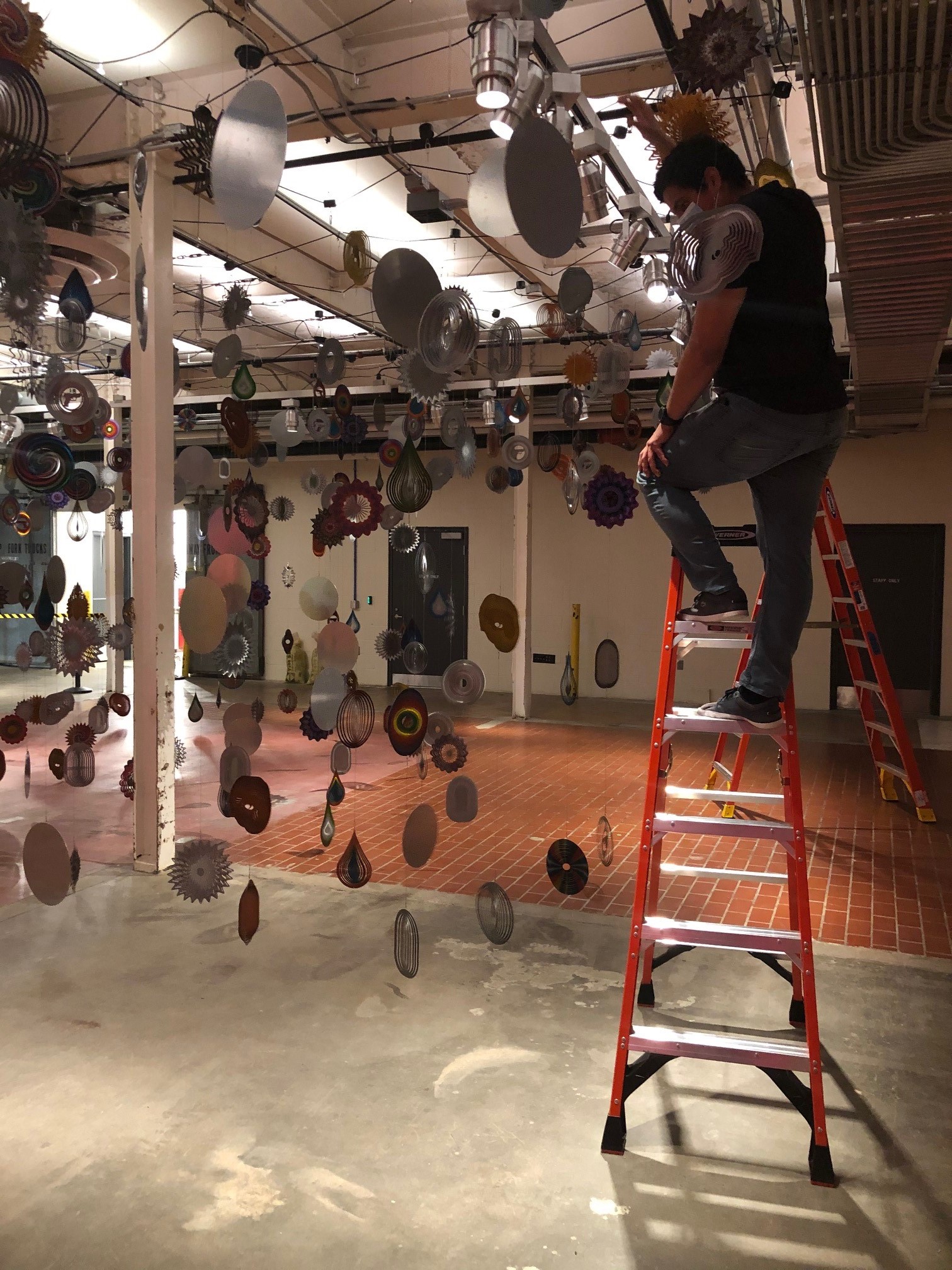 EH: Which piece took the most time to put together?
KH: Although Crystal Cloudscape was the trickiest and most cumbersome to handle, we were able to easily accomplish the task of assembly and hoisting the work with little issue in about 2-3 weeks. Kinetic Spinner Forest, on the other hand, was something that we worked on throughout the entire install timeline. 
Installing this work involved erecting a wire-cable infrastructure from which the spinner motors would hang. That would allow us to create the spacing and sequencing that is required of that work. To further complicate matters, we needed to adjust the lengths of every spinner strand to fit within our exhibition space. Previously, these works were in spaces that had much higher ceilings and so were calibrated to that (MASS MoCA, Carriageworks in Sydney, Australia, Tramway in Glasgow, Scotland). The installation team had the unenviable task of meticulously remaking hundreds of strands to custom lengths on the spot―a process that also included the assistance of some of our fearless volunteers.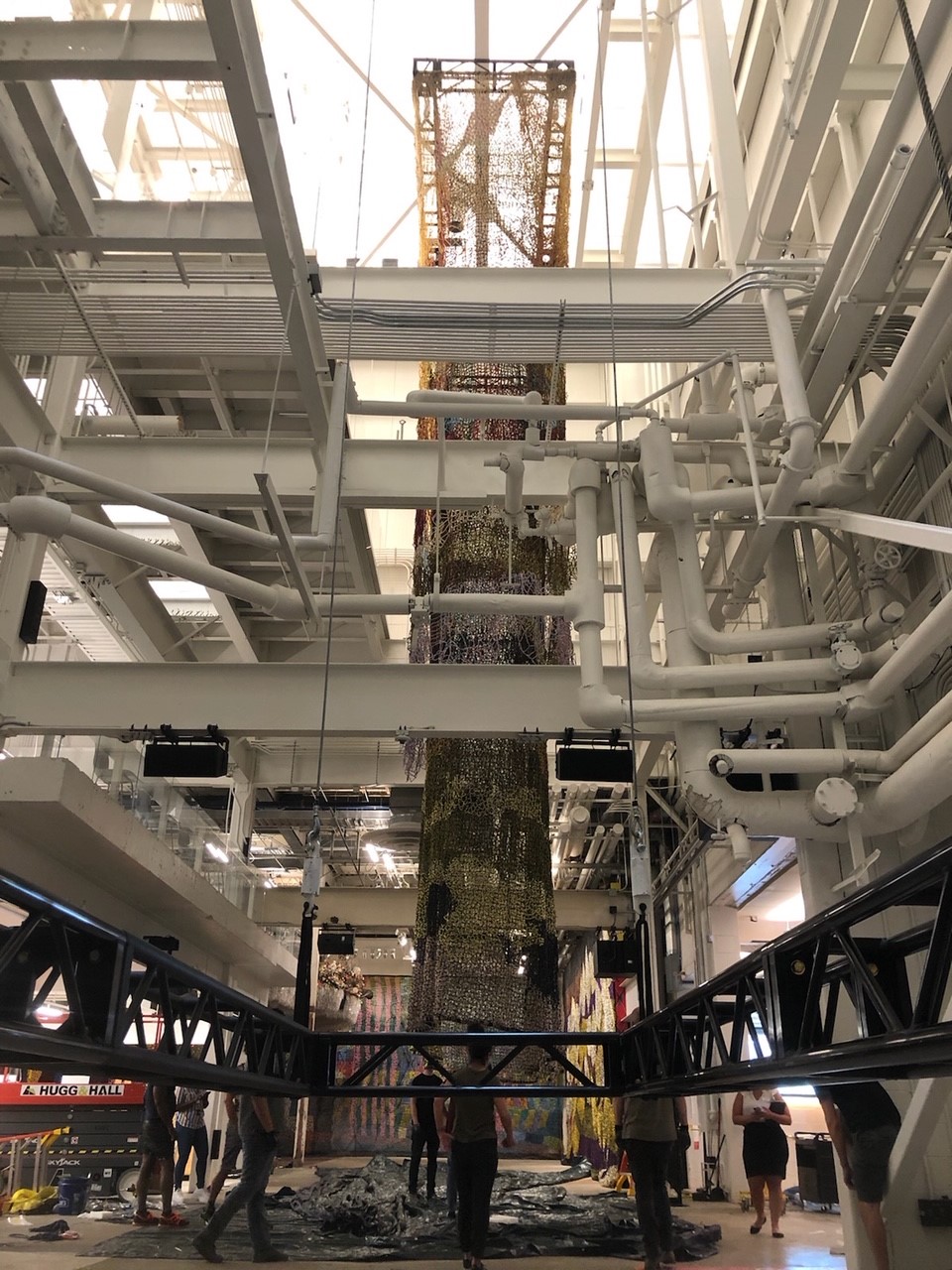 EH: How did you hang the Beaded Cliff Wall tapestries from the ceiling? Do you know how much those weigh? Did they come as one piece, or did you have to put those together?
KH: One of the many great things about the Beaded Cliff Wall is how their display can be so varied and unique to whatever space they are in. In our case, we applied them in two main ways: to the walls and to the ceiling. 
Attaching to the walls just required the use of some truss, hoists, and screws to create elevated attachment points, but the ceiling employed the use of our motorized hoists that are unique to our Tower space. We were able to create a basic shape out of truss and attach the beaded curtains to that via several hundred hefty zip ties while then connecting it all our mechanized hoists and, with the press of a button, raise the objects to our desired height. Each curtain weighs anywhere from 400-600 lbs. and when combined could be up to 1,500 lbs. per tower object.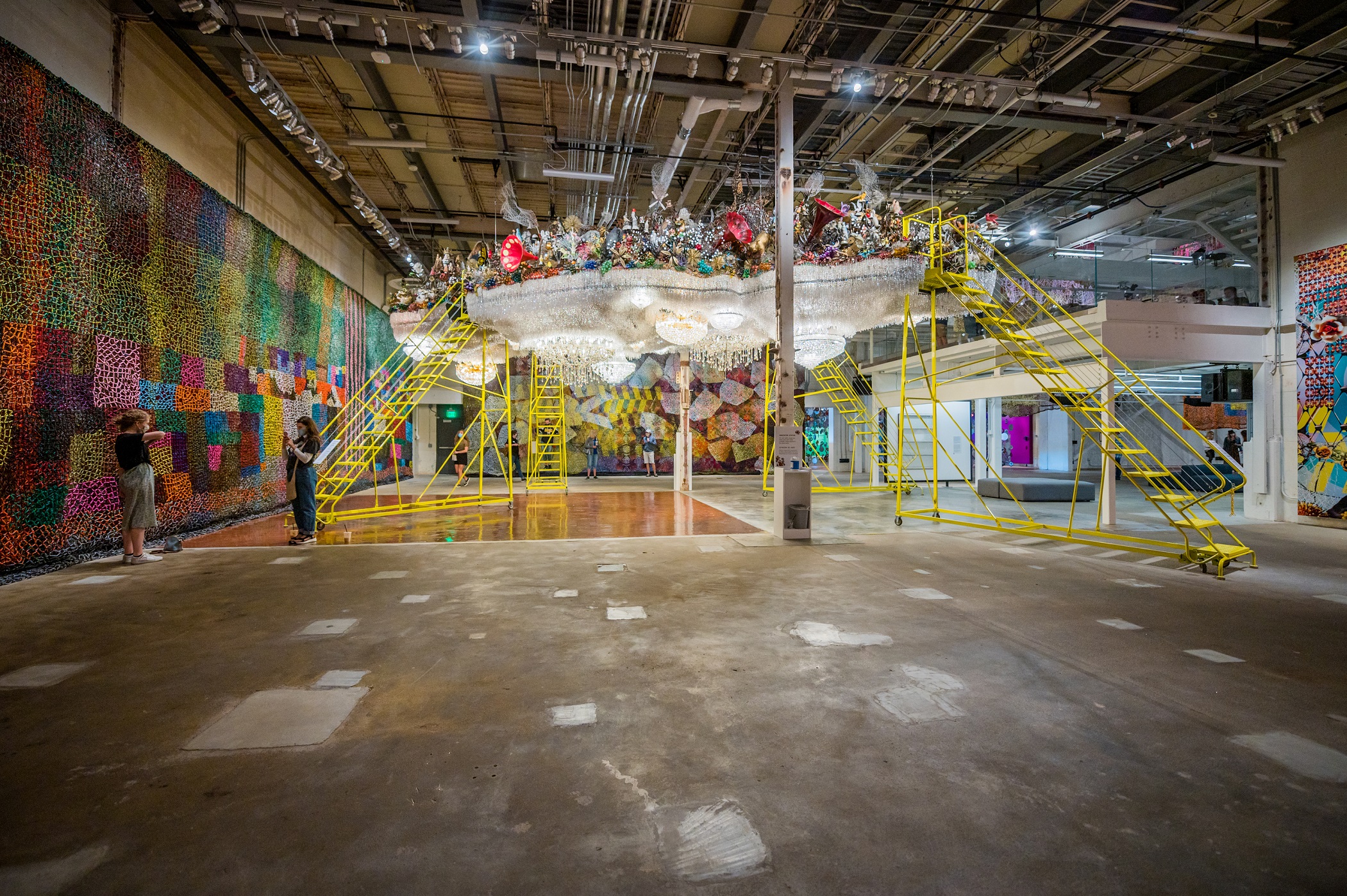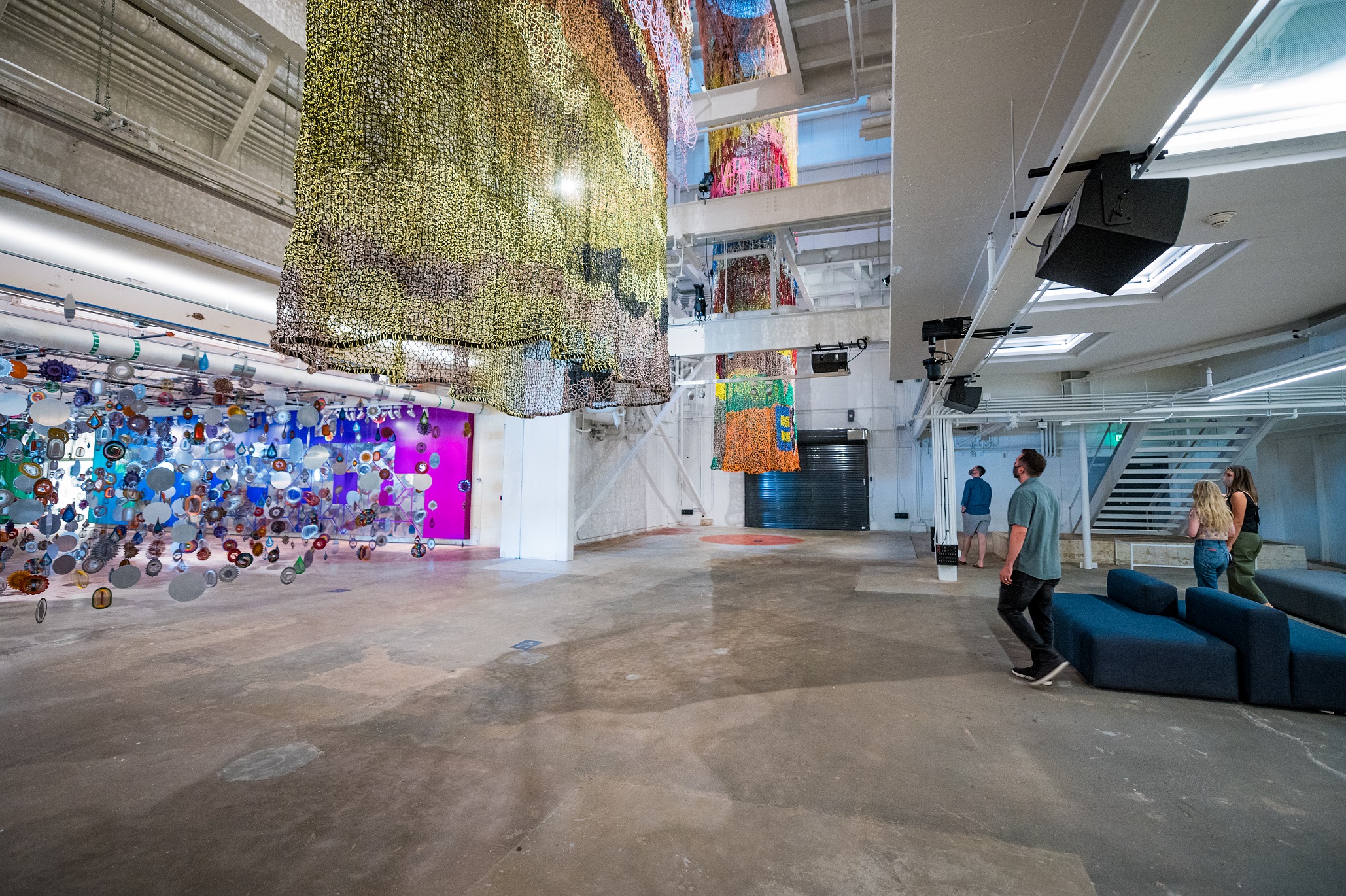 A special thank you to the team for operating under strict guidelines including wearing face coverings and practicing thorough sanitation in compliance with COVID-19 regulations.
Nick Cave: Until was curated by Denise Markonish, MASS MoCA, and organized for the Momentary by Lauren Haynes. The exhibition was organized by MASS MoCA and co-produced with Carriageworks, Sydney, Australia, and Crystal Bridges Museum of American Art. Principal exhibition support was provided by an anonymous gift. Major exhibition support was provided by the Horace W. Goldsmith Foundation, the Barr Foundation, the Mass Cultural Council, the National Endowment for the Arts, Jack Shainman Gallery, Marilyn and Larry Fields, BeadKraft, and the Robert Lehman Foundation.
Sponsored at the Momentary by Cox Communications, Goldman Sachs, Airways Freight Corp., Sarah Simmons, Anna and Carl George, Esther Silver-Parker, Visit Bentonville, Greenwood Gearhart, J&D Pallets, Atreides Management, LP, Caryl Stern and Donald LaRosa, Demara Titzer, Tony Waller, and Sue and Charles Redfield.