MOther's Day Cocktails from the MOmentary

Mother's Day is coming up, and to mark the occasion, the Tower Bar-tenders at the Momentary have created four exquisite cocktails to celebrate Mom: one to enjoy with breakfast (non-alcoholic option), brunch, lunch/dinner, and/or dessert. While it might be tough to take Mom to brunch or dinner this year, we can still treat her at home, either by making her one of these delicious cocktails or sending her the recipe! Find the recipes below, and get to know a little backstory behind each cocktail as the bartenders share stories of their moms.
BREAKFAST – NON-ALCOHOLIC TROPICAL TEA
CHEERS MUM MOCKTAIL
By Jared Wierman, Tower Bar Bartender
If your mom is like mine, she is a Teetotaler. I say that with complete respect. She always went to my death metal band's shows growing up and brags about the fact that I got a tattoo for her. To see us walking down the street together is hilarious—a kind and conservative lady and a heavily tattooed punk—yet, she is one of my best friends.
She is a cool mom, and when we talk about beverages it is usually about tea. She has always enjoyed a cup in the afternoon. In the states, tea has taken something of a backseat to coffee for our caffeine needs, but the world of tea is vast and contains so much incredible flavor. For this mocktail, we will be using jasmine green tea as a base (one of my mum Jan's faves), but you can experiment with a ton of different flavors if you would like, have fun with it!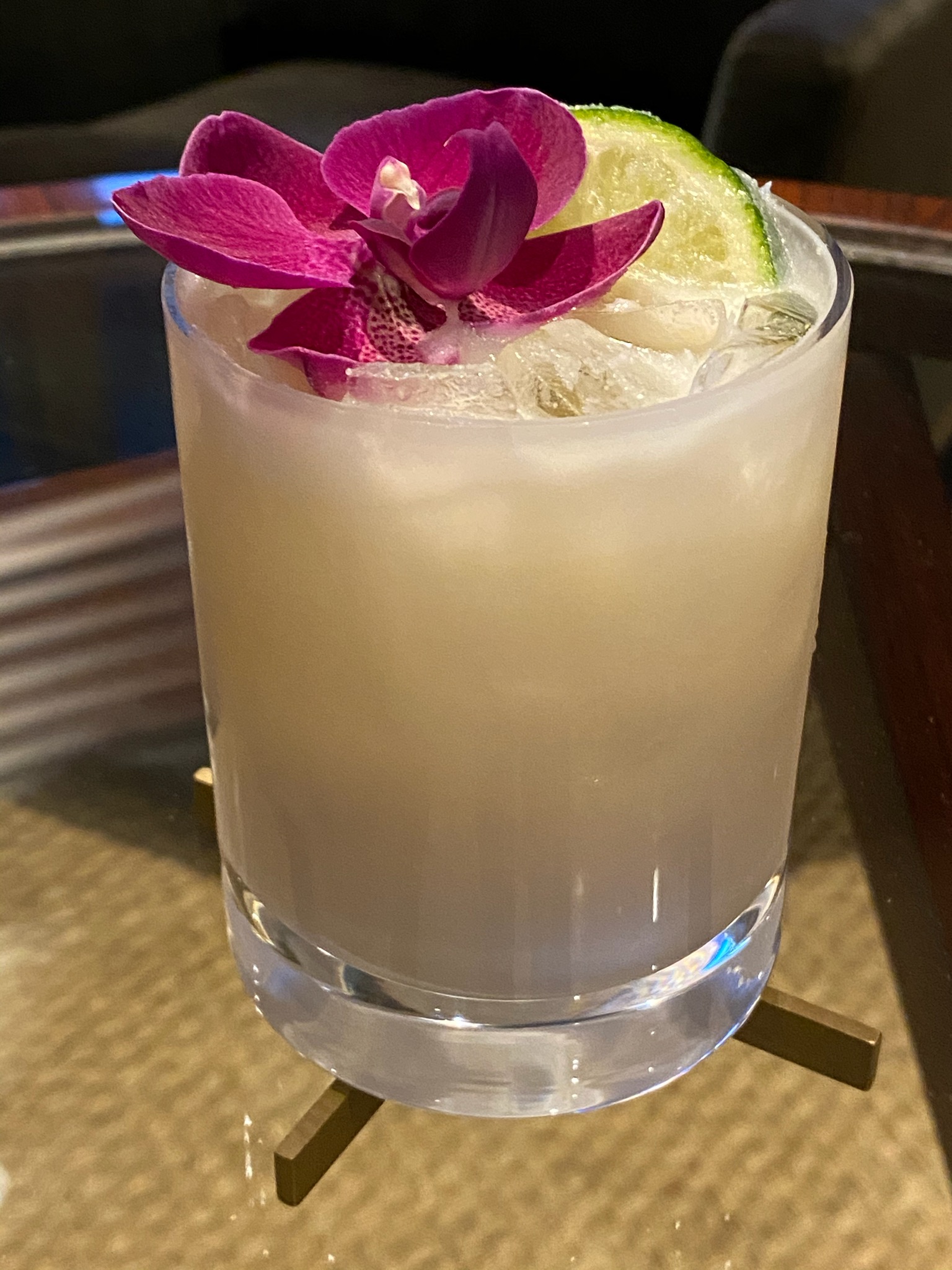 Ingredients
1.5 oz. Jasmine Green Tea (Steeped as concentrate)
.5 oz. Coconut Cream

Substitute: Anything that will provide coconut flavor: coconut milk, coconut water, or coconut extract (but just a tiny amount)

.5 oz. Agave Nectar

Substitute: Honey simple syrup (1 cup honey; ½ cup warm water)

.5 oz. Pineapple Juice
.5 oz. Lime Juice
Instructions
Shake all ingredients and add to a 10-12 oz. glass full of ice. Garnish with pineapple leaves, a lime wedge, edible orchids, or get creative and use whatever fresh fruit or herbs you have around the house. Cheers Mum!
BRUNCH – LIGHT & REFRESHING SPRITZER
BLUEBERRY BRAMBLE FOR MOM
By Jena Barker, Momentary Beverage Manager
A few years ago, I decided to treat my mother to a swanky hotel stay in New York for Mother's Day. When we arrived, she noticed that the hotel offered in-room bar-cart mixology service. She loved the idea and immediately asked for it.
Our young mixologist arrived at our door, pushing a cart full of many amazing options. So many, in fact, that she couldn't decide what she wanted. So, she said, "Please serve us a cocktail that you've created." He set about muddling mint and berries; adding spirits, St. Germain Liqueur, and other ingredients.
He handed the drink to her; and as he did, she said, "It's beautiful! What do you call it?" He seemed startled by the question and paused for an awkwardly long time. Finally, he said, "St Germain." I call it St Germain." She was so tickled by his bashful response, that when he left, she began giggling about it until tears came to her eyes. It was the beginning of a fantastic weekend with her. I will always love St. Germain Liqueur, as a result.
The cocktail was something like this: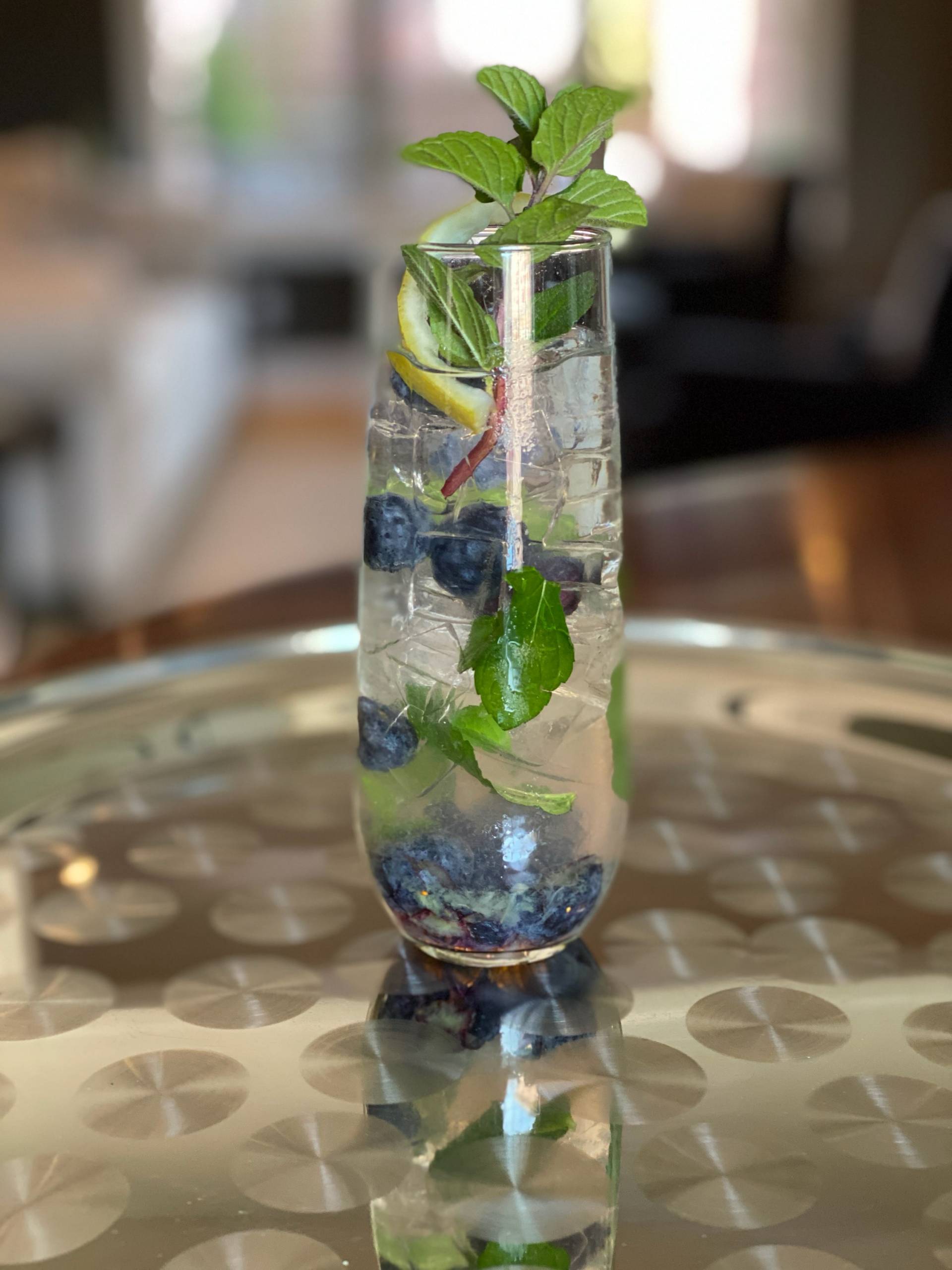 Ingredients:
Juice from 1/3 Lemon
Juice from 1/3 Lime
10-12 Fresh Blueberries (Blackberries and Raspberries work well, also)
3 Sprigs of Fresh Mint
2 oz. Vodka
¾ oz. St Germain Liqueur

Substitute: Grand Marnier (though it will give the drink a different spin)

Splash of Brut Sparkling Wine
Instructions:
With a wooden muddler, gently muddle blueberries and mint leaves in the bottom of a 10-12 ounce glass with lemon and lime juice. Fill glass with ice cubes and add vodka, St Germain Liqueur, then top with sparkling wine.
Add a mint sprig and whole fruit to garnish.
AFTERNOON OR EVENING – ELEGANT CITRUS COCKTAIL
LYNETTE'S LAVENDER 75
By Michael Lucero, Tower Bar Bartender
This drink named in honor of my mom is a twist on a European classic. I wanted to make her feel special by incorporating lavender into her drink because she loves lavender. I also wanted to offer the simple gesture of a drink to make her feel classy and sophisticated with a European flair because she deserves it and so much more! Three cheers for Lynette!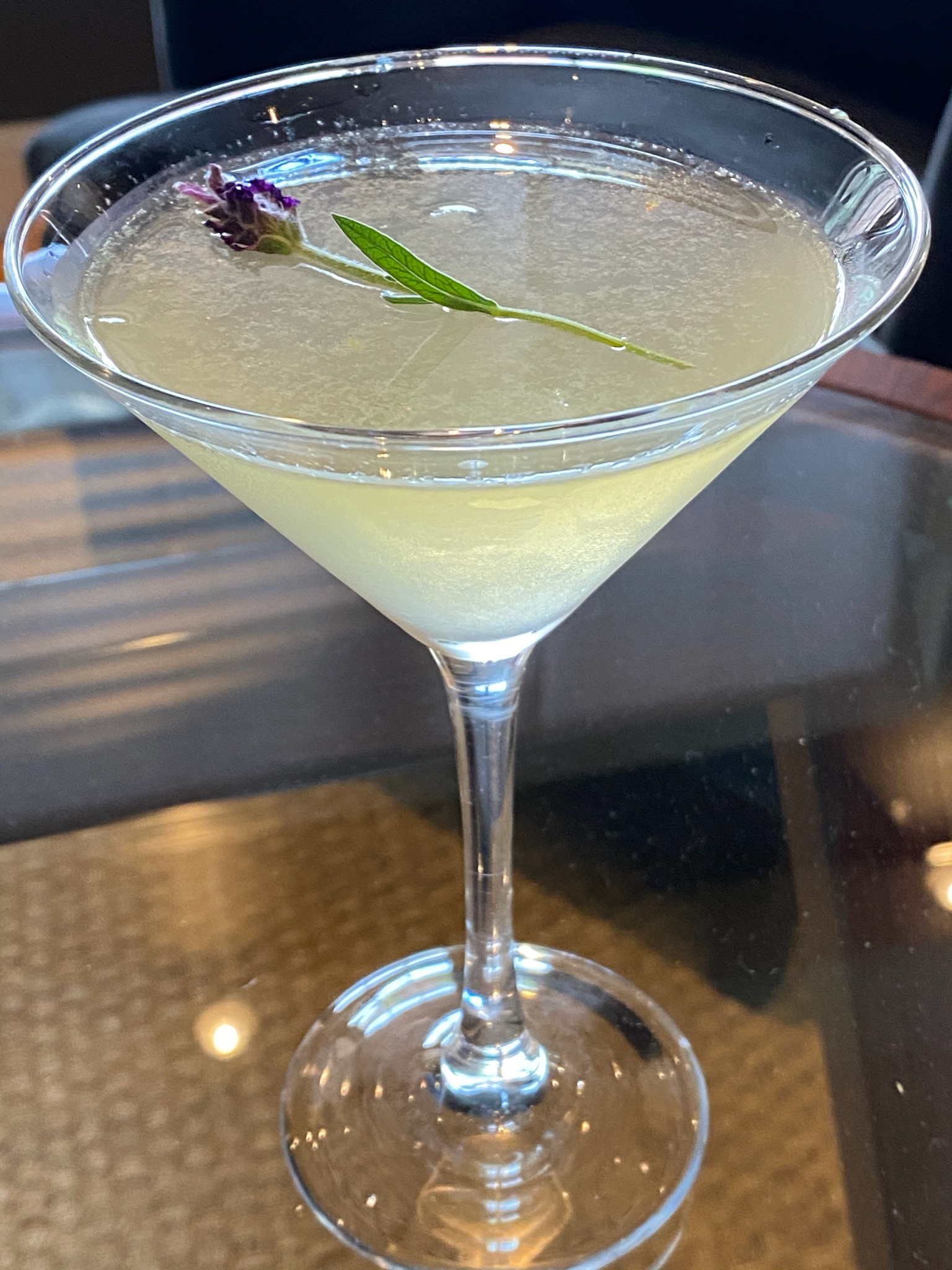 Ingredients
2 oz. Beefeater Gin
½ oz. Lavender Syrup

Substitute: Simple syrup (1/2 cup water; ½ cup granulated sugar)

¾ to 1 oz. Fresh Lemon Juice (To Taste)
Top off with a Brut Sparkling Wine
Instructions
Add all ingredients to shaker tin and shake until chilled. Double strain into a chilled champagne coupe and float with sparkling wine. Garnish with lemon twist and/or lavender sprig.
DESSERT – INDULGENT AND RICH
PERLA'S BLACKBERRY VANILLA FLOAT
By Perla Chavez, Tower Bar Server
For my Mother's Day drink, I chose my mother's favorite float.​ My mom does not drink alcohol often, and for her birthday every year, we typically get an ice cream cake (they are her favorite).  A few years ago, I decided to mix it up, and I made her a vanilla float.  Then, just last year, I made her a berry vanilla float with vodka.  She loved it!  Her birthday is the only time of the year that she will have an alcoholic drink, and now, it will always be this one.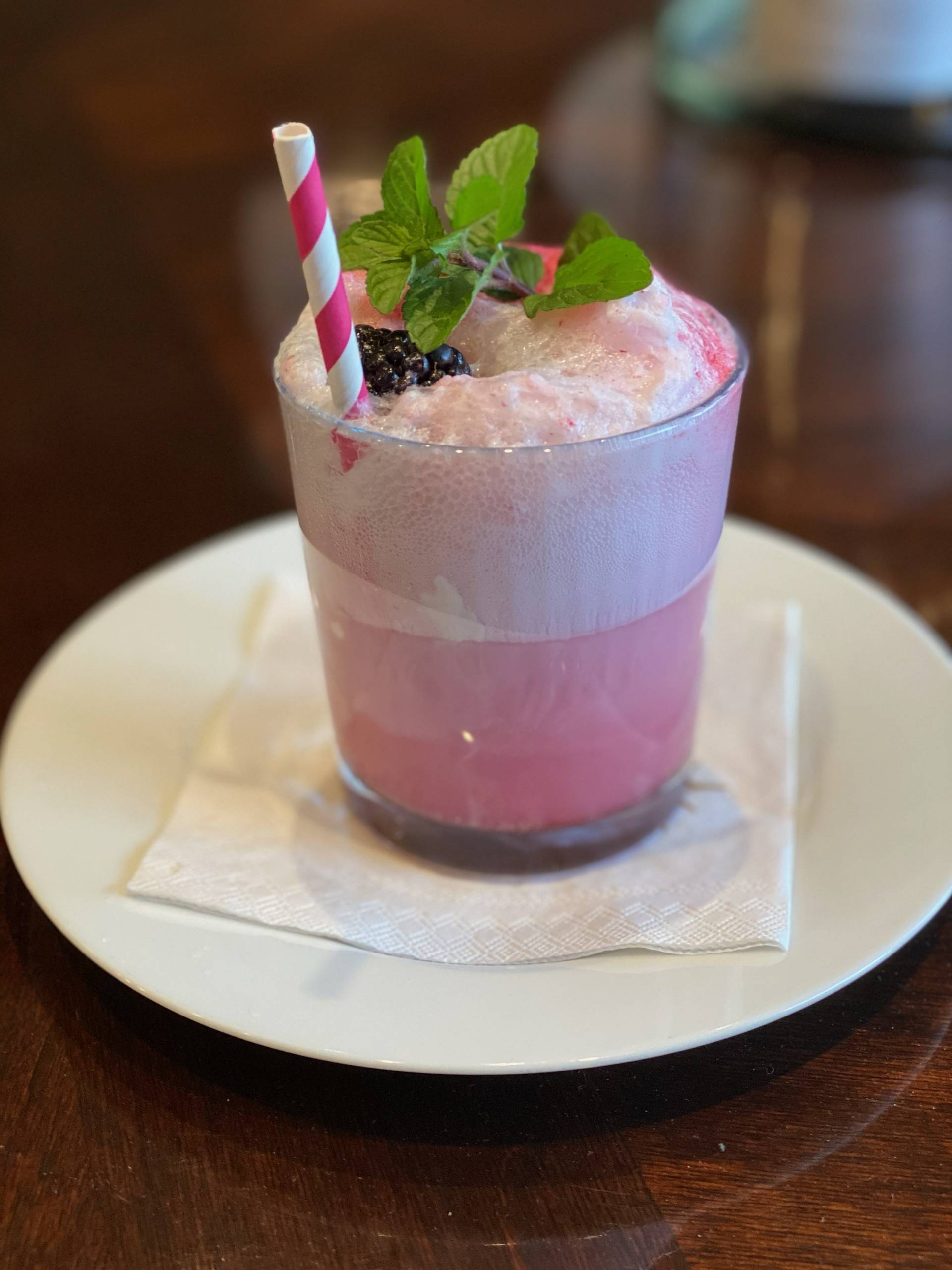 Ingredients
2 cups Blackberries (Raspberries would also work well)
½ cup Sugar
1/4 cup Water
½ cup Club Soda
1 Large Scoop Vanilla Ice Cream
2 oz. Vanilla Vodka (or, vodka and clear vanilla extract)
Garnish: Fresh Mint Spring and Fresh Berry
Instructions
In a saucepan, bring berries, sugar, and water to a boil.  Let mixture cook on simmer for 10 minutes, stirring occasionally, until the juices are released and mixture thickens. Let cool and then press syrup through a fine wire mesh. This portion of the cocktail is best made ahead and stored in the refrigerator until ready to use.
Mix the blackberry syrup and vodka in a separate glass.
Place one large scoop of vanilla ice cream into an 8-10 oz. glass. Pour syrup and vodka mixture over the ice cream, and top with a splash of club soda. Garnish with mint sprig and fresh berries.
Happy Mother's Day! Cheers!