Recap: The Ballad(s) of Jesse by Nick Vaughan + Jake Margolin
Nick Vaughan and Jake Margolin are two accomplished artists who can now add one more achievement to their list: they are the first artists to complete a virtual artist residency at the Momentary! 
From their Brooklyn apartment, Nick and Jake spent the last week of April putting together the elements of an Arkansas-centered concept piece called The Ballad(s) of Jesse. Part of their 50 States Project, The Ballad(s) of Jesse is inspired by a Harrison-based, 1920s interracial same-sex couple and explores the murkiness of queer histories that have been casually or intentionally erased.
Last Monday evening, Nick and Jake, along with their collaborator, New Orleans-based artist and composer free feral, hosted a free Zoom event for the public to showcase a few of the components of The Ballad(s) of Jesse that they worked on during their residency. As Nick said, "this is a window into the development process."
The work-in-progress consisted of an artist lecture, spoken ballads, and a musical performance by free feral, who created two original ballads based on the story and their own explorations. These were all vignettes of a larger theatrical event that had yet to exist, but it left me with a feeling of grandeur. 
"What we know is precious little," Nick and Jake began. 
We know that in 1926 a white man named Wellington Stephenson became the president of the Missouri & North Arkansas Railway and moved with his African American lover, a man named Jesse, to the small town of Harrison, Arkansas. The two lived together in a converted luxury railcar (car number 99). Jesse was ostensibly a live-in servant, an arrangement unheard of not only because of its same-sex dynamic and the exceedingly close quarters, but because Harrison, Arkansas had, only twenty years earlier, violently expelled its entire African American population, becoming one of the region's notorious "sun-down towns" and later a haven for self-proclaimed white supremacist leaders.

We know that seven years after moving into their opulent rail car Stephenson and Jesse were run out of town when the M&NA hit financial turmoil.

We know that Stephenson, a "confirmed bachelor" into his late fifties, returned to Kansas City where he lived with a wife (a widow with several grown children) in a development with deed restrictions that excluded black residents.

We know that Jesse disappears from the historical record. We haven't even found his last name.

We know that the rail car they lived in was burned to the ground in an ownership dispute ten years ago, ending a storied career that began in 1888 when it was built as a luxury Pullman for the Rocky Mountain Railway and christened "The Manitou".
Nick and Jake walked us through this story in their own words, expending historic detail and the adventure of their pursuit to find the Manitou, only to discover that it had been burned just 10 years ago, lost to history. In recounting their experiences, their storytelling was immaculate, from the pacing of the plot to the poetic language.
The ballads, both spoken and sung by each of the three artists, explored the story from different characters, viewpoints, and personifications, such as, in free's case, the personification of doubt. They explored themes of isolation, loss, and sense of place, among others. In their song of "the adversary," free feral brought an entire song to life right before our eyes using sound mixing technology and their own body and voice to blend music together as they went, performing a special concert of works still being developed that I felt lucky to witness.
All three artists had embracing personalities. I couldn't help but get just as excited as they were about the project and I wanted to learn more.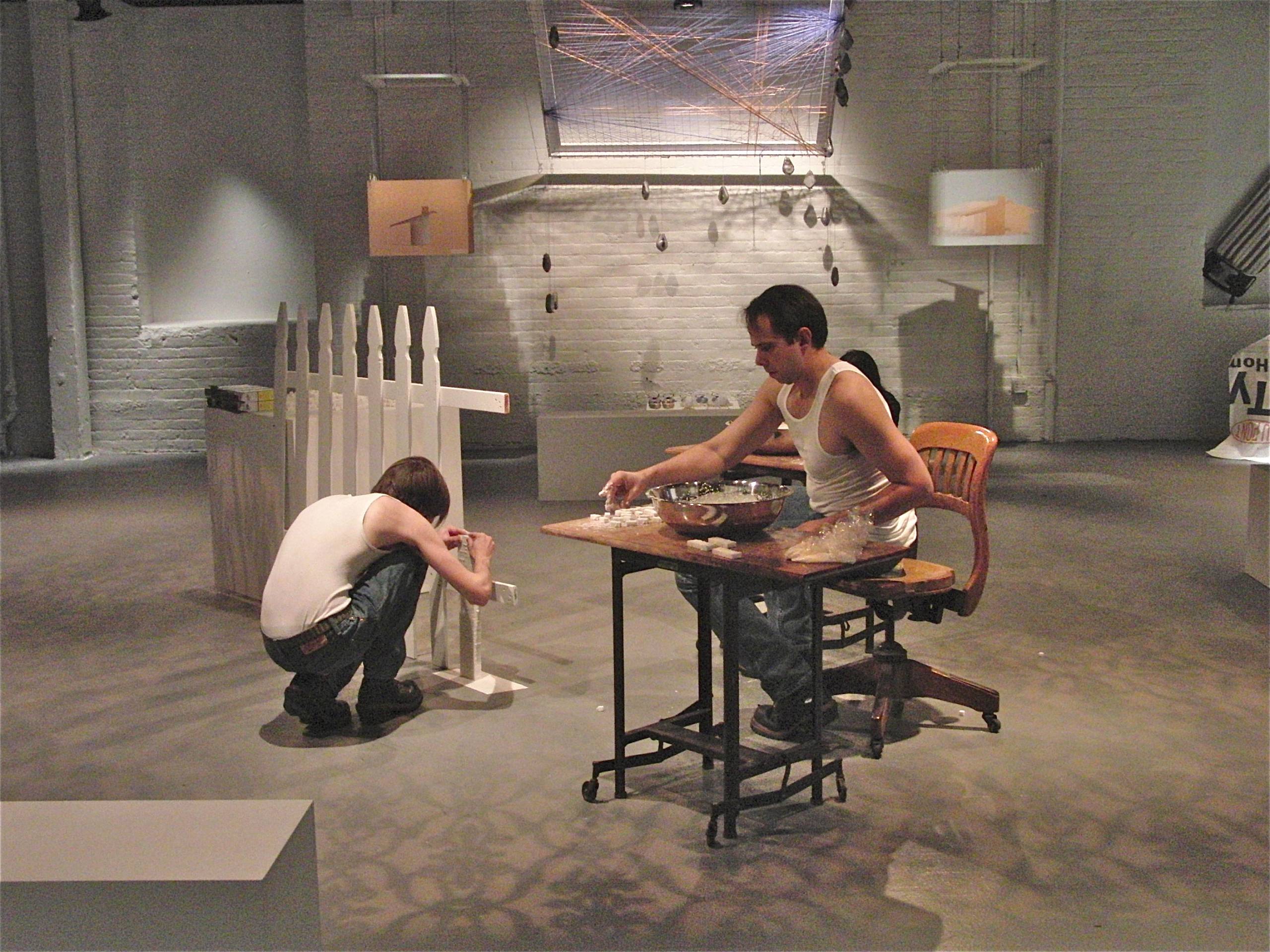 It was incredible to behold how artists could be storytellers in this way, with so many concepts swirling around one another to elevate a larger story that may otherwise have been completely lost to history, as so many are. The grander vision came through clearly as each individual piece was delivered to us. They were all unique, but all united in a focused purpose. 
In their 50 States Project, Nick and Jake have also explored stories in Colorado, Texas, Oklahoma, Wyoming, and Louisiana. Each project, they explained, evolves as they conduct research and get to know each state. "Finding what's right is a very slow process."
Toward the end of the event, Nick and Jake discussed some additional components of the 50 States: Arkansas project that they might consider, such as commissioning queer Arkansans to submit stories and photos to go along with this story, combining a multitude of archives in an artist box that can live on and live on its own, and, hopefully, coming back to Bentonville.
While the artists are not completely sure what The Ballad(s) of Jesse will become in the end, it's clear that whatever it turns out to be, it will be promising. 
Follow Nick and Jake's work and continue to support their artistic projects here.
Learn more about the Momentary's Artist-in-Residence program here.
Written by Erica Harmon, copywriter.