The Momentary Food Truck: A Q&A with Chef William McCormick

The Momentary Food Truck is our newest culinary offering. While it's black-and-white design may look unsuspecting at first glance, this culinary experience changes like a chameleon. One day, this food truck could offer Japanese Yakitori-style kebabs, the next it could offer something completely different. 
I took a few minutes to chat with William McCormick, head chef of Eleven at Crystal Bridges and the innovator behind the Momentary Food Truck, to learn more about the concept, the food that is currently being served at the food truck (kebabs, grilled cheese, and s'mores – yum!), and the street food scene in Northwest Arkansas. 
If there's one thing I learned, it's that Chef William places significance in every detail of his craft, from the special Japanese binchotan charcoal he uses to make their southern Yakitori-style kebabs, to the nods he gives the Momentary in his food (the grilled cheese kebab pays homage to the Momentary's history as a former cheese plant), and developing an "in the moment" culinary experience that reflects the spirit of the Momentary.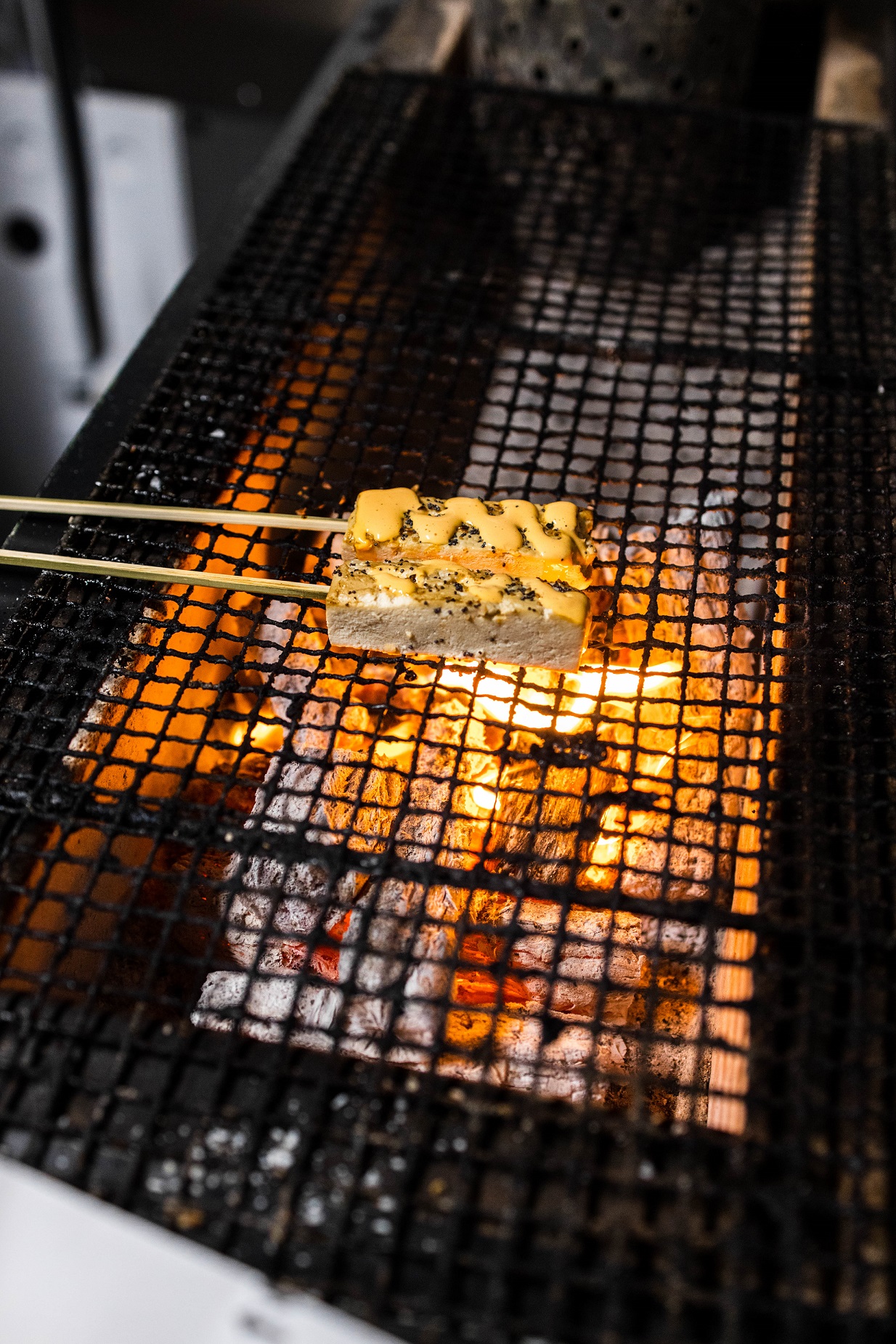 Erica Harmon: What inspired the Japanese Yakitori street fare concept currently being offered at the Momentary Food Truck? 
Chef William McCormick: We wanted to offer food that was portable, that can be transported, taken on-the-go, but not necessarily have your hands on―something that could easily follow COVID-19 safety guidelines and recommendations. That's where the idea of these skewers came in. We started looking at regional kebabs of the world (Middle Eastern, southern, Japanese, etc.) and I had a Japanese hibachi grill at my house that wasn't being used, so I wanted to use that because it's the coolest thing ever: it was handmade in Japan and they tempered the fire bricks for it. That grill is currently being used in the food truck.
EH: So this charcoal helps speed up the cooking time. Does it do anything to the flavor of the food?
WM: The charcoal is so clean that you get these lightly charcoaled aromas and flavors. When you put your marinated food on the grill, that marinade hits the charcoal, atomizes, and gets into your food.
As far as what we're putting on the skewer, we're very purposeful with that. We wanted to keep with the idea of cheese (seeing as how the Momentary used to be a cheese plant), and we thought, how can we have grilled cheese but on a stick? So we take sourdough rolls, cook them in garlic butter, grill them, and then we aerate this beautiful, aged gruyere and cheddar sauce over the top using a whipped cream aerator. It creates this wonderful texture of cheese that is aged and smoky. We also take it one step further and top it with a cured egg yolk, which is almost like a yolky parmesan, so it reinforces those cheesy, aged aromas. It tastes just like grilled cheese, but the delivery of it is unique. 
We also have a chicken thigh kebab that is brined, lightly cooked sou vide to change its structure, skewer it, and as it's grilling, we hit it with a bourbon-black pepper glaze that gives it a nice southern flavor of sweet and smoky.
The s'mores kebab is also fantastic. We use Markham and Fitz chocolate. We make our own marshmallows―a honey marshmallow―toast it just enough so it's melted but not runny, and it makes for a delicious bite.
EH: How is cooking in a food truck different than in a kitchen? What are some things you have to consider in a confined space? 
WM: You have to be really precise about what's in the space. If you forget something, you can't pull it out of a drawer. You're on your own island. At the same time, we're cooking with such rustic technique, all we need is food, fire, and serving vessels. It is a unique challenge in that we have to work over an open flame, and only one person can work in the food truck at a time. We try to keep everything within an arm's reach, and we have Post-it notes where everything goes (in French, this is called mise en place). The key is organization.
EH: Will the concept change or stay the same? 
WM: The concept will absolutely change. Think about the food court at a mall where you have singular shops doing one thing very well. In Singapore and in other places, this is called a hawker stall. If you take that concept and apply it to our food truck, we are a constantly evolving hawker stall and we can become anything we want. Right now, we are offering Japanese skewers. Tomorrow, we could be offering fried chicken. The way folks receive the food will also change. We want to take this evolution and have a "momentary" food experience to ebb and flow with whatever creative palette we find ourselves in that day. I want us to be able to become anything at any time. Our matte black design finish is also the perfect design element to become anything.
EH: How's the street food scene in Northwest Arkansas? How do you see the Momentary Food Truck playing a part in it?
WM: We were very purposeful with the truck we purchased. We wanted to have a truck that is mobile and convenient, fitting into any environment in Northwest Arkansas (farmer's markets, festivals, etc.). It's nice being outside and able to offer delicious food that is fast, quick, and convenient.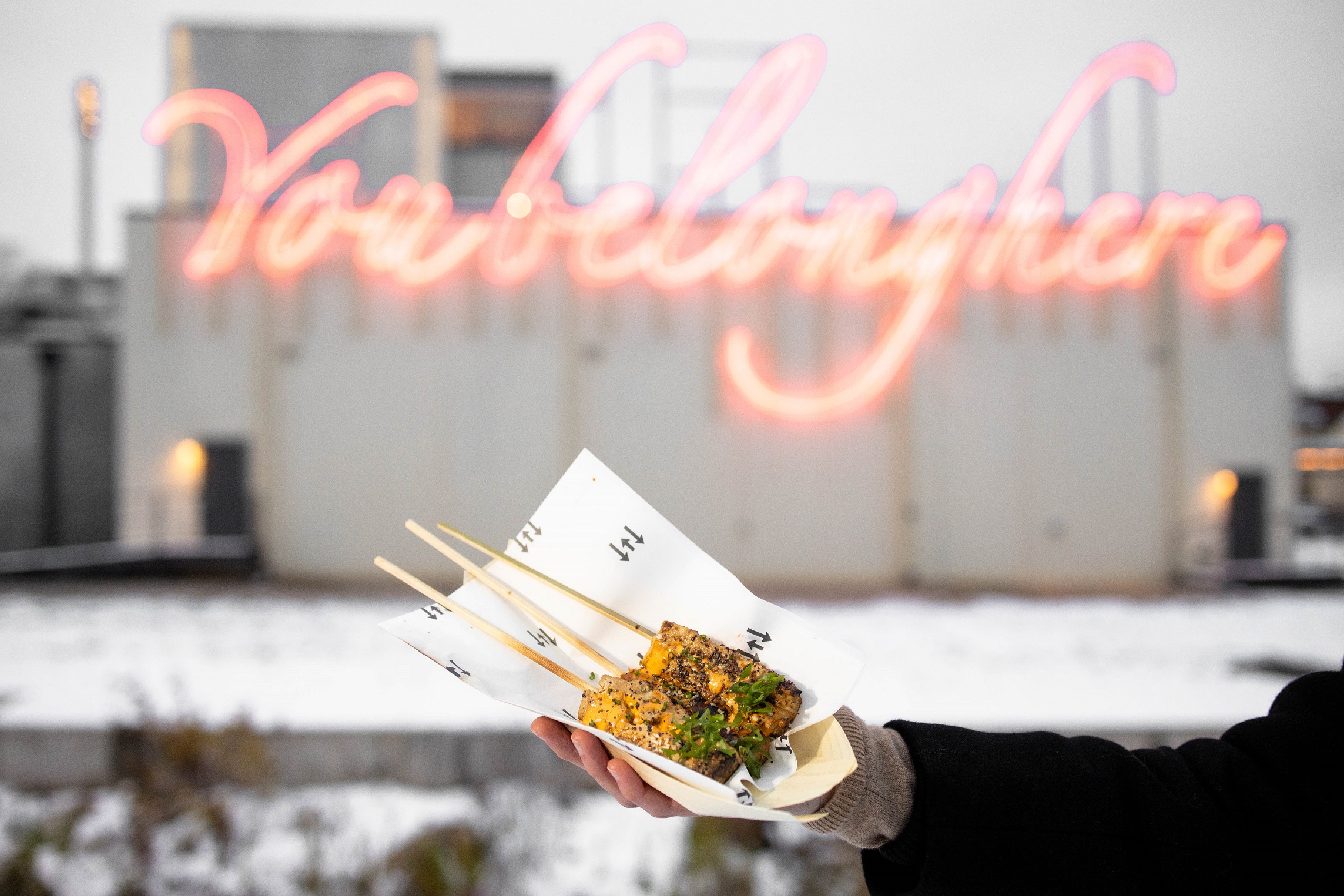 The Momentary Food Truck hours are:
Tuesday-Thursday: 2 to 7 pm
Friday: 2 to 9 pm
Saturday: 12 to 9 pm
Sunday: 12 to 7 pm
Monday: Closed