This Land is Your Land: Looking Up at Iván Navarro's Water Towers

I still recall the first time I saw one of Iván Navarro's neon sculptures in person. The work was a circular sculpture mounted close to the ground, appearing as an infinite tunnel of light. It felt as though I could fall into the sculpture, and become lost forever in the beautiful abyss of light.
Many years later, I find myself newly relocated to Northwest Arkansas, where the water towers act as architectural beacons, our own rural skyscrapers. I became enamored with all of them, though the one off North 1st Street and W Cedar Street in Rogers might be my favorite. It was then, in 2018, that I knew I had to bring Navarro's project, This Land is Your Land, featuring three water towers, to the Momentary.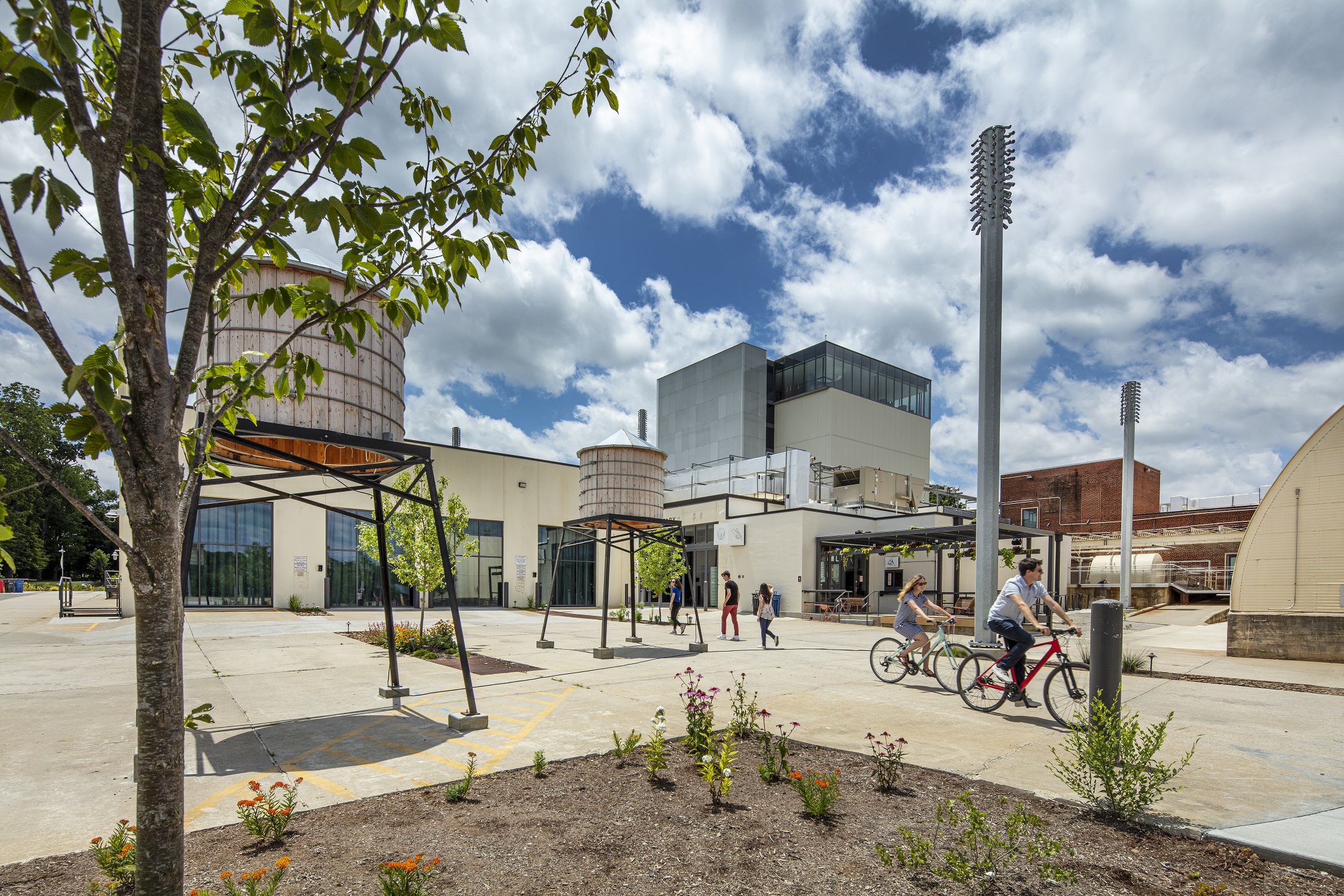 First commissioned in 2014 by Madison Square Park (NYC), This Land is Your Land takes inspiration from Woody Guthrie's iconic 1940 song of the same name. For nomadic workers during the Great Depression, water towers signaled the possibility of economic activity in towns across the United States.
Similarly, Navarro extends this history to include migrant workers from the Americas living and working in the United States, seeking the same hope and opportunity that Guthrie sang about.
This land is your land, and this land is my land

From California, to the New York Island

From the Redwood Forest, to the Gulf stream waters

This land was made for you and me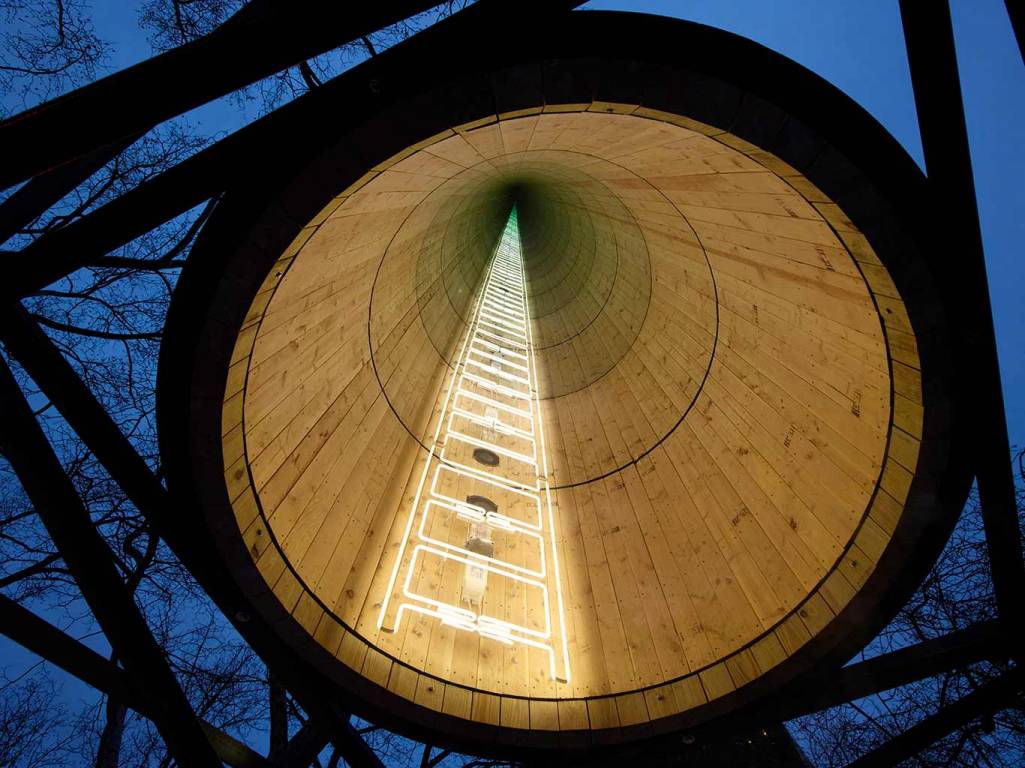 As you stand beneath each sculpture, you will see infinitely repeated words and symbols. "Bed" recalls our most intimate form of inhabited space. The ascending ladder symbolizes progress, while the inverted words "me" and "we" reference Guthrie's call for collective belonging.
Since its initial installation in New York City, this work has traveled across the world: Dallas, North Carolina, Chicago, Yinchuan, Busan, and Seoul. Regarding this project's most recent stop in Bentonville, Navarro said:
"This new stop on the journey of the work, in Bentonville, brings me to the original idea of a temporary worker. Traveling from one city to another looking for new opportunities to survive, especially in an agricultural town. This is exactly the idea of migration that the water towers historically represent in the US. With those references in mind, I would like visitors to experience the visual and poetic aspects of the work."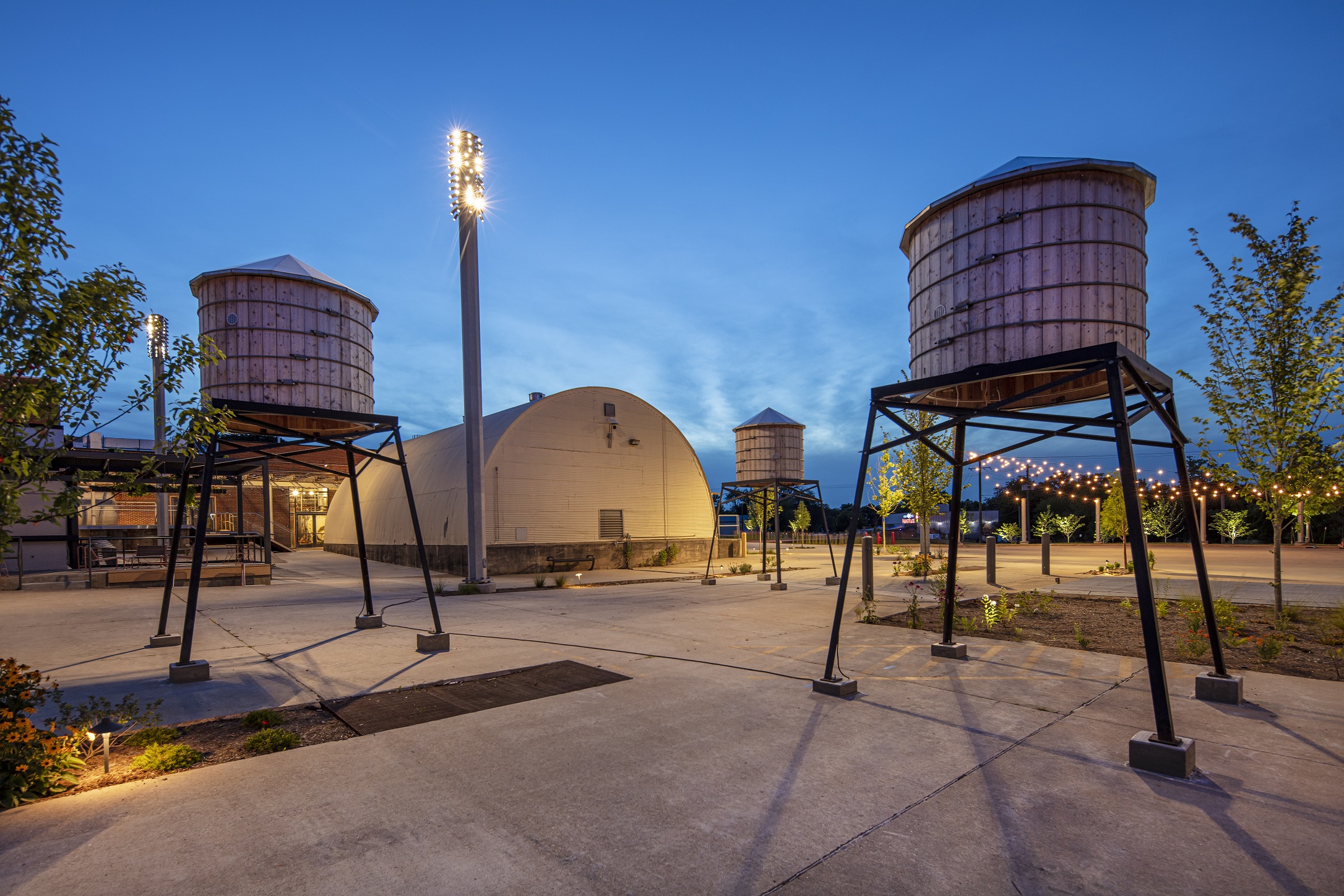 Even six years after its first installation, Navarro's project still feels poignant and continues to resonate with this current moment. According to Navarro:
"For me, in a poetic way, the piece follows the lyrics of the song. Hobo Music, which inspired Guthrie to create his famous song, is about circulation in a world of socio-economical crisis, and how people are constantly challenged to find or invent strategies to survive the adversities of life. During this current time, being creative and spiritually resourceful is a way to resist and face the new difficulties arising from the pandemic and its social and economic effects."
Written by Kaitlin Garcia-Maestas, assistant curator, the Momentary.
This Land is Your Land at the Momentary is sponsored by:
Olivia Tyson
Larry and Winnie Kearns

Cover photo by Dero Sanford / ThinkDero.