What to Expect at Meet the Momentary

Itching to know more about the Momentary? We know – the suspense is building! Luckily, Meet the Momentary, our first community gathering event taking place on October 5 from 3 to 7 p.m., will offer live entertainment, interactive performances, food and drink, and a chance to be among the first to know what the Momentary is planning for 2020. Keep reading to learn more about the event, and to find a list of FAQs.
WHAT IS MEET THE MOMENTARY?
Meet the Momentary is one of the first events where folks can come to experience the Momentary and learn more about it before its grand opening on February 22, 2020. It is a family-friendly event taking place outside the Momentary on the Momentary Green, featuring an artist talk with Nick Cave, music from Grammy-nominated Hot 8 Brass Band, an interactive pop-up trading post called Barter Boat, community performances with For You, drinks and food from local food truck vendors, and more!
WHEN IS MEET THE MOMENTARY, AND HOW CAN I GET TICKETS?
Meet the Momentary is on Saturday, October 5 from 3 to 7 p.m. The event is free, but pre-registration is highly recommended. You can pre-register at theMomentary.org or through the link HERE.
WHAT CAN I EXPECT AT MEET THE MOMENTARY?

MAIN STAGE LINEUP:
3 p.m. – Doors open
3:15 p.m. – Welcome from the Team
3:45 p.m. – Artist Talk with Nick Cave
4-5 p.m. – Hot 8 Brass Band
5-6 p.m. – DJ Mike Abb "Bentonville Radio"
6-7 p.m. – Hot 8 Brass Band
7 p.m. – Event concludes
Other events and activities happening throughout the afternoon include an interactive trading post called Barter Boat, performances by For You, food and drink stands, a pop-up Momentary Shop, and membership opportunities.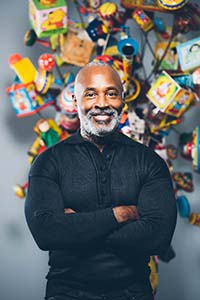 NICK CAVE
Nick Cave is an artist, educator, and, foremost, a messenger, working between the visual and performing arts through a wide range of mediums including sculpture, installation, video, sound, and performance. Cave is well known for his Soundsuits, sculptural forms based on the scale of his body.
In a conversation with Curator of Visual Arts, Lauren Haynes, Cave will talk about his upcoming exhibition Until, opening at the Momentary in July 2020, at Meet the Momentary.

HOT 8 BRASS BAND
Hot 8 Brass Band is a Grammy-nominated New Orleans-based brass band, whose sound draws on the traditional jazz heritage of New Orleans alongside more modern styles including elements of funk and hip hop.
Hot 8's biggest hits include their renowned cover version of Marvin Gaye's "Sexual Healing," their releases (a mix of covers and original tracks) and live shows have been reported on by many of the world's most prestigious cultural and news media outlets, and their story has also been featured and referenced in major TV and film productions.
Check them out on Instagram: @hot8brassband

BARTER BOAT
Barter Boat is a traveling trading post that journeys from city to city, exchanging one-of-a-kind assemblages made from things they've acquired in previous stops.
To trade with them, bring an object that is unique to you, to Northwest Arkansas, or that comes with a story. Make sure the item isn't bio-hazardous (no food, please). Examples from past cities include mysterious keys, hotel pens, key chains, old photos, jewelry you don't wear, toys you forgot about, nostalgic ephemera from travel or family, lucky coins, unlucky coins, original drawings, and all the stuff you keep in that junk drawer.
Check them out on Instagram: @radar_art

FOR YOU
For You (San Francisco, CA) is comprised of Erika Chong Shuch, Rowena Richie, and Ryan Tacata. They bring strangers together for shared, intimate encounters. In the past, they've made bespoke performances for specific audiences of 12, a roving audio-guided folk dance, and are currently developing in-home performances for people with dementia and their care partners.
For You will be at Meet the Momentary to learn more about the community, share more about what they do, and begin collaborating on their performance that will be at the Momentary in 2020.
Call for Participants!
The Momentary is collaborating with For You to create a special performance for Northwest Arkansas around the topic of openings and celebratory rituals. For You is looking for participants from the community to join in the performance. No performance experience required! If you are interested, please feel free to reach out today to For You at hello@foryou.productions.
More information about the call can be found HERE.
MEMBERSHIP AND POP-UP MOMENTARY SHOP
Become an Original Member! Meet the Momentary guests will have the chance to learn more about membership opportunities and sign up directly with their membership team.
Stock up on your Momentary gear! Momentary merchandise, including ball caps, knit caps, totes, and t-shirts will be available for purchase.
FOOD AND DRINKS
The following food trucks and beverage carts will be present at the event:
Our Momentary Lager, created in collaboration with Ozark Beer Co.,  will make its debut at Meet the Momentary, featuring foraged Ozark honeysuckle and elderflower, the Momentary Lager is a fresh take on a classic German favorite while honoring the natural beauty of Northwest Arkansas.
ENHANCE YOUR EXPERIENCE!
Pre-order a Picnic Package from Crystal Bridges' High South on a Roll food truck to enjoy during the event when you register. Package includes one Momentary embroidered picnic blanket and dinner for two or four people.
Already registered but want to add-on the package? Order online HERE.
Additionally, there will be a bar selling beer, wine, and Coca-Cola products! Food Loops will be present to help us be sustainable with our food waste.
FAQS
WHAT DO I BRING?
Bring:

Valid photo ID if you plan to consume alcohol
Your dog on a leash! The event is dog-friendly
Blankets
Chairs
A unique object to trade with Barter Boat

Do Not Bring:

Firearms or weapons of any kind
Cigarettes, e-cigs, vape pens, etc. This event is NON-SMOKING.
Professional cameras or tripods
HOW DO I GET TO THE EVENT?
Meet the Momentary will take place outside at the Momentary on the Momentary Green, located just west of 8th Street Market.
It is recommended that you bike, walk, or utilize a ride-share service like Uber or Lyft.
There will be two entrances into the event:
One on the north side at the intersection of SE 5th Street and SE F Street, just off the Razorback Regional Greenway
One just west of 8th Street Market
You may enter through either point. These will also be your points of exit.
If you plan to bike, the Momentary has partnered with Bike Bentonville to valet bikes at the event. If you plan to ride your bike, please arrive through the north entrance at the following address: 700 SE 5th Street, Bentonville, AR 72712.
If you plan to Uber or Lyft, please set your pin to the following address: 700 SE 5th Street, Bentonville, AR 72712. This will be the same spot for both drop-off and pick-up.
If you plan to drive, there will be free parking at a designated lot located at the southeast corner of J and 8th Street. Accessible parking will be available at 8th Street Market.
ENTRY IS MENTIONED. WHAT IS THAT PROCESS LIKE?
As mentioned above, there are two entrances to the event. At both entrances, there will be two lines – one for pre-registered attendees and one for those that need to still register. Pre-registered guests will get through the line much quicker, so pre-register online now to save time!
You will be able to come and go to Meet the Momentary! Upon exit, you will receive a hand stamp that will allow you to move back and forth between the event and 8th Street Market easily.
WHAT IF IT RAINS?
The event itself is a rain or shine event! If inclement weather is approaching, the event will either be delayed or canceled. Event organizers will be in touch via all channels of social media and email notifications. Stay tuned to event and weather updates by registering for the event, following #MeetTheMO and our accounts on Facebook, Instagram or Twitter. We look forward to seeing you there!