A Study on Effort | Bobbi Jene Smith & Keir GoGwilt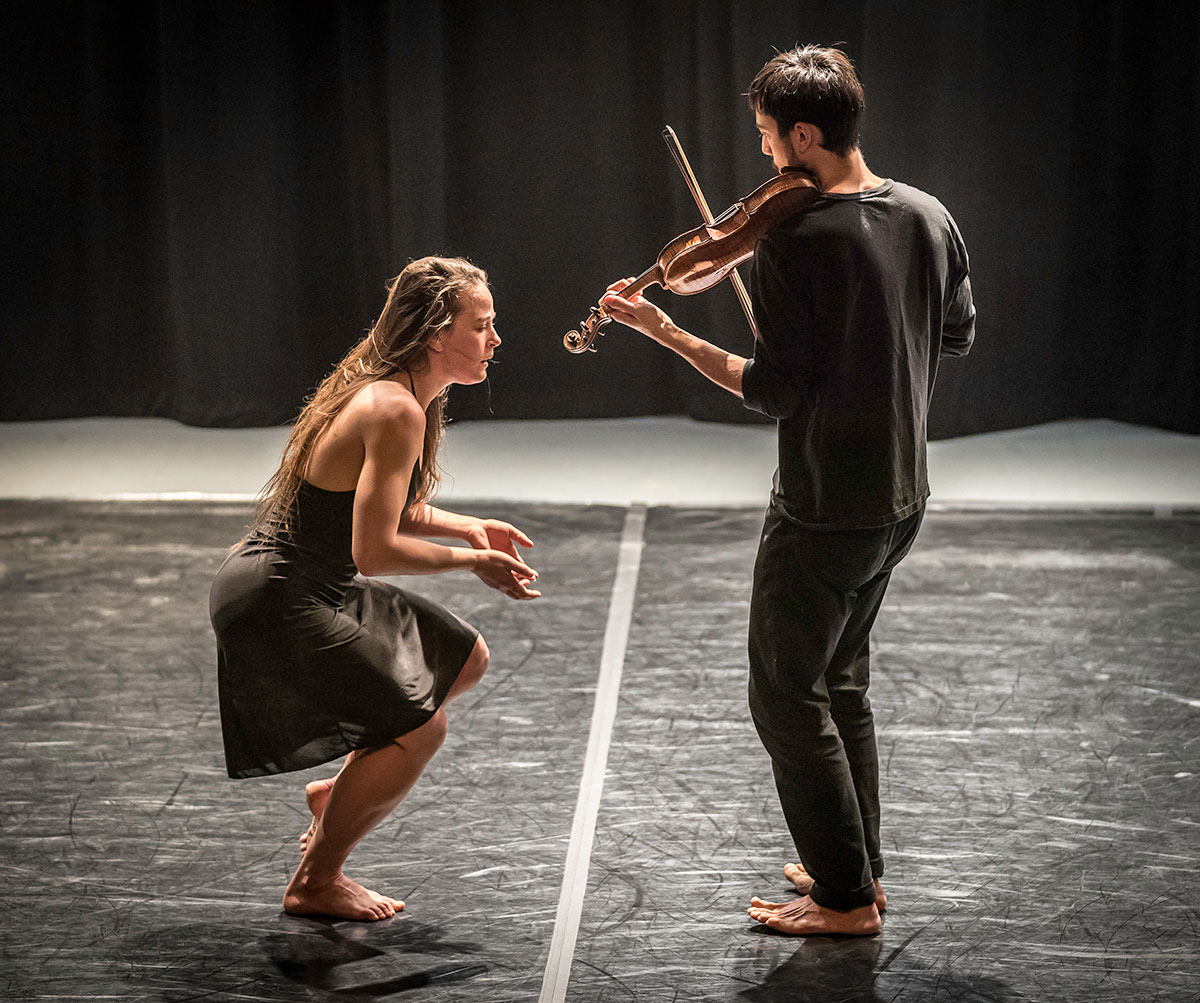 Due to illness, we have canceled the Sunday performance. For those able to join us, Keir GoGwilt, the violinist from A Study on Effort, will play an intimate, free recital at 6 pm in the RØDE HOUSE. We will refund Sunday tickets.
---
The effort of lifting. The effort of a pledge. The effort of not knowing. Conceived in collaboration with Keir GoGwilt, A Study on Effort* explores connections between sound, choreography, and duration. An hour-long dialogue between dancer and violinist, this poetic performance transposes different physical and emotional tasks between music and movement. Efforts are supported and transformed in the exchange between gesture and sound, finding pleasure at the boundaries of the two artistic disciplines.
A Study on Effort was originally conceived by Bobbi Jene Smith in 2014 and has since had showings at Studio Varda, San Francisco Conservatory of Dance, Gibney Dance, and the Israel Museum. In 2016, Smith and GoGwilt collaborated on a new version of the show, which has been performed to critical acclaim at the Luminato Festival, PS 122's COIL Festival, the ODC Theater, and the American Repertory Theater. It was noted as one of Toronto's top 5 dance performances of 2016 (The Toronto Globe and Mail).
A Study on Effort features music by James Tenney, Keir GoGwilt, J.S. Bach, Johann Paul von Westhoff, and Malcolm Goldstein. Produced in collaboration with AMOC (American Modern Opera Company).
These performances are part of TIME BEING, our inaugural festival of performance taking place during opening weekend.
*Please note this performance will have full frontal nudity.
About Bobbi Jene Smith, dancer
Bobbi Jene Smith was born in Centerville, Iowa. From 2005-2014 she was a member of the Batsheva Dance Company under the artistic direction of Ohad Naharin. She is an alumnus of the Juilliard School, North Carolina School of the Arts, and the Royal Winnipeg Ballet School.  Her choreography and solo work has been presented by The Batsheva Dance Company, The Israel Museum, Luminato Festival, The Wild Project, Machol Shalem, Sacramento Ballet, The CCA, The San Francisco Conservatory of Dance, NYU, and The Juilliard School. Bobbi is the subject of the documentary directed by Elvira Lind which will premiere in 2017. Her film and video work include, "Annihilation" directed by Alex Garland, "MA" directed by Celia Rowlson-Hall, and "Yossi" directed by Eytan Fox. Bobbi is a certified GAGA teacher and has taught Ohad Naharin's repertory in schools and universities around the world. In 2015, Smith relocated to New York City, NY.
About Keir GoGwilt, Violinist
Keir GoGwilt was born in Edinburgh, Scotland and grew up in New York City. As a soloist, he has performed with groups including the Chinese National Symphony, the Orquesta Filarmonica de Santiago, the Bowdoin International Music Festival Orchestra, the Manhattan School of Music Chamber Sinfonia, and members of A Far Cry. As a recitalist and chamber musician, he has played at festivals including the Luminato Festival, the Spoleto Festival in Italy, Rockport Chamber Music, Yellow Barn, and Taos, and at venues including Miller Theatre, the 92nd St Y, Sanders Theater, Dumbarton Oaks, and National Sawdust. He has appeared as a guest artist at the Portland Bach Festival and the Music Academy of the West. Upcoming highlights for the 2017-2018 season include the Ades Concerto with Steve Schick and the La Jolla Symphony, as well as Matthew Aucoin's "The Orphic Moment" with Anthony Roth Costanzo and the Orchestra of St. Luke's. He is also active as a poet, scholar, and improviser.
GoGwilt has worked closely with a number of composers including Roger Reynolds, Tan Dun, Tobias Picker, and Matthew Aucoin. Graduating from Harvard University with high honors in 2013, GoGwilt was awarded the Louis Sudler Prize in the Arts.
"…chilling, thrilling rawness." – Brian Schaefer, The New York Times
"A Study on Effort was an intimate meditation of feminine strength and sexuality." – Martha Schabas, The Toronto Globe and Mail
"…a stunning instance of collaboration across media." – Brent Hayes Edwards, Columbia University
"In a series of vignettes, Smith and GoGwilt explored the extremes of their bodies…[they] created a visceral viewing experience for audience members who appeared to be glued to their seats in the shared experience of the exertion exhibited by both performers." – Miya Schaffer, Dance Current