A Thousand Thoughts | A live documentary with the Kronos Quartet
Written and directed by Sam Green and Joe Bini
"The live documentary delivers. It's a pensive, rewarding, and touching experience. You feel humbled and awed to watch these performers in action as the history of their lives—and of musicians who preceded them—flashes behind them… " – Forbes
"It's as magical an amalgamation as anything you can imagine." – LA Times
"Don't miss what is a truly moving, sensurround experience." – Newsweek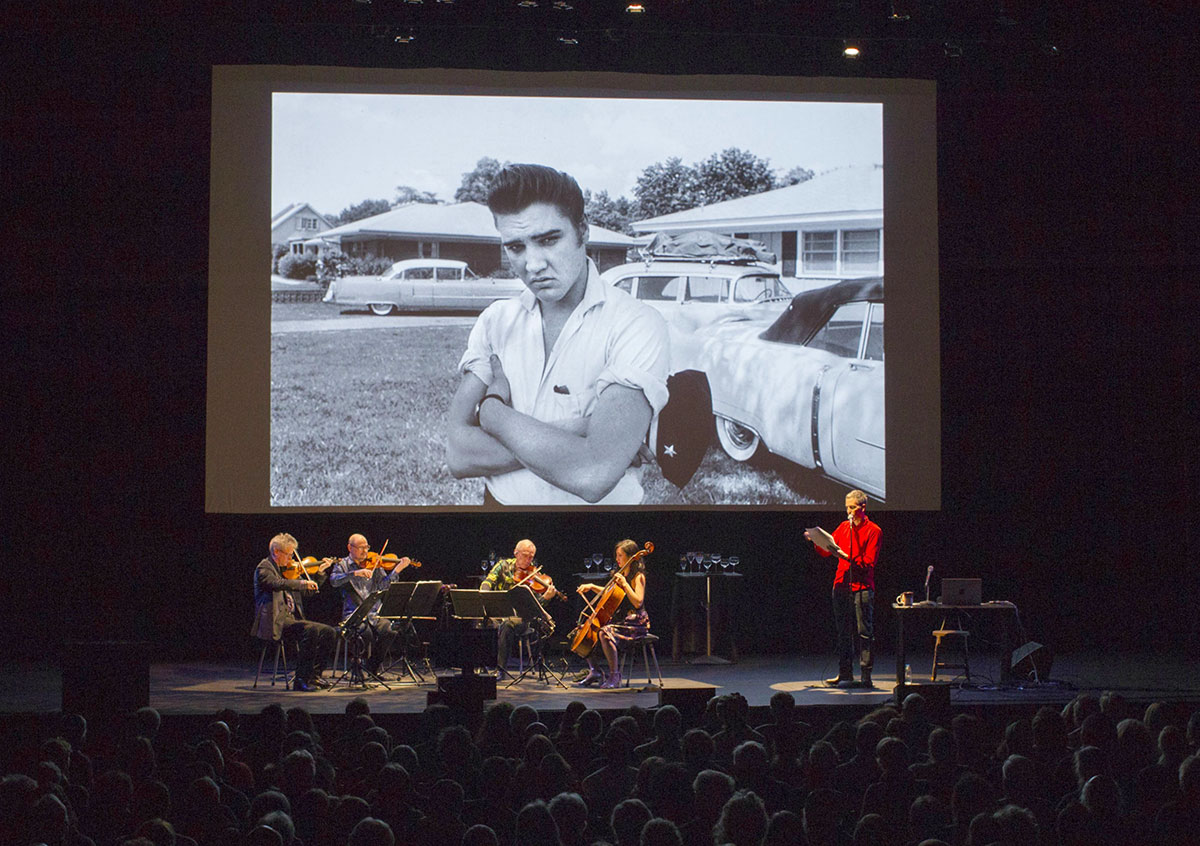 Oscar-nominated filmmakers Sam Green and Joe Bini have teamed up with Grammy-winning Kronos Quartet for a wildly creative multimedia performance piece that blends live music and narration with archival footage and filmed interviews with such prominent artists as Philip Glass, Tanya Tagaq, Steve Reich, Wu Man, and Terry Riley. Together on stage, Green and Kronos interact with the stirring cinematic imagery on screen to craft an important record and exploration of late 20th– and early 21st–century music.
As Green tells the multi-decade and continent-spanning story of the groundbreaking string quartet, Kronos revisits its extensive body of work, performing music by George Crumb, Laurie Anderson, John Zorn, Aleksandra Vrebalov, and many others. Transcending the typical live music and film event, this collaboration quickly becomes a meditation on music itself—the act of listening to it closely, the experience of feeling it deeply, and the power that it has to change the world.
Tickets are $29 ($23/members). Register online or by calling Guest Services at (479) 657-2335 to reserve your spot today.
Not a member? Join today!
Run Time: 80 minutes
HEALTH POLICY + ENTRY REQUIREMENTS
Safety is our top priority. Full COVID-19 vaccination or proof of a negative COVID-19 diagnostic test within 72 hours (3 days) will be required for ages 2 and up to attend A Thousand Thoughts at the Momentary. Proof must be shown upon entry alongside a valid photo ID. At home COVID-19 tests will not be accepted.
All attendees must have received a negative COVID-19 diagnostic test within 72-hours before the concert and provide printed proof of a negative result prior to entering the venue OR be fully vaccinated against COVID-19 (at least two weeks after final dose) and provide proof of vaccination – either the original vaccination card or a printed/digital copy of the vaccination card. At home COVID-19 tests will not be accepted.
Unvaccinated attendees 2-12 years of age will be required to take a COVID-19 diagnostic test within 72-hours before entry and will provide printed proof of negative results prior to entering the venue.
A list of nearby COVID-19 testing locations can be found online here.
Additional safety measures include:
Per the CDC's updated guidelines, we are now requiring all visitors ages 2 and up and staff to wear a face covering indoors and for outdoor programs except while eating or drinking. Masks will be available upon entry for those who do not have one.
Increased hand sanitizer stations on-site and frequent cleanings in high-touch areas.
ABOUT THE ARTISTS
Kronos Quartet
For 45 years, San Francisco's Kronos Quartet – David Harrington (violin), John Sherba (violin), Hank Dutt (viola), and Sunny Yang (cello) – has combined a spirit of fearless exploration with a commitment to continually reimagine the string quartet experience. In the process, Kronos has become one of the world's most celebrated and influential ensembles, performing thousands of concerts, releasing more than 60 recordings, collaborating with an eclectic mix of composers and performers, and commissioning over 1000 works and arrangements for string quartet. They have won over 40 awards, including the prestigious Polar Music, Avery Fisher, and Edison Klassiek Oeuvre Prizes. The nonprofit Kronos Performing Arts Association manages all aspects of Kronos' work, including the commissioning of new works, concert tours and home season performances, education programs, and the annual Kronos Festival. In 2015, Kronos launched Fifty for the Future: The Kronos Learning Repertoire, an education and legacy project that is commissioning—and distributing for free—50 new works for string quartet written by composers from around the world.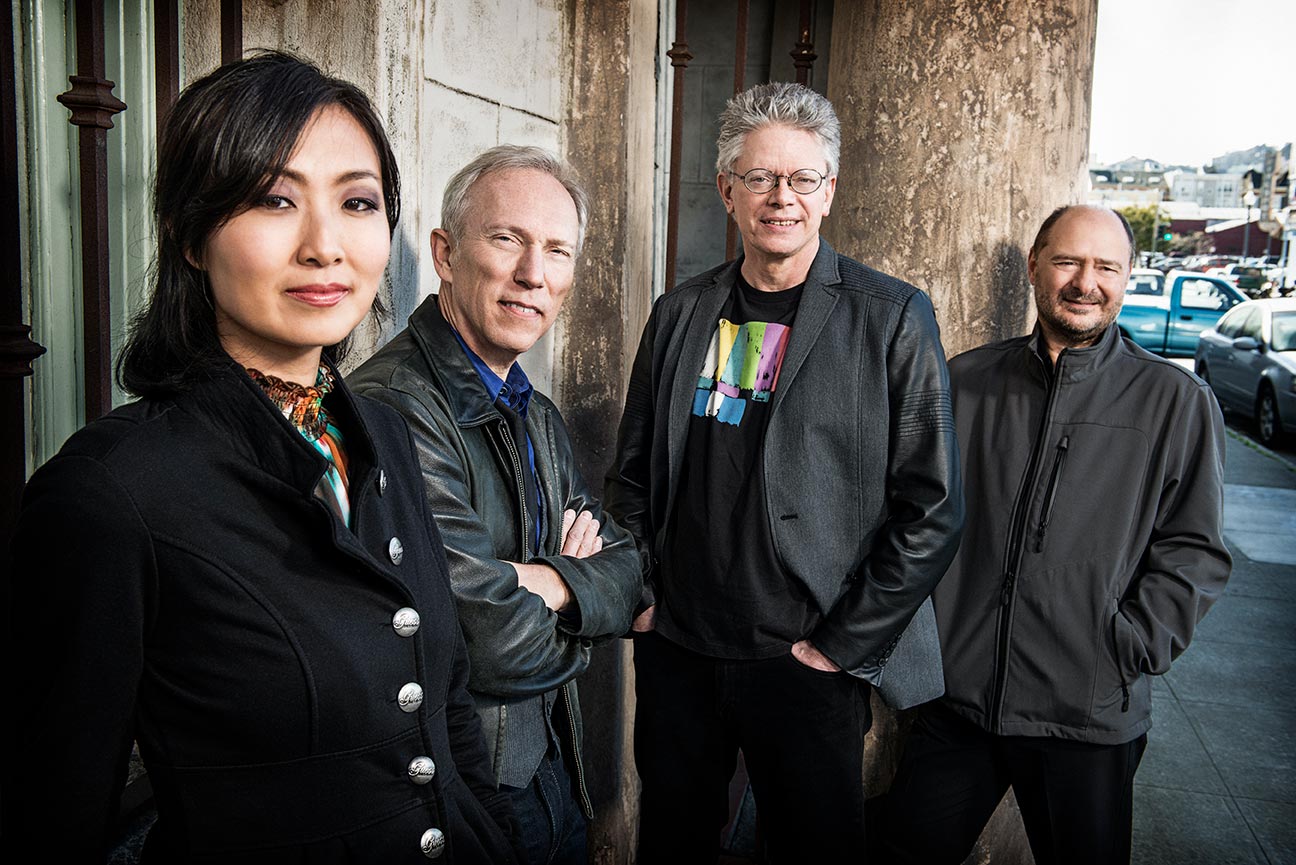 Sam Green
Sam Green is a New York-based documentary filmmaker. He received his Master's Degree in Journalism from University of California, Berkeley, where he studied documentary filmmaking with the acclaimed filmmaker Marlon Riggs. Green's most recent projects are the "live documentaries" The Measure of All Things (2014), The Love Song of R. Buckminster Fuller with Yo La Tengo (2012), and Utopia in Four Movements (2010). His performance work has screened at venues such as the Barbican, The Kitchen, TBA Festival, Fusebox Festival, Brighton Festival, and many others. Green's 2004 feature-length film, the Academy Award–nominated documentary The Weather Underground, premiered at the Sundance Film Festival, was broadcast on PBS, was included in the 2004 Whitney Biennial, and has screened widely around the world.

CREDITS
A Thousand Thoughts: A Live Documentary by Sam Green & Kronos Quartet was commissioned by The Arts Center at NYU Abu Dhabi, Barbican, Center for the Art of Performance at UCLA, Exploratorium, Christos V. Konstantakopoulos, Krannert Center for the Performing Arts at the University of Illinois at Urbana-Champaign, MASS MoCA, Melbourne Festival, Wexner Center for the Arts at The Ohio State University through its Wexner Center Artist Residency Award program.
Additional support was received from The DrumStick Fund, Genuine Article Pictures, JustFilms/Ford Foundation, Lear Family Foundation, Andrea Lunsford, The National Endowment for the Arts, Sundance Documentary Film Program with support from Open Society Foundation, Gottfried and Janet Tittiger, and Kenneth and Elizabeth Whitney.
This film was supported by Sundance Catalyst.
A Thousand Thoughts is sponsored at the Momentary by Visit Bentonville and Caryl Stern & Donald La Rosa.