Abigail DeVille: Light of Freedom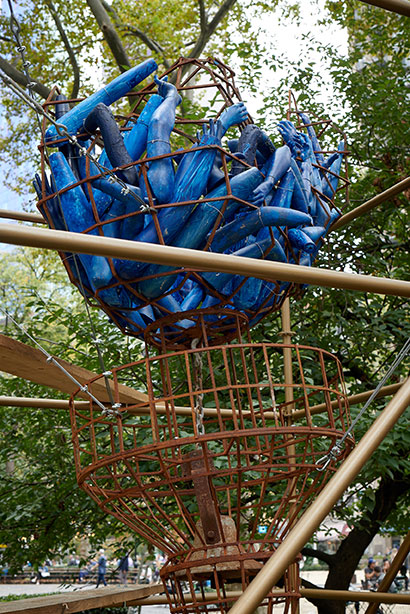 In response to history and to the present, Abigail DeVille's newly commissioned public work, Light of Freedom, will be installed outdoors at the Momentary. The project is a 13-foot-tall reference to the Statue of Liberty's torch encased in scaffolding and filled with found objects.
In Light of Freedom, DeVille reflects the despair and exultation of this turbulent period of pandemic and protest. She recognizes and hallows the earliest enslaved Africans who were brought to New Amsterdam, critiques the promise of American liberty through the arm and torch of the Statue of Liberty that were installed in Madison Square Park from 1876-1882, and summons the current Black Lives Matter movement as the sources for the work.
DeVille has exhibited at Contemporary Art Museum St. Louis, Institute of Contemporary Art in Los Angeles, New Museum in New York, and Stedelijk Museum in Amsterdam. She has received awards from the Joan Mitchell Foundation, the Van Lier Fund of New York Community Trust, and Creative Capital.
Abigail DeVille's Light of Freedom was commissioned by Madison Square Park Conservancy, New York and organized by Brooke Kamin Rapaport and Tom Reidy.
Leadership support for Light of Freedom is made possible by the Ford Foundation.
Major support is provided by Candy and Michael Barasch, Suzanne Deal Booth, Ed Bradley Family Foundation, Harold and Colene Brown Family Foundation, The Lumpkin-Boccuzzi Family, Stardust Arts, and The Andy Warhol Foundation for the Visual Arts.
Additional support is provided by Eve Biddle, Ingrid Cincala-Gilbert, Shawna C. Gallancy, Stephanie Joyce and Jim Vos, Rebecca Kramer, Charles Moffett, Catherine E. Sippin, Sarah SteinSapir, and Anonymous.
Major support for Mad. Sq. Art is provided by Sasha C. Bass, Bunny & Charles Burson, Toby Devan Lewis, Ronald A. Pizzuti, Thornton Tomasetti, Tiffany & Co., Anonymous, and by public funds from the New York City Department of Cultural Affairs, in partnership with the City Council. Substantial support is provided by Charina Endowment Fund, Eataly, Helen Frankenthaler Foundation, The Jacques & Natasha Gelman Foundation, The Sol Lewitt Fund for Artist Work, Mad. Sq. Art Council, Audrey & Danny Meyer, The New York EDITION, the Rudin Family, and Sorgente Group of America.
Additional support is provided by 400 Park Avenue South, Irving Harris Foundation, Lenore G. Tawney Foundation, and Fern and Lenard Tessler.
Madison Square Park Conservancy is a public/private partnership with the New York City Department of Parks & Recreation.
Thank you to Materials for the Arts.
SPONSORED BY