Groove along to the smoothest sounds in town with Astral Project, live at the Momentary!
Presented in collaboration with the NWA Jazz Society, take a seat and indulge in an evening of masterful jazz by the renowned New Orleans ensemble, Astral Project. Nestle into the intimate underground atmosphere of the RØDE House and lose yourself in a night of velvety riffs and soulful melodies.
See you there.
Reserve your spot online or by calling the Box Office at (479) 657-2335 today. 
Not a member yet? Join today to enjoy priority access to concerts and member-only events all year long.
Please allow 24 hours for new memberships purchased online to process before purchasing your member-priced ticket. To purchase your membership and tickets together today, call our member priority line at (479) 418-5728 or by emailing Memberships@CrystalBridges-theMomentary.org.
*Student tickets available to guests with a valid student ID, presented upon entry.
** Premium Group Seating tickets admission for four (you + three guests), a reserved table in a designated seating area, and dedicated table service. Limited quantity available.
ABOUT THE ARTIST
Astral Project
For more than forty years, Astral Project has delighted audiences around the world with its unique brand of cutting-edge improvisation and near-telepathic interplay over deep New Orleans' grooves.
In 1978, guided by his passion for Eastern philosophy, Tony Dagradi gathered the brightest, most energetic young players in the Crescent City and started out on a path that would help shape the modern jazz scene for years to come. The band's name reflects their pursuit of elevated musical experiences, a sentiment evident in every live performance as they reach for celestial heights.
Throughout the years, the lineup has remained remarkably stable. Maestro drummer John Vidacovich orchestrates the rhythmic ebb and flow with unparalleled finesse, providing an effervescent swing and melodic flair. Bassist James Singleton serves as the group's bedrock, channeling pure energy through his rhythmic foundation and harmonic expertise. Steve Masakowski, celebrated as a virtuoso guitarist and composer, wields his innovative seven-string instrument, influencing a generation of guitarists. Tony Dagradi, on tenor and soprano saxophones, injects emotional urgency into each solo with his immense tone and soaring lines, bridging the entire jazz tradition and propelling the band's energy forward.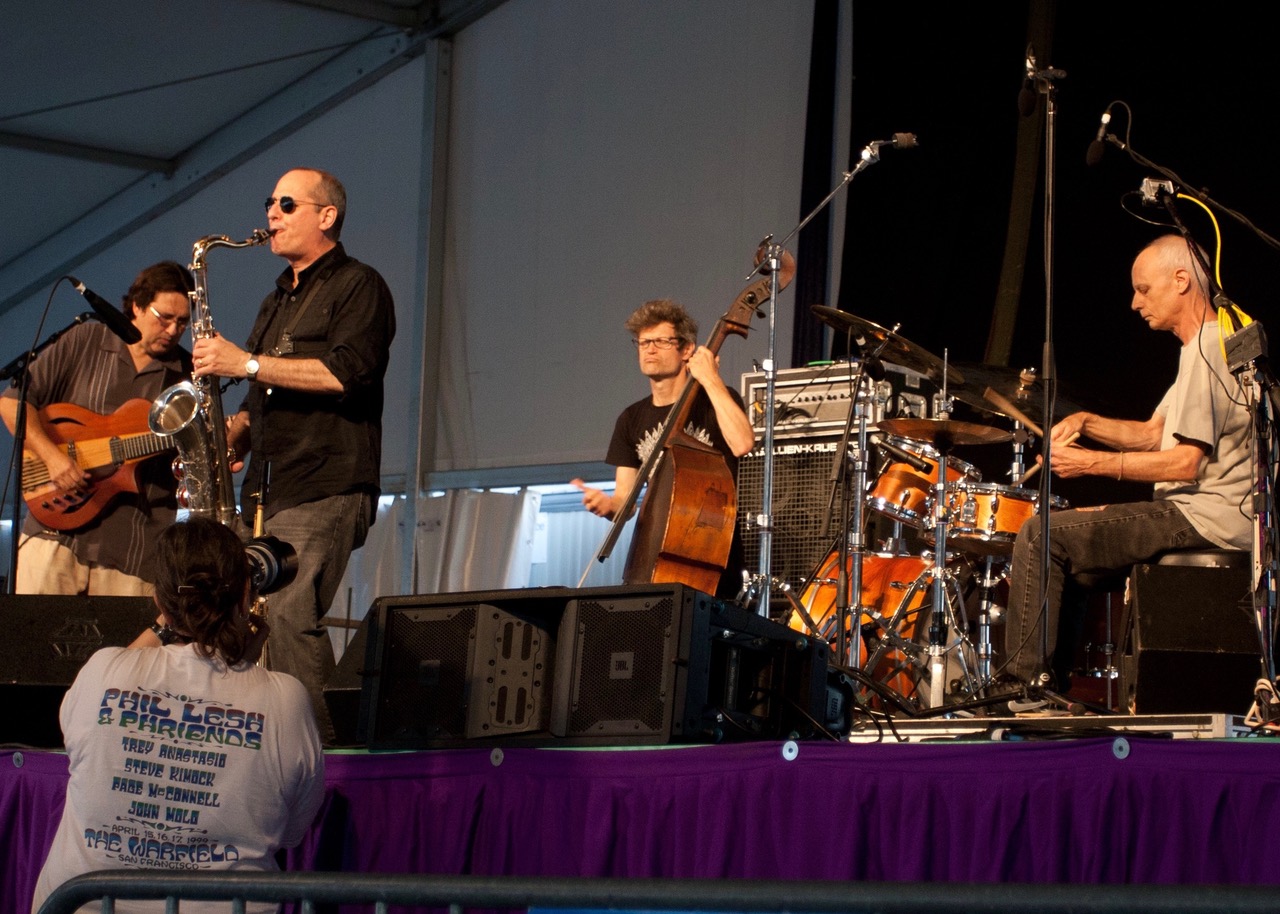 ABOUT THE NWA JAZZ SOCIETY
Since 1992, the Northwest Arkansas Jazz Society (NAJS) has been a community leader in presenting world-class jazz performers in venues across Northwest Arkansas. They are a non-profit membership organization that seeks to present, preserve, promote, and celebrate the great American art form known as jazz through education, concert presentation, and artist promotion.
Today, NAJS's work of celebrating jazz is stronger than ever as it seeks to find innovative ways to engage with new and diverse audiences and keep jazz alive and well.
WHAT TO EXPECT
Entry: Entry to the concert is located just west of the parking garage. Please be ready to show your mobile/printed tickets along with a valid ID.
Re-entry: No re-entry will be allowed for this show.
Parking: Please park in our parking garage located next to the 8th Street Market at 801 SE 8th Street.

Note: There is an 8′ height limit for the garage.

Seating: This event is a seated concert without assigned seating. Specific seats are available to ticketholders on a first-come, first-served basis.
Bag Policy: You can bring one clear bag into the venue that is not larger than 12" x 6" x 12", or a single one-gallon plastic freezer bag (Ziploc bag or similar). Exceptions for diaper bags, medical devices, and media apply—learn more here.

In addition, you can also carry a small clutch purse, no larger than 4.5" x 6.5", with or without a handle or strap.
Bags will be screened as you enter. Security has final say on what is and isn't permitted.

Fun Food and Drink: Hungry or thirsty? Enjoy fun beverages from the RØDE Bar before and during the show. No outside food or beverages will be allowed.
Cashless Event: Bring your credit or debit cards as we're 100% cash-less.
Photos and Video: For this performance, no cameras will be permitted in the venue (phones are OK). Please leave all cameras, including point-and-shoot cameras, GoPros, tablets, professional cameras, drones, selfie sticks, tripods, detachable lenses, and audio or video recording devices at home.
For a complete list of guidelines, see our full Concert and Festival Rules.
WHAT TO BRING AND NOT BRING TO THE CONCERT
BRING
Valid ID and tickets to present upon entry.
Water fountains will be available filling stations. Empty plastic water bottles are encouraged to help stay hydrated. (No glass, metal, or opaque plastic containers.)
Bring your credit or debit cards. The concert is 100% cash-less.
One clear bag no bigger than 12" x 6" x 12", or a single one-gallon plastic freezer bag (Ziploc bag or similar). You may also carry a small clutch purse, no larger than 4.5" x 6.5", with or without a handle or strap.

All clear bags and clutch purses will be screened prior to entry. Security has final say on which bags will be permitted.
DON'T BRING
No outside food and drink, large bags, coolers, or ice chests.
No folding chairs or blankets. This event is a seated concert without assigned seating.
No weapons or firearms of any kind are allowed, even if you have a permit.
No laser pointers, glow sticks, and illuminating objects.
No fireworks, fuel, or explosive materials of any kind.
No skateboards, scooters, or wheeled devices other than ADA-compliant transport.
No kites, frisbees, inflatables, or air horns.
No illegal substances of any kind.
No smoking or vaping will be allowed outside of designated smoking areas.
No pets.
No posters, signs, or promotional materials. Flyers and other promotional materials cannot be distributed on Momentary property without prior approval.
No cameras or recording devices.
Prohibited items will not be admitted or checked. Please leave these items at home or in your locked vehicle.