Space Station: Radiant behind the Sun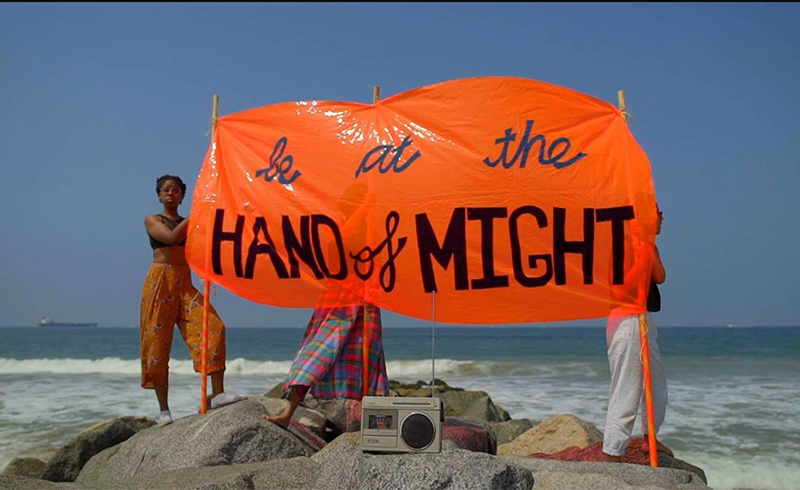 In Space Station: Radiant Behind the Sun, interdisciplinary filmmaker Cauleen Smith immerses audiences in a world that draws from Afrofuturism, science fiction, and experimental cinema. Visitors will walk through a transformed gallery space―a "space station" with a 1970s aesthetic, new installations, banners, and immersive elements―while two of Smith's films, Sojourner and Pilgrim, play on alternating loops.
In Sojourner, Smith reimagines Noah Purifoy's Outdoor Desert Art Museum in Joshua Tree, California as a radical feminist utopia. While paying homage to abolitionist Sojourner Truth's contributions to the legacy of Black feminist traditions, the title refers to the spiritual journey the women in the film embark upon. Pilgrim traces the artist's pilgrimage to three historic sites of radical hospitality, or places that have offered hospitality in an unexpected way: Alice Coltrane's Turiyasangitananda Vedantic Center in Agoura, California, Watts Towers in Los Angeles, and the Watervliet Shaker community of Black spiritual activist Rebecca Cox Jackson in upstate New York.
Exploring themes of feminism, queerness, spirituality, Black culture, time, space, history, and more through research-based works, the immersive world of Space Station: Radiant Behind the Sun encourages its viewers to transcend the present, reimagining a future built on generosity and community as explored in her films.
Cauleen Smith is an interdisciplinary artist whose work reflects upon the everyday possibilities of the imagination. Her films, objects, and installations have been featured in numerous group exhibitions, including those at the Whitney Museum of American Art; Studio Museum in Harlem; the Contemporary Arts Museum Houston; the Yerba Buena Center for the Arts, San Francisco; the 2017 Whitney Biennial; Prospect.4: The Lotus in Spite of the Swamp, New Orleans; the New Museum, New York; D21, Leipzig; and Decad, Berlin. Smith has had solo shows of films and installations at The Kitchen, New York; the Museum of Contemporary Art Chicago; the Art Institute of Chicago; and Threewalls, Chicago. Smith is based in Chicago and serves as faculty for the Vermont College of Fine Arts low-residency MFA program.
Space Station: Radiant Behind the Sun is on view in the Lobby Gallery.
The exhibition is organized by the Momentary and curated by Allison Glenn, associate curator, contemporary art at Crystal Bridges Museum of American Art.
SPONSORED BY


Catherine and Stephan Roche | Deborah Wright