Courtyard Concert | Erin Enderlin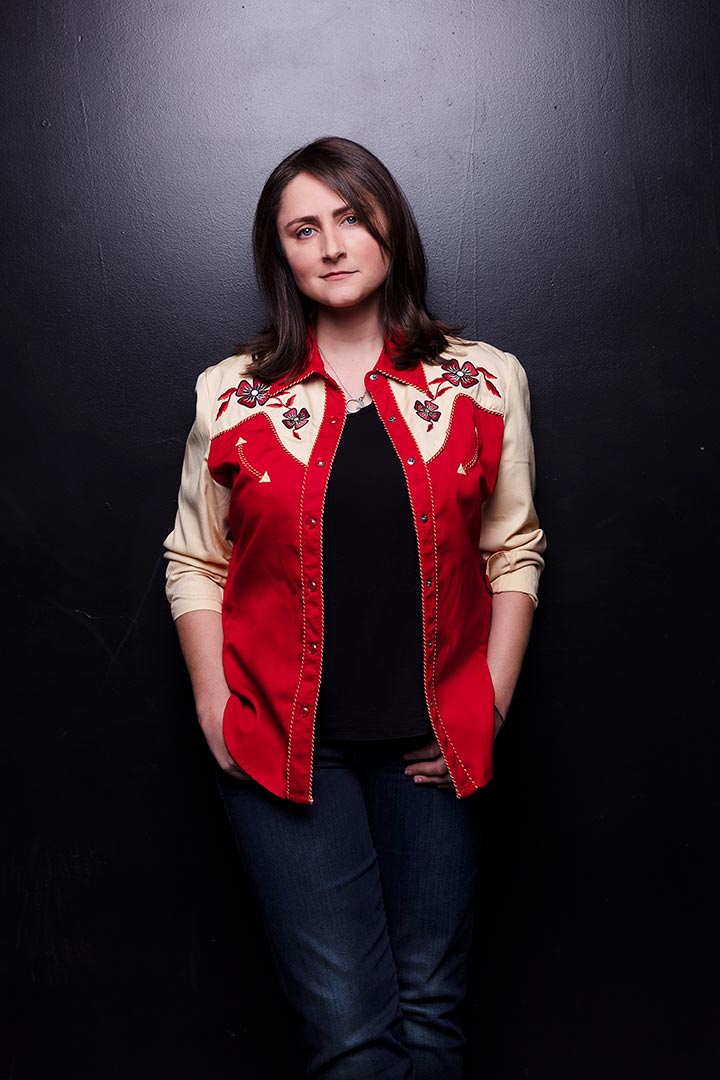 2020 Arkansas Country Music Award-winning singer-songwriter Erin Enderlin will perform a special one-off solo show outdoors at the Momentary as part of our Courtyard Concerts! An Arkansas native, Erin is the go-to writer for stars having penned mega country hits for Alan Jackson, Reba McEntire, Lee Ann Womack, Randy Travis, Luke Bryan, Randy Travis, Joey+Rory, and more. Her storytelling musical style is making a huge splash in the industry as this year she brought home six Arkansas Country Music awards including the award for Country artist of the year.
Excited for her performance at the Momentary, Erin's says she's looking forward to "an intimate show filled with storytelling and song. I'll be featuring music from my two critically acclaimed albums that have caught the ear of everyone from Rolling Stone (#17 Country/Americana Album of 2019) to Elton John, who recently featured my latest album in his Rocket Hour radio show – as well as song's I've written for others including Alan Jackson and Lee Ann Womack."
This live event is your chance to get closer to the music while staying at a safe distance from your fellow concert-goers at the beautiful Arvest Bank Courtyard. Enjoy a beverage from the RØDE Bar, it's included in your ticket cost!
$10 ($8 members) Get tickets online or at the Box Office.
*Price of ticket includes one beverage of choice from the RØDE Bar. Must be 21+ to consume alcohol.
For Your Safety: Face coverings must be worn at all times. In order to maintain physical distancing, circles will be drawn on the group for each household group. Guests may remove their face covering to eat or drink only while inside their circle.
Planning Your Visit:
As a safety precaution and to comply with Arkansas State guidelines, the Momentary requires face coverings to be worn at all times by visitors ages 10 and older at indoor and outdoor programs and events, as well as at food and drink venues, except when eating and drinking. Following the most recent recommendations from the CDC, face shields and face coverings with exhaust valves or vents are not allowed.
Parking is available in the parking lots adjacent to the Momentary.
Restrooms are located just inside the Momentary in the Atrium.
To accommodate social distancing, you may encounter a wait when seating. We recommend arriving a little early. Concert check in begins at 6:30 p.m.
Strollers and personal mobility devices are welcome.
Seating will be provided to all ticketed guests.
Only ADA service animals are allowed in the Courtyard and inside the Momentary.
Please leave food and drink at home. The RØDE Bar will be open during the concert with drinks available for purchase.
About Erin Enderlin
Erin Enderlin is an American Country Music artist from Nashville, Tennessee. Her first EP,  Chapter One: Tonight I Don't Give a Damn, gained industry-wide acclaim leading her to be named a member of the 2018 CMT Next Women of Country, a recipient of six Arkansas Country Music Awards including Country Artist of the Year in 2020, and runner-up to Jason Isbell in the Best Singer-Songwriter field in the Nashville Scene's touchstone Best of Nashville issue.
In addition to her impressive career as a singer, Enderlin's outstanding songwriting record elevates her to the status of overall musical genius. She is the songwriter responsible for such hits as Alan Jackson's "Monday Morning Church," Lee Ann Womack's "Last Call," Luke Bryan's "You Don't Know Jack," and a host of other songs for Randy Travis, Joey+Rory, and more. She continues to add marquee cuts to her catalog including, "The Bar's Getting Lower" recorded by Reba for her upcoming album Stronger Than the Truth. Terri Clark also featured five Enderlin-written gems on her Raising the Bar album and Whisperin' Bill Anderson recorded and released her "Waffle House Christmas," then featured her in the song's beloved video. After hearing Enderlin perform on the radio broadcast of the Grand Ole Opry while en route there herself, Jeannie Seely decided to sing the song she heard Enderlin deliver, the gut-punching "I Let Her Talk." 
"One of the best things about country music was that it was adult music," Erin Enderlin says of the country songs she grew up listening to in Arkansas. "It was real music that dealt with hard issues in life so that people going through those things don't feel so alone."