Courtyard Sessions | Casi Joy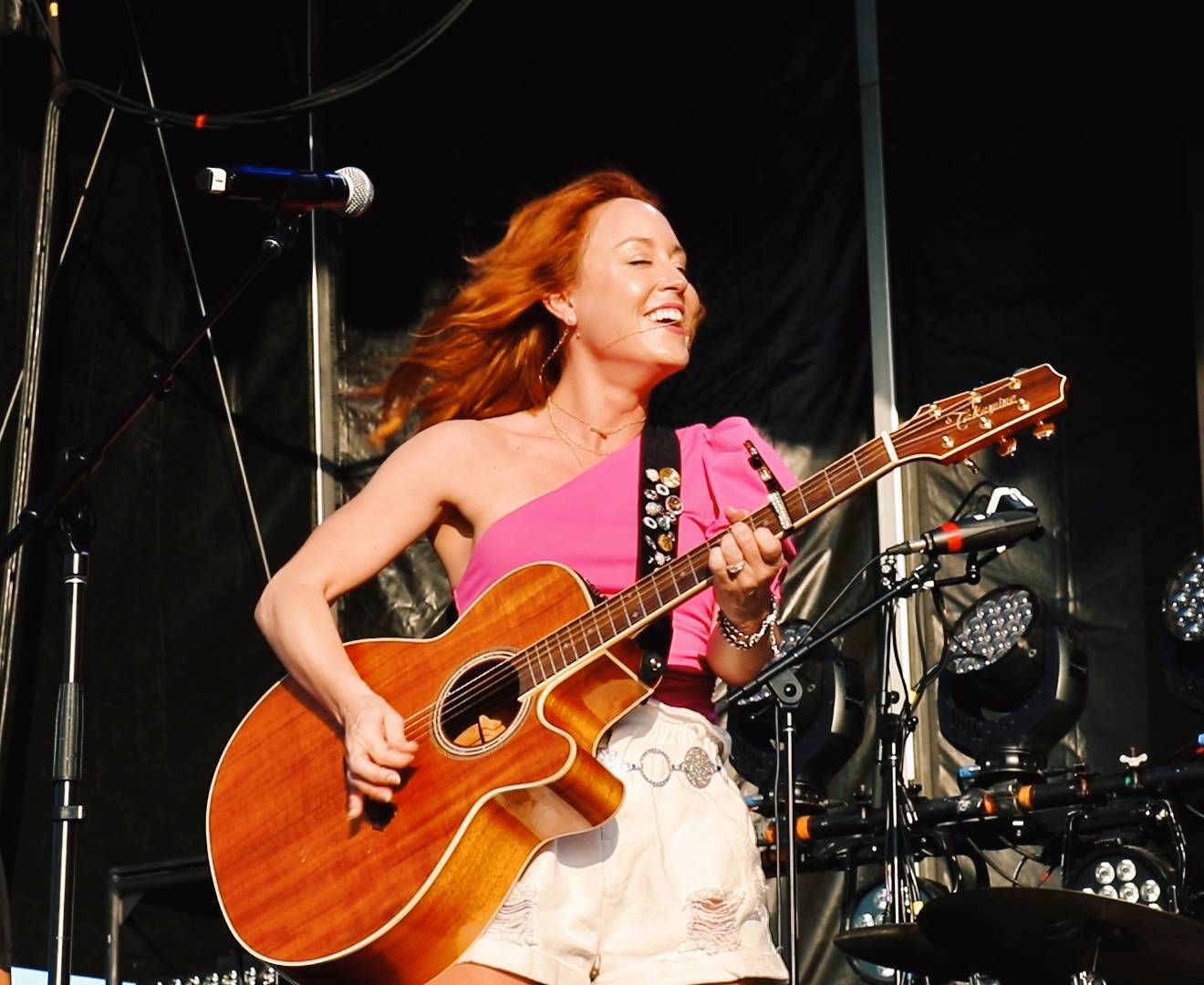 Come chill with us Sunday afternoons this summer and discover your new favorite jams by the best new artists in Northwest Arkansas in this free, outdoor music series. Every week will have you diving deeper with (and maybe ordering a round for) the rising stars all around us.
This week, we're leaning into the electric energy, approachability, and classic sound of country artist Casi Joy. Described by Blake Shelton as "old school but [with] a youthful energy about her," Casi combines down-to-earth songwriting, modern pop sensibilities, and a voice honed on the country opry circuit into a performance no country fan should miss.
Free, no tickets required.
Presented in partnership with Smoothman Music.
WHAT TO EXPECT
Food and drink: Hungry or thirsty? Enjoy the culinary creations of the Momentary Food Truck and fun beverages from the RØDE Bar. Open Sundays 4 to 8 p.m. in the Arvest Bank Courtyard. Or, you're welcome to pack a picnic for your group, we just ask no big coolers and no outside alcohol.
Worried about the weather? Call the Inclement Weather line to check on any cancellations or relocations: (479) 657-2488, or catch our Instagram and Facebook stories for the most up-to-date information.
Safety Precautions: We continue to monitor local COVID-19 trends and government health guidance. As of now, proof of COVID-19 vaccination, testing, and masking are not required to attend this show. Please monitor our website for updates; protocols are subject to change.
About the Artist
When Casi Joy first came to national attention as a contestant on The Voice in 2017, it would have been easy to mistake her fresh-faced excitement for that of a newcomer, but the reality is that she had already spent the greater majority of her life on stage. Casi performed publicly for the first time at age five, singing "Angels Among Us" at a local Kansas City talent show after discovering a karaoke version of the track on the B-side of her parents' cassette tape of an Alabama album. "I just got really obsessed with that and the performance side of it," she remembers, "and begged my parents to let me join the local talent show. They had no idea why because I was really bad. They had no idea why I wasn't terrified to be on stage." Nevertheless, they helped find performance opportunities for their daughter in the Kansas City area—Karaoke bars, talent shows, anywhere that would take her. "There's so many recordings of me that should never see the light of day," she laughs.
Now based in Nashville, Casi has built a reputation as one of the most affable and dedicated performers in her field, growing into a formidable songwriter while maintaining the keen sense for performance that had been evident even from that first talent show performance. "Live music, for me, has always been a life-altering experience," she explains. "I cry at every single concert I go to. I cry the whole time." She's harnessed that passion into a notoriously rigorous touring schedule, regularly bringing her show to fans in every nook and cranny of the country. By 2019 Casi was spending so much time on the road that she and her husband Bryan decided to turn her tour bus ("The Joyride") into a mobile home.
Over the years, that dedication has won Casi one of the most warmly loyal fanbases in the industry. Years before the COVID-19 pandemic would force musicians to embrace live streaming as mere concession for live performance, Casi was finding Facebook Live concerts to be a much bigger opportunity for openness and accessibility with fans. An early highlight came in mid-February 2018: "Bryan and I decided," Casi recalls, "for some of the fans who are by themselves or don't have a date, let's give them a date to spend Valentine's Day with us." After the performance, the couple continued streaming as they cooked fajitas for 27,000 total viewers who were more than happy to offer tips and suggestions on their chorizo prep.
"That helped me as much as they would say it helped them," she admits. "I can be my fully weird self and I think that's maybe what they like about me, so it's okay to be me. And that just really helped me come out of my shell a lot. And I think it shows on my live stage performances now too; if I trip on stage, best believe I'm announcing it on the microphone and we're going to have a good laugh about it."
That vulnerability and openness might be surprising for an artist with Casi's resumé, but it mainly goes to show that despite putting on a great show, Casi's onstage persona has never even remotely been a performance. Her standout 2021 single "The Money," for instance, openly discusses her own challenges trying to make ends meet during a "dry season" for the music industry. But she resists the easy trap of melodrama by talking about money trouble the way real people do, with a sighing sense of humor ("Well cash talks they say / But all mine ever says is goodbye") while mounting a very real discussion about how the cliché that "life doesn't revolve around money" might fail to address the realities of most people's day-to-day relationship to expenses and debt.
Its follow-up "Namaste," on the other hand, uses a sense of personal detail to find a path less traveled in the long history of breakup songs by honing in on the specific yet instantly familiar scenario of an ex-couple's custody battle over a local bar they once frequented together. "Everything's Fine," her first single after signing with Vere Music in 2022, paints a portrait of a bad day by incorporating similar real-life specificity, like waiting for a cable guy who could show up any time during the provided seven-hour window, or discovering your car's been booted when you're already too short on cash to cover parking. "I think I live here now / Cause this dollar's all I got" Casi jokes drily in an opening line inspired, she explains, by "the time I went to an audition, didn't get the gig, and then my card got declined trying to get out of the parking garage. I was actually trapped and had to call my mom. Sometimes all you can do is laugh."
That unmistakable firsthand detail, along with a careful ear for the earnest and often irreverent tones we tend to take in talking about our lives, allows Casi to spin these stories—often about day-to-day frustrations—into something wider-reaching and almost celebratory of those frustrations and the small absurdities we all share in our lives. Her keen understanding of music's expressive power and its potential to make those connections has been a driving force in her curious and dynamic career path.
After graduating summa cum laude with a bachelor's degree in education, Casi spent her young adulthood fronting a Warped Tour rock band and teaching lessons at a local music school. At one point she played in and helped stage a performance of Pink Floyd's The Wall in full with her students; a few years later she actually had the opportunity to choreograph another group of students for an appearance at the Kansas City stop of Roger Waters' solo tour of The Wall. Just a few years earlier, from ages fourteen to sixteen, she had opened for major acts like The Baha Men as a core member of The Commotions, a pop vocal group assembled and scouted by a Radio Disney executive who saw Casi at a Kansas City mall talent show performing LeAnn Rimes's "Big Deal," complete with choreography.
Almost exactly ten years later she auditioned for The Voice with a performance of another LeAnn Rimes song—her breakthrough 1996 single "Blue" — which was later ranked by Rolling Stone as one of the show's ten all-time-best blind auditions and managed to turn all four judges' chairs, prompting a friendly bidding war between the four stylistically-distinct coaches vying to add Casi to their teams. Ultimately, she went with country stalwart Blake Shelton, whose comments reflected a nuanced understanding of "Blue" and its significance in the music world and in LeAnn Rimes' career.
"She has this electric energy when she's on stage," Shelton later praised, "and has these unique things that she can do vocally… she's old school but has a youthful energy about her, There's no stopping Casi Joy." Her own comments echo that sentiment: "I've always just had, like, really big goals and really big dreams ever since I was five. Even after some of the biggest moments of my life, it's always like I'm chasing that feeling that I had and chasing the next one that's even bigger."
But Casi's rise to attention in the music world has never been marked by even a whiff of careerism, remaining laser-focused on the excitement about music that inspired her to get on stage the first time and which, in turn, inspired even her hesitant parents to support her pursuit of performance despite having no musical background themselves. That same contagious excitement would later inspire her husband Bryan to leave a corporate job in Kansas City to move to Nashville and become Team Casi's Swiss army knife, handling live sound, photography, videography, and scheduling on tour.
Through each excitement and needle-moving moment, Casi's open and unpretentious friendliness seems to insist that fans, family, and friends alike feel excited with her, not for her. She seems fundamentally uninterested in pursuing that next, bigger feeling on her own, or even just for herself; instead, it feels like we're all invited along for the "Joyride."
About Courtyard Sessions
Forget streaming—we all know the best way to find new music is to hear it live. That's why we decided to help bring some of the best new artists in Northwest Arkansas to you. Come chill with us in the Arvest Bank Courtyard on Sunday afternoons and soak in the sounds of rising stars alongside those patio vibes.  See the full the lineup here, or sign up for eNews and get the latest music updates delivered straight to your inbox.
Sponsored by Kath and Jase McLay and family.