Sunday Reset | Sound Bath in the Galleries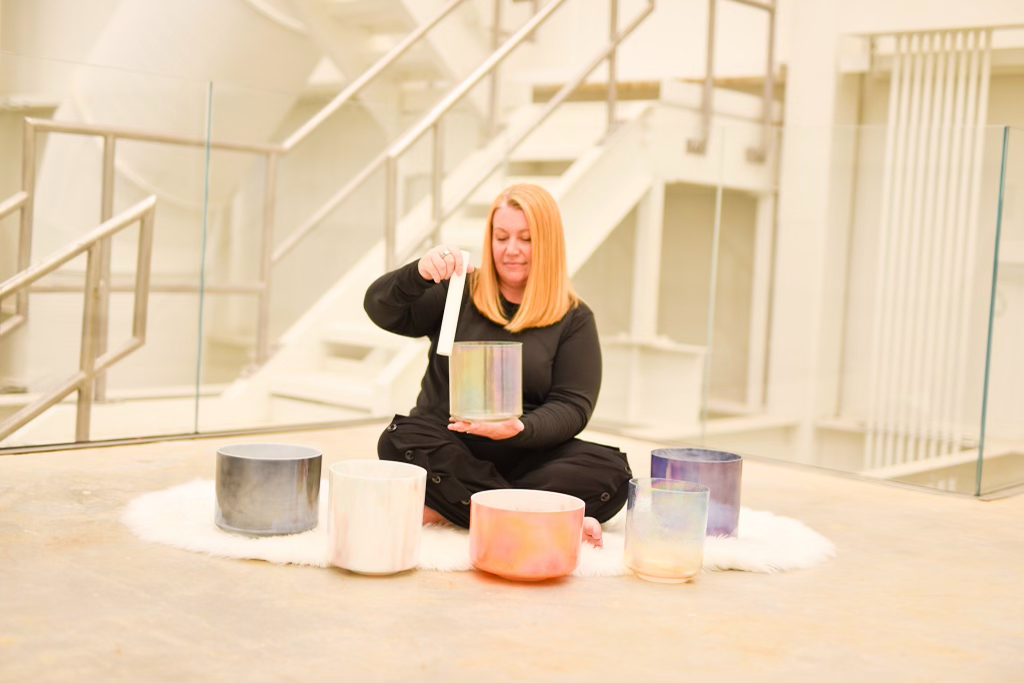 Let go and be open to receiving light. The Momentary and Cocoon Yoga Lab have joined together to bring you a sound bath sensory meditation.
This Sunday Reset is all about creating the perfect relaxation environment. Perched on the Upper Mezzanine of the Momentary's Tower Interior, floating high above the galleries, Cocoon Yoga Lab Founder Tammy Mores will envelop you in soothing sound to ease you into a deep meditative state. Using her crystal singing bowls, gongs, chimes, and the natural light from the Tower Oculus above, she will create vibrations and a sense of space to inspire deep, abiding peace.
Please bring a yoga mat, blanket, bolster/pillow, and anything else to help you make a super cozy spot on the mezzanine. You may opt to bring a journal/pen to write about your experience at the end of the session. We recommend you wear comfy clothes, preferably layers and socks. (PJs are welcome as well.)
To avoid crowding and maintain the ethereal environment, this meditation will be offered at three different times on December 11—just choose the time that works best for you. Register now to save your spot, or purchase a ticket on-site to join us.
See you there!
Tickets are $5 (Free/members), reserve your spot online or with the Box Office at (479) 657-2335 today.
ABOUT THE INSTRUCTOR
Tammy Mores, Founder & Studio Owner – Cocoon Yoga Lab
For so many of us today, the battle of the overactive mind is real. It controls us inside and out. What I've found in yoga—and what I hope to unlock in those I practice with—is a switch. A switch to a calmer mind and a stronger body, creating balance and purpose. Yoga is the journey to becoming the architect of the life YOU want.
I founded Cocoon Yoga Lab in Bentonville, Arkansas, as a place to belong, a place to grow and transform. It's a place of community to experiment with new yoga experiences to make life more joyful. I'm certified in many modalities, including 200 hr. Registered Yoga Teacher, Sound Healing, AIReal Instructor, Stand-Up Paddleboard Yoga, World Paddle Association, Yin/Restorative Yoga, and Reiki.