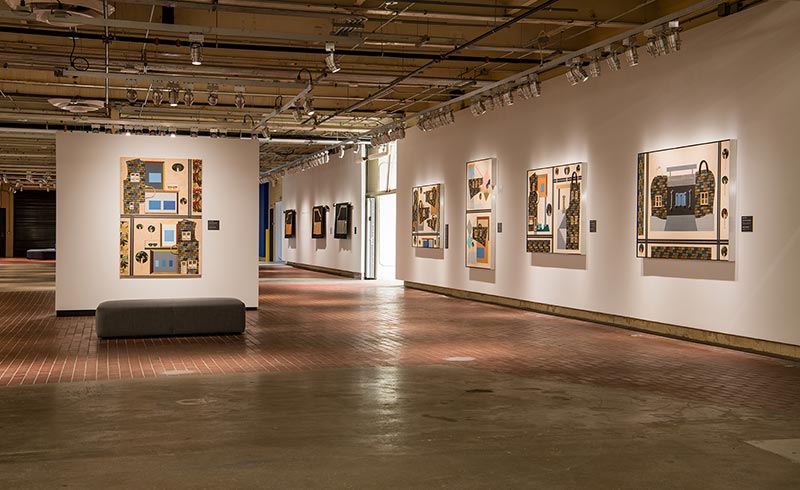 From 1936 to 1967, during the Jim Crow era, Black American road-trippers referenced a guidebook, The Negro Motorist Green Book, also known as The Green Book, to identify businesses, including hotels, restaurants, state parks, beauty parlors, and nightclubs, that were nondiscriminatory and welcoming. In Derrick Adams: Sanctuary, this reference material serves as inspiration to reimagine safe destinations for the Black American traveler in an exhibition featuring mixed-media collage and sculpture.
In his continued exploration of Black refuge and leisure, and during a time when uneven law enforcement continues to negatively shape the experiences of Black Americans, Adams also offers a space to reflect on the importance, and at times political act, of having the freedom to go wherever you want.
Adams is a recipient of a Robert Rauschenberg Foundation Residency (2019), a Gordon Parks Foundation Fellowship (2018), a Studio Museum Joyce Alexander Wein Artist Prize (2016), and a Louis Comfort Tiffany Award (2009). His work resides in the permanent collections of The Metropolitan Museum of Art, The Studio Museum in Harlem, the Whitney Museum of American Art, the Virginia Museum of Fine Arts, and the Birmingham Museum of Art.
Derrick Adams: Sanctuary is on view in Gallery 1 and Gallery 3 at the Momentary.
Derrick Adams: Sanctuary is organized by Dexter Wimberly and Derrick Adams Studio. Derrick Adams: Sanctuary was originally presented at the Museum of Arts and Design, New York, from January 25 to August 5, 2018, and was curated with support from MAD's Curator of Collections Samantha De Tillio.
ADDITIONAL RESOURCES
Black travel has come a long way since Victor H. Green initially began publishing The Green Book in 1936. Enjoy a selection of resources that dive into Black American travel and leisure.
Read:
Please consider purchasing your books from a regional bookstore, like Tulsa's Fulton Street Books & Coffee.
Children's Books:
Ruth and the Green Book, Alexander Ramsey Calvin
Tar Beach, Faith Ringgold
The Story of Ruby Bridges, Robert Coles
For Older Audiences:
The Warmth of Other Suns, Isabel Wilkerson
Overground Railroad: The Green Book & Roots of Black Travel in America, Candacy A. Taylor
Soul On Bikes: the East Bay Dragons MC and the Black Biker Set, Tobie Gene Levingston
Living the California Dream: African American Leisure Sites during the Jim Crow Era, Alison Rose Jefferson
The Color of Law: A Forgotten History of How Our Government Segregated America, Richard Rothstein
Black Recreation: A Historical Perspective, Jearold Winston Holland
Race, Riots, and Roller Coasters: The Struggle over Segregated Recreation in America, Victoria W. Wolcott
No Mercy Here: Gender, Punishment, and the Making of Jim Crow Modernity, Sarah Haley
Watch:
Listen:
"What It's Really Like Road Tripping While Black in the US," Let's Go Together, the Travel + Leisure Magazine podcast.
Continue to learn about The Green Book this summer.
Between May 8 and August 1, 2021, Mosaic Templars Cultural Center in Little Rock will host The Negro Motorist Green Book, an exhibition developed by the Smithsonian Institution Traveling Exhibition Service (SITES) and cultural documentarian, Candacy Taylor.
The Negro Motorist Green Book is made possible through the support of Exxon Mobil Corporation.
SUPPORTED BY:

Sarah Simmons
Kate and Greg Schaffer
Tony Waller