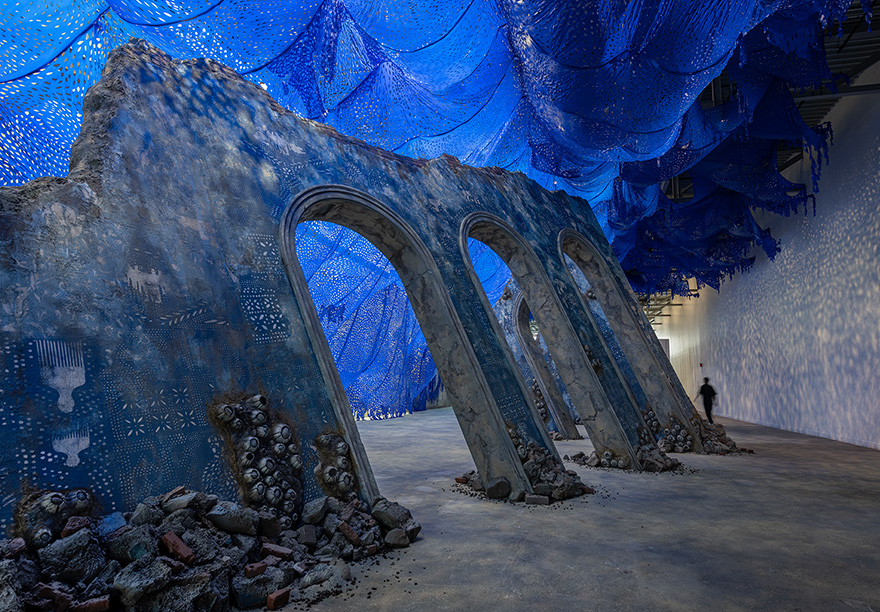 In her largest sculptural installation to date, Firelei Báez invites visitors to traverse passageways and travel through time and space, engaging with streams of intervention and interconnectedness. In its second iteration, Báez's sculpture revisits the centuries-long exchange of ideas and influence between Europe, the African continent, and the Americas, reclaiming and revisiting the Caribbean's place in the story of Western world history through a presentation that the New York Times calls "history meets flamboyant fantasy."
To breathe full and free: a declaration, a re-visioning, a correction (19º36'16.9"N 72º13'07.0''W, 42º21'48.762''N 71º1'59.628''W, 36° 22′ 0.1848" N94° 12′ 8.64" W) reimagines the archeological ruins of the Sans-Souci Palace in Haiti, as if it were emerging from the Atlantic Ocean through the Momentary's galleries. The longitudinal and latitudinal coordinates signify where the ruins are located, the location of ICA Watershed in Boston (where this work was first presented), and the location of the Momentary. The installation also features an immersive mural and hanging tarps that evoke both being underwater and the starry night sky. The monumental structure's intricately painted architectural surfaces include symbols of healing and resistance, patterning drawn from West African indigo printing traditions (later used in the American South), and sea growths native to Caribbean waters, reconsidering the complex history of interaction between each of these sites.


About the Artist
Award-winning New-York based artist Firelei Báez was born in 1981 in Santiago de los Caballeros, Dominican Republic, to a Dominican mother and a father of Haitian descent. Her upbringing between Hispaniola's two countries, which have a longstanding history of tension predicated on ethnic difference, informs her concerns with the politics of place and heritage. Báez received an MFA from Hunter College, a BFA from the Cooper Union's School of Art, and studied at the Skowhegan School of Painting and Sculpture. Báez's work resides in permanent collections nationally and internationally, including the Studio Museum, New York; Pérez Art Museum Miami; Crystal Bridges Museum of American Art, Bentonville, Arkansas; Institute of Contemporary Art Boston; San Francisco Museum of Modern Art; the Solomon R. Guggenheim Museum, New York; Tate Collection, United Kingdom, Baltimore Museum of Art, Maryland, Nasher Museum of Art at Duke University, Durham, among others.
Firelei Báez will be on view in Galleries 1, 2, and the interior Tower space.
Firelei Báez is organized by Eva Respini, Barbara Lee Chief Curator, ICA/Boston. It was commissioned by ICA/Boston and first presented at the ICA Watershed. Organized for the Momentary by Kaitlin Garcia-Maestas, acting curator of visual arts.
Sponsored by: Anna and Carl George, Mayra Florez and Christopher Ellis-Ferrara, and Tony Waller.