First Things First | For You
$15 ($12/members, $10/students)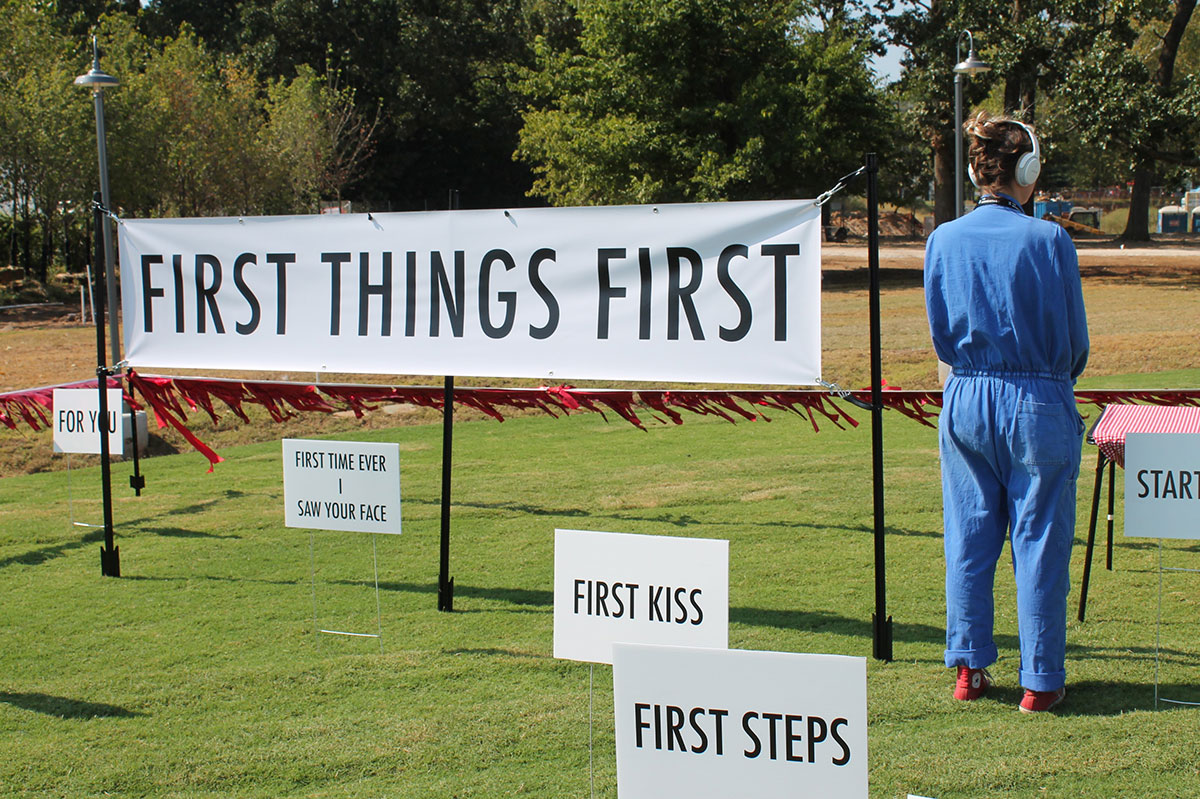 Every first, a beginning. A first kiss turns the other's lips into a bloody mess; turkey served from a first return to mother's recipe; a woman makes history as the first Latina to win a local race. First Things First is a ceremony dedicated to you and your firsts. We invite you to commemorate the 'first time' stories we collected from individuals in Northwest Arkansas by way of a procession, a scrapbook of live tableaus, and a communal dance performed in the spirit of grand openings.
This performance is part of TIME BEING, our inaugural festival of performance taking place during opening weekend.
ABOUT FOR YOU
For You (San Francisco, CA) is comprised of Erika Chong Shuch, Rowena Richie, and Ryan Tacata, and brings strangers together for shared, intimate encounters. For You has made bespoke performances for specific audiences of twelve, a roving audio-guided folk dance, and are currently developing in-home performances for people with dementia and their care-partners.
For You is supported by Creative Capital, New England Foundation for the Arts' National Theater Project, Yerba Buena Center for the Arts, Atlantic Fellows for Equity in Brain Health at The Global Brain Health Institute at UCSF, and Center for Cultural Innovation.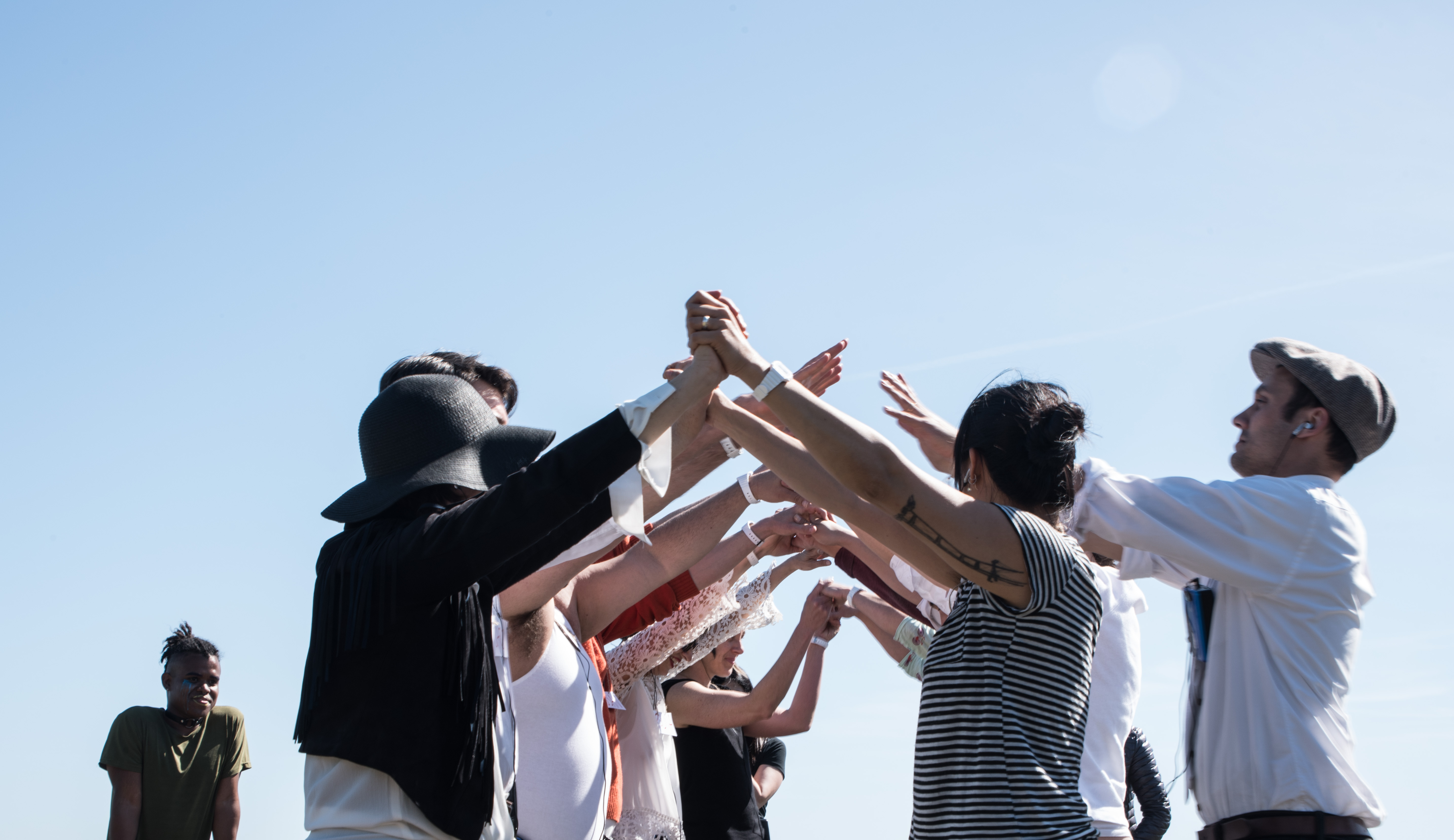 ABOUT ERIKA CHONG SHUCH 
A performance maker whose topic-driven ruminations coalesce into imagistic assemblages of music, movement, text, and design, Erika Chong Shuch is interested in expanding ideas around how performance is created and shared. Shuch's work has been performed in city halls, industrial office spaces, church basements, and food courts. Her original works have been supported and commissioned by Creative Capital, Rainin Foundation, SF Arts Commission, Gerbode Foundation, Creative Work Fund, Berkeley Rep's Groundfloor, Intersection for the Arts, YBCA, deYoung Museum, Headlands Center for the Arts, Djerassi, Dancers' Group, Liz Lerman's Dance Exchange/Corcoran Gallery/DC and in Korea: Daejeon Metropolitan Company, Chang Mu Company, Mullae Art Space.
In addition to her own work, Erika choreographs and directs for theater companies such as Oregon Shakespeare Festival, Folger Theater (DC), Hudson Valley Shakespeare, Kennedy Center (DC), American Conservatory Theater, Magic Theatre, Shotgun Players, and Kansas City Rep with upcoming productions at Arena Stage(DC), Pittsburg Public, and Theater for a New Audience (NY).
ABOUT ROWENA RICHIE
Rowena Richie draws from her eclectic background in modern dance, improvisation, music, drawing, and writing. Her production, Lost and Found in the Mission, presented a cross-section of humanity as defined by handwritten scraps of paper she and co-creator Susie Hara found on the streets of San Francisco's Mission District, where Rowena has lived since 2001. Lost and Found won Best Ensemble Performance at the 2008 SF Fringe Festival.
Rowena has worked with the Erika Chong Shuch Performance Project for the past 15 years. In 2011, under the direction of Chong Shuch, Rowena was featured as Bride Love in Act 3 of Taylor Mac's The Lily's Revenge at the Magic Theater. The San Francisco Chronicle referred to Act 3 as, "…an exhaustingly energetic dance battle," and the San Francisco Examiner gave Rowena's performance a "shoutout" for her "display of talent…as a bridezilla." In 2010 Rowena co-founded richien with Jennifer Chien as an outlet for their cerebral-dorky interests. richien was awarded an Artists in Residence Commission at CounterPulse where they presented Twindependent. They are currently working on Longing Four…, a dance theater critique of consumerism. Rowena teaches Body Dynamics through the Older Adults Department for City College of San Francisco.
ABOUT RYAN TACATA 
A performance maker, educator, and scholar based in San Francisco, Ryan Tacata has a BFA from the School of the Art Institute of Chicago (2007) and received his PhD in Performance Studies from Stanford University. His recent performance projects include Lolas (2017, Asian Art Museum, a performance installation in honor of Filipino grandmothers) and dancing in Doggie Hamlet (2015-) by Ann Carlson (a site-specific dance with four human performers, sheep herding dogs, and 30+ sheep). Tacata is devising an archive-based performative response to Goat Island's When Will the September Roses Bloom? Last night was only a comedy (commissioned for the company's retrospective The Goat Island Archive – we have discovered the performance by making it, Chicago Cultural Center, 2019). He is currently writing on 'the occasion with a focus on performance art history and occasional literature. His scholarly and creative work has appeared in Performa, TDR, Performance Research and SFMoMA's OpenSpace. He is currently Lecturer in the Immersion in the Arts: Living in Culture (ITALIC) Program at Stanford University.