FreshGrass | Bentonville
The Celebrated Two-Day Music Festival Returns to the Momentary!
Great music, uprooted.
Spanning two days and multiple stages across the Momentary, FreshGrass | Bentonville is an all-ages festival celebrating today's bluegrass and progressive roots music. Knockout performances will be accompanied by fun family-friendly activities, great local food and drink, homegrown retail vendors, artist merchandise, and more.
FreshGrass | Bentonville is held rain or shine. Gates open and music starts at 4 PM on Friday, May 20, and at 11:30 AM on Saturday, May 21.
The VIP FreshPass includes:

¹ Member pricing is for members of the Momentary. Discount will be applied at check out to youth tickets and up to 2 adult tickets. Each order is limited to 6 adult tickets regardless of member status.
² Children with a general admission ticket are welcome in the FreshPass VIP Lounge with an accompanying adult with a VIP FreshPass ticket.
³ Children must be accompanied by an adult.
Purchase a parking pass for just $20 per day
Quantity is limited.
For the latest information during the festival, please follow the Momentary on social media or text FRESHGRASS to (773) 770-4377 to receive updates directly to your phone.
PERFORMANCE SCHEDULE
Friday, May 20
4 PM: Gates Open
4 PM: Ozark Strangers
Tulip Barn
4:30 PM: The Gravel Yard
No Depression Stage
5 PM: Eureka Strings
Tulip Barn
5:15 PM: Balsam Range
Mainstage
6 PM: Kelly Hunt
No Depression Stage
6:30 PM: Dispatch (Acoustic)
Mainstage
7:45 PM: Arkansauce
No Depression Stage
8:30 PM: Emmylou Harris & The Red Dirt Boys
Mainstage
9:45 PM: Red Baraat
No Depression Stage
9:45 PM: Square Dance with Rachel Reynolds and Clarke Buehling, called by Steve Green
Tulip Barn
10:30 PM: Sam Bush
Mainstage
11 PM: Gates Close
No entry/re-entry allowed after this time.
*All times are subject to change.
Saturday, May 21
Updated as of 3:45 p.m.
11:30 AM: Gates Open
11:30 AM: Hot Ash String Band with Allison Williams and Rachel Reynolds
Tulip Barn
12 PM: The Ozark Highballers
No Depression Stage
12:15 PM: Grace Stormont
Tulip Barn
1 PM: The Black Legacy Project
Fermentation Hall
2 PM: FreshSongs: Premier performances of new music created at The House of Songs featuring Willi Carlisle, Bonnie Montgomery, Auralai, Kalyn Fay, Billy Keane, Mamie Minch, and Jaimee Harris
Tulip Barn
3:05 PM: Bombino
Mainstage
3:45 PM: FreshScores: original live scores to film with Alison Brown, Lost Bayou Ramblers, and Mamie Minch
The Fermentation Hall
3:50 PM: Willi Carlisle
No Depression Stage
4:30 PM: Hayes Carll
Mainstage
4:30 PM: Square Dance with The Ozark Highballers and Steve Green
Tulip Barn
5:25 PM: Son Rompe Pera
No Depression Stage
6:05 PM: The Jerry Douglas Band
Mainstage
6:45 PM: Alison Brown
Tulip Barn
7:00 PM: Amythyst Kiah
No Depression Stage
7:55 PM: Margo Price
Mainstage
8:00 PM: Jumpsuit Jamey and the Can't Wait to Playboys
Tulip Barn
8:55 PM: Lost Bayou Ramblers
No Depression Stage
9:35 PM: Amos Lee
Mainstage
10:30 PM: Gates Close
No entry/re-entry allowed after this time.
*All times are subject to change.
WHAT TO EXPECT
What time will the festival start each day?
Gates will open and live music will start at 4 p.m. on Friday, May 20, and at 11:30 a.m. on Saturday, May 21.
Where is the entrance to the festival? 
Entry is located just west of the parking garage, accessible from 8th Street (701 SE 8th Street). Note: this will be the only point of re-entry for those who plan to come and go throughout the festival. Please be ready to show your mobile/printed tickets to receive your FreshGrass wristband along with a valid ID.
What other events will take place? 
In addition to live music, festival events include family-friendly artmaking activities, local food and makers market, late-night jam sessions, square dancing, access to new exhibitions at the Momentary, and more.  Feel free to bring your instruments for informal pick-alongs.
What is FreshKids?
FreshKids offers family-friendly activities during the festival for all kids of all ages. Activities include marker printing, shaker making, reading nooks, and coloring sheets. Adult supervision required. Open 4 to 8 p.m. on Friday, May 20 and 11:30 a.m. to 8 p.m. on Saturday, May 21.
How can I stay connected on what's happening during the festival?
There are two ways to stay in the know throughout the festival:
Receive announcements straight to your phone and we'll keep you updated all weekend. Text FRESHGRASS to (773) 770-4377.
What if it rains?
This is a rain or shine event. In the case of severe storms, delays or postponements are possible. In the event of lightning, heavy flooding, or dangerous winds, we will move indoors to wait out the storm. Announcements will be made on location and via the Momentary's social media platforms. Only in a rare event will a performance be canceled.
Are pets allowed? I'd like to bring my dog on a leash. 
No pets at FreshGrass, please. Only certified service animals will be allowed into the festival.
Will vendors accept credit or debit cards?
FreshGrass | Bentonville is 100% cash-less. Please bring your credit and debit cards.
Will there be assigned seating? Should I bring my own chairs or blankets?
We encourage guests who would like to sit to bring their own camp-style folding chairs or blankets (and arrive early!). There will be no assigned seating at the festival, except for a small area reserved for FreshPass and Reverb ticket holders. Spots will be available on a first-come, first-served basis, and will be located behind a standing room only area near the main stage under the Canopy.
How do I get to the festival? Where should I park?
FreshGrass | Bentonville takes place at the Momentary, located at 507 SE E Street.
Free parking:

Complimentary parking will be available in a designated lot near the Bentonville Fire Department at 8th & A Street (see Google Maps here). There will be shuttles transporting guests to and from the festival to this parking lot. ADA parking will be available.
Shuttles will run every 20-30 minutes between 3 p.m. and 12:30 a.m. on Friday, May 20, and between 10:30 a.m. and 12:30 a.m. on Saturday, May 21.

Paid parking:

Parking passes to park in the Momentary's parking garage are available for purchase at $20 per day. Qty is limited.
Friend and Insider-level members receive free parking in the garage as part of their membership benefit. Advance reservation is required via Box Office at boxoffice@theMomentary.org or (479) 657-2335.
The parking garage is located next to the 8th Street Market at 701 SE 8th Street.

Via bike: Biking is the best way to go! Bicycle racks and valet service will be available right outside the gates along 8th Street.
Rideshare and pick-up/drop-off locations can be found along 8th Street.
I purchased a parking pass for the garage, How will I receive it?
Parking passes will be sent via email upon time of purchase. Be ready to show either a printed or digital copy of your parking pass upon entry to the garage. Difficulty locating your parking pass? Please contact the Box Office at boxoffice@theMomentary.org or (479) 657-2335.
Can I bike or walk to the festival?
We highly encourage biking or walking to the festival. There will be a bike valet outside the gates along 8th Street to park your bikes.
What can I bring into the festival?
BRING:

Valid ID and tickets to present upon entry.
Folding chairs and blankets to use in designated areas at mid-field and beyond.
Free water stations will be available. Empty plastic water bottles are encouraged to help stay hydrated. (No glass or metal containers.)
Bring your credit or debit cards. The festival is 100% cash-less.
Rain or shine, the show will go on! Come prepared with your sunscreen, hat, raincoat or a poncho.
DON'T BRING:

No outside food and drink, large bags, coolers, or ice chests. No pop-up shade tents or umbrellas of any kind.
No firearms, knives, weapons, chains, spikes, and sharp or pointy objects are allowed. Laser pointers, glow sticks, and illuminating objects are strictly prohibited.
No fireworks, fuel, or explosive materials of any kind.
No kites, frisbees, or air horns.
No prohibited substance of any kind.
No smoking or vaping will be allowed outside of designated smoking areas.
No pets

Prohibited items will not be admitted or checked. Please leave these items at home or in your locked vehicle.
Are cameras and video recording devices allowed?
Professional cameras, drones, selfie sticks, tripods, detachable lenses, and flash photography are not allowed. No audio or video recording devices. Point-and-shoot cameras are permitted.
We ask that you refrain from using your phones and other devices during the live performances at FreshGrass, as they are disruptive to both patrons and performers. Professional photographers MUST obtain a media pass in advance—email us at media@theMomentary.org.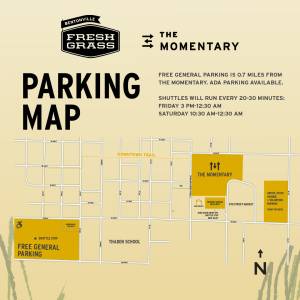 Health Policy & Entry Requirements
We continue to monitor local COVID-19 trends and government health guidance. As of now, proof of COVID-19 vaccination, testing, and masking are not required to attend FreshGrass | Bentonville. However, by purchasing tickets to this event, you agree to abide by safety protocols in effect at the time of the event, which may include wearing face covering, providing proof of vaccination status, and/or proof of negative COVID-19 test. Please monitor our website for updates; protocols are subject to change.
FreshGrass | Bentonville 2021 Recap
Am I limited in the number of tickets I can order? 
Orders are limited to 6 adult tickets, with Momentary members able to order up to 2 adult tickets at the member price. If your party size is larger than six, we recommend having another member of your group purchase the additional tickets needed.
Can I share my festival pass with my friends?
No, a festival pass is for you and you only. It is not transferable between different people attending different days. The single day ticket is meant for a single-day guest. You will receive a two-day wristband upon entry which should be left on throughout the festival weekend and not removed at any point.
Are ticket sales final?
Ticket sales, including ticketing and handling fees, are final and non-refundable. (Full ticket policy available online here. If FreshGrass is canceled due to unforeseen circumstances, ticket buyers will have the option to receive a full refund.
Can I bring my kids and do they have to pay?
Children are welcome, and admission is free for those six and under with an accompanying adult. There is a reduced price for kids 7-16.
I've purchased a FreshPass and will have my child with me. Can they come into the FreshPass Lounge with me?
Yes! Children are welcome in the FreshPass Lounge with an accompanying adult with a FreshPass VIP Pass.
Can I volunteer at FreshGrass?
Yes! Learn more about volunteering at the Momentary at theMomentary.org/volunteer or email volunteer@crystalbridges-themomentary.org. Advance training is required.
I'm a journalist. Who should I contact about a media pass?
Submissions for a media passes are closed. No more will be given at this time. Questions about the status of your pass? Please contact media@theMomentary.org.
Additional questions?
Contact the Momentary's Box Office at (479) 657-2335, or by emailing boxoffice@theMomentary.org
Sponsors
FreshGrass | Bentonville is presented by the Momentary in collaboration with the FreshGrass Foundation and No Depression.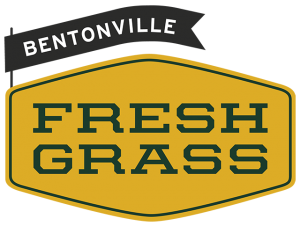 FreshGrass | Bentonville is supported in part by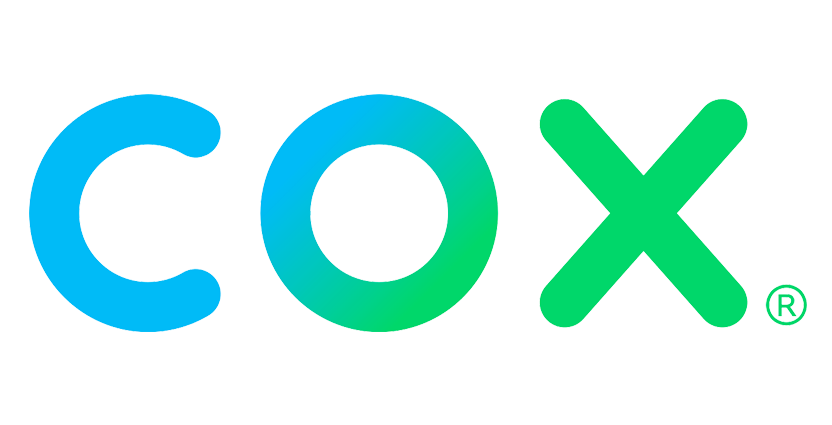 Visit Bentonville
Bentonville Brewing Company
Heartland Summit
Founding Funders