Garrett Bradley: American Rhapsody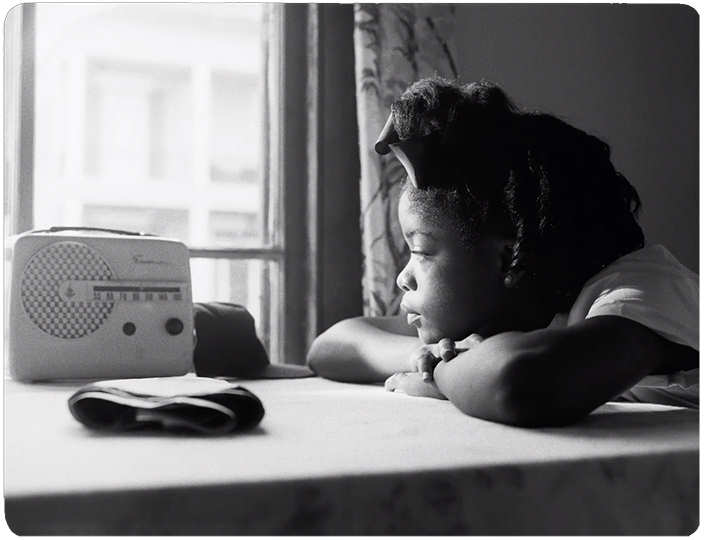 New Orleans-based artist and filmmaker Garrett Bradley works across narrative, documentary, and experimental modes of filmmaking to explore the social, economic, and racial politics of everyday life. Garrett Bradley: American Rhapsody features a selection of three recent works by the artist—two single-channel videos and a multi-channel video installation—America (2019), AKA (2019), and Alone (2017). 
In America, a multi-channel video installation, Bradley constructs a visual archive of early African American cinema, mixing found footage from Lime Kiln Club Field Day (the earliest-known film with an all-Black cast) and newly shot performances by non-trained actors of present-day slices of life. These pleasant visuals challenge audiences to consider what it might mean to see Black representation through a lens that privileges depictions of pleasure over spectacles of pain. AKA is the first in a trilogy of films about relationships between mothers and daughters born into interracial families or families of varying skin tones, exploring identity. The documentary short Alone follows the artist's friend, Aloné Watts, as she navigates the intentionally complex US prison system.
In these films, Bradley explores concepts of race, class, familial relationships, social justice, southern culture, and US film history. As the frames come together to tell a narrative, mundane and ordinary life events become images of beauty and reverence, connecting the dots from past to present and offering a new vision for the future.
Garrett Bradley's short films and feature-length projects have been exhibited internationally at museums and festivals including the Museum of Modern Art, New York; New Museum, New York; New Orleans Museum of Art, Louisiana; Whitney Biennial 2019, Whitney Museum of American Art, New York; The J. Paul Getty Museum, Los Angeles; The Sundance Film Festival, Park City, Utah; The Tribeca Film Festival, New York, among many others. Bradley has received numerous awards and honors. For her documentary film Time, she won the 2020 US Documentary Directing Award by the Sundance Film Festival, becoming the first African American woman to win in the category, and the 2020 Gotham Independent Film Award for Best Documentary. She also received a 2019-20 Rome Prize from the American Academy in Rome, Italy.
Garrett Bradley: American Rhapsody is on view in Gallery 2 and Gallery 3.
Garrett Bradley: American Rhapsody is organized by Contemporary Arts Museum Houston (CAMH) and curated by Rebecca Matalon, CAMH Curator. Organized for the Momentary by Kaitlin Garcia-Maestas, assistant curator.
SPONSORED BY