Kenny Rivero: The Floor Is Crooked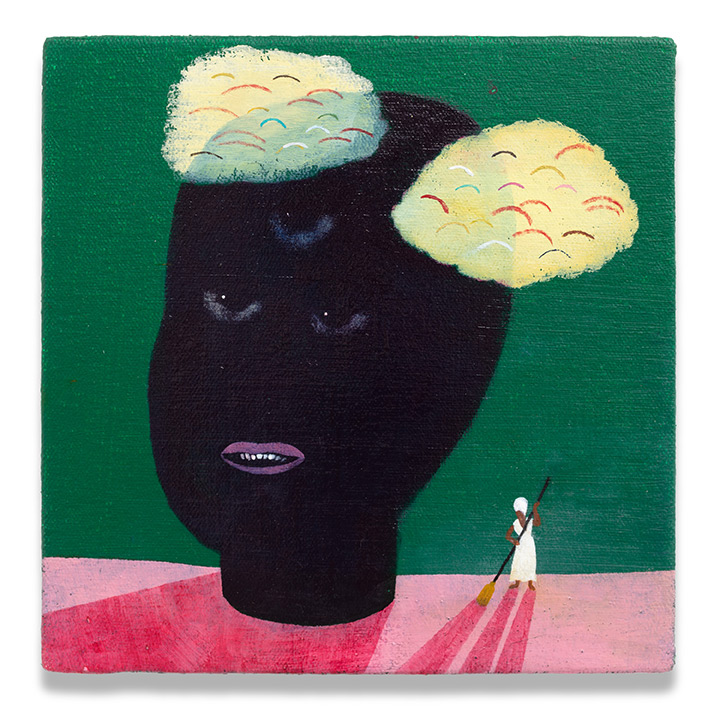 New York City-based painter Kenny Rivero presents The Floor Is Crooked, a solo exhibition of paintings that focuses on works made over the last 10 years. This exhibition is intended to be an investigation of Rivero's artistic practice and a focused look at themes that have been present in his work for the last decade.
Through his practice, Rivero aims to deconstruct histories and identities he's been conditioned to accept as absolute. As the artist states, "through the lens of my evolving relationship to fear, love, death, intimacy, violence, power, and aloneness, my work addresses themes of Dominican and American identity, Afro-Caribbean symbologies, socio-geographic solidarity, cultural and familial expectations, race, and masculinity."
Kenny Rivero received his Bachelor of Fine Arts from the School of Visual Arts in New York and his Master of Fine Arts at Yale University in New Haven, Connecticut. He also studied at the Skowhegan School of Painting and Sculpture in Maine. He is the recipient of a Doonesbury Award, the Robert Schoelkopf Memorial Travel Grant, the Rema Hort Mann Foundation Emerging Artist Grant, the Joan Mitchell Foundation Painters & Sculptors Grant, and has been awarded a Visiting Scholar position at New York University. He has exhibited his work in the United States and abroad in venues such as Brattleboro Museum & Art Center in Vermont, Pera Museum in Turkey, the Stedelijk Museum in the Netherlands, the Contemporary Art Museum in St Louis, the Pérez Art Museum in Miami, The Sugar Hill Children's Museum of Art and Storytelling in New York, El Museo del Barrio in New York, and the Delaware Contemporary in Wilmington. Kenny Rivero's work is represented in notable public collections including The Studio Museum in Harlem, New York; El Museo del Barrio, New York; The Whitney Museum of American Art, New York; Collection of Thomas J. Watson Library, The Metropolitan Museum of Art, New York; and Pérez Art Museum Miami, Florida.
Kenny Rivero: The Floor Is Crooked is organized by the Momentary and curated by Lauren Haynes, director of artist initiatives and curator, contemporary art at the Momentary and Crystal Bridges.
SPONSORED BY