"The world's most influential band" – The Guardian
"No matter how many times you see them, it's startling how futuristic their music still feels" – Rolling Stone
German Electro pioneers Kraftwerk bring their immersive, critically acclaimed 3-D tour to the Momentary.
A fusion of art, beat, and electronics, Kraftwerk 3-D concerts are a true work of art. Grab your 3-D glasses (don't worry, we'll provide) and join us for an evening with the recent Rock and Roll Hall of Fame inductees and 1970s visionaries who ignited pop music's evolution with their revolutionary soundscapes and musical experimentation. It'll be a night you never forget.
This concert is presented as part of the Momentary's Live on the Green Concert Series on the Coca-Cola Stage.
ABOUT THE ARTISTS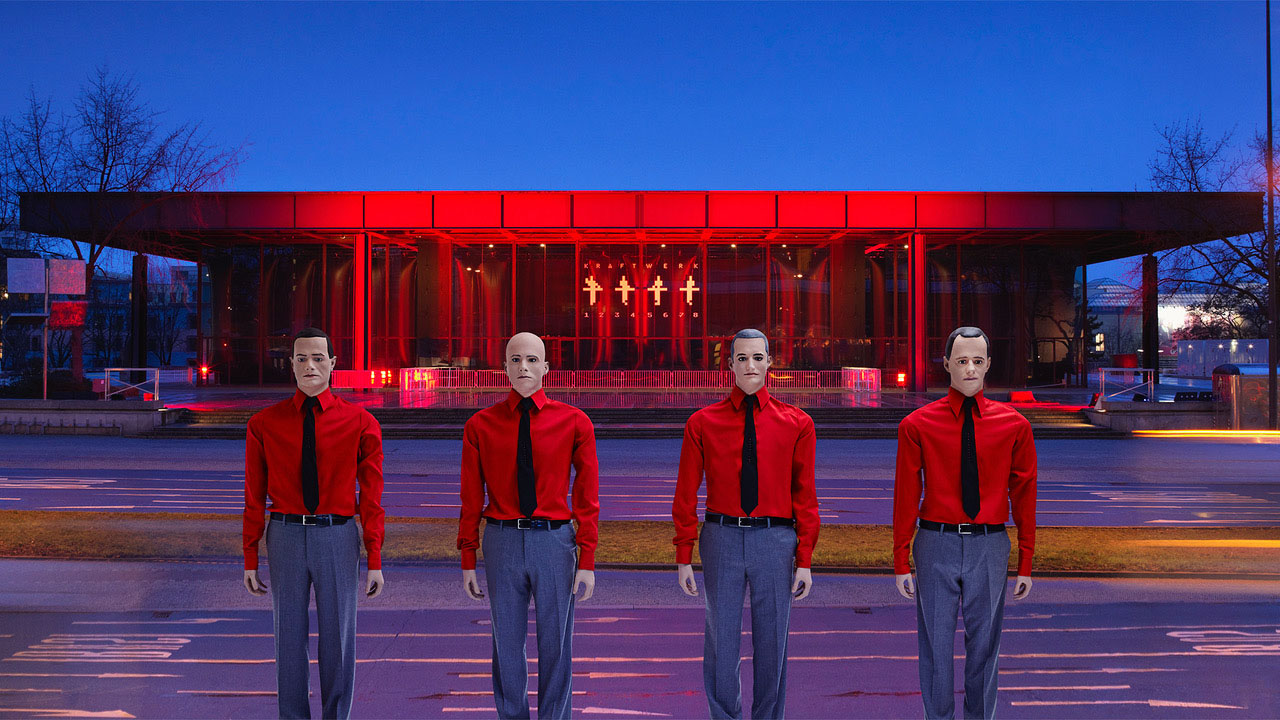 The multi-media project Kraftwerk was started in 1970 by Ralf Hütter and Florian Schneider. They set up their electronic Kling Klang Studio in Düsseldorf, Germany, where they conceived and produced all Kraftwerk albums.
By the mid-1970s Kraftwerk had achieved international recognition for their revolutionary electronic "soundscapes" and their musical experimentation with robotics and other technical innovations. With their visions of the future, Kraftwerk created the soundtrack for the digital age of the 21st century.
Their compositions, using innovative techniques, synthetic voices, and computerized rhythms, have had a major international influence across an entire range of music genres: from Electro to Hip-hop, from Techno to SynthPop.
In their live performances, Kraftwerk—Ralf Hütter, Henning Schmitz, Fritz Hilpert, and Falk Grieffenhagen—illustrate their belief in the respective contributions of both man and machine.
Starting with the retrospective of their Catalogue at the Museum of Modern Art in New York in 2012, in recent years Kraftwerk have returned full circle back to their origins within the Düsseldorf art scene of the late sixties.
The 3-D concert series at MoMA was followed by further presentations at Tate Modern Turbine Hall (London), Akasaka Blitz (Tokyo) Opera House (Sydney), Walt Disney Concert Hall (Los Angeles), Fondation Louis Vuitton (Paris), Neue National Galerie (Berlin), and Guggenheim Museum (Bilbao).
In 2014 Ralf Hütter and his former partner were honored with the Grammy Lifetime Achievement Award.
WHAT TO EXPECT
Prep Time: Arrive early! Doors open at 7 p.m. to give everyone plenty of time to check tickets and IDs and pick your preferred spot on the Momentary Green. Feel free to bring your own lawn chair or blanket and spread out.
Fun Food and Drink: Hungry or thirsty? Enjoy the culinary creations of the Momentary Food Truck and fun beverages from the RØDE Bar before and during the show. No outside food or beverages will be allowed.
HEALTH POLICY + ENTRY REQUIREMENTS
We continue to monitor local COVID-19 trends and government health guidance. As of now, proof of COVID-19 vaccination, testing, and masking are not required to attend this show. However, by purchasing tickets to this event, you agree to abide by safety protocols in effect at the time of the event, which may include wearing face covering, providing proof of vaccination status, and/or proof of negative COVID-19 test. Please monitor our website for updates; protocols are subject to change.
The Live on the Green Concert Series is sponsored by Breeze Airways | XNA.