Join us as we share and celebrate the power of communities in performance! We invite you to gather among artists and thinkers from across America's distinctive cultural landscape as a part of the Live in America Festival.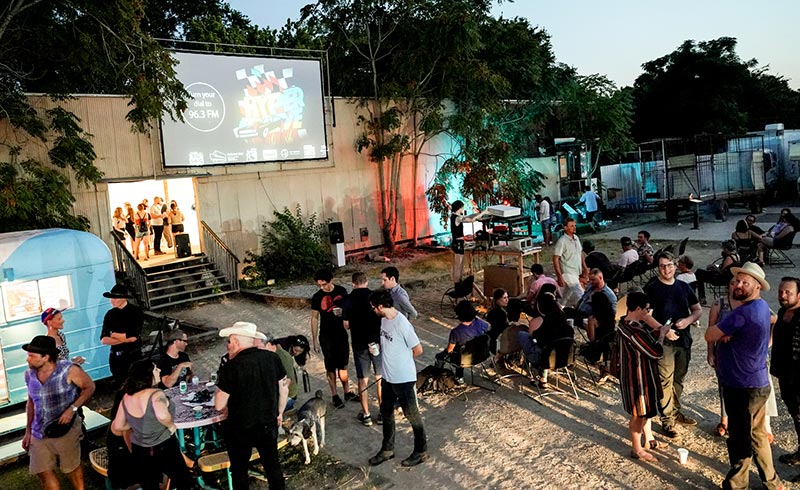 ABOUT Live in a Squareykah
For Live in a Squareykah, our late night programming series, we will gather, celebrate, and hang out with members of all participating communities (in a very square-shaped building). To inform our celebrations, we've asked every participating community the question, "How do you like to celebrate together?"
Here is what you can expect across six nights: Bingo, Karaoke, Show and Tell, Laughing, Electric Slide, Sitting Down Comfortably, Dominoes, Hidden Talent Shows, Poker, Blackjack, Magicians, Drag Shows, Photobooths, DJs, Spades, Dancing, Food, Fun, Friends, Embarrassing Stories, Selena Night, Lotería, Bioluminescent Tropical Night, Secret Theaters, Racing, Swag Bags, Basketball, Everyone Gets an Award, Airbrush Artists, Prizes, Arena Style Entrances, Popcorn, Dancing (again), Checking In, and Asking People What they Need.
Join us, make friends, hangout, be safe, and have fun.
Free, no reservations required.
Learn more about this program and the artists and communities behind it here.
ABOUT LIVE IN AMERICA
The Live in America Festival is a free, two-week-long festival of live performance and cultural practice featuring more than 300 artists from a diverse array of communities across the US, its territories, and Mexico. Admission is free for all festival events, but reservations are required.
Live in America is a project of Fusebox (Austin, Texas). The 2022 Live in America Festival has been developed in partnership with the Momentary.
Live in America is supported by:
Sarah Simmons | Olivia Tyson | Stella Boyle Smith Trust, Catherine and Michael Mayton, Trustees