Live on the Green | Music Moves Presents: RJ Mischo with The Sluyter
Long week? We've got you.
Kick back and celebrate summer with free live music on the Momentary Green. Watch the shadows lengthen as you stretch out and enjoy the signature sounds of indie artists and stars alike all summer long. Paired with a stop at the RØDE Bar and the Momentary Food Truck, this family-friendly, outdoor concert series is guaranteed to start your weekend off right.
This week's concert starts off with rising stars Sluter! This down-to-earth, dynamic duo of indie artists brings soaring vocals and a heartfelt sound to the Coca-Cola stage. Then, jam into the evening with harmonica virtuoso, vocalist, and band leader RJ Mischo. An entertainer in the truest sense, Mischo's masterful old-school chops will get you movin' and groovin' all the way into the weekend.
So grab your lawn chair, take a sip, and settle in. It's gonna be a good night.
Presented on the Coca-Cola Stage.
Free, no registration required.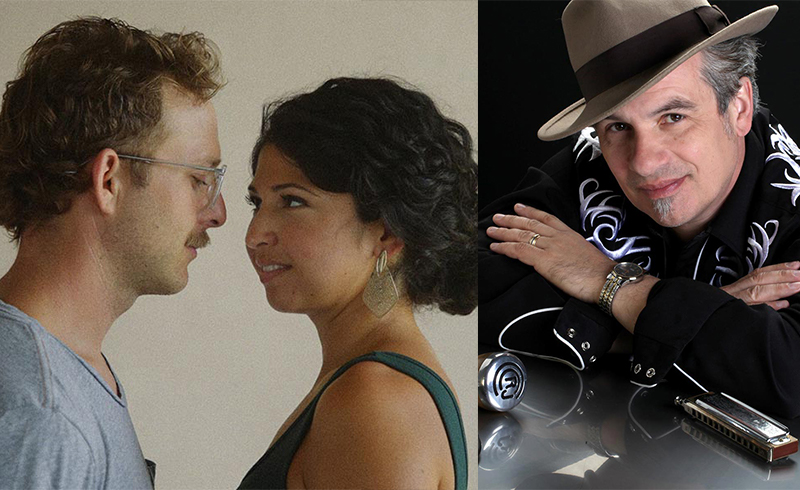 WHAT TO EXPECT
Fantastic live music: What else? We'll be showcasing some of the best indie artists and rising stars the country has to offer.
Plenty of space: Arrive early! We recommend arriving about half an hour before the shows to claim your preferred spot. Feel free to bring your own lawn chair or blanket and spread out.
Fun food and drink: Hungry or thirsty? Enjoy the culinary creations of the Momentary Food Truck and fun beverages from the RØDE Bar. Open Fridays 4 to 10 p.m. in the Arvest Bank Courtyard.
Happy Hour Fridays at Onyx Coffee Lab: Treat yourself and a pal to a drink at Onyx! When you buy one drink, get 50 percent off your second. Happy Hour is from 5 to 7 p.m. during Live on the Green concerts and Tuesday through Friday, 1 to 3 p.m., during the week.
Worried about the weather? Call the Inclement Weather line to check on any cancellations: 479.657.2488, or catch our Instagram and Facebook stories for the most up-to-date information.
Safety Precautions:Per the CDC's updated guidelines and effective Tuesday, August 3, we are requiring all visitors ages 2 and up and staff to wear a face covering indoors and for outdoor programs. Masks will be available upon entry for those who do not have one.
ABOUT THE ARTISTS
Sluyter
Sluyter is a husband and wife duo from Northwest Arkansas. Their songs are a reflection of everyday life and ask simple questions we all have. As a couple, they bring a blended experience sharing smooth vocals over dynamic song structures. They have a song for the whole family.

RJ Mischo
RJ Mischo is an award-winning, world-renowned Blues Singer, Harmonica player and Band Leader. He is the kind of entertainer that 30 years of International Touring experience can bring to the stage. RJ's music is a combination of originals and obscure gems that create an exciting mix of Grooving Boogies, Dancing Shuffles and Electric Chicago Blues. RJ is endorsed by Hohner Harmonicas the world's largest manufacturer of harmonicas. His photo can be found on Hohner product packaging in music stores around the world.
Mischo has 14 Globally Distributed CDs out to date and can also be heard on 21 additional CDs as a guest or on compilations with Jimmie Vaughan, James Cotton, G. Love, James Harman, Kim Wilson, Candye Kane, John Mayall and others.

In addition, RJ's music can be heard on Netflix's "Green Eggs and Ham", FX's "Sons of Anarchy", Independent movie scores, TV commercials, and documentaries. He has contributed to two Mel Bay harmonica instruction books and is acknowledged in The Encyclopedia of Harmonica. RJ is featured on David Barrett's Harmonica Masterclass website, Modern Blues Harmonica, as well as several other Harmonica instruction formats.
RJ Mischo has been pleasing audiences on Major Festival Stages and top night clubs throughout the USA, Canada, Mexico, Brazil, England, Germany, Switzerland, Austria, Italy, Spain, Belgium, France, Holland, Denmark, Norway, Sweden, Slovenia, Finland, Russia, Lichtenstein & Luxembourg,
RJ Mischo's music is drenched in the grease of the juke joint shuffles that have stayed in style since before they called it Rock & Roll. "Mischo's magnificent tone, formidable chops, and affable, self-assured vocals…" make him a top entertainer.