"An arresting piece of beauty and serenity; something in limited supply these days…Go see it."
"The score while surrounded by ocean images offered a fleeting sense of open-air liberation."
Come listen to the rolling white noise of waves upon sand, to the heavy lilt of voices raised in song. Come see the sun, and shore, and souls from perspectives you might never share. Join us as we experience isolation, serenity, and companionship.
We invite you to come immerse yourself in the world premiere of Ocean Body.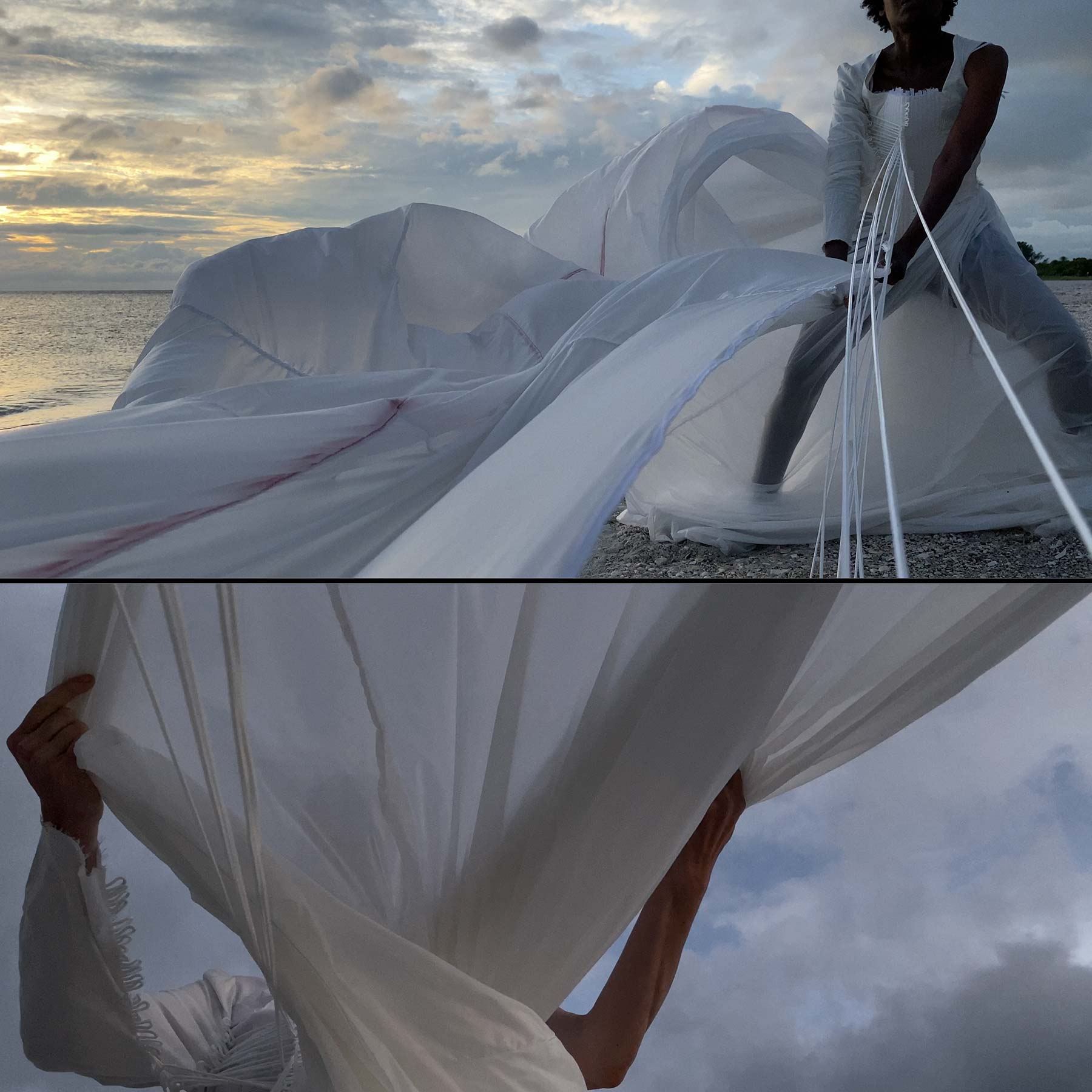 ABOUT OCEAN BODY
Ocean Body is a four-screen, multi-channel sound installation that explores the potential of interracial coalition through the deep yet tenuous bonds of a friendship—the decade-long close friendship between Helga Davis and Shara Nova.
Song, found text, conversations, and new compositions merge with Mark DeChiazza's original footage of the two women together and alone in the waters of the Gulf Coast to create a multi-sensory experience of a place where sand, sun, and water surround experiences of intense communion and also of profound isolation. Diptych cinematic imagery makes beautifully visceral the impossibility of an easily shared truth, presenting imperfectly parallel viewpoints that might sometimes frame a subject similarly, but will never match.
Duration: 45 minutes.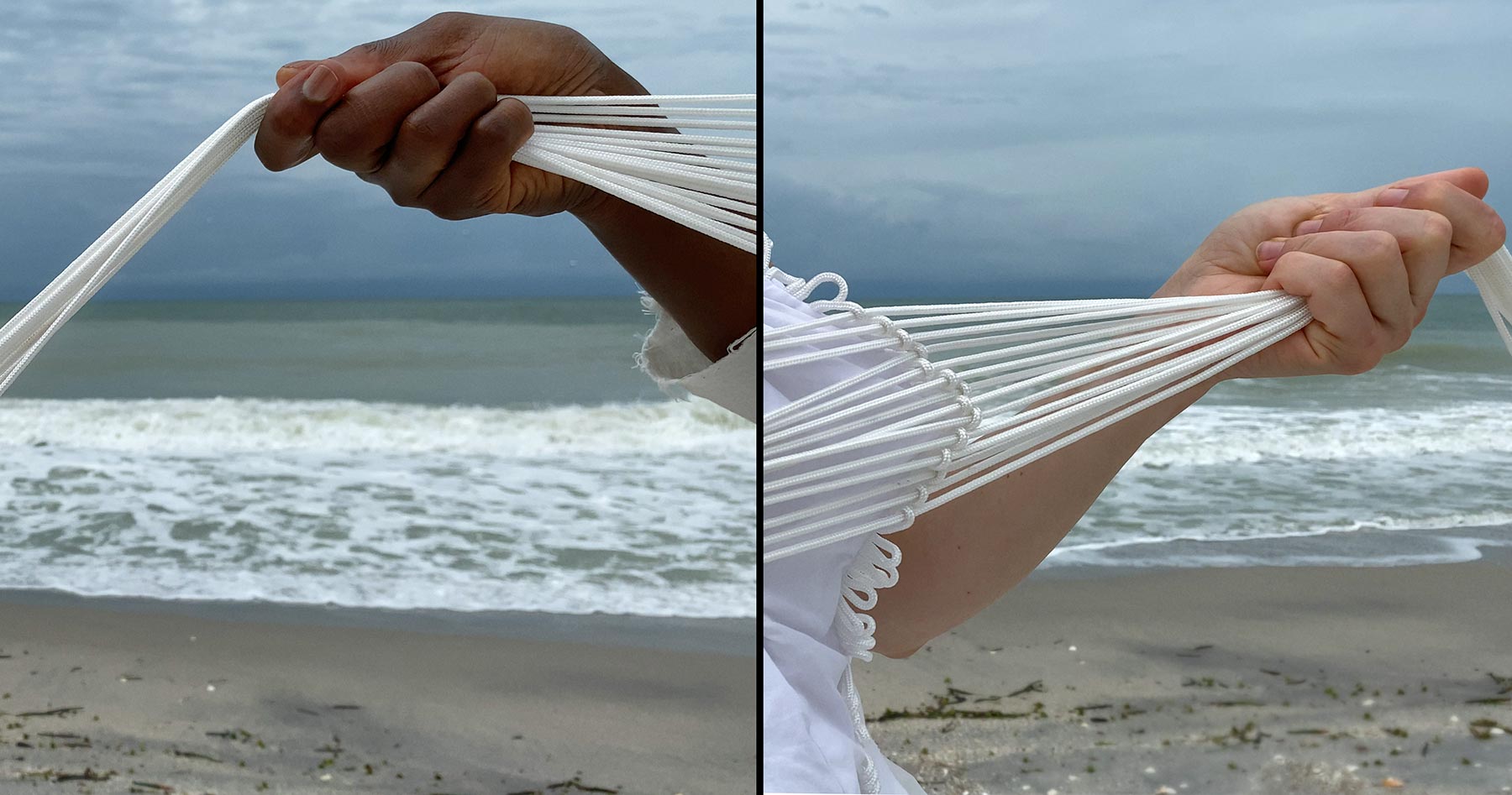 The imagery represents Davis and Nova interconnected within a sculptural dress built for two, by artist Annica Cuppetelli. Tethered, the two cannot avoid affecting each other, as the actions of one will move, confine, support, or even wholly re-shape the other. Ocean Body examines the sometimes conflicting needs for union and autonomy within a friendship and how we continually discover each other in new and transformational ways.
Free, registration required. Register online or by calling Guest Services at 479.657.2335.
Ready to dive a little deeper? Join us August 15 for a backstage look at the artists and themes behind Ocean Body. Reserve your spot here.
Per CDC's updated guidelines, we are now requiring all visitors ages 2 and up and staff to wear a face covering indoors and for outdoor programs except while eating or drinking. Masks will be available upon entry for those who do not have one.
ABOUT THE ARTISTS
Shara Nova​
Shara Nova​ was born in El Dorado, Arkansas and is the founder of the chamber pop band My Brightest Diamond, whose latest album was released in November 2018. She has composed works for yMusic, Brooklyn Youth Chorus, Young New Yorkers' Chorus, Brooklyn Rider, Nadia Sirota, and Roomful of Teeth, among others. Her orchestrations have been performed by the North Carolina Symphony, Indianapolis Symphony, American Composers Orchestra, and the BBC Concert orchestra. Her baroque chamber opera You Us We All premiered in the US at BAM Next Wave Festival in 2015 and came to CPA in the 2015/16 season. Nova is a Kresge Fellow, Knights Grant recipient, and a United States Artists fellow.

Helga Davis
Helga Davis​ is a vocalist and performance artist with feet planted on the most prestigious international stages and with firm roots in her local community. Davis was principal actor in the 25th-anniversary international  revival of Robert Wilson and Philip Glass's seminal opera Einstein on the Beach. She is artist in residence at National Sawdust and Joe's Pub, host of the eponymous podcast HELGA on WQXR, winner of the 2019 Greenfield Prize in composition, a 2019 Alpert Award finalist, and the 2018-21 visiting curator for the performing arts at the Isabella Stewart Gardner Museum.

Mark DeChiazza​
Mark DeChiazza​ is a director whose multifaceted practice encompasses filmmaking, choreography, scenic and media design, and installation. His work has been presented in national and international venues including Brooklyn Academy of Music, Lincoln Center, John F. Kennedy Center of the Arts, Guthrie Theater, Singapore International Festival of Arts, Les Subsistances, Chicago's Museum of Contemporary Art, and many more. He first collaborated with Shara Nova in 2019, when they co-created the massive outdoor music-performance work Look Around, celebrating Cincinnati Symphony Orchestra's 125th anniversary season, featuring over 600 performers from over 30 local groups.

Supporting Artist: ​Annica Cuppetelli​ is a fiber/installation artist and fashion designer based in Detroit, MI. Drawing on her past experience in the fashion world, her practice lies at the intersection of fashion, design and art, querying the complicated relationship of fashion and craft with the female body and identity. She also collaborates with Cristobal Mendoza as Cuppetelli and Mendoza, focusing on the creation of site-specific multimedia installations that address issues of space, interaction and materiality. In 2008 she received the Daimler Financial Services Emergent Artist Award, and with Mendoza she was a 2015 Kresge Arts in Detroit Fellow.