An Open Letter to Museums of the Future: and other divinations | Guillermo Gómez-Peña & Balitronica Gómez
Join us for a brand new spoken-word monologue and "live-action juke-box" by artists Guillermo Gómez-Peña & Balitronica Gómez.
La Pocha Nostra and the artists are thrilled to present excerpts from their most recent performance manuscripts and bank of ritual actions. Utilizing a casino roulette and traditional tarot deck, Balitronica utilizes various forms of oracular magic to select spoken word texts and props for Gómez-Peña's live performance. The fate of the script and the performance are determined by methods of divination and chance.
In this new project, the artists are unplugged, thinking out loud and articulating the challenges and possibilities of reinvention in the midst of multiple pandemics.

This site-specific performance will feature Gómez-Peña's An Open Letter to the Museum of the Future. Originally performed via video in 2021 for the Jane Addams Hull-House Museum in Chicago, Gómez-Peña's performative keynote imagines a future where museums work with artists to create utopian spaces for social transformation and fostering healthy and vibrant communities through art. Ultimately, Gómez-Peña's message is one of hope where museums, artists, curators, and communities work together to reimagine their neighborhoods and lives as living works of art.
Tickets are $20 ($15/members, $10 for students), reserve your spot online or with the Box Office at (479) 657-2335 today.
Artist Statement
"My new performance represents the fruit of my life's work in all its iterations: live performance, lecturing, archiving, literary work, mentoring, community activism, all coming together to address the dangers of the times we live in with its disregard for human life and insidious undermining of democracy.
At this time in my life, I am thinking as much about legacy as I am trying to continually produce socially conscious experimental artwork that is simultaneously plugged into the national debates. I have learned from decades of touring performance material to locations beyond the Border that a call to action—in the form of a work of art—has the power to elicit compassion and inculcate a desire for social justice.
For me, performance art is a form of radical democracy and citizenship which depends on the presence of the audience/community to succeed. I view my approach to creating this hybrid piece as "performing the archives" for multiple contexts: The art world, academia, community, and the media. I am particularly interested in connecting with a new generation of audience members who may not have been exposed to the history of my generation, performance art, and the Chicano movement." – Guillermo Gómez-Peña
About the Artists
Guillermo Gómez-Peña
Guillermo Gómez-Peña is a performance artist, writer, activist, radical pedagogue and artistic director of the performance troupe La Pocha Nostra. Born in Mexico City, he moved to the US in 1978, and since 1995, his two homes have been San Francisco and Mexico City. His performance work and 21 books have contributed to the debates on cultural, generational, and gender diversity, border culture, and North-South relations.
His artworks have been presented at over one thousand venues across the US, Canada, Latin America, Europe, Russia, South Africa, and Australia. A MacArthur Fellow, USA Artists Fellow, and a Bessie, Guggenheim, and American Book Award winner, he is a regular contributor to newspapers and magazines in the US, Mexico, and Europe and a contributing editor to The Drama Review (NYU-MIT), the Performance Art Week Journal of the Venice Biennale, and emisférica, the publication of the Hemispheric Institute of Performance and Politics (NYU). Gómez-Peña is currently a Patron for the London-based Live Art Development Agency and a Senior Fellow in the Hemispheric Institute of Performance and Politics. For Gómez-Peña's archive of performance, visit guillermogomezpena.com.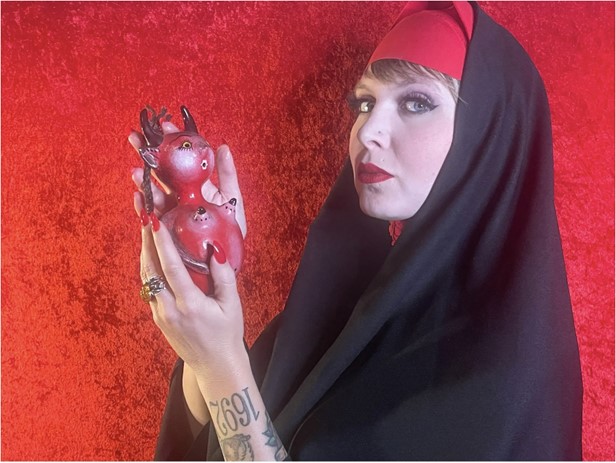 Balitronica Gómez
Senior Core Member, Performance Artist, Poet, Radical Pedagogue, Ritualist, Hereditary Witch, Cabot Priestess
Balitronica is a cyborg-feminist poet, performance artist, radical pedagogue, ritualist, hereditary witch, and 2nd Degree Cabot Priestess. Born and raised on the border of San Diego/Tijuana by a family of magical practitioners, she has a background in Classical Theater and Victorian Literature and holds an MFA in poetry and writing from Mills College. Her performance work has been largely influenced by her time spent living in a 17th-century Catholic convent in Paris with a Dominican order of nuns. Since joining La Pocha Nostra, she has made a full-time performance practice that explores the ideas of ritual psychomagic acts, occult methods of transcendence, and the human body as conduit. She has been touring internationally with Gómez-Peña since 2013 and currently resides between San Francisco, Mexico City, and the San Diego/Tijuana Border.
About Entre/Between
This event is a part of our focus exhibition Entre/Between, a multi-sited exhibition presenting works that speak to Latinx histories living within and between the United States. Surveying a visual history from 1851 to the present, the exhibition consists of paintings, photos, sculpture, works on paper, and video exhibited at Crystal Bridges, while video works and performances will be featured at the Momentary.
Entre/Between is sponsored by Phillips.