Poets Respond | Brody Parrish Craig, Lynette Thrower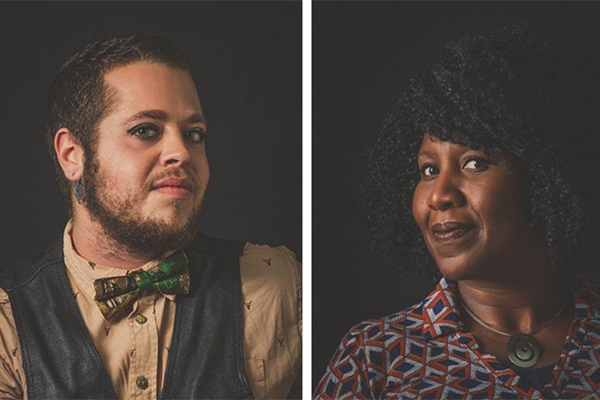 How can we come together as a community to have a conversation about police brutality and truly listen to one another?
Poets Brody Parrish Craig and Lynette Thrower will perform a poem reading at the Momentary on the night of January 2, weaving together community responses to the exhibition Nick Cave: Until with their voices to mirror the need for collective action and change.
To create this community poem, visitors of the Momentary will be invited to voluntarily share their experience with the exhibition on December 5 and 12 from 2:30 to 3:30 p.m. on the Lower Mezzanine of the Momentary. Parrish Craig and Thrower will also be collecting responses virtually through a Google Form located here through December 19.
By creating space for community members to respond directly to their experience in Nick Cave: Until, Parrish Craig and Thrower will spark an honest discussion about discrimination, race, and our lived experiences as community members in Northwest Arkansas.
FREE, no registration required.
Safety is the Momentary's top priority. The Momentary is operating at a one-third capacity with staff monitoring onsite to ensure proper distancing is taking place. The Momentary requires visitors and staff to wear face coverings for ages 10 and older indoors and outdoors. Following the most recent recommendations from the CDC, face shields and face coverings with exhaust valves or vents are not allowed. Masks are available upon entry for those who do not have one.
ABOUT BRODY PARRISH CRAIG
Originally from Louisiana, Brody Parrish Craig attended Hollins University where they received their B.A. in English and French. They recently completed their M.F.A. degree in Creative Writing at the University of Arkansas in Poetry where they began writing their first manuscript, a collection of hybrid poems inspired by queer phenomenology, the Bible Belt, and recovery. Criag's work has appeared in EOAGH, Rattle Poets Respond, and TYPO, amongst others. Brody is the cofounder of InTRANSitive, a group that seeks collective liberation of the transgender community in Northwest Arkansas.
Criag describes themself: "As a queer non-binary southerner, I've spent years using my writing as a space to navigate my own identities, traumas, and interrogate biases of a boyish queer folk raised a southern bell(e). Creation is my savior; my central hope is to make space for more folks to find their own stories, representation, and belonging. My writing pushes linguistic boundaries, centers queer narratives and navigates the meaning of place as means to create space outside societal borders and occupy space beyond others' definitions. I seek to break the moments of definition, rejecting normative ideas of what can & cannot be embodied within an image, word, or poem."
ABOUT LYNETTE THROWER
Lynette Thrower is a candidate for the Bachelor of Science degree in English with Teacher Licensure with a minor in Rhetoric and Writing at the University of Arkansas at Fort Smith, where she was named a top presenter at the 2018 Research Symposium for her presentation titled, "Alisoun, Griselda, and Geoffrey: Feminists When Feminism Wasn't Cool." In Spring 2018, Thrower interned with the digital archival project, Other Voices of the Frontier, a partnership of the UAFS English department and the Pebley Historical and Cultural Center to create a digital repository that will serve as a platform for the array of narratives that have been excluded from historical accounts of the West. Lynette tutors high school and college students in English and writing and teaches youth classes at her church.