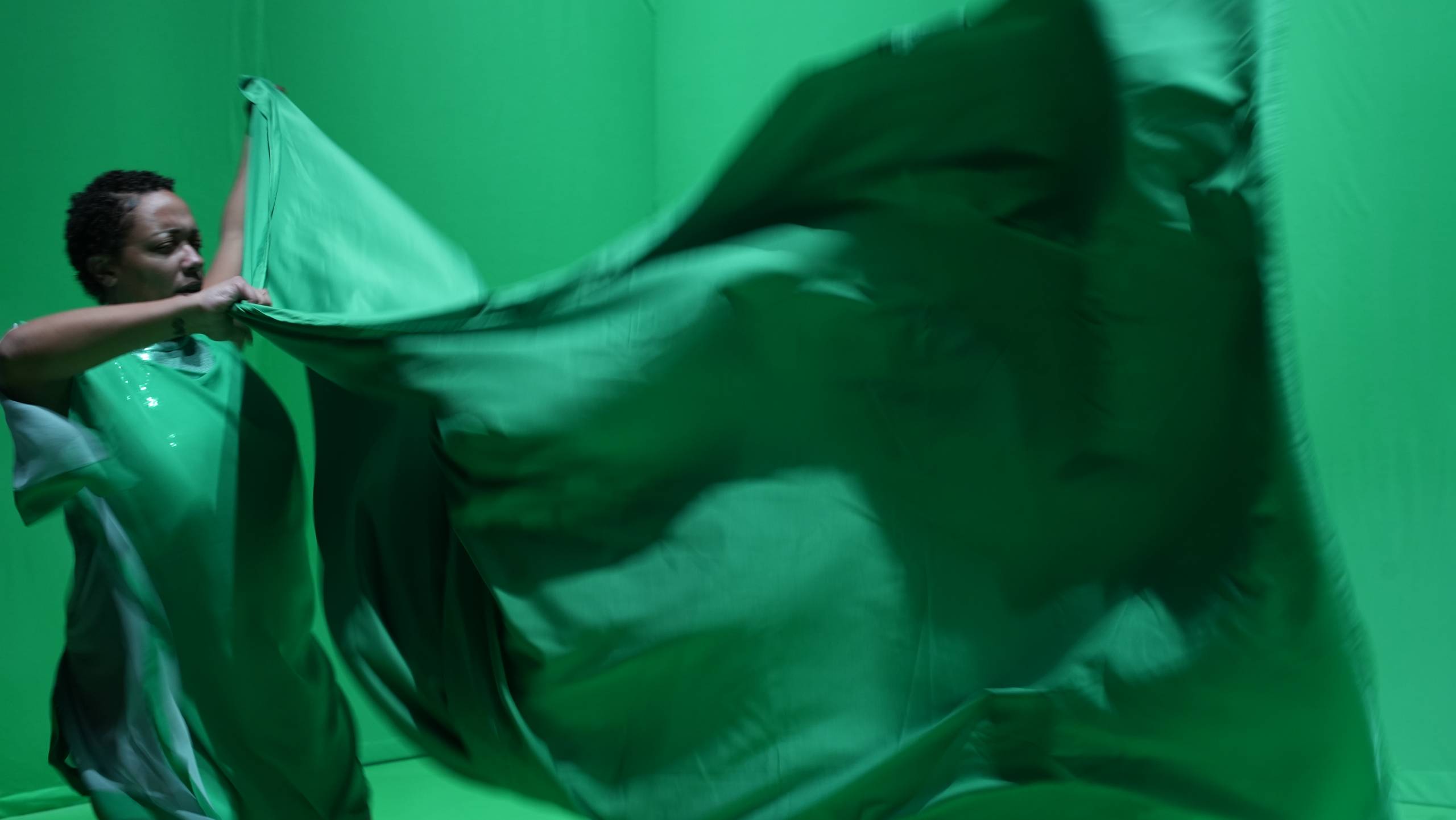 We invite you to join us for the world premiere of artist Will Rawls's new interdisciplinary work, [siccer]. [siccer] features both an ongoing video installation in the galleries (on view March 7 – June 4) and two nights of ticketed performance featuring electronic sound, vocals and dance in the RØDE House.
An artist reception will be held following the April 22 performance in the Tower Bar. Purchase of ticket for either performance includes access to the reception along with a [siccer] specialty cocktail.*
Tickets are $30 ($25/members, $10/students), reserve your spot online or with the Box Office at (479) 657-2335 today.
*Must be age 21+ to attend reception.
About [siccer]
In the dance performance and video installation [siccer], Will Rawls experiments with stop-motion filmmaking techniques, wherein still photographs are strung together to produce a moving image, to consider how Black gestures are relentlessly documented, distorted, and circulated in lens-based media.
The project's title is driven by the Latin adverb "[sic]," which indicates incorrect spelling within a quotation and which is often employed to contrast Black vernacular speech with standard English. Rawls turns this conflict on its head in order to illuminate the verbal and physical play of Black performance as something that eludes capture on screen and in language—and that speculates on the potential of strategies for narrating the world, uncorrected.
[siccer] Performance
Concept, Choreography and Direction: Will Rawls
Performance: Holland Andrews, keyon gaskin, jess pretty, Katrina Reid, Jeremy Toussaint-Baptiste
Sound Design and Vocals: Holland Andrews and Jeremy Toussaint-Baptiste
Technical Director: David Szlasa
Lighting and Scenic Designer: Maggie Heath
Costume Designer: Saša Kovačević
Dramaturg: Kemi Adeyemi
Studio Rawls Director: Rebecca Fitton
Producer: Sasha Okshteyn
Assistant Producer: Indigo Sparks
Company Manager: Alejandro Flores Monge
ABOUT THE ARTIST
Will Rawls is a multidisciplinary artist whose practice encompasses choreography, dance, video, sculpture, works on paper, and installation. Rawls is best known for his choreographic work that employs repetition to explore the limits of language and gesture as tools for staging performances of Black presence and becoming. Rawls created a solo exhibition for Adams + Ollman Gallery (2022), as well as a multipart installation at the Henry Art Gallery in Seattle titled Everlasting Stranger (2021). He has presented work at the Museum of Modern Art, the Hirshhorn Museum, Performa 15, Danspace Project, The Chocolate Factory Theater, High Line Art, REDCAT, the 10th Berlin Biennale, and the Hessel Museum at Bard College.
He has received fellowships and residencies from the Guggenheim Foundation, The Alpert Foundation, the Foundation for Contemporary Arts, the Mellon Foundation, United States Artists, the Rauschenberg Foundation, Creative Capital, New England Foundation for the Arts, National Performance Network, MAP Fund, the MacDowell Colony, Headlands Center for the Arts, and Movement Research. Rawls recently joined UCLA's Department of World Arts and Cultures/Dance as an Associate Professor of Choreography.
In 2016 Rawls co-curated Lost and Found, six weeks of performances at Danspace Project that addressed the intergenerational impact of HIV/AIDS. His writing has been published by the Hammer Museum, MoMA, Museu de Arte de São Paolo, and in publications including the journal Dancing While Black, Brooklyn Rail, and Artforum.
Support for this Project
[siccer] was originally commissioned by The Kitchen in partnership with co-commissioners the Momentary, Portland Institute for Contemporary Art, On the Boards, and the Museum of Contemporary Art Chicago. [siccer] was made possible, in part, by the New England Foundation for the Arts' National Dance Project, with lead funding from the Doris Duke Charitable Foundation and The Andrew W. Mellon Foundation, The MAP Fund, supported by the Doris Duke Charitable Foundation and the Andrew W. Mellon Foundation, and is a Creative Capital Project. [siccer] is also a National Performance Network (NPN) Creation & Development Fund Project which is supported by the Doris Duke Charitable Foundation, the Andrew W. Mellon Foundation, and the National Endowment for the Arts (a federal agency). For more information: https://npnweb.org. [siccer] also received substantial developmental support from THINKLARGE.US, a family-run nonprofit created by Don Quinn Kelley and Sandra L. Burton to aid in the creation of new work.
[siccer] was developed and supported, in part, by residencies at the Momentary and Portland Institute for Contemporary Arts, with additional support by On the Boards and The Kitchen; a creative residency at Petronio Residency Center, a program of the Stephen Petronio Company; with financial, administrative and residency support from Dance in Process at Gibney with support from The Andrew W. Mellon Foundation; Movement Research; the Department of World Arts and Cultures/Dance at the University of California Los Angeles and The Hammer Museum Residency; the Maggie Allesee National Center for Choreography at Florida State University; with production support and residency provided by EMPAC / Experimental Media and Performing Arts Center, Rensselaer Polytechnic Institute; Williams College and the Massachusetts Museum of Contemporary Art.