Tastemakers | The (R)evolution of Indigenous Foodways with Chef Sean Sherman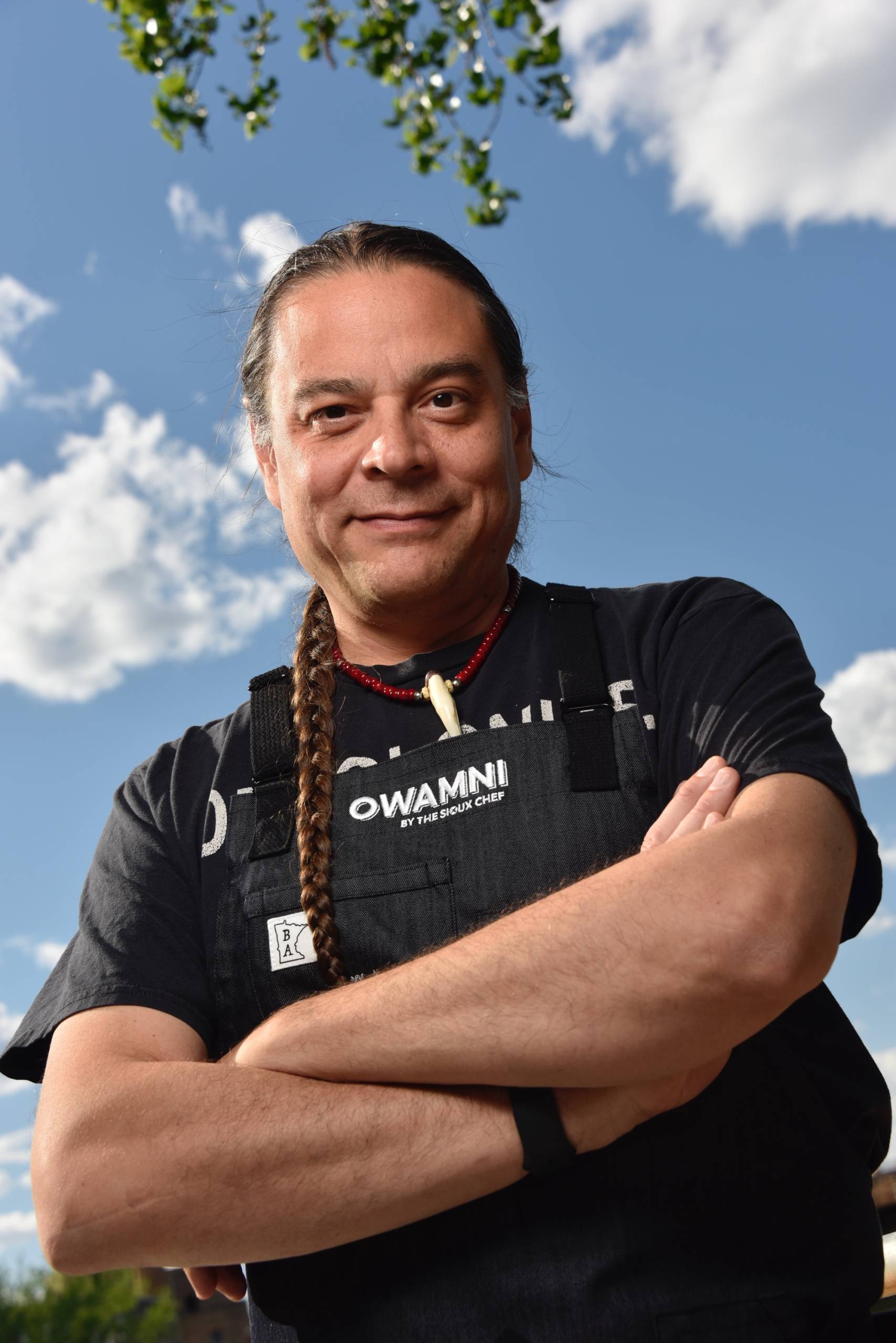 Oglala Lakota Chef Sean Sherman, founder of The Sioux Chef and James Beard Award-winning author and restaurateur, is decolonizing our food system.
Join us in welcoming Chef Sean for a keynote address on Indigenous food systems. From growing up on Pine Ridge, South Dakota, to an epiphany on a beach in Mexico, Chef Sean will share his journey of discovering, reviving, and reimagining Native cuisine. Following the address, there will be a book signing and a reception featuring curated small bites by the chef.
Don't miss this chance to hear from and meet one of the leading scholars and chefs working in Indigenous foods today.
Tickets are $50 ($40/members), reserve your spot online or with the Box Office at (479) 657-2335 today.
Ticket includes event registration and all food. Gluten-free, dairy-free, nut-free, and vegetarian options available.
Copies of Chef Sean's book can be ordered during checkout and picked up at the event.
EVENT SCHEDULE
5 – 6:30 PM: Keynote and Q&A | RØDE House
6:30 – 7:30 PM: Reception and Book Signing | Atrium, Lobby, and the Momentary Shop
ABOUT THE SERIES
Our Tastemaker Series spotlights local, regional, and national innovators who are making an impact in the world of food today. From panel discussions and masterclasses to tastings and dinners, each event is designed to spotlight the very best of today's culinary arts.
ABOUT THE CHEF
Founder/CEO, The Sioux Chef
Co-Founder, NĀTIFS (North American Traditional Indigenous Food Systems)
Co-Owner, Owamni by The Sioux Chef
A member of the Oglala Lakota tribe, Chef Sean Sherman was born and raised in Pine Ridge, South Dakota. Cooking in kitchens across the United States and Mexico for over 30 years, Chef Sean is renowned nationally and internationally in the culinary movement of Indigenous foods. His primary focus is the revitalization and evolution of Indigenous foods systems throughout North America. His extensive studies on the foundations of Indigenous food systems have led to his deep understanding of what is needed to showcase Native American cuisine in today's world.
In 2014, Chef Sean opened the business, The Sioux Chef, designed to provide catering and food education in the Minneapolis/Saint Paul area. He and his business partner, Dana Thompson, also designed and opened the Tatanka Truck, which featured 100% pre-contact foods of the Dakota and Minnesota territories.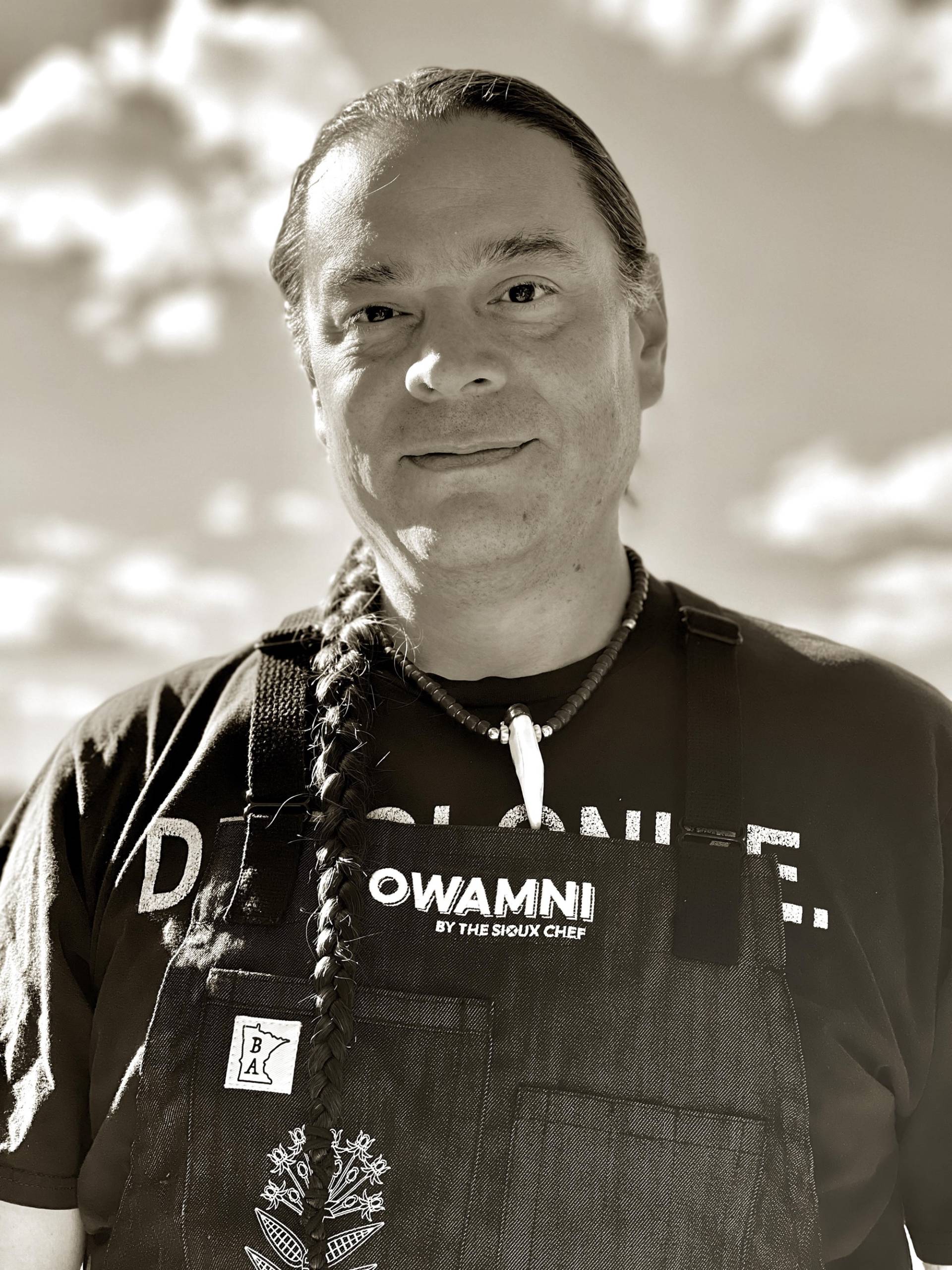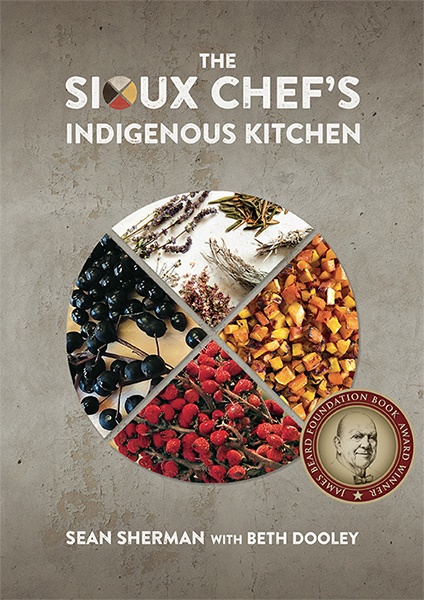 In October 2017, Sean and his team presented the first decolonized dinner at the prestigious James Beard House in Manhattan. His first book, The Sioux Chef's Indigenous Kitchen, received the James Beard Award for Best American Cookbook for 2018 and was chosen one of the top ten cookbooks of 2017 by the LA Times, San Francisco Chronicle, and Smithsonian magazine. That same year, Chef Sean was selected as a Bush Fellow and received the 2019 Leadership Award from the James Beard Foundation. Chef Sean currently serves on the leadership committee of the James Beard Foundation Investment Fund for Black and Indigenous Americans and was recently awarded The Ashoka Fellowship. In July 2021, Chef Sean and his partner Dana opened Owamni by The Sioux Chef, Minnesota's first full service Indigenous restaurant, featuring healthy Indigenous food and drinks. Owamni received the James Beard Award for Best New Restaurant in June 2022.
The Sioux Chef team continues with their mission to help educate and make Indigenous foods more accessible to as many communities as possible through their non-profit arm, North American Traditional Indigenous Food Systems (NĀTIFS) and the accompanying Indigenous Food Lab professional Indigenous kitchen and training center. Working to address the economic and health crises affecting Native communities by re-establishing Native foodways, NĀTIFS imagines a new North American food system that generates wealth and improves health in Native communities through food-related enterprises.
Sponsored by Blakeman's Fine Jewelry | Andrea and Jeremy Wilson