The Big Free Picture Durational Performance | Rumwolf
Performance
|
ROOM 122 + ARTIST-IN-RESIDENCE COURTYARD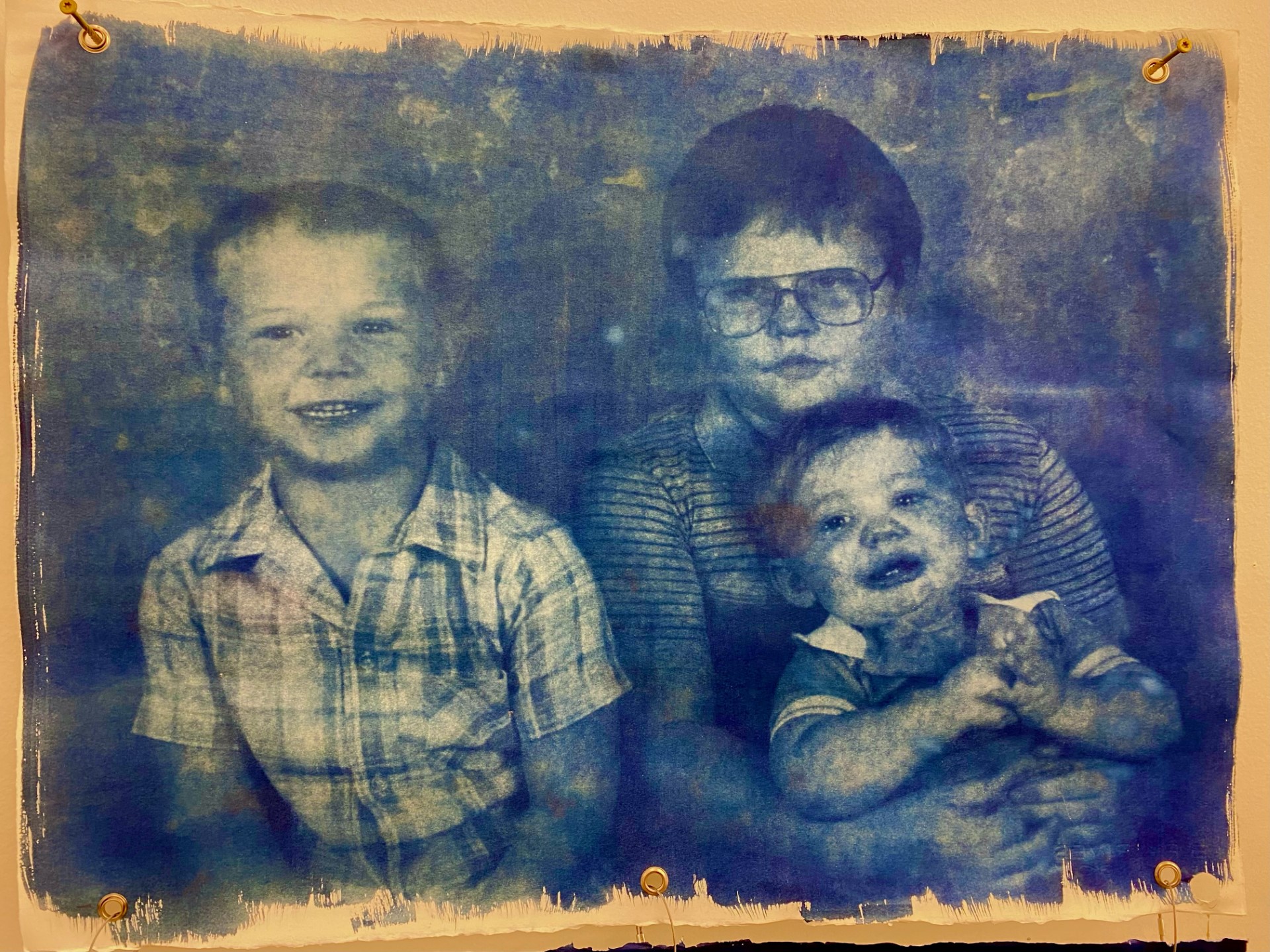 Celebrate the opening of The Big Free Picture with a two-day durational performance, featuring artists Rumwolf and Briseida Ochoa.
From 12 to 5 p.m. on Saturday and Sunday, July 22 and 23, artist-in-residence Rumwolf and guest artist Briseida Ochoa will perform the deconstruction and reconstruction of The Big Free Picture live by creating cyanotype prints and installing them in the Artist-in-Residence (AiR) Courtyard.
Once completed, The Big Free Picture will display various iterations of the family portrait in Room 122 and the AiR Courtyard. The installation, through its ever-changing manipulations of the family photo, offers the viewer the ability to reflect on the many ways a story is created. The artist's exploration of assorted digital and analog altered states invites us to consider how the story of our region is being created, and how we might add to its possible future.
Don't miss the chance to witness the live transformations that are central to this installation, as well as the opportunity to engage with the artist behind the work directly.
See you there.
Free, no tickets required.
ABOUT THE BIG FREE PICTURE
The Big Free Picture is a multi-disciplinary portrait of a working-class family swept up in the excitement of Northwest Arkansas in the early 1990s. Using photography, storytelling, song, video, and performance, the installation wrestles with the nature of living across the tracks from the American dream.
Through the deconstruction and reconstruction of the portrait, Rumwolf explores assorted histories and possible futures tied to both his story and to the story of the region. The audience is invited to listen to the score, read the short story behind the family photo, and join the artist in a series of live activations throughout the exhibition.
ABOUT THE ARTIST
Rumwolf [b. 1981] is a multi-disciplinary visual installation artist, musician and filmmaker based in the Ozarks. His practice focuses on the relationship between art, emotion, and technology expressed through themes of humor, pop culture, and nostalgia. Rumwolf is a 2023 artist-in-residence at the Momentary.
The Big Free Picture is organized and curated by Cynthia Post Hunt, Curator of Performance.