Yvette Mayorga: What a Time to be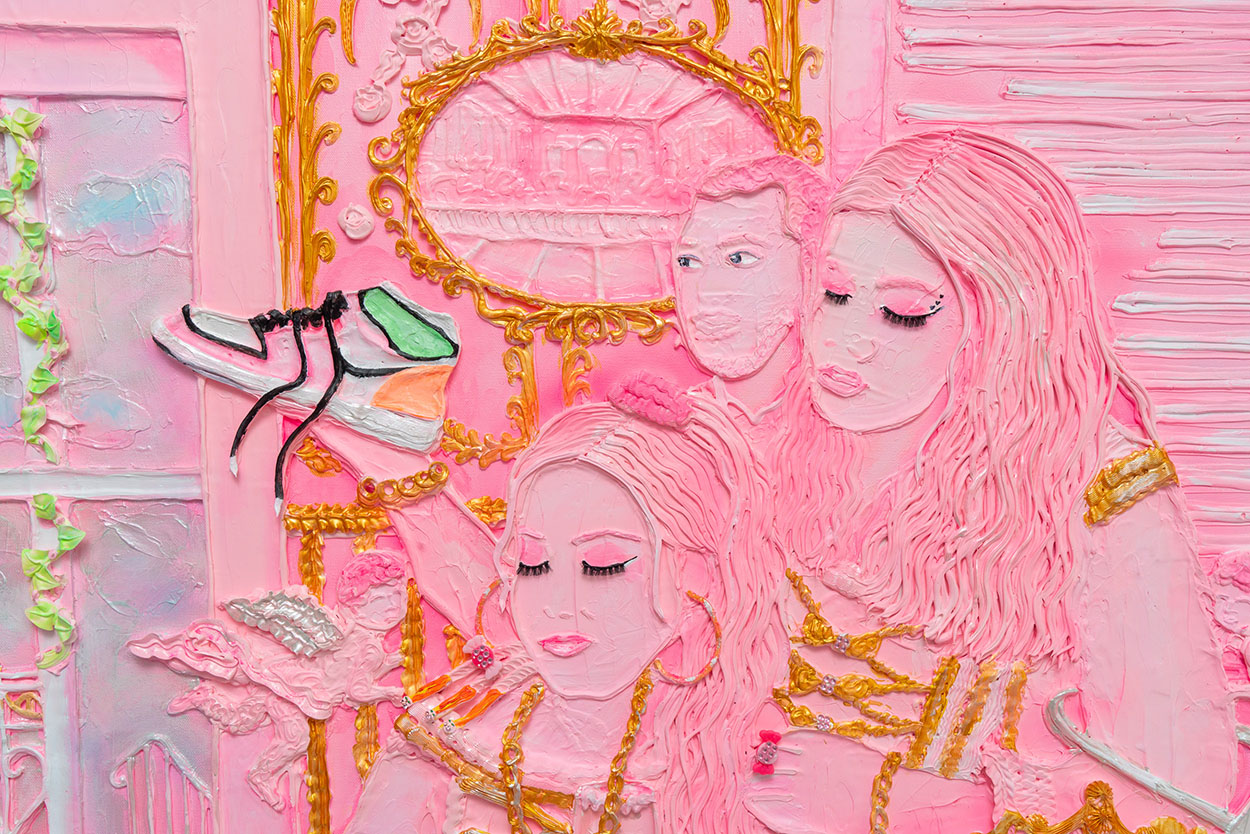 In her solo exhibition What a Time to be, multidisciplinary artist Yvette Mayorga combines images of family, found objects, '90s nostalgia, moments of Midwest life, and her signature pink and frosted style to interrogate the art historical canon and the meaning of belonging. From elaborate collage portraits of her family members posed to resemble seventeenth-century Rococo paintings to sculptures that weave together symbols of family and memory to a reimagined installation of her bedroom from the '90s, Mayorga pushes beyond her comfort zone in her first solo museum presentation to introduce new, original works that interrupt the landscape of art history. The exhibition's title speaks to the many lives lived and the privileges and upheavals that have come with surviving in our contemporary life.
About the Artist
Yvette Mayorga is a multidisciplinary artist based in Chicago, Illinois. The intricate worlds she manufactures in her work respond to utopian visions of immigration and belonging. These narratives intervene in art history and take form through a fusion of Rococo iconography, contemporary images of militarization, confectionary aesthetics, and consumer objects. Her practice is shaped by her experience as a first-generation Latinx artist and her parents' migration from Jalisco, Mexico to the US. The sumptuous and excessive decoration that marks her projects is inspired by the domestic and colonial religious spaces she navigated transnationally as an adolescent.
She holds an MFA in Fiber and Material Studies from the School of the Art Institute of Chicago. Her work has been exhibited nationally and internationally at the Vincent Price Art Museum; DePaul Art Museum, El Museo del Barrio, the Center for Craft, the Museo Universitario del Chopo, LACMA's Pacific Standard Time:LA/LA, NXTHVN, Art Design Chicago, the Chicago Artists Coalition, GEARY Contemporary, EXPO, Felix and Untitled Art Fair. In 2020 her project, Meet me at the Green Clock, was commissioned by Johalla Projects as part of the exhibition Andy Warhol–From A to B and Back Again, at the Art Institute of Chicago. Her work was included in the critically acclaimed exhibition ESTAMOS BIEN: LA TRIENAL 20/21, El Museo del Barrio's inaugural survey of contemporary Latinx art. Mayorga is currently working on a new large-scale commission for the City of Chicago's O'Hare International Airport's Terminal 5 Expansion public art project opening in 2022.
Yvette Mayorga: What a Time to be will be on view in the Lobby Gallery and Gallery 1.
Yvette Mayorga: What a Time to be is organized by the Momentary and curated by Kaitlin Garcia-Maestas, acting curator of visual arts.
Sponsored by: Tony Waller