Enduring Amazon: Life and Afterlife in the Rainforest
EXHIBITION | GALLERIES
NOV 18, 2023 – APR 14, 2024
FREE

Ben Frost
Spiraling upward nearly 65 feet, composer and sound designer Ben Frost's newly commissioned sound installation for Enduring Amazon is simultaneously a sculpture, sound gear, a musical instrument, and a stage set. Frost utilizes a linear array of speakers, most familiar as pieces of concert equipment typically suspended high at stage right and left in bowing arcs, but he adds a literal twist. By introducing a simple offsetting rotation between each speaker, the trapezoidal units transform into something completely different. The subtle twisting gesture becomes a torque spiraling out in an animalistic helix: part DNA, part spinal vertebrae, part furled coil of pure lifeforce.
Known for compositions that make sound almost tangible, including thumping helicopter blades and geo-locating bat calls, Frost created an original score for this work, along with the musical accompaniment for The Prophecy of Butterflies, in collaboration with its artists Susannah Sayler and Edward Morris (Sayler/Morris), on view in a neighboring gallery. He also served as the composer and sound designer for Richard Mosse's film Broken Spectre, also on view nearby, drawing heavily from field recordings he gathered from the Amazon. A noted composer for film and TV, Frost's credits include Raised by Wolves, Dark, and Sleeping Beauty.
ABOUT THE ARTIST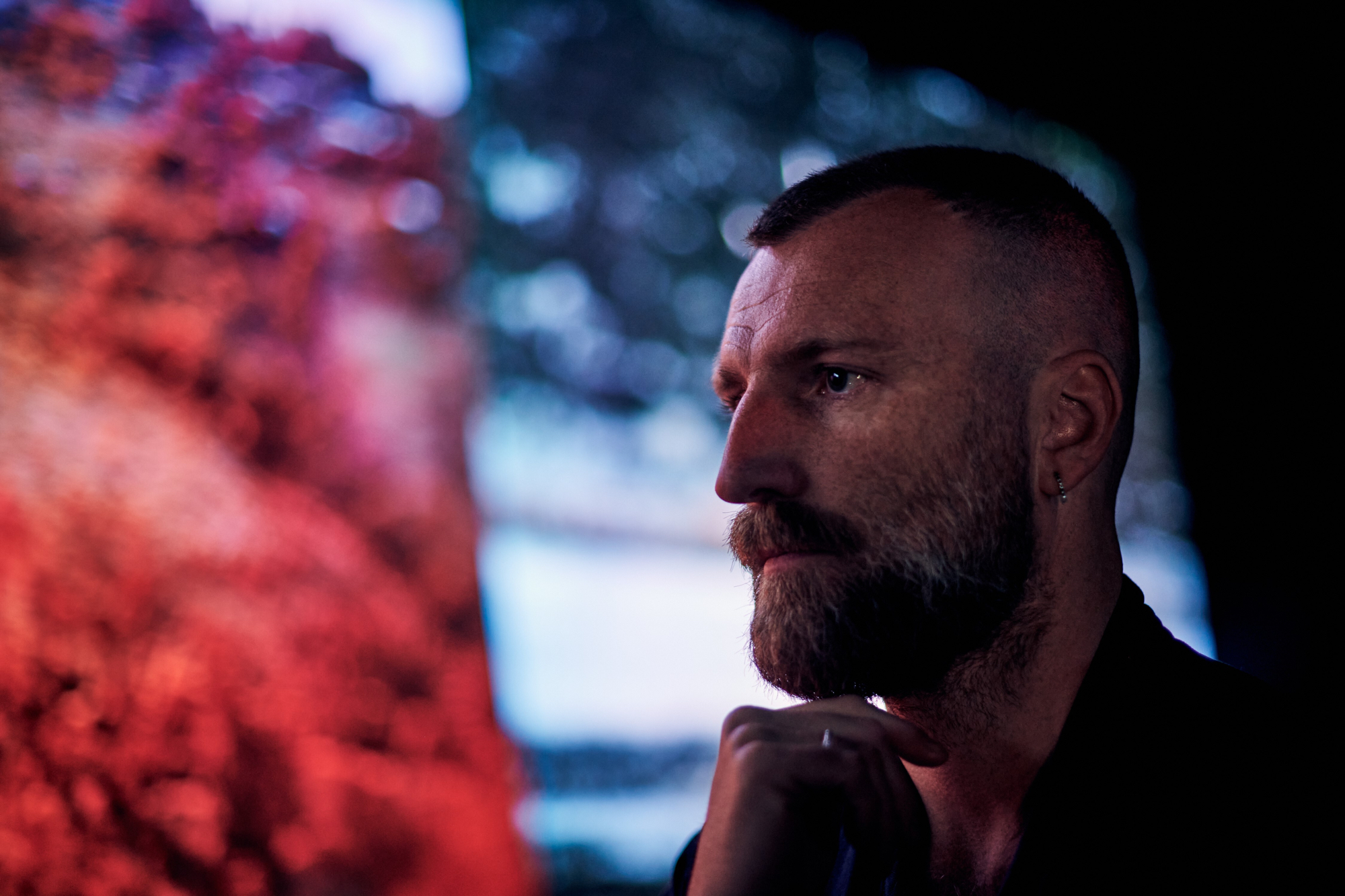 Ben Frost is a composer, sound artist, and stage director. His work includes the studio albums Theory of Machines (2007), By The Throat (2009), AURORA (2014) and The Centre Cannot Hold (2017) and spans an array of other forms including live performance, collaborations in dance, theatre, and film; where has composed several scores including the Palme d'Or-nominated Sleeping Beauty by Julia Leigh, the cult series' Dark, 1899, and Raised By Wolves with Director Ridley Scott. In 2011 Frost was awarded a fellowship from the Rolex Arts initiative, which resulted in several years of mentorship from electronic music pioneer Brian Eno.
Over the past decade, Frost has collaborated extensively with the Irish artist Richard Mosse to produce three multi-channel video and sound installations: The Enclave (2013), Incoming (2017), and Broken Spectre (2022). He has written and directed two operas, The Wasp Factory (2013) and The Murder of Halit Yozgat (2021), a collaboration with London-based research agency Forensic Architecture. He is a frequent part of the American band Swans. In recent years Frost has expanded his work to include several large-scale installation projects, exploiting the pure physicality of sound.