Enduring Amazon: Life and Afterlife in the Rainforest
EXHIBITION | GALLERIES
NOV 18, 2023 – APR 14, 2024
FREE

Broken Spectre | Richard Mosse
As part of Enduring Amazon, Richard Mosse presents Broken Spectre: an epic 74-minute film depicting the scale and urgency of the Amazon rainforest's continuing collapse through a dazzling array of photography techniques, including inky ultraviolet close-ups and sweeping aerial panoramas.
A multi-screen, 70-foot panoramic presentation, Mosse's film displays the harvesting of the Amazon's natural resources from several simultaneously overlapping perspectives to express a holistic and profoundly complicated web of interconnectivity among the plants, animals, and humans that dwell in and around the Amazon rainforest ecosystem. In this gut-wrenching yet gorgeous film, Mosse harnesses the same multispectral imaging techniques utilized by agribusiness and mineralogists to locate natural resources for commercial purposes but then shifts the focus to documenting the environmental aftermath of that exploitation.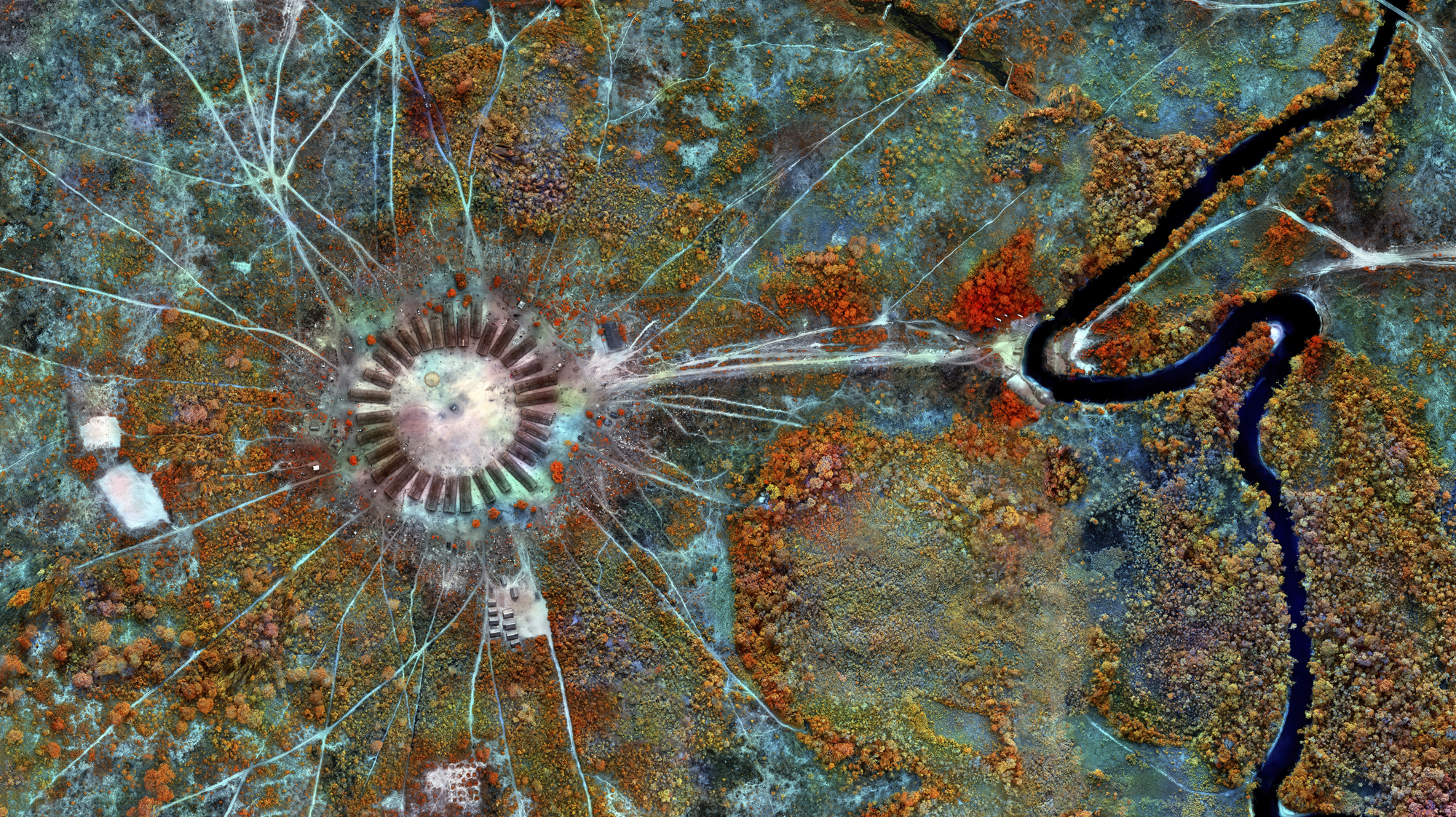 In addition to Broken Spectre, the exhibition features a sweeping selection of Mosse's large-scale, technicolor aerial photographs together with his ultraviolet macro-photographic exploration of the insects and plants that live on the forest floor (and in the bark of the trees) beneath the lush rainforest canopy above.
"The Amazon is at a tipping point where 75% of the entire forest is so degraded by processes of deforestation that soon it will stop generating its own rain and no longer be a rainforest. Mass forest dieback and species extinction will result, releasing vast amounts of carbon into the atmosphere, greatly accelerating global heating, and affecting weather patterns globally," said artist Richard Mosse. "It's not easy to capture the gravity of the situation, or its impact on our own lives. But through this exhibition, we're attempting to render its enormity, and what it might mean for our planet, and for us as individuals."

– Richard Mosse
ABOUT THE ARTIST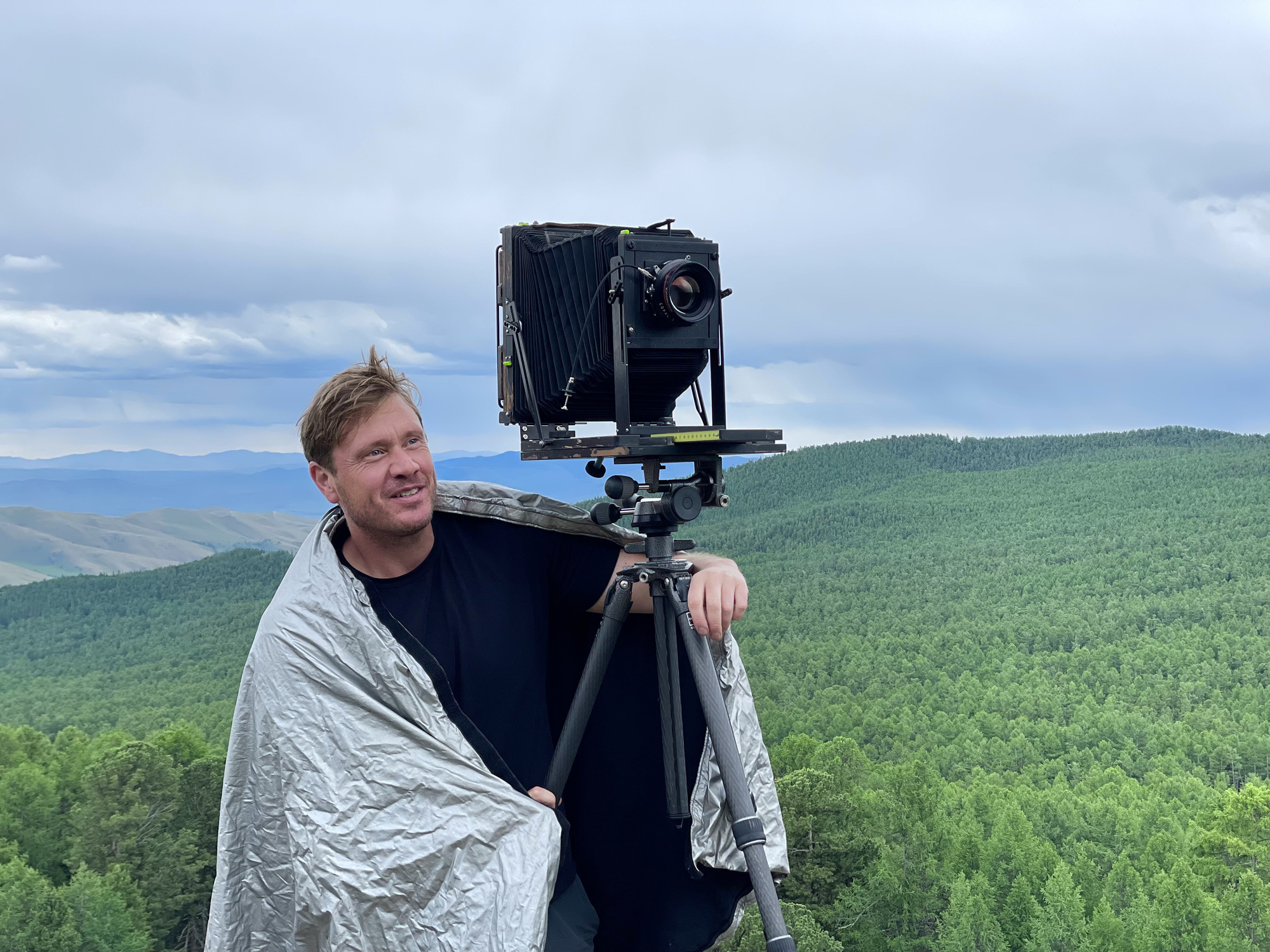 Richard Mosse (b. 1980, Ireland; based in New York) is an artist who has consistently documented historically significant subjects using photographic techniques that mediate and foreground elements of these narratives. Mosse's subject matter is frequently charged and complex, employing unique technologies and collaborative approaches. Mosse seeks to heighten and extend the language of documentary photography to draw attention to overlooked yet urgent conflicts, often with a critical emphasis on the limitations of photojournalism, an activist's sense of purpose, and a belief in the power of aesthetics to communicate, creating immersive and groundbreaking new forms in documentary photography and the moving image.
He was awarded the Prix Pictet (2018), the Deutsche Börse Photography Prize (2014), and a Guggenheim Fellowship (2011). He earned an MFA in photography from Yale School of Art (2008), a PG Dip in Fine Art from Goldsmiths (2005), an MRes in cultural studies and humanities (2003), and a first-class honors BA in English literature and language from Kings College London (2001).
His work has been exhibited at the National Gallery of Art, the Barbican Art Gallery, Louisiana Museum, SFMOMA, the National Gallery of Victoria, Hamburger Kunsthalle, Akademie der Künste, MAST Foundation, the Victoria & Albert Museum, the Irish Museum of Modern Art, ICA Boston, and represented Ireland at the 55th Venice Biennale. He has published eight books, most recently a monograph of Broken Spectre, published by Loose Joints, with texts by Hans Ulrich Obrist, Txai Suruí, Jon Lee Anderson, Christian Viveros-Fauné and others. Broken Spectre, which was co-commissioned by VIA Art Fund, NGV, and Serpentine Galleries, was awarded the European Commission's S+T+ARTS Grand Prize in Innovative Collaboration.