Exhibitions Now Open, Filling the Momentary With Free-to-view Art Through Summer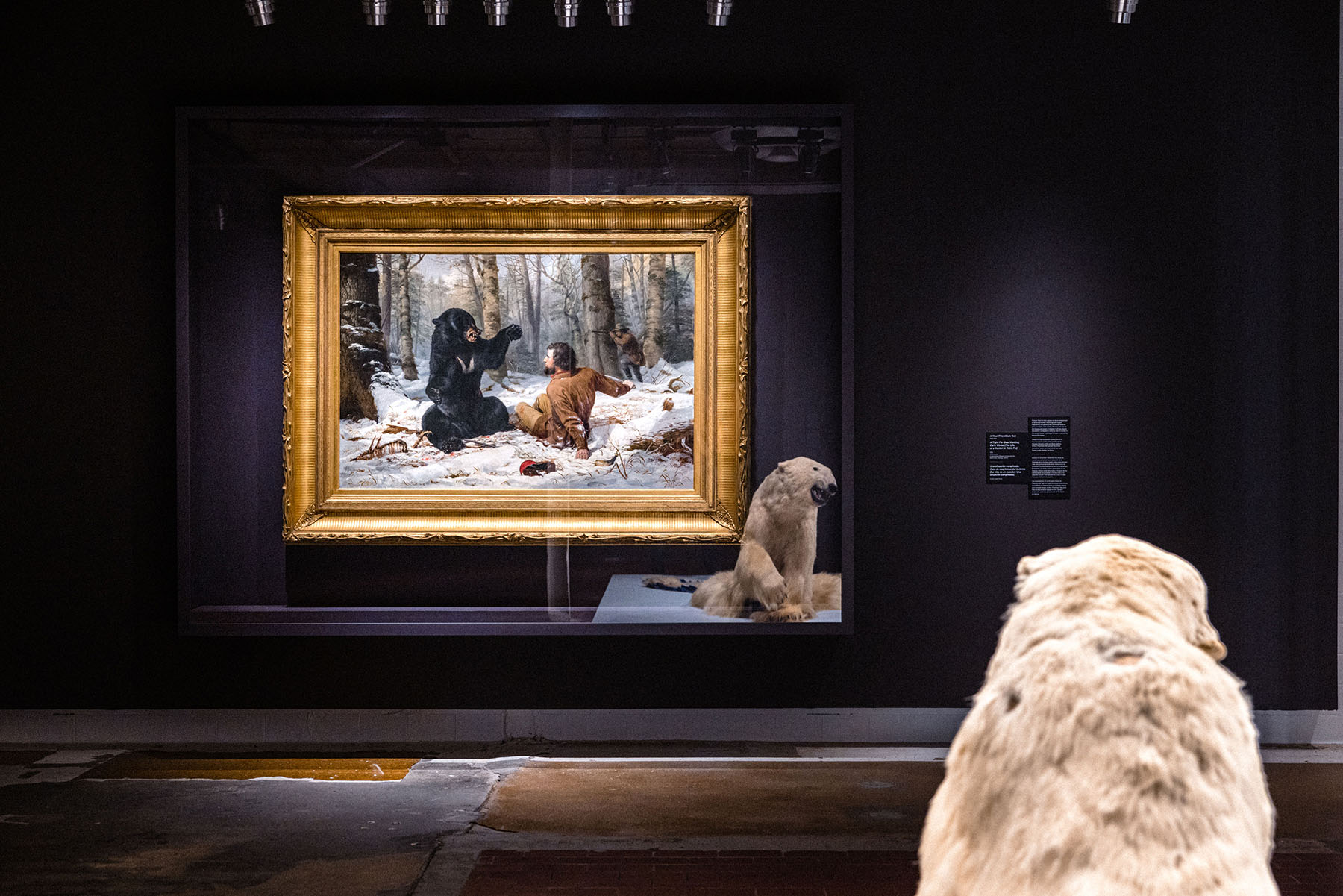 Exhibitions Now Open, Filling the Momentary With Free-to-view Art Through Summer
A Divided Landscape, Esteban Cabeza de Baca: Let Earth Breathe, and Rashawn Griffin: we no longer recognize the backs of our hands are on view at the contemporary art space through Sept. 25, 2022
As summer sweeps in, the Momentary offers visitors the opportunity to experience art in all of the galleries as well as outdoor spaces on the campus with three exhibitions: A Divided Landscape – an original group exhibition featuring work from seven contemporary artists alongside a selection of historic works from Crystal Bridges – and solo exhibitions Esteban Cabeza de Baca: Let Earth Breathe and Rashawn Griffin: we no longer recognize the backs of our hands. In a season when many will be traveling to explore new destinations, camping and hiking, or playing tourist in their own city, works on view at the Momentary provide new ways of seeing art and a range of perspectives on human interaction with the land and nature.
All three exhibitions have free admission and are presented in both English and Spanish.
Find high res images of the exhibitions in the media kit here.
A Divided Landscape
This collaboratively conceived and executed exhibition provides a unique opportunity to see original work from contemporary artists Matthew Barney, Andrea Carlson, Nicholas Galanin, Brian Jungen, Lucy Raven, Xaviera Simmons, and Kara Walker, in dialogue with historical paintings and drawings from the collection at Crystal Bridges Museum of American Art by Arthur Fitzwilliam Tait, George Catlin, Jasper Francis Cropsey, and others. The contemporary works speak to the preservation of the dominant frontier narrative and romantic myths of man and nature – some responding to, some confronting, and all in conversation with historical artworks in a shared gallery space. Together, the artists in this exhibition examine the colonial legacies and mythologies promoted by nineteenth-century American landscape paintings that promoted westward expansion – presenting instead post-colonial views of those landscapes to share a fuller story of the American West.
"Being able to include the works from Crystal Bridges is a really special opportunity, and not something that happens in contemporary spaces like ours very often. The historical works have very specific needs around climate for preservation, so to have contemporary works here in dialogue with these historic works from our sibling museum, Crystal Bridges, is unique," said Kaitlin Garcia-Maestas, co-curator of A Divided Landscape and associate curator for the Momentary. She underscored that "there was a thoughtfulness that went into inviting artists, particularly artists who identify as Black and Indigenous, to share space with art that embodies issues they are confronting in their own work. These historic works are beautiful and tell a certain part of American history, but they are also full of myths that perpetuate a lot of problematic thinking towards Westward expansion."
A talk with artists from A Divided Landscape, moderated by curators Garcia-Maestas and Neville Wakefield, is scheduled for Friday, June 17 at 6:30 p.m. in the Momentary's RØDE House venue. A film by artist Matthew Barney, "Redoubt," is strongly connected to his work on view in A Divided Landscape and will be shown in the Momentary's Fermentation Hall theater on June 16 at 4 p.m., July 14 at 7 p.m. and Sept. 25 at 11:30 a.m. Tickets are free but reservations are required as space is limited.
A Divided Landscape is organized by the Momentary and curated by Neville Wakefield, independent curator, and Kaitlin Garcia-Maestas, associate curator, with Taylor Jasper, curatorial associate.
A Divided Landscape is on view in Galleries 1, 2, and 3 and outdoor spaces on the grounds presently occupied by the Momentary.
Esteban Cabeza de Baca: Let Earth Breathe
In his solo exhibition Let Earth Breathe, Esteban Cabeza de Baca questions the linear, colonial narratives of traditional American landscape art with original works of painting, sculpture, and outdoor, site-specific installations conceived as collaborations with nature. A bronze sculpture planted with milkweed, echinacea, and strawberries was installed in late April and is already supporting insect visitors including native bees and monarch butterfly larvae.
Visitors to the Momentary will encounter an indoor gallery of Cabeza de Baca's large-scale, vibrant works surrounding a community-style sitting space designed by the artist, and can venture outdoors to be immersed in his works incorporating living native flora. Through these works of art, Cabeza de Baca explores our relationship with the environment, the present climate crisis, and our own national history.
Cabeza de Baca will teach a pottery workshop in the gallery at the Momentary on Wednesday, June 15 at 6 p.m. where participants can make vessels to hold seeds for vegetables, medicinal plants, and pollinator-supporting species. Seed packets are available and free for the public to pick up from an in-gallery seed library throughout the run of the exhibition. As the artist says, "Native plant-based models of care can relinquish our dependence from the industrial models of subsistence."
Esteban Cabeza de Baca (b. 1985, San Ysidro, CA) employs a broad range of painterly techniques, entwining layers of graffiti, landscape, and pre-Columbian pictographs in ways confounding the Cartesian single-point perspective. He received a BFA from Cooper Union, School of the Arts and an MFA from Columbia University. He currently lives and works in Queens, NY. He is represented by Garth Greenan Gallery.
Esteban Cabeza de Baca: Let Earth Breathe is organized by the Momentary and curated by Kaitlin Garcia-Maestas, associate curator, with Taylor Jasper, curatorial associate.
Esteban Cabeza de Baca: Let Earth Breathe is on view in the Lobby Gallery and adjacent outdoor spaces at the Momentary.
Rashawn Griffin: we no longer recognize the backs of our hands
After spending several weeks in residence at the Momentary in 2021, Kansas City-based artist Rashawn Griffin was inspired by the challenges and possibilities posed by the space's unique architecture, prompting the question: "how can I paint this room without actually painting it?" The end result is called we no longer recognize the backs of our hands, a colorful and immersive installation of panels and objects, including mirrors, wooden frames, and pictorial paintings, that form a bridge between painting and sculpture. Often pushing the boundaries between object and installation, Griffin's art challenges viewers to engage in their own past experiences when confronting his work.
Rashawn Griffin (b. 1980) uses diverse materials such as bed sheets, tassels, food, and flora to create large-scale sculpture and paintings. Griffin has exhibited in multiple solo and group exhibitions in the United States and abroad, including the Whitney Museum of American Art, the Studio Museum in Harlem and the Deutsche Guggenheim in Germany. He holds an MFA from Yale University and lives and works in Olathe, KS. Griffin was an artist-in-residence at the Momentary in 2021.
Rashawn Griffin: we no longer recognize the backs of our hands is on view in Room 122 at the Momentary.
Esteban Cabeza de Baca: Let Earth Breathe is sponsored by Tony Waller.
A Divided Landscape is sponsored by Deborah Wright.
Hours
The galleries at the Momentary will be open Sunday, Tuesday, and Wednesday from 10 a.m. to 7 p.m., and Thursday through Saturday 10 a.m. to 10 p.m. (closed Monday). The Momentary will be closed to the general public on Friday and Saturday, May 20 and 21 for FreshGrass | Bentonville and will resume normal hours on Tuesday, May 24.
To stay current on the Momentary, follow us on Facebook, Instagram, YouTube and Twitter. Find more updates on the Momentary blog. 
About the Momentary
Opened in February of 2020, the Momentary is a contemporary art space in downtown Bentonville, Arkansas, for visual, performing, and culinary arts. The mission of the Momentary is to champion contemporary art's role in everyday life and explore the unfolding story of contemporary American arts in an international context by actively commissioning and exhibiting outstanding works that explore new ideas and inspire action. The Momentary was founded by the Walton family, based on the vision of Tom, Olivia, and Steuart Walton. The Walton Family Foundation is supporting this project as a way to enhance the quality of life in Northwest Arkansas. The Momentary is a satellite to Crystal Bridges Museum of American Art, founded by Alice Walton. The Momentary welcomes all with free general admission. Additional offerings include an artist-in-residence program, culinary experiences including an Onyx Coffee Lab and the sky-high Tower Bar, indoor and outdoor gathering spaces, an outdoor festival space, and a gift store. For more information, visit theMomentary.org. The Momentary is located at 507 SE E Street, Bentonville, Arkansas 72712. The Momentary's Founding Funders are Walton Family Foundation, Walmart, RØDE Microphones, The Coca-Cola Company, Tyson Family Foundation, and Willard and Pat Walker Charitable Foundation.