The inaugural Live in America Festival has been postponed to June 1—12, 2022.
FREE | JUN 1—12, 2022
The Live in America Festival is a free, two-week-long festival of live performance and cultural practice featuring more than 300 artists from a diverse array of communities across the US, its territories, and Mexico. The festival gathers artists and thinkers from across America's distinctive cultural landscape to share and celebrate the power of communities in performance. The festival features artists and performances from the following communities: Las Vegas, Nevada; Ciudad Juárez, Mexico-El Paso, Texas border region; Northwest Arkansas; New Orleans, Louisiana; Sumter County, Alabama; San Juan, Puerto Rico; Detroit, Michigan; and the Pueblo, Diné, Hopi, and Apache Nations of Albuquerque, New Mexico, in partnership with Indigenous peoples from across Turtle Island.
From Two-Spirit powwows to queer Caribbean cabarets, from New Orleans bounce music to Detroit blues, from fantastical Vegas lightscapes to the layered sounds of Border bridges, Live in America empowers its diverse teams of artists to present art built by their communities, grounded in community practice, and serving community purposes. With these performances and cultural practices, the artists of Live in America ask audiences to consider, connect, and create exchange.
Grab your friends and gather with us. Take in our stories. Join us for a workshop or community conversation. Drop by our late night venue for some ridiculous good times. And much more.
Admission is free for all festival events, but reservations are required.
Sign up for eNews to receive festival updates directly in your inbox.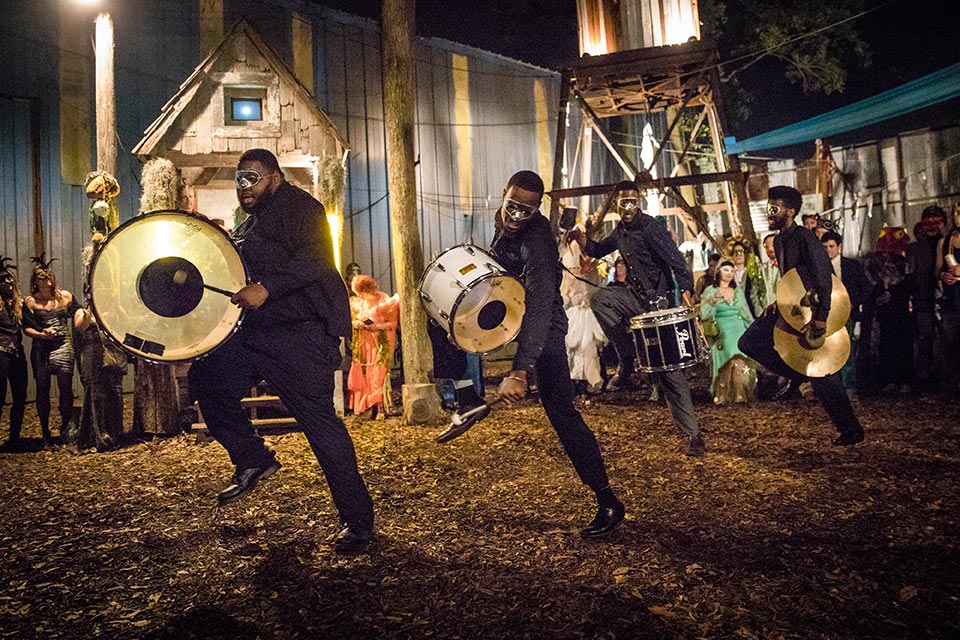 FAQ
Tell us about any and all COVID-19 prevention measures, requirements, etc., that will be in place for the festival.
Safety is our top priority. It is difficult to say at this time what measurements and requirements will be in effect come June. We will do all we can to ensure a safe experience for all and will be sharing more information as we get closer to the festival.
Do I need a ticket to attend an event?
Yes, all events are free, but ticket reservations are required. You do not need an admission ticket for the late-night event, Live in a Squareykah, or the Live in America Talks.
Can I reserve one ticket for the entire festival, or will each event be ticketed?
You will need a ticket for each individual event. You do not need an admission ticket for the late-night event, Live in a Squareykah, or the Live in America Talks.
Can I volunteer at Live in America?
Yes! Learn more about volunteering at the Momentary at theMomentary.org/volunteer or email volunteer@crystalbridges-themomentary.org. Advance training is required.
I'm a journalist on assignment. How do I obtain a media pass or press images?
We'd love to have you and thank you for sharing more with your readers! Please email your request to media@theMomentary.org.
SUPPORTERS
Live in America is a project of Fusebox (Austin, Texas). The 2022 Live in America Festival has been developed in partnership with the Momentary.
Supported by


Visit Bentonville, Whitney Kroenke Silverstein and Nick Silverstein, Sybil Robson Orr, Sarah Simmons, and Olivia Tyson