A Conversation with Sarah Cain

When Los Angeles-based artist Sarah Cain visited Bentonville, she was inspired by the raw state of the former factory building that the Momentary occupies and the overall integration of the natural setting of the gallery experience.
She decided to create an exhibition that would allow visitors to discover the space anew. Sarah Cain: In Nature, featuring a combination of existing and new artworks, focuses on formal observations from nature and the search for new possibilities during a worldwide moment of sheltering in place and limited mobility.
Below, enjoy a conversation between Cain and Lauren Haynes, director of artist initiatives and curator, contemporary art at the Momentary and Crystal Bridges.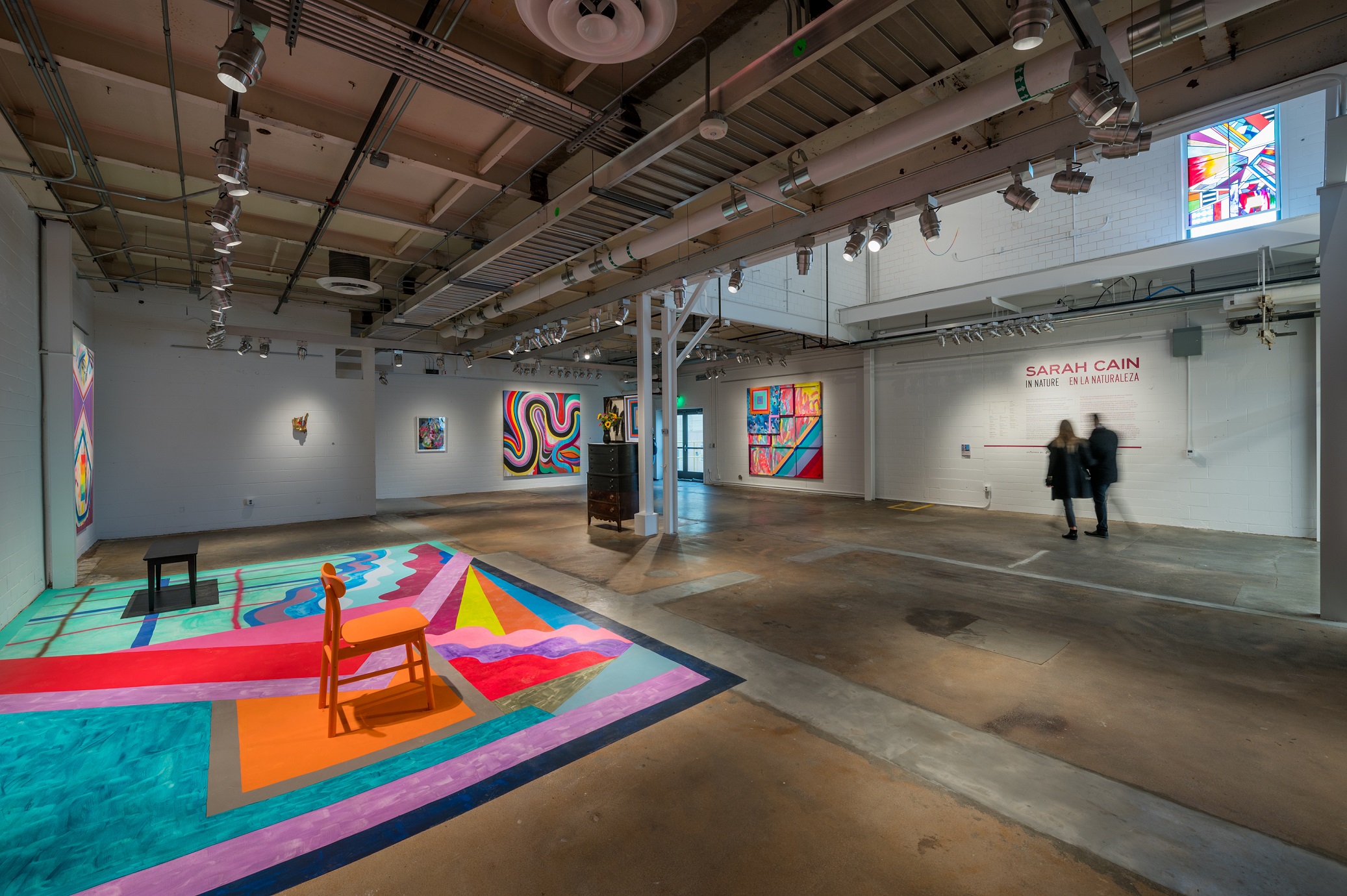 LAUREN HAYNES: How do you start thinking about a site-specific exhibition like In Nature?
SARAH CAIN: Usually it starts with a site visit so I can get the feel and flow of the space as well as the city and the environment outside of the art space. I collect details that could be really random, from something I see or something I smell in the space. I change things a lot. I just keep working and editing, and things come in and out—it's pretty fluid, which is what the works on-site and working on-site is about—letting go of control, being present, making something that is active instead of just an object that sits.
LH: What were some of your first impressions of the Momentary and Northwest Arkansas?
SC: One of my strongest memories from the first time I walked through the Momentary was the smell of milk. Coming back to see the site when it was finished was so cool, too. I also thought a lot about the vast land around the Momentary. It felt particular, and it felt connected to the ruggedness of the inside. I loved the freedom of the Momentary in the sense that the possibilities felt endless. When we first walked through, I loved the rawness. There was part of me that wanted to clean up the smell and some pipes and stuff, but it felt really exciting. I also think it's curious how much of the space is for performance… it doesn't actually have that much wall space, which is interesting, and that feels great. One of the biggest things I was hit with on my first visit to Northwest Arkansas was the nature, particularly as I was walking through the trails in the North Forest at Crystal Bridges, which was so beautiful.
LH: We started the conversation about you doing a project at the Momentary a couple of years ago, and we always planned for you to come and create the project on-site. How did your process for developing In Nature change in 2020 due to the pandemic and travel restrictions?
SC: It's really changed. The show has more of a theme than many of my other exhibitions. And I think about our show now being more site-adaptive than site-specific. I really like it, and I'm happy with the way it's coming out. I had to pivot all of the works on-site to be works that I created mostly in my studio. It's so much more work than my typical approach of stress out, then just go and bust it all out in two weeks. I'm learning a new sense of time, and it's kind of amazing to me how long everything is taking, but it's cool because even though I fight the idea of a museum feeling like a mausoleum, I do want my work to survive me. I feel like I'm learning all these techniques that if I wasn't forced to make it in the studio, I probably never would.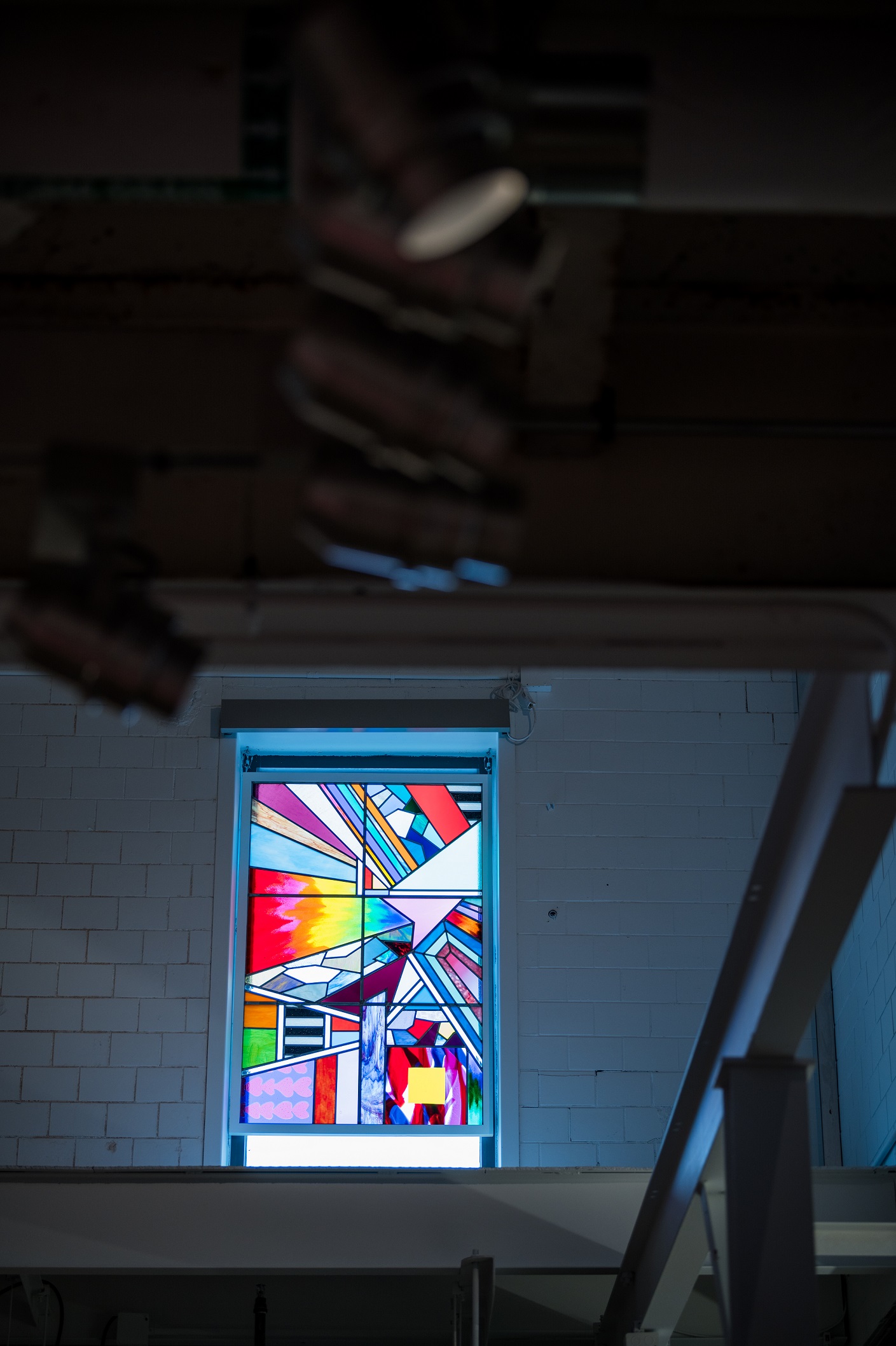 LH: How are the individual pieces of the exhibition connected for you? How do they make an installation one complete work?
SC: They're connected in the theme of nature, which is one of my main inspirations, pandemic or not. I grew up on a dirt road, so it's one of the things that really grounds me. There are studies that show if you actually look at trees for 30 minutes a day, your brain chemistry changes. So I was thinking about the small things we can all do to make ourselves okay. I've been thinking about nature and also the space of the Momentary. I look at the measurements and renderings that the Momentary team has sent me. For example, when I was thinking about one of the hanging canvas works potentially pulling through an already existing hole in the Lobby Gallery, I measured it out, I made a fake hole in my studio, and then I realized I'd rather shift it to another spot. I sort of go with the flow. For example, I bought a big roll of flooring we were [initially] going to cut up into pieces, and then when I measured it, I realized it was the same dimension as another area in the space between the two pillars that are flush to the wall and thought it might work better in that spot. It's an intuitive [process], imagining space and how space will flow while also knowing that I don't want to truncate space. I tried to brainstorm all scenarios, even though you can really never do that. One of the first things I remember in the Lobby Gallery is the window up high, and your team working with the architects to leave that open for me was really great. And to find that I had a stained glass that worked when it was flipped on its side, [and which was] already titled Wildflower, was perfect. In the realm of what my practice would be in nature, it'd be the [voluntarily] wild side of a garden. I feel like there's a lot of improvising and listening for threads and pulling them together, and also chance.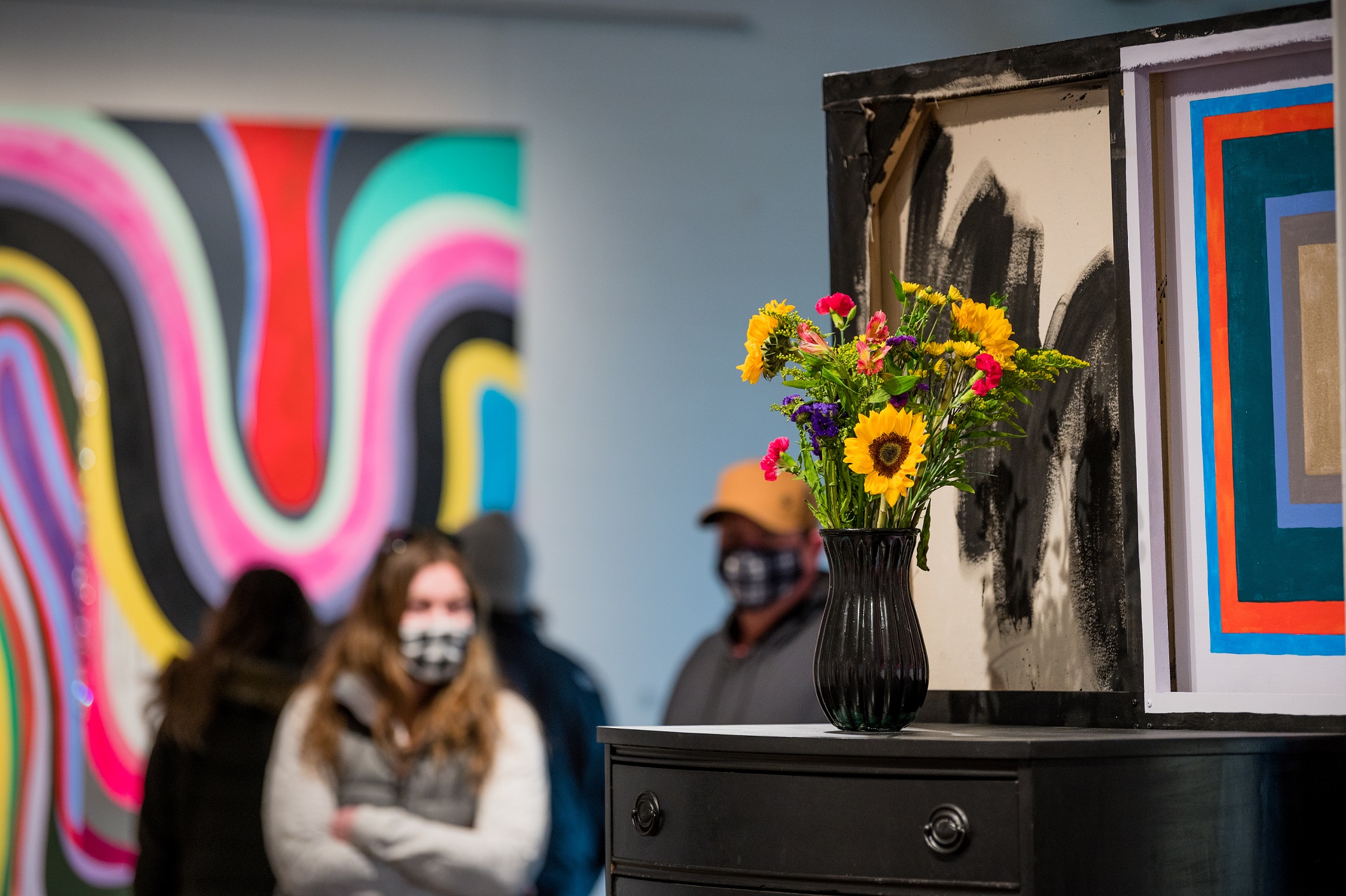 LH: How did you come up with the title In Nature?
SC: As I mentioned, I was already thinking about nature, but I was really struggling for a title when you needed it. [The Photos app on] my phone made one of those stupid slideshows that just said "In Nature." I pushed it, and it was all these nature shots, mostly of my trip to Northwest Arkansas. I had a ton of images of Sarah Braman's work. She and I became friends during my trip to Bentonville because she was in town installing her work in the North Forest [at Crystal Bridges] for Color Field [in 2019]. Then when I was visiting home in upstate New York, I did a studio visit with her in Massachusetts. So it was this very funny slideshow of the Momentary, Storm King Art Center in New York, and Sarah Braman. I said "Oh! I see a thread. I like this." In Nature also ties into the basic relationship to nature, for me that is the core of looking, which, in turn, might be the core of painting. Since picking the title, I've read Joan Mitchell and Celia Paul both say nature was their main inspiration. The act of sitting in nature is very similar to sitting in the painting studio, being open, waiting, letting your thoughts move through you until you get in this state that's close to meditation. It's a funny thing I've been doing since I was 12—I just walk out in the woods, a field, the creek, and sit and wait to see what happens.
LH: You've chosen to create abstract works that do not shy away from talking about our contemporary moment or political issues. What led you to abstraction and why?
SC: I think I first got into abstraction as a way of finding freedom in a space to think through bigger, existential ideas. Even as a kid, I'd skip gym class in eighth grade to contemplate "Is there a God?" Silly, but when I started painting and moving into abstraction. I felt like [it was] a space where I could think about all these things, resolve them, and keep pushing at them. I don't think art should actually "tell you," but I think art should open up a space where people are allowed to have feelings and thoughts that might be scary or that they don't even know they have. I think my own interest in abstraction started in that seeking, and I'm always trying to figure it out.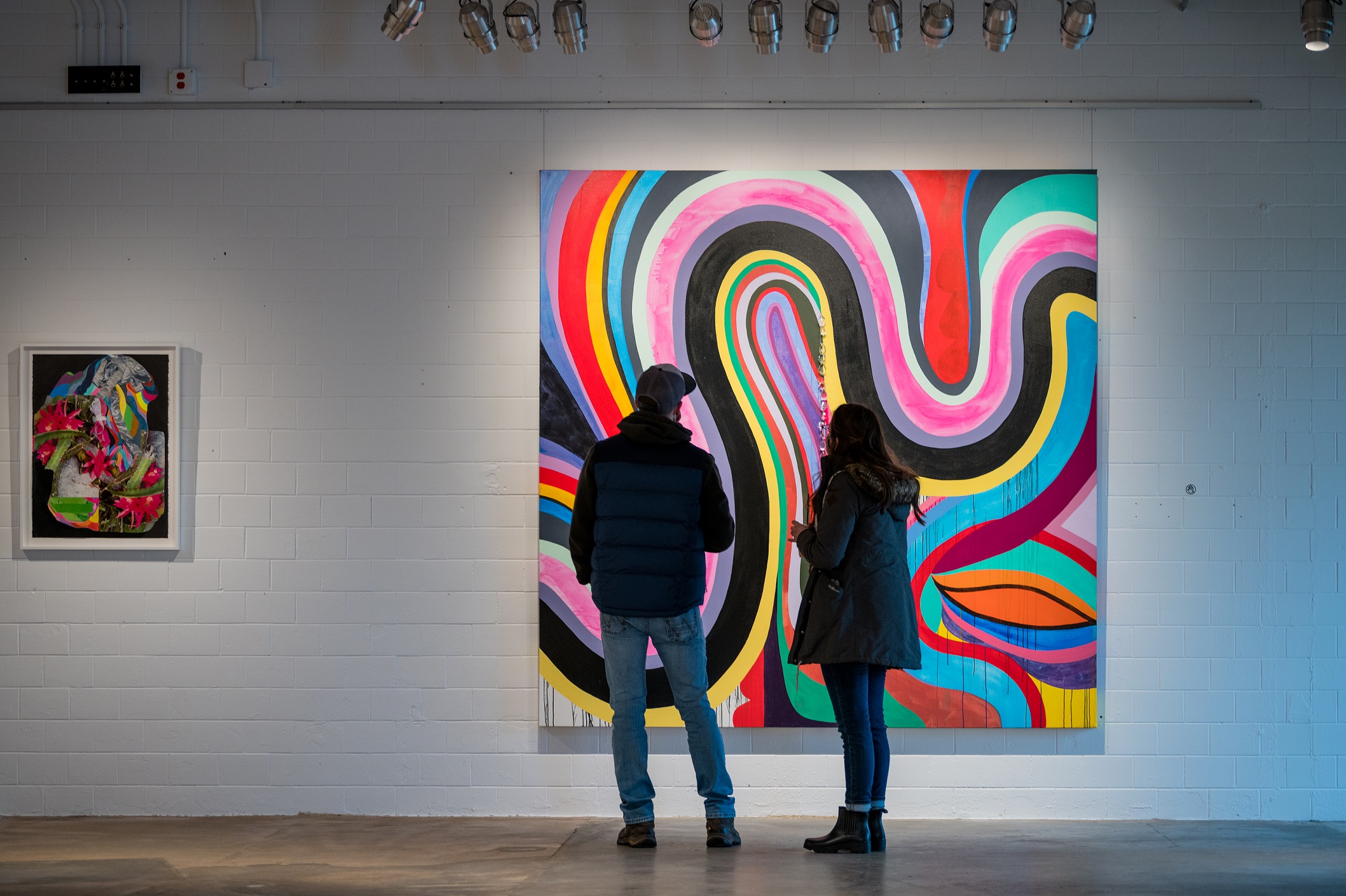 LH: Can you talk a bit about the self-portrait in In Nature? I'm very interested in the way that so many artists create self-portraits, so I was excited to see yours on the checklist and would love to hear more about it.
SC: I make so many portraits that are totally abstract. A lot of my portraits are about translating. When I'm working, I will realize I'm making a portrait of someone I was thinking about, or I have intentionally made a talisman to keep Ruth Bader Ginsburg alive. I just channel things. At first, I hated the self-portrait in the show. It was pissing me off and I was going to destroy it, and then, I had a studio visit with a London gallery and they were really loving it. It's funny, sometimes someone else can pull me out of me not liking something. I don't know if it was just because the canvas was so big and it was hard to move and I was getting pissed off at the physicality, but I think it's probably more because I had left a bad relationship that I was terrified to talk about. So I was just painting it out, and I think the waves of it are, "You're going to get through this. You're going to find your strength again." The center of it has a row of crystals that I think of as the spine of it all. It's a portrait of me remembering to get it all out. Block it out. Get centered. You are your own strength, and f#ck that noise.
Sarah Cain: In Nature is on view at the Momentary now through May 30, 2021. It is free to view.