That Time I Learned How to Disrupt Architecture with Jaimie Henthorn

On a sunny, Friday afternoon at the end of a particularly busy week in February, I found a few moments of tranquility with Denver, Colorado-based artist and dancer Jaimie Henthorn at Eleven, the restaurant at Crystal Bridges. It was her first time in Arkansas, and she had come to develop ideas and scout the area for her new site-specific performance duet with Nile H. Russell, A New Between, taking place this month on September 18-19.
Henthorn, who has been perfecting her site-specific performances for 15+ years, uses her body and those of other performers to challenge the relationship we have with architecture. She has been invited to such prominent places as the Cadet Chapel, the Salk Institute, and the Denver Art Museum to interpret architecture, which in turn has revealed underrepresented truths about historic places. Through dance and interpretation, Henthorn asks questions such as: how do we fit into the spaces we create? And what meaning do they bring to us and us to them?
Still not sure what that means? Don't worry, I didn't either. But through an insightful interview (captured below), Henthorn conveyed her thoughts on performance, architecture, how she felt seeing the Momentary and Crystal Bridges for the first time, and her process in developing A New Between.
The Performance Artist
Erica Harmon: How has your performance process evolved?
Jaimie Henthorn: Originally, I both danced and was a visual artist. Those parallel lines of myself as a dancer and an artist crossed and became one single path. My artwork became stronger, though my role in relation to the work actually became less clear. More than one person gave me the advice: either you are the work, or you need to step out of the way.
And then 10 years ago, I sustained a significant spinal injury during aerial work. I came out of it pretty well, but it was curtains for dancing. I can't lift my own weight anymore, and I'm back down to a beginner level in a contemporary dance sense. But I can be an overly positive person and I remember thinking, well, at least my artwork was likely to improve! There was almost a relief that came with this revelation. My vision for my art became clearer. It also motivated me to pursue a PhD in art practice.
Our Relationship with Architecture
EH: I'd like to talk about architecture for a bit. In your bio, you say that your artworks disrupt and establish understanding of architectural spaces, and in your interview with Black Cube about your project Cadet Chapel, you said "I am interested in the way we move, learn to move, and are instructed to move within these structures…" I'd love to hear in your own words: what is our general understanding of architecture, and how does the human body disrupt that?
JH: I think we accept the programming of space without question. So, here in Eleven, for example, the programming for this space is conversing and eating. There's very little desire―even for rebellious people―to do things outside of that programming. I think we're really happy to receive instructions on how a space is used. But as an artist, when I look at a space like this, I think of what Moshe Safdie put into this―the thoughts, theory, concepts, etc.―and I just think of the infinite possibilities.
Wouldn't it be interesting if people were perched on the slants of glass that meet the roof? How would people need to use their weight to sit on the glass? And what would that body language say to us about that slanted angle? I believe we would understand that architectural element so well by watching someone negotiate it physically. That's where my mind always goes, and my work is about taking ideas like this and refining them into something that communicates to the audience. It's about asking yourself, "What do you want to say about a space?"
Below is a video work Henthorn choreographed called Salk Institute. This work sits within a larger body of works that utilize the human body as a research tool of modernist architectural spaces. The way in which actor Regan Linton, who is paraplegic, moves across the Salk Institute plaza brings up issues and expectations around accessibility and purpose-built space related to the disabled body.
Salk Institute by Jaimie Henthorn
A Study in Opposites
EH: Seeing the Momentary and Crystal Bridges for the first time, what are your initial reactions?
JH: I spoke with Calli Verkamp (Lead Project Architect of the Momentary) recently, and it was comforting to regard the two sites as a study in opposites. At the Momentary, you've got a residential, urban, front yard/backyard feel and that lay of the land that most of us are used to in our daily lives. We've seen repurposed buildings, and I think I know what to expect, but then I step inside the Momentary and I feel like I've stepped into something that I didn't imagine from the outside.
Then when you come to Crystal Bridges, you come upon this place either through a ravine or over a hill, which is not a typical way to approach a building. This feels so organic, more so than I thought it would. The angles relate to each other and Crystal Bridges has the constant movement and sound of water.
With the Momentary, there's an approachability, a "now-ness," about it, and at Crystal Bridges, you feel like a forest pixie.
Creating A New Between
EH: What made you interested in this project?
JH: I was actually invited to come do something for the Momentary opening, and I didn't want to do anything in a programmable space. For example, if I did something up on a ledge, no one was going to see it during opening weekend―there was so much going on! I mentioned that I had this idea of something durational, something that would connect the spaces, so we began pursuing that.
EH: How long does it take for you to conceive a site-specific project and then bring it all together?
JH: I'd say for this one, about nine months minimum. (It's funny how things always happen along the same timeframe as the human gestation period.) However, my last project with Black Cube, including research time, took about three years, so it varies.
EH: In the description of the piece, you talk about this concept of a liminal zone, or creating a place out of time. What does that mean?
JH: Before the Momentary existed, there was no "between." Now that the Momentary exists, there's a space between Crystal Bridges and the Momentary that wasn't there before―a new between. I think there's a lot of opportunity between those spaces, and I've been invited to come fill in that space. We talk about it as abstract space, but it's there nonetheless. There's static electricity between the two buildings.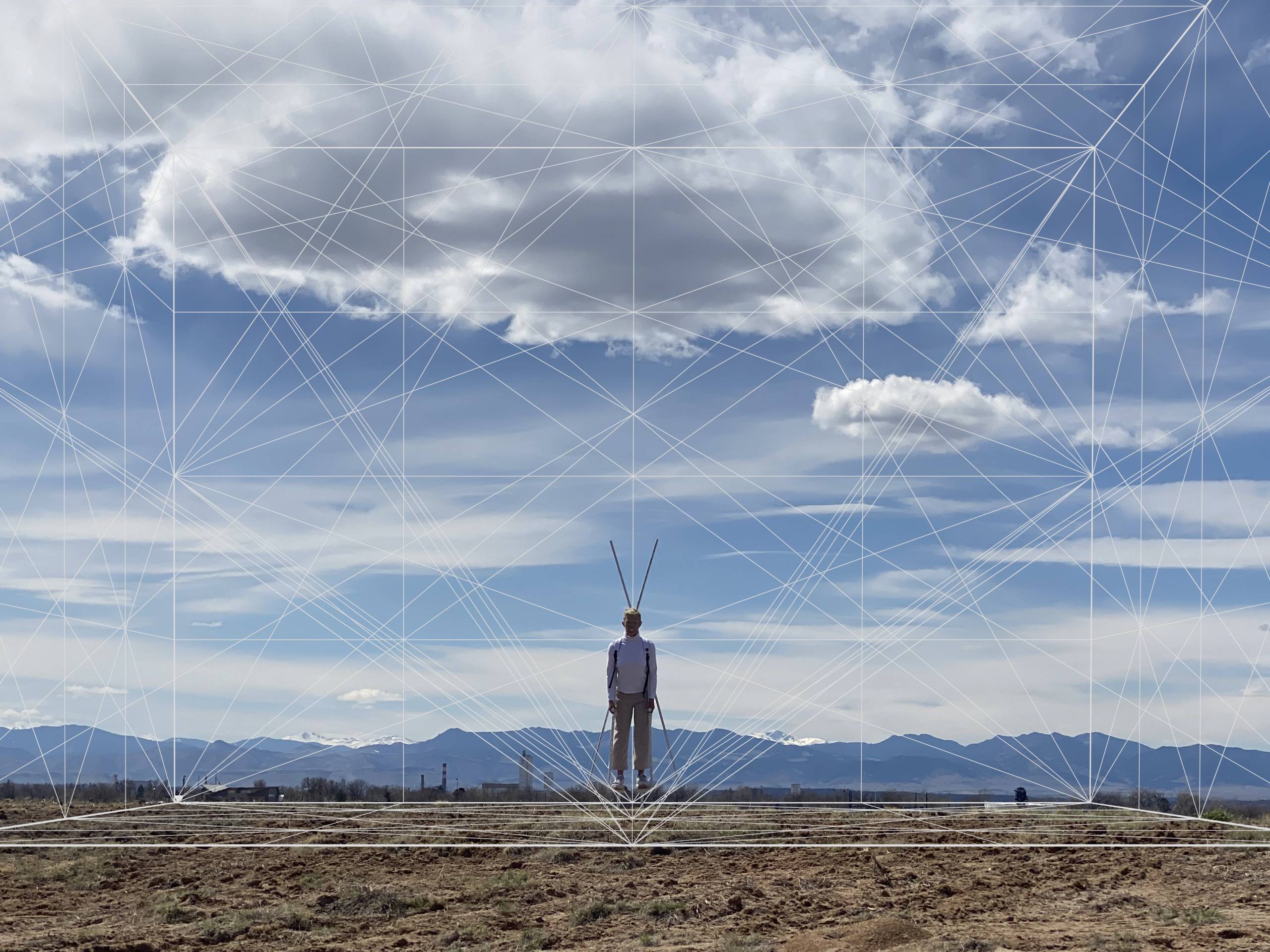 To summarize, Henthorn's performance promises to be a one-of-a-kind experience interpreting the Momentary and Crystal Bridges as a study in opposites and activating the newly created path in-between. The performance is for anybody who enjoys architecture, performance art, dance, being outdoors, and experiencing everything the Momentary and Crystal Bridges have to offer.
There are two opportunities to see A New Between: Friday, September 18 from 4:30 to 6 p.m. and Saturday, September 19 from 6 to 9 p.m., which will end with a Q&A with Henthorn and Russell at the Momentary, led by Programmer, Theater and Dance Cynthia Post Hunt. Attendees are welcome to walk with the performance the entire time, or enter and exit the performance as you please along the "new between." Start/end points and free tickets can be collected here.
Written by Erica Harmon, copywriter, Crystal Bridges Museum of American Art and the Momentary.