Which TIME BEING performance is perfect for you? (3 of 3)

TIME BEING is the Momentary's inaugural festival of performance taking place during the Momentary's opening weekend—Saturday, February 22 and Sunday, February 23, with a Momentary Member Preview Friday, February 21. Featuring artists from around the world, TIME BEING offers dance, music, and theater experiences.
If you're eager to attend TIME BEING but aren't quite sure which events you'd like to attend, this blog series is for you! We've offered up a list of similar interests that align with each event, as well as personal insights from our Dance/Theater Programmer, Cynthia Post Hunt. Keep reading to learn more about 3 of the 12 TIME BEING events, find your favorite(s), and book your tickets today!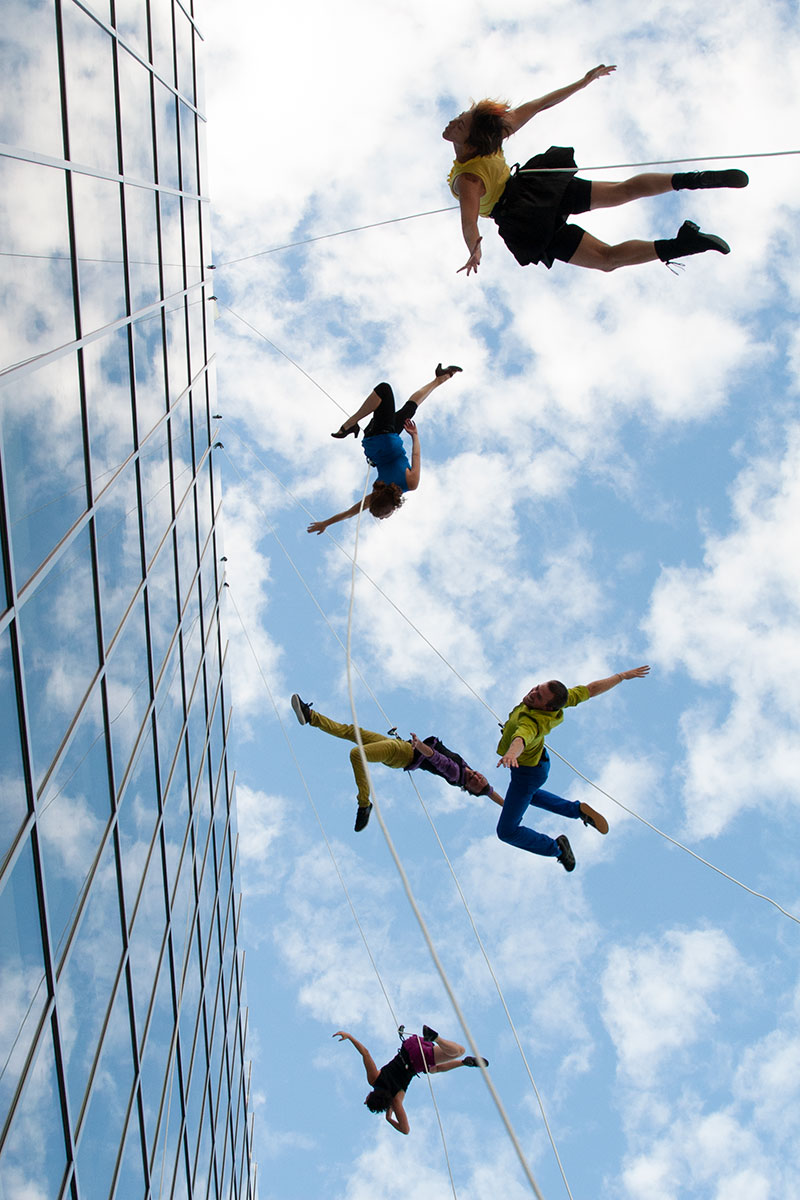 BANDALOOP
BANDALOOP honors nature, community, and the human spirit through perspective-bending, vertical dance. Using the Momentary Tower as a dance floor on its side, BANDALOOP creates a new and original performance sited for the Momentary building with visuals by creative technologist Osman Koç.
A pioneer in vertical performance, BANDALOOP seamlessly weaves dynamic physicality, intricate choreography, and climbing technology to turn the dance floor on its side. BANDALOOP's site-reactive work has been presented worldwide in theaters and museums, on skyscrapers, bridges, billboards, and historical sites, in atriums and convention halls, in nature on cliffs, and on screen.
If you like:
New perspectives
Acrobatics
Heights
Window washers [in cities]
Then you'll love BANDALOOP
Cynthia's Insight: Daring, awe-inspiring, and breathtaking, BANDALOOP promises a beautiful performance on the edges of the Momentary's tower surface. BANDALOOP has danced on the edges of some of the most beautiful buildings and mountains around the world. We are so excited to have them here to inaugurate the Tower.
This event is free! BANDALOOP will perform on Friday, February 21 (Member Preview Day) at 6:45 p.m. and Saturday, February 22 at 6:45 p.m.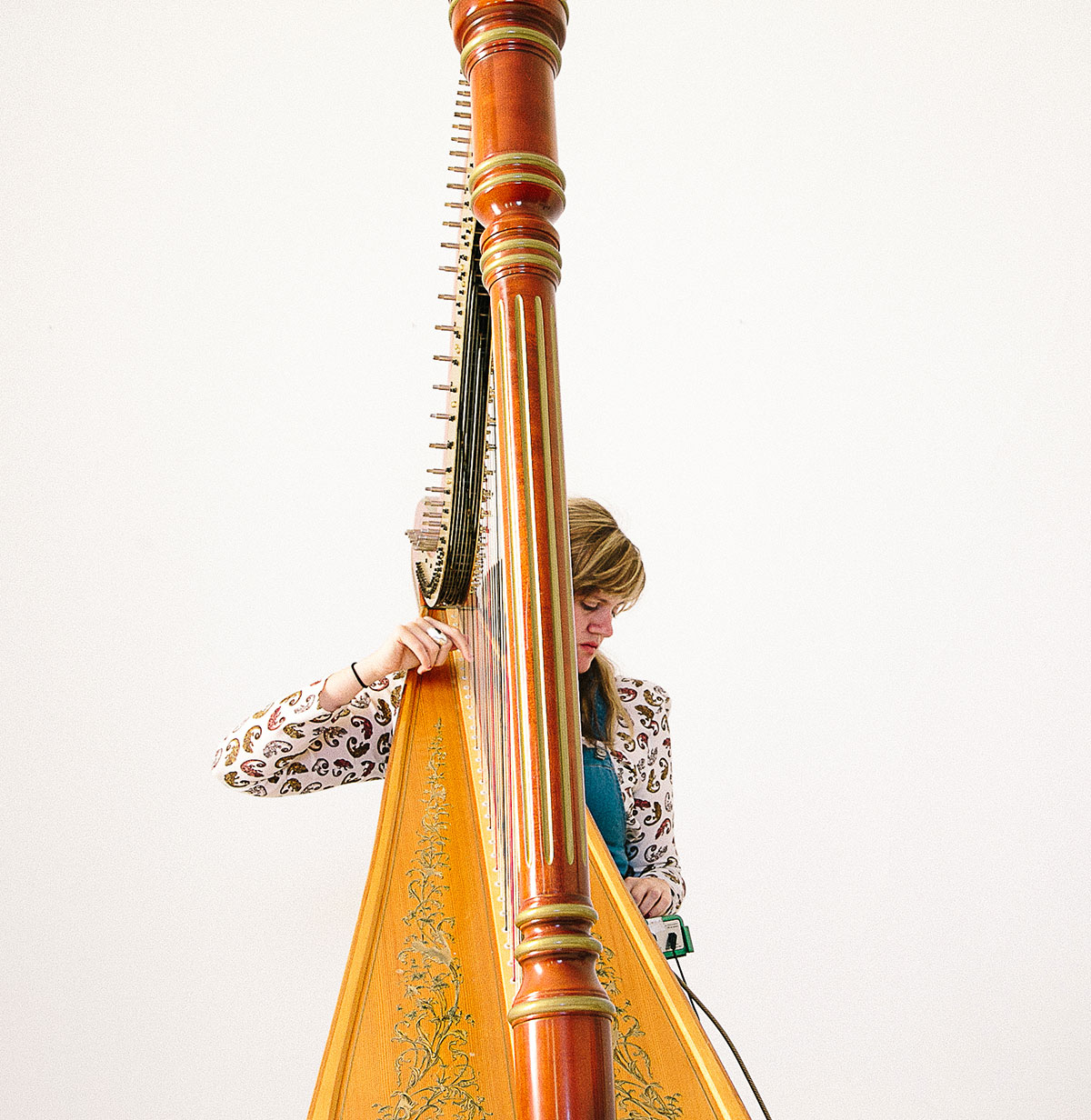 Mary Lattimore
In indie rock, Mary Lattimore is the monarch of instrumental harp. Her music is lush, sprawling, and cinematic.
Lattimore has learned to paint pictures of landscapes and express mixed emotions without a word. In rather short order, Lattimore has become one of the country's most compelling soloists. She has devised a new way to experience the harp. Her secret weapon was a Line 6 looping pedal, which allowed her to create deep sounds that imparted these instrumentals with a dizzying emotionality.
Join us as she brings the Momentary to life conjuring gorgeous textures, landscapes, and mixed emotions without a word.
If you like:
Arcade Fire (she played on Funeral and toured with them)
Lush, cinematic wordless music
Experiencing the harp in a different way
Looping and layering of sounds
Then you'll love Mary Lattimore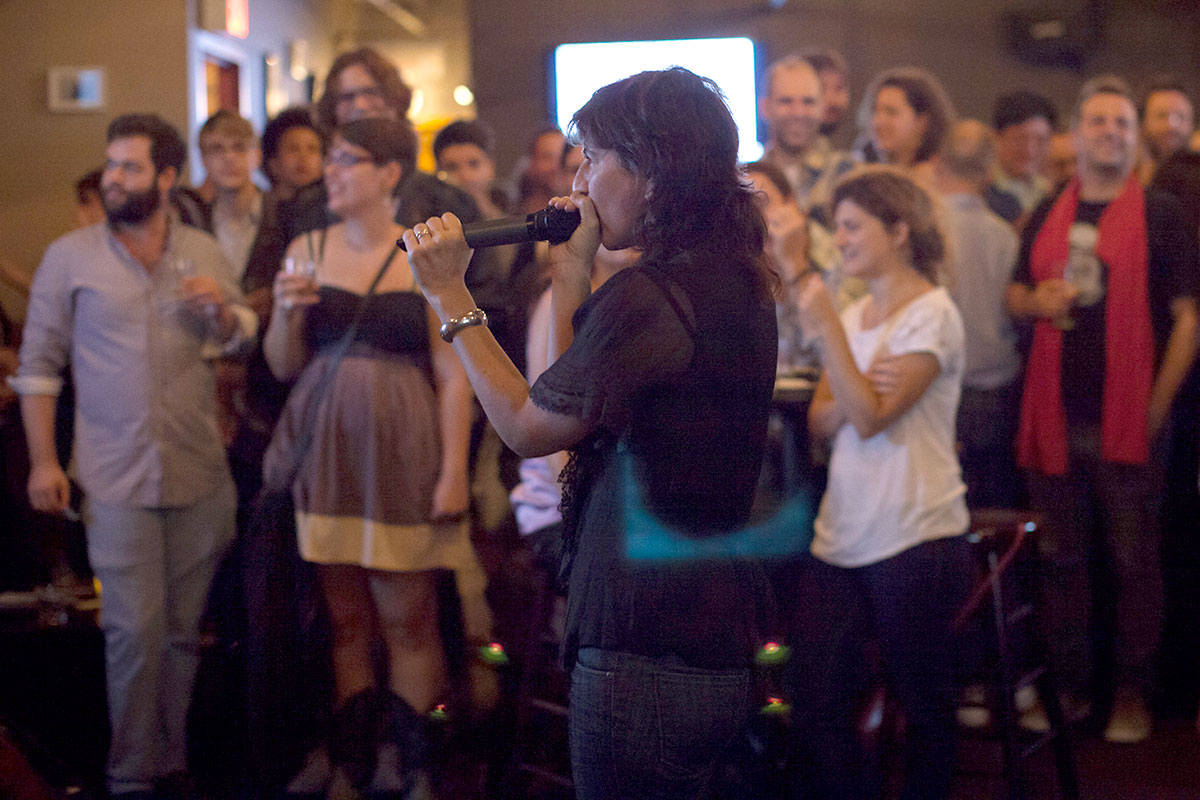 Spokaoke, Annie Dorsen
Spokaoke is a participatory event that invites you to perform famous and lesser-known speeches they would ordinarily perform songs in a karaoke bar. Hundreds of texts are available on the karaoke system and arranged in a catalog that audience members can peruse with some familiar to the point of iconic status ("I have a dream," "Mr. Gorbachev, tear down this wall," etc). Texts come from a wide variety of sources and eras—Socrates' trial speech, Sojourner Truth's "Ain't I a Woman," Col. Qaddafi at the United Nations. Spokaoke gives an opportunity to play with the legacy of spoken artifacts, treating snippets and snatches of public address like a Top 40 radio of the collective discourse. All texts are to be performed in English.
If you:
Enjoy karaoke
Enjoy spending your Friday nights belting out your favorite tunes in a crowded room
Have always wanted to be a lawyer
Wish more people would listen when you talk
Like CNN
Like Law & Order
Then you'll love
Spokaoke
Cynthia's Insight: Annie Dorsen's Spokaoke is a perfect way to enjoy your weekend at the Momentary. Grab a couple friends and sign up for your favorite speech. Engage with history, current events, and pop culture all at once surrounded by friends and strangers. Drop by the Tower Bar to pick up something to ease the nerves and join our curator of performing arts Pia Agrawal as she recites Cher's classic "it does not say RSVP on the Statue of Liberty" from the movie Clueless. If being in the spotlight scares you, join the audience in supporting those with a little more gumption. 
This event is free! Register for your spot here.
Find the perfect TIME BEING event(s)? Book your tickets today! We look forward to welcoming you during opening weekend, February 22-23.