#littlesweaterhug: reckoning and reconciliation | Adrienne Callander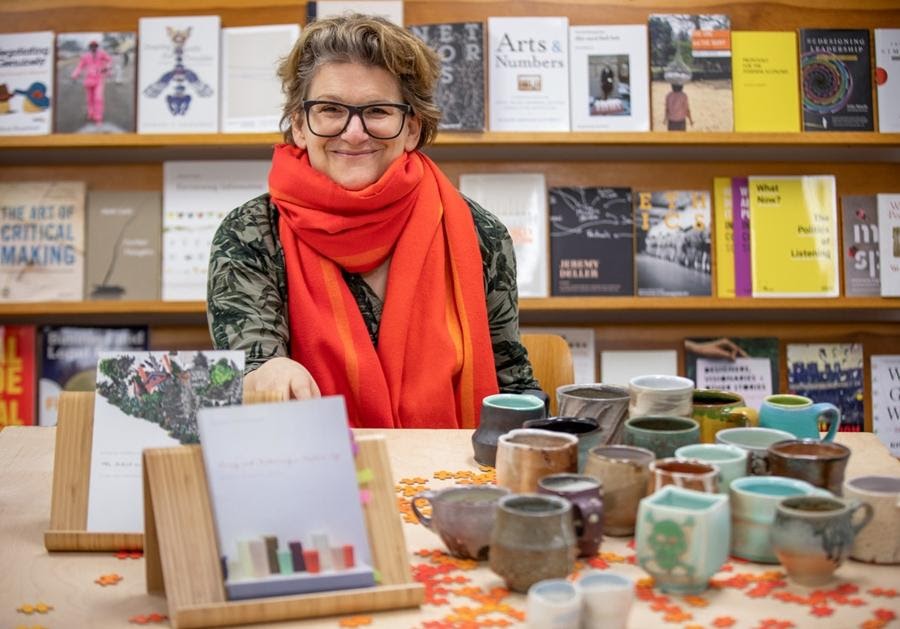 Beginning October 29, drop in each Thursday to discover Adrienne Callander's #littlesweaterhug project on the Upper Mezzanine of the Momentary.
Grab a drink from Onyx Coffee Lab, explore the galleries, and head up to witness the artist at work. With a stool and knitting basket by her side, Callander will talk with guests about reckoning and reconciliation. The conversations will be recorded in her work by switching out yarn colors based on the tenor of the discussion.
The #littlesweaterhug project is part of the Artist Responses to Nick Cave: Until.
FREE, no registration required.
Note: the Momentary is closed on Thanksgiving Day
As a safety precaution and to comply with the state of Arkansas mandate, the Momentary requires visitors and staff to wear face coverings for ages 10 and older indoors and outdoors. Following the most recent recommendations from the CDC, face shields and face coverings with exhaust valves or vents are not allowed. Masks are available upon entry and at outdoor events and venues for those who do not have one.
Purchase a #littlesweaterhug: The sweaters made onsite are on sale at the Momentary Shop with a custom-made hanger and tag with a poem by Ronna Lebo (below), commissioned for the edition. Proceeds from the sales will go to support the Open Mouth Reading Series Poet-in-Residence program in Mt. Sequoyah's Creative Spaces in Northwest Arkansas. Knitting stool and retail display designed by Vincent Edwards.
Reckoning and Reconciliation, Ronna Lebo
a ditch grimaces at the roadside
a palace moves slightly away upon approach
a chord is swallowed by the soloist
a dead flower smells green
a meadow reaches oblivion
an iceberg melts at its border
a power line stretches to one point
a countdown rushes back into the clock
a cloud billows itself on the horizon
ABOUT Adrienne Callander
Adrienne Callander is an Assistant Professor at the University of Arkansas, cross-appointed in Sculpture in the School of Art and the Department of Strategy, Entrepreneurship, and Venture Innovation in the College of Business. Previously, Callander taught, curated, and served as the Interim Coordinator for the Sculpture Program at Mississippi State University. She has been a teacher and champion for social justice and the arts, socially engaged art, arts entrepreneurship, creativity, and collaboration for many years. Callender facilitates arts integration; and partners with on-and off-campus entities to grow opportunities and engagement. A practicing artist, Callander has exhibited in the US and abroad, including Simon Fraser University Gallery, the Speed Museum, the Hogar Collection, the Mississippi Museum of Art, Gullkistan, and the Kunsthochschule für Medien. Callander's recent publication, Artmaking as Entrepreneurship: Effectuation and Emancipation in Artwork Formation (2019) examines the entrepreneurial aspects of organizational emergence, improvisation, and emancipation in socially engaged art.