State of the Art 2020 Summit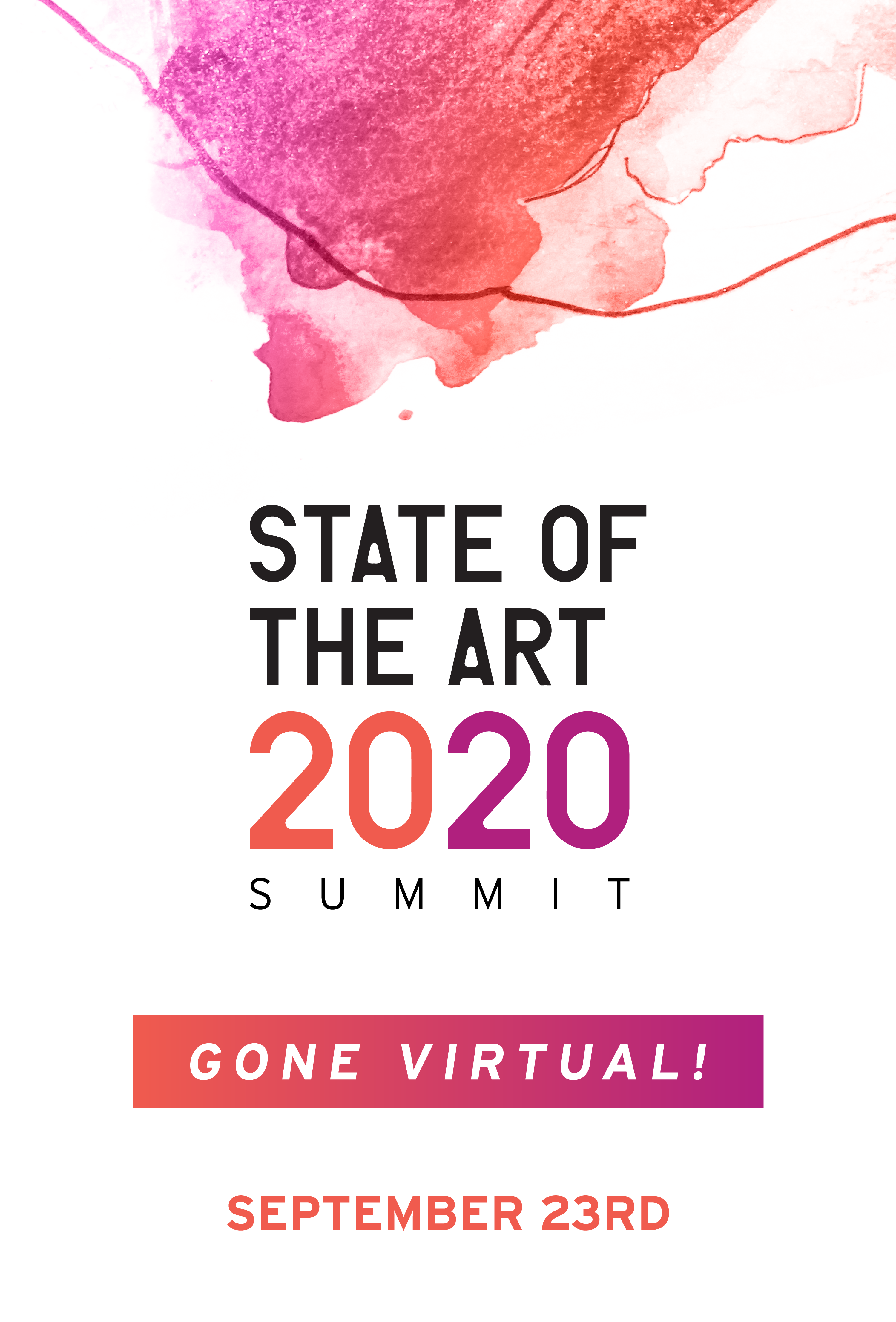 Crystal Bridges Summit, Insights from a Changing America, is bringing together an extraordinary group of America's brightest minds, influential voices, and talented artists. This interactive virtual summit to be held September 23rd commemorates Crystal Bridges Museum of American Art and the Momentary – the country's newest contemporary art space in Bentonville, Arkansas.
This Summit will take a look at the resonance now of themes and ideas raised in our major exhibition: State of the Art 2020. To create this exhibition, Crystal Bridges curators traveled the nation in 2019 meeting hundreds of artists in their workspaces resulting in the selection of a diverse group of 61 artists, from varied backgrounds and at different points in their careers. These individuals represent a cross-section of artists working today and engaged with themes including world-building—creating real and fictional spaces; sense of place—investigating ideas of home, family, and immigration; mapping—connections to and relationships with landscapes and power, and temporality—the concept of time and how we perceive it. The artists selected are engaging with a range of issues pertinent to contemporary life in the United States. The Summit program will explore their work in relation to the nature of a country in the midst of transformative demographic, technological, environmental, and cultural changes.
This powerful and provocative virtual gathering will connect participants with these meaningful trends and themes at the intersection of American art and American life and explore them through the lens of three sessions focusing on topics that have taken on new urgency: "Sense of Place: Nurturing Vibrant Communities," "Confronting History: Changing the Narrative," and "Shifting Grounds: Art Education for a New Age."
The insights of the group will be captured for public dissemination as part of Crystal Bridges' ongoing core commitment to make American art more accessible and relevant to a broad audience. Further information on the program and speakers will be available as the Summit date nears.
SUMMIT SCHEDULE
10:00 AM – 10:20 AM
Welcome and Introductory Remarks
Introduction of State of the Art 2020, hosts, and "Sense of Place: Nurturing Vibrant Communities".
Alice Walton
Founder and Chairwoman of the Board of Directors, Crystal Bridges Museum of American Art
Darren Walker
President, Ford Foundation
Katy Knox
President, Bank of America Private Bank
Kerry Washington
Actor and Activist
10:20 AM – 11:10 AM
Sense of Place Panel: Nurturing Vibrant Communities
Creating a strong sense of place can nurture all types of communities, including those in transition. Across the nation, artists are finding renewed strength and inspiration in their placed-based roots, which may be far from art world capitals. What models of artistic and community engagement are deepening sense of place? What role do art and artists play in fostering community resilience? What does it take to ensure the vibrant presence of art and artists in our communities?
Rena De Sisto (Moderator)
Global Executive for Arts & Culture and Women's Programs, Bank of America
Eric Garcetti
Mayor, Los Angeles, CA
L. Kasimu Harris
Writer and Photographer
Mickey Northcutt
CEO, North Shore Community Development Coalition, Inc.
11:15 AM – 11:45 AM
Artist Spotlight – A Studio Tour with Suchitra Mattai: Interviewed by Lauren Haynes
This studio visit delves into the ideas, processes, and materials that inform Suchitra Mattai's art practice which centers on stories of migration, displacement, and empowerment. Through a spirited conversation with Lauren Haynes, Suchitra reveals the ways in which she unravels and re-imagines colonial historical narratives in order to give voice to people whose voices were once quieted. As an Indo-Caribbean multi-disciplinary artist, working in materials from fiber to painting to installation and more, she often uses objects and processes associated with her family's ocean migrations and the domestic sphere such as embroidery, weaving, fiber, furniture, etc.
Suchitra Mattai
Artist
11:15 AM – 11:45 AM
Paul Stephen Benjamin
Multidisciplinary Artist
11:15 AM – 11:45 AM
Artist Spotlight – Peter Everett: Transmutation
Raised moving frequently between cultures, artist Peter Everett finds his center living in nature in the mountains of Utah. He develops paintings with central structures and forms with an immediate visual power, physicality, and a sense of urgency growing from liminal spaces. His work is processed and transformed through physicality and a prolonged engagement with materials. Energy, time, devotion and generosity are embedded into the work proposing an economy where scarcity and depletion are replaced by abundance and excess.
Peter Everett
Artist
11:15 AM – 11:45 AM
Virtual Reality Tour of State of the Art 2020 Exhibition
11:50 AM – 12:40 PM
Confronting History Panel: Changing the Narrative
Many artists are rekindling and reactivating our relationship to history. Finding inspiration in the stories and people in American history that connect with the multitude of voices and perspectives that created this nation and are its future, they are turning history into art. What is the impact of art that confronts history? How can engaging imaginatively with the past help us envision a more just future?
Naomi Beckwith
Manilow Senior Curator, MCA Chicago
Nick Cave
Artist
Thelma Golden (Moderator)
Director and Chief Curator, The Studio Museum in Harlem
Chon Noriega
Director, UCLA Chicano Studies Research Center
12:40 PM – 1:30 PM
Shifting Grounds Panel: Art Education for a New Age
The 2014 State of the Art Summit education panel explored the role of art education in meeting the needs of the future workplace by creating innovative thinkers. Now six years later, we find ourselves in a dramatically changed American landscape. How are the arts preparing young people to become powerful contributors and sources of solutions to civic and social concerns? What are the ways in which museums provide a platform for youth agency? How do we – the leaders in arts, education, business, and philanthropy – hold ourselves accountable for preparing young people to participate in a civil society as they enter the 21st-century workforce?
Phaedra Byrd
High School Art Teacher, MFA
Ben Folds
Singer/Songwriter, Arts Advocate
Damon Locks
Visual Artist, Musician, and Educator
Mario Rossero
Executive Director, National Art Education Association
Coco Vasquez
Youth Mentor, Artist, and Student
1:30 PM – 2:00 PM
Speakers and special guests reflect on the question: How do the arts inspire you to imagine the future?
2:00 PM – 2:30 PM
Artist Spotlight – Big Time Dreaming in the Age of Uncertainty: An Artist Experience with JooYoung Choi
Inspired by my favorite late night talk show hosts, I've created a very special video art experience for all to enjoy. Together we will explore what it means to keep on: Big Time Dreaming in the Age of Uncertainty. I will share about my own life as a Korean adoptee, my reunion, and how art and world building has played a significant role in my journey of becoming who I am today. Because of the pandemic, I have cast approximately 50 puppets, animated friends, and volunteer actor friends to be dance partners, band members, co-hosts and audience members in this unusually fun and vibrant artist talk/experience.  Friends from my home town contributed their vocal talents, and my birth family also stars in this video project in their own special way. I will also share with you editions of video art that is usually only seen in museums and art spaces, and a preview of my storyboard animatic for my feature film project Spectra Force Vive: Infinite Pie Delivery Service.
JooYoung Choi
Painter, Puppet Maker, Video Artist, Musician, Animator and World Builder
2:00 PM – 2:30 PM
Artist Spotlight – Cristina Molina: The Making of The Matriarchs
Cristina Molina recounts the process of creating her photo and video series "The Matriarchs". This work was produced in collaboration with all the women in her family and conflates feminine identity, family dynamics, and loss against an eroding South Floridian terrain.
Cristina Molina
Visual Artist
2:00 PM – 2:30 PM
Artist Spotlight – Jody Kuehner/Cherdonna: Strawberry Dipped Sabotage
This session includes performance with nudity and adult subject matter. Jody/Cherdonna has been making live spectacles in Seattle for 15 years through the traditions of feminist and queer performance art. Cherdonna subverts dance, clowning, comedy, drag, and pop culture in order to continually sabotage gender norms and modern performance/typical performance experiences. This video is a sneak peek into Jody's bizarre and occasionally uncomfortable work that feels both clownishly exaggerated and perversely vulnerable. This 30 minute presentation exemplifies Jody's style of communication through movement and abstract aesthetics.
Jody Kuehner / Cherdonna
Cherdonna Shinatra Performance Artist and Installation Maker
2:30 PM – 2:35 PM
Closing Thoughts
Lauren Haynes
Director of Artist Initiatives and Curator, Contemporary Art
Crystal Bridges Museum of American Art and the Momentary
SPEAKER BIOS
Kerry Washington
Actor and Activist
Washington is a lifelong advocate and activist. She is dedicated to using her voice to support a healthy and fully participatory democracy by ensuring that all eligible Americans—particularly those who have been historically underrepresented—are engaged and empowered to effect change in their community. Washington has been involved with many social and political causes including her service on President Obama's Committee on the Arts and Humanities. In 2013, Washington was honored with the NAACP President's Award recognizing her special achievements in furthering the cause of civil rights and public service. In 2014, Time magazine included Washington on its annual Time 100 list of the Most Influential People in the World. Washington received the GLAAD Media Vanguard Award in 2015 and the ACLU Bill of Rights Award in 2016. In 2018, Washington joined Natalie Portman, America Ferrera, Reese Witherspoon, and many more in the Time's Up movement. She is currently a co-chair of Mrs. Obama's When We All Vote campaign and the Founder of Influence Change 2020, a strategic initiative that partners with high impact, nonprofit organizations to increase voter turnout.
Katy Knox
President
Bank of America Private Bank
Katy Knox is president of Bank of America Private Bank and a member of Bank of America's executive management team. As the head of the Private Bank, Knox leads more than 4,000 professionals who provide tailored investment management, wealth strategy and fiduciary services to ultra high net worth individuals, families and institutions. She oversees the delivery of integrated capabilities in trust, banking, lending and philanthropy, fostering a client experience that is distinctive in its breadth and customization. Knox has more than 25 years of leadership experience in financial services. Most recently, she served as the head of Business Banking at Bank of America. Previously, she led Bank of America's nationwide retail banking and distribution business, responsible for the financial centers, ATM network and digital banking platform. Previously, Knox held leadership roles overseeing business strategy, commercial banking, global treasury management and wealth management. Committed to equality of opportunity, inclusiveness, and engagement, Knox is a leader of Bank of America's diversity networks and has served as vice chair of Bank of America's Global Diversity and Inclusion Council. She was recognized as one of the Top 100 Diverse Executive & Emerging Leaders by Diverse MBA magazine. Knox is also active in Bank of America's Global Ambassador Program, which provides mentoring to women leaders worldwide, fostering economic empowerment, effective advocacy, more equitable opportunity, and measurable enhancements for women and their communities. Knox earned her undergraduate degree in business administration from Elmira College and her MBA from Boston College. Knox is active in several charitable and civic organizations in Charlotte, New York City and Boston. She serves on the board of trustees of the JFK Library Foundation.
Alice Walton
Founder and Chairwoman of the Board of Directors
Crystal Bridges Museum of American Art
Alice Walton is a committed patron of the arts and philanthropist. She founded Crystal Bridges Museum of American Art and serves as chairwoman of the museum's Board of Directors. She is a board member of the Walton Family Foundation and founder of the Alice L. Walton Foundation. Alice is committed to increasing access to outstanding works of American Art for communities across the country. In 2017 she founded Art Bridges, a non-profit foundation that partners with institutions of all sizes to provide greater access to American art through projects that deeply engage communities. Alice remains dedicated to improving the quality of life in her home state. She was the first chairperson and driving force behind the Northwest Arkansas Council. This organization played a major role in securing the development of the Northwest Arkansas National Airport, improving transportation infrastructure throughout the region. She also established Camp War Eagle, which offers Northwest Arkansas children of differing socio-economic backgrounds an exceptional summer camp experience. Arts and philanthropic leadership has prompted numerous accolades for Alice. She is a recipient of the Smithsonian Institution's Archives of American Art Medal, the John Cotton Dana Medal for Visionary Leadership in Museums, and the Leonore and Walter Annenberg Award for Diplomacy through the Arts for her significant philanthropic contributions. She was recognized by TIME magazine in 2012 as one of the most influential people in the world and was inducted into the International Women's Forum Hall of Fame in 2018. Alice began her career in finance and later founded Llama Company, an investment bank. She has served as a member of the board of the Amon Carter Museum in Fort Worth, Texas, and the Trustees' Council of the National Gallery of Art in Washington, D.C. She holds a Bachelor of Arts degree from Trinity University and an honorary Doctor of Arts and Humane Letters from the University of Arkansas. Alice is the daughter of Helen Walton and Walmart founder Sam Walton.
Darren Walker
President
Ford Foundation
Darren Walker is president of the Ford Foundation, a $13 billion international social justice philanthropy. Under his leadership, the Ford Foundation recently became the first nonprofit foundation in US history to issue a $1 billion social bond in the US taxable bond market to increase grantmaking to stabilize and strengthen nonprofit organizations in the wake of COVID-19. He is a member of Governor Cuomo's Reimagining New York Commission and co-chair of NYC Census 2020. He also chaired the philanthropy committee that brought a resolution to the city of Detroit's historic bankruptcy. Before joining Ford, Darren was vice president at Rockefeller Foundation, overseeing global and domestic programs. In the 1990s, he was COO of the Abyssinian Development Corporation, Harlem's largest community development organization. Darren co-chairs New York City's Mayoral Advisory Commission on City Art, Monuments, and Markers, and has served on the Independent Commission on New York City Criminal Justice and Incarceration Reform and the UN International Labour Organization Global Commission on the Future of Work. He co-founded both the US Impact Investing Alliance and the Presidents' Council on Disability Inclusion in Philanthropy. He serves on many boards, including Lincoln Center for the Performing Arts, the National Gallery of Art, Carnegie Hall, the High Line, the Committee to Protect Journalists, and the Smithsonian National Museum of African American History & Culture. In the summer of 2020, he was appointed to the boards of Square and Ralph Lauren. He is a member of the Council on Foreign Relations, the American Academy of Arts and Sciences and is the recipient of 16 honorary degrees and university awards, including Harvard University's W.E.B. Du Bois Medal. Educated exclusively in public schools, Darren was a member of the first Head Start class in 1965 and received BA, BS, and JD degrees from the University of Texas at Austin. He has been included on numerous leadership lists: Time's annual 100 Most Influential People, Rolling Stone's 25 People Shaping the Future, Fast Company's Most Creative People in Business, Ebony's Power 100, and Out magazine's Power 50.
Rena De Sisto
Global Executive for Arts & Culture and Women's Programs
Bank of America
Rena M. De Sisto is the Global Executive for Arts & Culture and Women's Programs at Bank of America, overseeing strategy and execution of partnerships with nonprofit institutions across the spectrum of visual and performing arts. Under Ms. De Sisto's leadership, Bank of America has become a leading corporate supporter of arts programs around the world. She created the Bank of America Art Conservation Project, which has funded more than 170 conservation projects in 33 countries. These include Winged Victory at the Louvre, Diego Rivera cartoons in both Mexico and Detroit, Van Gogh's The Starry Night at the Museum of Modern Art in New York, the Da Vinci Codice Trivulziano at Milan's Castello Sforzesco and 370 works on paper from Puerto Rico that were damaged by Hurricane Maria in 2017. She also leads the company's partnerships with with the Foundation for Art & Preservation in Embassies, American documentary filmmaker Ken Burns, and the Smithsonian, which includes being a founding member of the National Museum of African American History and Culture and the Smithsonian Cultural Rescue Initiative. Ms. De Sisto has overseen the successful execution of nearly 200 art exhibition sponsorships around the world. In 2010 she converted the company's art collection into a community resource lending full exhibitions at no cost to museums. More than 130 shows have helped museums in Paris, Seoul, Milan, Ankara, Boston and many other cities realize enhanced revenue and/or attendance. Ms. De Sisto also developed the company's global programs to provide training, mentoring and capital to women entrepreneurs, and was the architect of the Bank of America Institute for Women Entrepreneurs at Cornell University.
Eric Garcetti
Mayor
Los Angeles, CA
Eric Garcetti is a fourth-generation Angeleno and the 42nd Mayor of Los Angeles. Born and raised in the San Fernando Valley — the son of public servants and the grandson and great-grandson of immigrants from Mexico and Eastern Europe — Mayor Garcetti's life has been shaped by a deep commitment to the core values of justice, dignity, and equality for all people. These ideals have fueled the Mayor's relentless drive to fulfill our common obligation: to give children and families of every race, faith, background, and income the chance to get a good education, live on safe streets, earn a decent wage, breathe clean air and drink clean water, receive affordable medical and child care, and build a future of their own choosing. Angelenos are experiencing the remarkable results of his vision and leadership: the Mayor led and won a campaign to pass the boldest local infrastructure initiative in American history, funding a once-in-a-generation expansion of public transportation. He launched the L.A. College Promise, one of the most ambitious higher education access programs in the nation — serving more than 15,000 students, many of whom are overcoming poverty and are the first in their families to pursue the dream of higher education. He is confronting a homelessness crisis by leading an unprecedented regional alliance committed to getting people off the streets and ending chronic homelessness. He put more money in workers' pockets by raising the minimum wage to $15 an hour, and cut business taxes to help drive a historic economic recovery that has created a record number of jobs in legacy industries like entertainment and aerospace. And in 2018, he formed a historic partnership with the philanthropic sector to refurbish nearly 350 athletic courts across the city — to support his plan for universal sports and fitness programs that are both free and local for all children in Los Angeles. The Mayor's leadership is making an extraordinary impact on the national and international stages: he rallied more than 400 mayors in cities across America to adopt the Paris Climate agreement after the Trump Administration pulled out of the pact. He led the first National Day of Action on Immigration, and has put unprecedented local resources toward providing Dreamers and others with legal aid to fight deportation. He signed America's strongest earthquake retrofit law to protect thousands of people's lives from natural disasters. And he successfully led the bid to bring the 2028 Summer Olympic and Paralympic Games to the United States for the first time in more than 30 years. He has lived and worked in Europe, Asia, and Africa and appointed Los Angeles' first Deputy Mayor for International Affairs to expand L.A.'s global ties and bring more jobs, economic opportunity, culture, education, and visitors to the city. While Mayor Garcetti has taken on these enormous challenges, he has also reimagined how city government delivers the most basic services. Since July 2013, L.A. has paved 14,750 lane miles of road; cut the average pothole repair time by half; implemented a $1.4 billion plan to repair every sidewalk in every community, and greatly expanded the number of trees in neighborhoods across the city. He created Clean Streets L.A. — a block-by-block assessment of 9,100 miles of streets that identifies neighborhoods with the most needs, and prioritizes delivery of resources. Under his leadership, L.A. has been rated the nation's best-run city by the Bloomberg What Works Cities initiative and become the number-one solar energy city in America. The Mayor's government service began on the L.A. City Council, where he spent four terms as Council President before being elected Mayor in 2013 and winning re-election in 2017 by the widest margin in the history of Los Angeles. Beyond his time at City Hall, Mayor Garcetti has served his country as an intelligence officer in the United States Navy Reserve, and taught at the University of Southern California and Occidental College. The Mayor received his B.A. and M.A. from Columbia University, and studied as a Rhodes Scholar at Oxford University, and later at the London School of Economics. He is also a jazz pianist and photographer. He and his wife, First Lady Amy Elaine Wakeland, are the proud parents of a daughter, Maya, and have been foster parents for more than a decade.
L. Kasimu Harris
Writer and Photographer
L. Kasimu Harris is a New Orleans-based artist whose practice deposits a number of different strategic and conceptual devices in order to push narratives. He strives to tell stories of underrepresented communities in New Orleans and beyond. Harris has shown in numerous group exhibitions across the US and two international exhibitions and has had five solo photography exhibitions. In 2018, his War on the Benighted series was a part of Changing Course: Reflections on New Orleans Histories, a group exhibition at the New Orleans Museum of Art. Harris's feature for Edible New Orleans was selected for the book Best Food Writing 2016 and earlier this year, his writing and photographs were featured in " A Shot Before Last Call: Capturing New Orleans's Vanishing Black Bars" that was published in The New York Times. He has penned food columns for the Bitter Southerner. And his essay, The Dismantling of Southern Photography was recently published in the Ogden Museum of Southern Art's catalog, "New Southern Photography." Harris has images in several publications including Dandy Lion: The Black Dandy and Street Style, by Shantrelle P. Lewis by Aperture. Currently, Harris is among 60 artists selected nationwide for State of the Art 2020 at Crystal Bridges Museum of American Art and has a solo exhibition, Vanishing Black Bars & Lounges: Photographs by L. Kasimu Harris at the August Wilson African American Cultural Center in Pittsburgh. His work is also in group exhibitions at the Ford Foundation Gallery and the Ogden Museum of Southern Art. Harris earned a BBA in Entrepreneurship from Middle Tennessee State University and an MA in Journalism from the University of Mississippi. He is on the Board of Trustees at the Ogden Museum of Southern Art, as well as the Board of Directors of the New Orleans Photo Alliance and is a member of the Peauxdunque Writers Alliance and the Antenna Gallery Collective. Harris was a 2018 Artist-in-Residence at the Center for Photography at Woodstock and is a 2020 Joan Mitchell Center Artist-in-Residence. Harris was named one of 8 "Louisianians of the Year" for 2017 by Louisiana Life magazine. Selected Clients The New York Times, NPR, Vox, HuffPost, Gravy, ESPN's The Undefeated, The Open Society Foundations Permanent Collections New Orleans Museum of Art, The Wedge Collection (Toronto), Center of Photography at Woodstock (New York), and the NOVO Foundation (New York), and the Newcomb Art Museum of Tulane, Ogden Museum of Southern Art.
Mickey Northcutt
CEO
North Shore Community Development Coalition, Inc.
Mickey is the founding CEO of North Shore CDC, having led the merger process which launched North Shore CDC in 2010 after being with one of our predecessor organizations since 2006. He is committed to making sure that everyone has a safe, affordable and attractive place to call home. Under his leadership, the organization launched a nationally-recognized chapter of YouthBuild. He is also a co-founder of the Punto Urban Art Museum, North Shore CDC's signature, acclaimed social justice public art program located in Salem's Point neighborhood. Mickey began his career in housing as a low-income property manager with Maloney Properties and in asset management at MMA Financial (now Boston Financial). He has been an adjunct professor with Boston University's Graduate Program in City Planning and Urban Affairs since 2011. He serves as treasurer for the Massachusetts Association of Community Development Corporations, the Federal Home Loan Bank of Boston's Affordable Housing Advisory Committee and the City of Salem's Community Preservation Committee and Affordable Housing Trust. Mickey received his B.S. in Urban Affairs at Boston University and his M.S. in Public Affairs at the University of Massachusetts – Boston's McCormack Graduate School of Policy Studies and his J.D. from Suffolk University Law School. He is a member of the Massachusetts Bar. In his spare time, Mickey loves to explore new places, competes in triathlon and spends time with his schnauzers.
Peter Everett
Artist
Peter Everett was born in Utah and was raised moving around the country. Some of his formative years were spent in Cleveland, Ohio. He received an MFA in painting from Pratt Institute and is currently a professor of art at Brigham Young University in Provo, Utah. He has exhibited his work nationally and internationally with recent group exhibitions at the Crystal Bridges Museum of American Art and The Momentary, Utah Museum of Contemporary Art, Michigan State University, Pratt Institute, HPGRP Gallery in New York City, Barbican Arts Group Trust in London, and the Spectrum Project Space in Perth, Australia. He has had solo exhibitions at The Torrance Art Museum in Los Angeles, The Urban Institute for Contemporary Art in Grand Rapids, MI, CUAC in Salt Lake City, UT, Granary Art Center in Ephraim, UT, and The Utah Museum of Contemporary Art.
Paul Stephen Benjamin
Multidisciplinary Artist
Paul Stephen Benjamin was born in Chicago, IL and lives and works in Atlanta, GA. He is a multidisciplinary artist that investigates the color black. In his audio/video work he asks the question "If the color black had a sound – what would it be?" Benjamin's solo exhibition Compositions in Absolute Black is on view at the Hudgens Center For the Arts, Duluth, GA through November 14, 2020. He will also have work on view at the University of Kentucky, Louisville, KY (2020), Rice University, Dallas, TX (2020) and Prospect.5 New Orleans, LA (2021). He's been included in solo and group exhibitions at a variety of institutions and art spaces, including Crystal Bridges Museum and the Momentary, Bentonville, AR (2020), The MAC, Belfast, UK (2019), VCU Institute for Contemporary Art, Richmond, VA (2019), The Havana Biennial in Matanzas, Cuba (2019), Marianne Boesky Gallery, NY, NY (2019), Tacoma Art Museum, Tacoma, WA (2018), Telfair Museum Jepson Center, Savannah, GA (2018), The Studio Museum in Harlem, New York, NY (2017), Museum of Contemporary Art of Georgia, Atlanta, GA (2017), High Museum of Art, Atlanta, GA (2016), among others. He has received a range of awards and fellowships, including The Hudgens Prize (2019), Joan Mitchell Foundation Painters and Sculptors Grant (2019), Hambidge Distinguished Fellowship (2019), The Southern Art Prize (2018), The State Fellow of Georgia (2018), Museum of Contemporary Art of Georgia (WAP) Fellow (2017), Artadia Award (2014), Winnie B. Chandler Fellowship, and the Forward Arts Emerging Artists Award.
Suchitra Mattai
Artist
I received an MFA in painting and drawing and an MA in South Asian art, both from the University of Pennsylvania, Philadelphia. My work has been exhibited in Sharjah, UAE, Philadelphia, New York City, Washington, DC, Minneapolis, Denver, Austin, London, and Wales and has appeared in various online and print publications such as Hyperallergic, Document Journal, Cultured Magazine, Harpar's Bazaar Arabia, Entropy Magazine, The Daily Serving, and New American Paintings. Recent and upcoming projects include a commissioned project for the Sharjah Biennial 14, "State of the Art 2020" at Crystal Bridges Museum/the Momentary, an installation sponsored by the Denver Art Museum/Biennial of the Americas, a commissioned project with the Museum of Contemporary Art Denver, solo and two person exhibitions at Hollis Taggart Contemporary (New York, NY), the Center for Visual Arts, Metropolitan State University of Denver (Denver, CO), K Contemporary Art (Denver, CO) and GrayDuck Gallery (Austin, TX) as well as group exhibitions with Pen and Brush, (New York, NY), the Center on Contemporary Art Seattle (Seattle, WA), and a traveling exhibition with the Art Museum of the Americas, (Washington, DC). I recently completed a residency at RedLine Contemporary Art, and was nominated for a United States Artist Grant and a Louis Comfort Tiffany Grant.
Thelma Golden
Director and Chief Curator
The Studio Museum in Harlem
Thelma Golden is Director and Chief Curator of The Studio Museum in Harlem, the world's leading institution devoted to visual art by artists of African descent. Golden began her career as a Studio Museum intern in 1987. In 1988, she joined the Whitney Museum of American Art, where she launched her influential curatorial practice. Over a decade at the Whitney, she organized numerous groundbreaking exhibitions, including Black Male: Representations of Masculinity in American Art, in 1994. She was also a member of the curatorial team for the 1993 Biennial. In 2000, Golden returned to the Studio Museum as Deputy Director for Exhibitions and Programs, working closely with Director Lowery Stokes Sims. She succeeded Dr. Sims as Director in 2005. Under her leadership, the Studio Museum has gained increased renown as a global leader in the exhibition of contemporary art, a center for innovative education, and a cultural anchor in the Harlem community. Golden's curatorial vision has cemented the Museum as "one of New York City's most consistently stimulating and innovative art institutions," according to Holland Cotter of the New York Times. Her tenure as Director has been characterized by a deep commitment to planning for the Museum's future. In 2015, the Studio Museum announced plans to create a new facility, designed by Adjaye Associates in conjunction with Cooper Robertson, on its current site in Harlem. The new building will be the Studio Museum's first purpose-built facility since its founding in 1968. Golden holds a B.A. in Art History and African American Studies from Smith College. She has received honorary doctorates from the City College of New York (2009), San Francisco Art Institute (2008), Smith College (2004), and Moore College of Art and Design (2003). In 2010, she was awarded a Barnard Medal of Distinction from Barnard College. That same year, President Barack Obama appointed Golden to the Committee for the Preservation of the White House, on which she served from 2010–2016. She currently serves on the Board of Directors for the Barack Obama Foundation and the Los Angeles County Museum of Art. She is a 2008 Henry Crown Fellow at the Aspen Institute, and in 2016 received the Audrey Irmas Award for Curatorial Excellence from the Center for Curatorial Studies at Bard College. In 2015, she was appointed as a Ford Foundation Art of Change Visiting Fellow. Golden is a recognized authority in contemporary art by artists of African descent and an active lecturer and panelist speaking about contemporary art and culture at national and international institutions. Her 2009 TED Talk, "How Art Gives Shape to Cultural Change," examines how contemporary artists continue to shape dialogue about race, culture, and community.
Naomi Beckwith
Manilow Senior Curator
MCA Chicago
Naomi Beckwith is the Marilyn and Larry Fields Curator at the Museum of Contemporary Art Chicago, where her exhibition and book projects focus on the impact of identity and multi-disciplinary practices for shaping contemporary art. Prior to the MCA, Beckwith held positions at the Institute of Contemporary Art in Philadelphia and the Studio Museum in Harlem. Her numerous exhibitions include The Freedom Principle: Experiments in Art and Music, 1965 to Now and 30 Seconds off an Inch, both considering the persistent resonance of black cultural practices across contemporary art internationally. She has been an early champion of such rising artists as Rashid Johnson, Jimmy Robert, Keren Cytter, The Propeller Group, and Lynette Yiadom-Boakye. Beckwith has contributed to numerous publications and served on the jury of the 56th Venice Biennale in 2015. She holds a BA in History from Northwestern University and an MA with Distinction from the Courtauld Institute in London.
Nick Cave
Artist
Nick Cave (b. 1959, Fulton, MO; lives and works in Chicago, IL) is an artist, educator and foremost a messenger, working between the visual and performing arts through a wide range of mediums including sculpture, installation, video, sound and performance. Cave is well known for his Soundsuits, sculptural forms based on the scale of his body, initially created in direct response to the police beating of Rodney King in 1991. Soundsuits camouflage the body, masking and creating a second skin that conceals race, gender and class, forcing the viewer to look without judgment. They serve as a visual embodiment of social justice that represent both brutality and empowerment. Throughout his practice, Cave has created spaces of memorial through combining found historical objects with contemporary dialogues on gun violence and death, underscoring the anxiety of severe trauma brought on by catastrophic loss. The figure remains central as Cave casts his own body in bronze, an extension of the performative work so critical to his oeuvre. Cave reminds us, however, that while there may be despair, there remains space for hope and renewal. From dismembered body parts stem delicate metal flowers, affirming the potential of new growth. Cave encourages a profound and compassionate analysis of violence and its effects as the path towards an ultimate metamorphosis. While Cave's works are rooted in our current societal moment, when progress on issues of global warming, racism and gun violence (both at the hands of citizens and law enforcement) seem maddeningly stalled, he asks how we may reposition ourselves to recognize the issues, come together on a global scale, instigate change, and ultimately, heal.
Chon Noriega
Director
UCLA Chicano Studies Research Center
Chon Noriega has diverse research interests in film and the other arts; avant-garde film and video; the conjunction of film and television history; racial, gender and sexual difference within both alternative and national cinemas; and media access for underrepresented groups. He is author of Shot in America: Television, the State, and the Rise of Chicano Cinema (2000), and co-author of Phantom Sightings: Art After the Chicano Movement (2008), L.A. Xicano (2011) and a three-part study of hate speech on talk radio that uses social and health science methodologies (2011-12). He is currently completing a book length study of Puerto Rican multimedia artist Raphael Montanez Ortiz, and a longitudinal study of online and social media strategies among nearly 180 art museums in the United States. He has edited anthologies on Latino, Mexican, and Latin American cinema, as well as the collected works of Carmelita Tropicana and Harry Gamboa, Jr. Since 1996, he has been editor of Aztlan: A Journal of Chicano Studies, and he is editor of three book series and the Chicano Cinema and Media Art DVD series. Noriega's professional activities situate his research interests within a broader public framework. He has helped recover and preserve independent films and video art, including the first three Chicano-directed feature films. He is co-founder of the National Association of Latino Independent Producers (NALIP), established in 1999, and served two terms on the Board of Directors of the Independent Television Service (ITVS), the largest source of independent project funding within public television. He has also curated numerous film programs and art exhibitions. As part of the Getty's "Pacific Standard Time: Art in L.A. 1945-80" initiative, he organized and co-curated "L.A. Xicano," four interrelated exhibitions at the Autry National Center, Fowler Museum at UCLA, and the Los Angeles County Museum of Art in 2011-12. Noriega is also director of the UCLA Chicano Studies Research Center, and adjunct curator at the Los Angeles County Museum of Art. As center director, he actively oversees the most extensive Chicano library and archival holdings in the United States, an academic press, and ongoing research projects focused on health care access, economic security, education pipeline, and commercial broadcast media. He serves on the advisory boards of the UCLA Center for Population Health and Health Disparities in East L.A. and the UCLA Kaiser Permanente Center for Health Equity. His awards include the Getty Postdoctoral Fellowship in the History of Art, the Rockefeller Foundation Film/Video/Multimedia Fellowship, and the Ann C. Rosenfield Distinguished Community Partnership Prize. Noriega received his Bachelor of Arts degree in English from the University of Illinois at Chicago and his M.A. and Ph.D. in modern thought and literature from Stanford University.
Mario Rossero
Executive Director
National Art Education Association
Mario Rossero has served as senior vice president of education for the John F. Kennedy Center for the Performing Arts in Washington, DC, since July 2015. He has been responsible for the overall planning, management, and supervision of the programs and operations of the Kennedy Center's Education Division, including career development programs, youth and family productions, educator training and professional learning, evaluation, digital activation, as well as collaborations and partnerships. In this role, Mario has served 1.4 million students and educators worldwide. Through its educational initiatives, the Kennedy Center works in all 50 states, DC, Puerto Rico, and 26 countries. Mario previously was chief of core curriculum for Chicago Public Schools. In that role, he provided leadership and strategy to offer a robust education for all students, including in the fields of literacy, mathematics, science, social science, the arts, and global citizenship. Prior to this role, as director of arts education, Mario led the charge to increase equity and access to all art forms through the first-ever district wide Arts Education Plan for Chicago. The plan successfully increased staffing and time allotted for arts instruction, added partnerships and funding, and provided thousands of students with more regular and sequential arts instruction during the school day. From 2010-11, Mario served as the senior program officer of arts education for the Pittsburgh Public Schools, creating a district-wide arts curriculum and professional development strategy. From 2004-10, he served in various roles in Chicago Public Schools, including director of magnet schools and programs. Prior to his administrative roles, Mario taught visual art for nearly 10 years across Pittsburgh and Chicago, primarily in elementary and middle school. Known for large-scale student collaborations, of note is a multi-year interactive garden installation between Mario's fourth graders and the Mattress Factory Museum. During his teaching tenure, Mario also worked as an artist educator at the Andy Warhol Museum in Pittsburgh. Mario serves on a number of advisory boards and is a practicing visual artist.
Ben Folds
Singer/Songwriter, Arts Advocate
Ben Folds is widely regarded as one of the major music influencers of our generation. He's created an enormous body of genre-bending music that includes pop albums with Ben Folds Five, multiple solo albums, and numerous collaborative records. His last album was a blend of pop songs and his Concerto for Piano and Orchestra that soared to #1 on both the Billboard classical and classical crossover charts. For over a decade he's performed with some of the world's greatest symphony orchestras, and currently serves as the first ever Artistic Advisor to the National Symphony Orchestra at the Kennedy Center. In addition to solo rock and orchestral touring, Folds recently wrote a critically-acclaimed memoir "A Dream About Lightning Bugs," which debuted as a New York Times Best Seller, and is described as a collection of interrelated essays, anecdotes and lessons about art, life, and music. He is also no stranger to television, having been featured for five seasons as a judge on NBC's critically-acclaimed a capella show "The Sing Off." He continues to appear in cameo roles on cable and network TV shows, and composes for film and TV. An avid photographer, Folds is a member of the prestigious Sony Artisans of Imagery, has worked as an assignment photo editor for National Geographic, and was featured in a mini-documentary by the Kennedy Center's Digital Project on his photographic work. An outspoken champion for arts education and music therapy funding in our nation's public schools, in 2016 Ben held the distinction as the only artist to appear at both national political conventions advocating for arts education, has served for over five years as an active member of the distinguished Artist Committee of Americans For The Arts (AFTA), and serves on the Board of AFTA's Arts Action Fund. He is also Chairman of the Arts Action Fund's ArtsVote2020 national initiative to advocate for a greater commitment to the nation's creative economy through improved public policies for the arts and arts education, and hosts a podcast series of interviews on arts policies with 2020 candidates.
Coco Vasquez
Youth Mentor, Artist, and Student
Coco Vasquez is a Youth Engagement Ambassador for the Teen Action and Support Center or TASC at The Station, a teen "collaboratory" in Springdale, Arkansas. She creates events for teenagers in the area and connects teens to programs within TASC and beyond. Over the years, Coco has pursued many interests and hobbies including singing, songwriting, acting, crafts, thrifting, and skating. She is a senior at the University of Arkansas pursuing two majors, Communications and Latin American and Latino Studies as well as a minor in Spanish.
Phaedra Byrd
High School Art Teacher, MFA
Phaedra Byrd is a native Washingtonian, who grew up with the gift of creativity and art all around her. As a child, she visited the Smithsonian Museums during school breaks and throughout the summer. Phaedra attended Hampton University in Hampton, Virginia graduating with a degree in Art. She later earned a Masters of Fine Art from the Maryland Institute College of Art in Baltimore, Maryland. Her education included studies in Art Therapy and Museum Studies. Phaedra is an Alumni of the National Art Education Association's School for Art Leaders at Crystal Bridges Museum of American Art. She attended the 2019 Project Zero Classroom at Harvard University. This year will be Phaedra's 27th year teaching at the Potomac High School in Prince George's County Public Schools (PGCPS) in Maryland. Phaedra serves as a mentor to new art educators and as the facilitator for the Art Praxis Study Group for PGCPS. In 2019 Phaedra was Maryland Art Education Association's Secondary Career Art Educator for Prince Georges County Public Schools. She is the Adjunct Professor of Photography at Bowie State University in Bowie, Maryland. Currently, Phaedra serves as the Secondary Division Representative on NAEA's Research Commission.
Damon Locks
Visual Artist, Musician, and Educator
Damon Locks is a Chicago-based visual artist, educator, vocalist/musician. He attended the Art Institute of Chicago where he received his BFA in fine arts. Since 2014 he has been working with the Prisons and Neighborhood Arts Project at Stateville Correctional Center teaching art. He is a recipient of the Helen Coburn Meier and Tim Meier Achievement Award in the Arts and the 2016 MAKER Grant. He operated as an Artist Mentor in the Chicago Artist Coalition program FIELD/WORK. In 2017 he became a Soros Justice Media Fellow. In 2019, he became a 3Arts Awardee. Currently he works as an artist in residence as a part of the Museum of Contemporary Art Chicago's' SPACE (School Partnership for Art and Civic Engagement) Program, introducing civically engaged art into the curriculum at the high school, Sarah E. Goode STEM Academy. Damon leads the Black Monument Ensemble and is a founding member of the group The Eternals.
Cristina Molina
Visual Artist
Cristina Molina is a visual artist who hails from the subtropics of Miami and currently lives and works in New Orleans—two precarious and vulnerable terrains that have majorly influenced her practice. Spanning performance, video installation, photography, and textile design, Molina's artwork is set amongst landscapes both real and imagined—using the language of magical realism, her artworks centralize women's stories to upend dominant histories. Molina's projects have been supported by the National Association for Latino Arts and Culture, The Foundation for Contemporary Arts and the National Endowment for the Arts. This year, Molina was one of 61 artists selected for the national exhibition State of the Art 2020 at Crystal Bridges Museum of American Art. Previously, her work has been featured at the New Orleans Museum of Art, Contemporary Arts Center New Orleans, The Ogden Museum of Southern Art, The Polk Museum, New Orleans Film Festival, and Syros International Film Festival. In 2016, Art in America and Burnaway featured her exhibition Sad Tropics with Jonathan Traviesa among the top exhibitions of the year. Since 2014 Molina has been a member of the New Orleans artist-run project, The Front where she regularly curates and exhibits artwork, and co-organizes The Front's annual juried film festival. Cristina Molina is an Associate Professor and Gallery Director at Southeastern Louisiana University where she received the 2018 President's Award for Excellence in Artistic Activity and is the current recipient of the Viola Brown Endowed Professorship in Visual Arts and Dramatic Arts.
Jody Kuehner / Cherdonna
Cherdonna Shinatra Performance Artist and Installation Maker
Jody Kuehner is a Seattle-based dance artist, director, and performance artist Cherdonna Shinatra. She is a queer dancer who uses clowning, drag, theater, comedy, performance art, camp, pop culture, gay culture, feminist traditions, absurdity and subversive commentary to make art. Cherdonna is a persona created by Jody to explore and question themselves and the world. Jody is a 2020 National Dance Project finalist, 2017 Artist Trust Fellowship recipient, 2017 Henry Art Gallery Artist in Residence, 2017 CityArts Artist of the year, 2015 Stranger Genius Award winner, and held residencies at UCROSS (WY) and YADDO (NY). She was funded by the New England Foundation for the Arts' National Dance Project in 2016. She has been presented locally at On the Boards, Seattle Theater Group at the Moore, Washington Ensemble Theater, Seattle Festival of Dance Improvisation, The Henry Art Gallery, and the Frye Art Museum. She has been presented nationally at the University of South Florida in Tampa FL, the Meanings and Makings of Queer Dance conference Ann Arbor, MI, The Yard at Martha's Vineyard, American Dance Festival, Durham, NC, and FringeArts in Philadelphia, PA. Kuehner premiered DITCH at the Frye Art Museum, as a three-month gallery exhibition with daily live performance. DITCH's eighty performances drew an audience of over 3500 people. DITCH was featured in ARTnews, i-D Magazine and NBC 12 must-see LGBTQ art shows around the world.
JooYoung Choi
Painter, Puppet Maker, Video Artist, Musician, Animator and World Builder
JooYoung Choi, born in Seoul, South Korea, immigrated to Concord, New Hampshire in 1982 by way of adoption. While completing her BFA at Massachusetts College of Art and Design, she returned to South Korea and reunited with her birth-family. Since receiving her MFA from Lesley University in Cambridge, Massachusetts, Choi's artwork has been exhibited in such venues as Crystal Bridges, Akron Art Museum, The Contemporary Arts Museum Houston, Project Row Houses, The Wing Luke Museum of the Asian Pacific American Experience, Seattle, Washington, The Currier Museum of Art, NH, The National Museum of Mexican Art, Chicago, Illinois, The Art Museum of South East Texas, Beaumont, and Lawndale Art Center, Houston, Texas. Choi has received grants from Artadia, The National Endowment for the Arts, and the Idea Fund. She has also participated in the Lawndale Artist Residency in Houston, TX and the Harvester Artist Residency in Wichita, KS. Choi's work has been featured by numerous media groups and publications, including the PBS Digital Studios Art Assignment, Korean Global News Network YTN, the LA Times, New American Paintings, Arts+Culture Magazine, the Houston Chronicle, Glasstire, Houston's PaperCity, Nat. Brut, and the Huffington Post.
Lauren Haynes
Director of Artist Initiatives and Curator, Contemporary Art
Crystal Bridges Museum of American Art and the Momentary
Lauren Haynes is Director of Artist Initiatives and Curator, Contemporary Art at Crystal Bridges and the Momentary in Bentonville, Arkansas. Haynes led the curatorial team of State of the Art 2020 which opened at both Crystal Bridges and the Momentary in February 2020. She was co-curator of the 2019 Crystal Bridges' exhibition Crystals in Art: Ancient to Today and the 2018 Crystal Bridges' exhibition The Beyond: Georgia O'Keeffe and Contemporary Art. Prior to joining Crystal Bridges in October 2016, Haynes spent nearly a decade at The Studio Museum in Harlem. As a specialist in African-American contemporary art, Haynes curated dozens of exhibitions at the Studio Museum and contemporary art institutions in New York. Haynes was a 2018 Center for Curatorial Leadership fellow. She is co-curator of the inaugural Tennessee Triennial for Contemporary Art taking place across Tennessee in 2021.