Local and Regional Artists to Respond to Nick Cave: Until This Fall / Winter

While Nick Cave: Until is a monumental visual arts exhibition, artist Nick Cave also envisioned it as a forum, a space for critical discussion that provokes the question, "Is there racism in heaven?"
Cave has come to see himself as a messenger, endeavoring to bring communities together, discuss important issues, and ultimately heal through art. "I view this work [Until] as an elaborate community forum, as much as a work of sculpture," said Cave.
As a result, from October to early January, the galleries will serve as a studio and stage for 11 local and regional artists to create their own responses to the questions asked by Cave in the exhibition. 
Earlier this summer, a group of regional artists was invited by the Momentary to participate in an online convening with Cave, his partner and artist Bob Faust, the exhibition's curator Denise Markonish (MASS MoCA), and Momentary staff. Each responding artist discussed their own practices and shared their own responses to Until. 
Working across multiple forms of expression including dance, theater, writing, and fashion, visitors will be able to experience their responses in the galleries of the Momentary. Below you'll find a list of the selected artists, as well as the responses they will be conducting on-site and virtually: Adrienne Callander, Blake Worthey, Big Sister, Bruce Davis, Prison Story Project, Jlin, LatinX Theater Project, Austin Dean Ashford, DJ Girlfriend, Brody Parrish Craig, and Lynette Thrower.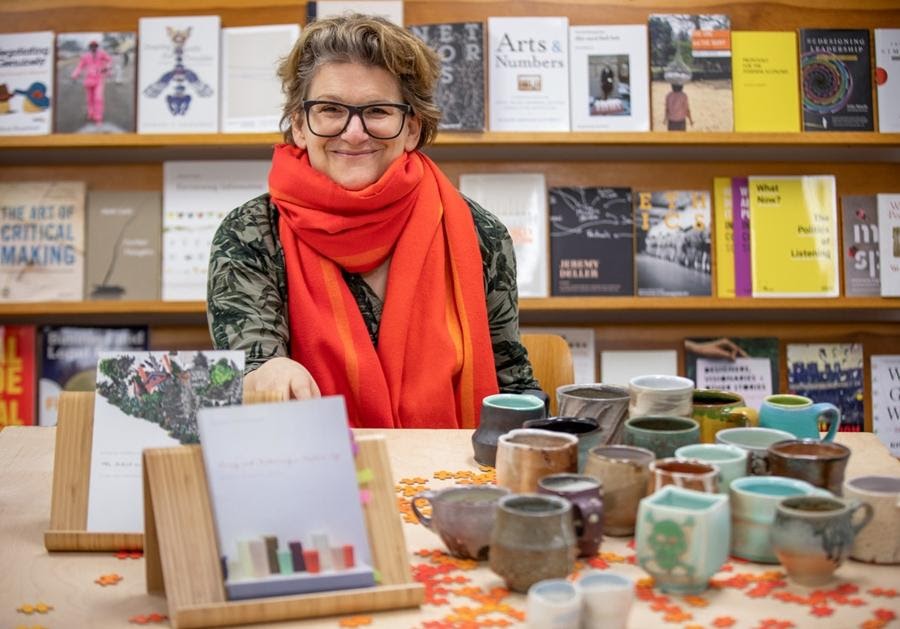 #littlesweaterhug: reckoning and reconciliation | Adrienne Callander
Beginning October 29, drop in each Thursday to discover Adrienne Callander's #littlesweaterhug project on the Upper Mezzanine of the Momentary. Grab a drink from Onyx Coffee Lab, explore the galleries, and head up to witness the artist at work. With a stool and knitting basket by her side, Callander will talk with guests about reckoning and reconciliation. The conversations will be recorded in her work by switching out yarn colors based on the tenor of the discussion.
Purchase a #littlesweaterhug: The sweaters made onsite are on sale at the Momentary Shop with a custom-made hanger and tag with a poem by Ronna Lebo (below), commissioned for the edition. Proceeds from the sales will go to support the Open Mouth Reading Series Poet-in-Residence program in Mt. Sequoyah's Creative Spaces in Northwest Arkansas. Knitting stool and retail display designed by Vincent Edwards.
Reckoning and Reconciliation, Ronna Lebo
a ditch grimaces at the roadside
a palace moves slightly away upon approach
a chord is swallowed by the soloist
a dead flower smells green
a meadow reaches oblivion
an iceberg melts at its border
a power line stretches to one point
a countdown rushes back into the clock
a cloud billows itself on the horizon
October 29 – December 31, Thursdays, 10 am to 5 pm*
*Note: the Momentary is closed on Thanksgiving Day.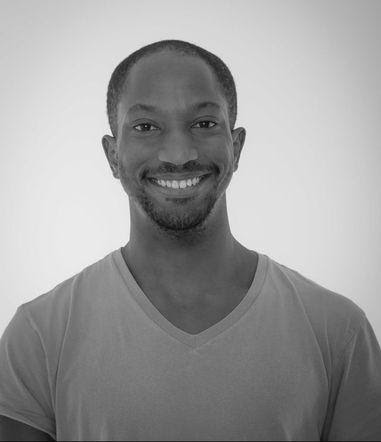 Do You Know What You're Doing Here?
|
Blake Worthey
Dance-theater artist Blake Worthey will engage audiences in a dance performance titled Do You Know What You're Doing Here? This one-person show is a story about big things like good and evil, bigger and eviler things like fashion, but most importantly, it's about how stories destroy us and save us. 
Free performances will take place at the Momentary during the following days/times:
Saturday, October 31, 6 to 6:15 pm

Friday, November 20, 7:15 to 7:30 pm

Sunday, December 6, 2 to 2:15 pm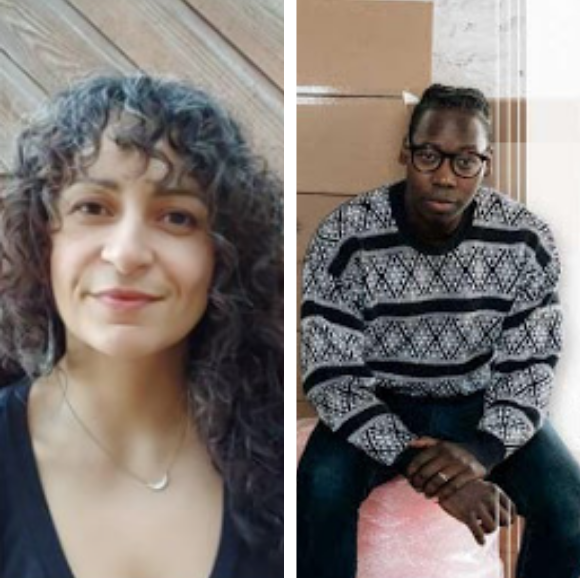 EMERGE: Design as Practice | Big Sister and Bruce Davis
Presented in collaboration with Arkansas Arts & Fashion Forum
Designers Big Sister and Bruce Davis will each present four looks inspired by Nick Cave: Until. Their work will be shown on models moving through the galleries and guests are encouraged to visit anytime during the hour to see the looks presented. The pieces are all created in response to conversations between the designers and artist Nick Cave and are developed as part of the EMERGE program with Arkansas Arts & Fashion Forum.
Friday, November 20, 6 to 7 pm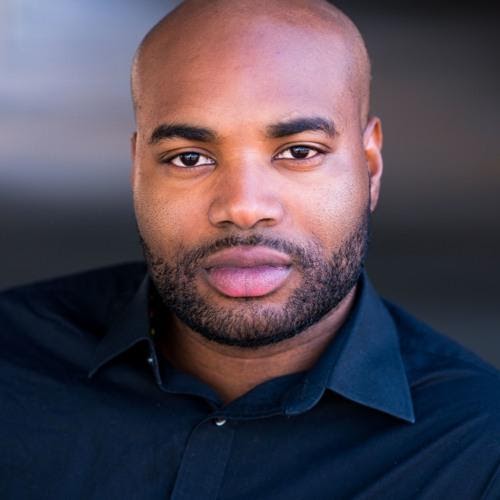 Austin Dean Ashford
Through music, spoken word, poetry, play excerpts, and discussion, Austin Dean Ashford will explore ideas of gun violence, police brutality on Black bodies, and the desire for the Black body to simply be a human body. 
Thursday, December 3, 7 pm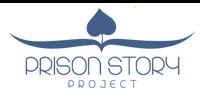 On the Row | Prison Story Project
Prison Story Project is a storytelling project that benefits incarcerated women and men. Their participants explore their truths through poetry, creative writing, literature, songwriting, and visual art. On the Row is curated into a staged reading performed by actors with the goal of enabling those who have been locked away to tell their stories. In response to Nick Cave: Until, the Prison Story Project will perform staged readings of letters from participants on death row, allowing communities to witness the humanity of people in prison through their own words. 
Free staged reading performances will take place at the Momentary during the following days/times:
Saturday, December 5, 2 to 2:30 pm

Wednesday, December 19, 2 to 2:30 pm

Saturday, January 2, 2 to 2:30 pm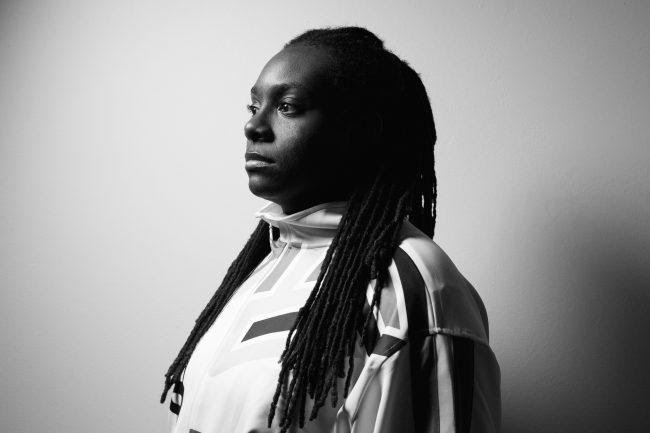 Jlin
Jlin is one of the most prominent female producers of the current generation. In response to Nick Cave: Until, Jlin has created three new tracks for the Momentary, available for listening beginning in late November until the exhibition closes on January 3, 2021.
Jlin grew up in Gary, Indiana, just 20 miles from downtown Chicago. Though she has previously used samples in her work, she now refuses to and her tracks are composed of all original material. She began producing music in 2008, and received early attention for her 2011 track "Erotic Heat". Jlin's debut album, Dark Energy, was released in 2015 to critical praise. Her follow-up Black Origami (2017) received further acclaim.
Tracks will be available through January 3, 2021. Listen to the tracks here.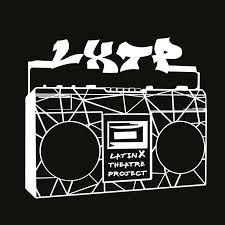 afterLIFE | LatinX Theater Project
What does heaven look like for BIPOC? LatinX Theatre Project (LXTP) will seek to flip the Euro/White/Colonialist religious iconography into a celebration of life after death. After individually responding to Nick Cave: Until, LXTP comes together as a company to build their collective story, offering up a shared community experience filled with spoken word, song, hip hop, movement, and dance. 
*Performances of afterLIFE have been postponed to a later date, to still be determined. Please check back for updates as the Momentary and LatinX Theater Project are working to find new opportunities to showcase this work.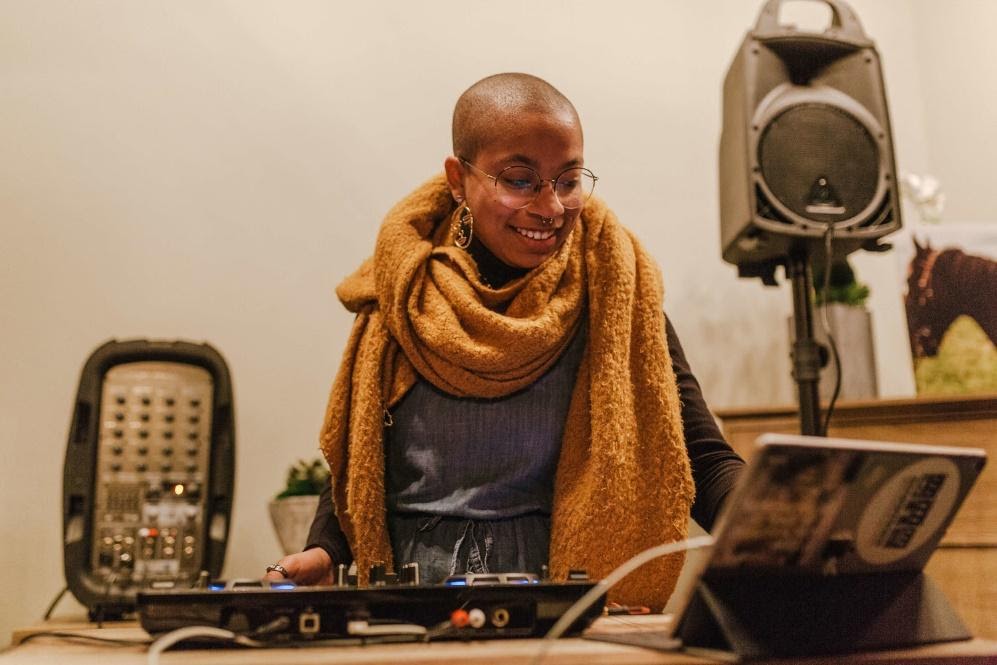 This House is All We Have | DJ Girlfriend
Sound is a sensorial experience. Who has the privilege of basking in sensation? What is the difference between hearing and listening? Through a site-specific aural experience on the Momentary's Lower Mezzanine, using the ascending and descending bodies of the guests as the vehicle, DJ Girlfriend will interrogate the crossroad of privilege, opinion, experience, and the way those inform each other. What has patience (or strength) to listen through layers of sound and discern a meaning, and whose responsibility is that? 
December 8-10, 6 to 7 pm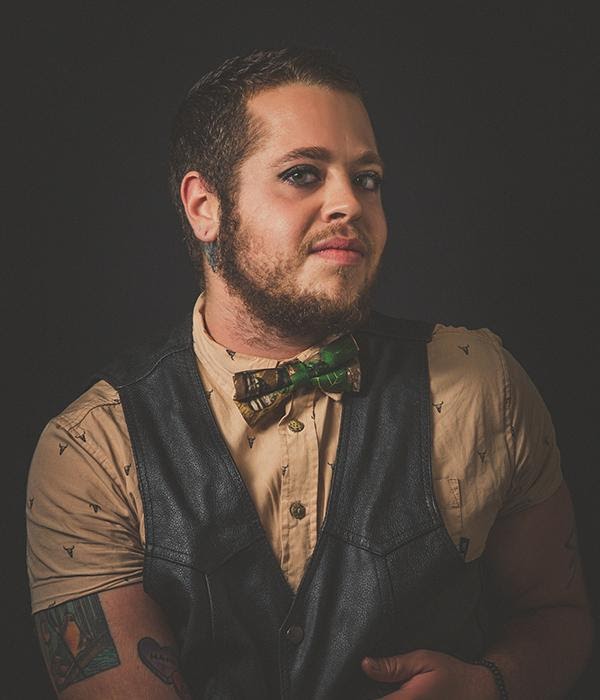 Poets Respond | Brody Parrish Craig and Lynette Thrower
How can we come together as a community to have a conversation about police brutality and truly listen to one another? 
Poets Brody Parrish Craig and Lynette Thrower will perform a poem reading at the Momentary on the night of January 2, weaving together community responses to the exhibition Nick Cave: Until with their voices to mirror the need for collective action and change.
To create this community poem, visitors of the Momentary will be invited to voluntarily share their experience with the exhibition on December 5 and 12 from 2:30 to 3:30 p.m. on the Lower Mezzanine of the Momentary. Parrish Craig and Thrower will also be collecting responses virtually through a Google Form located here through December 19.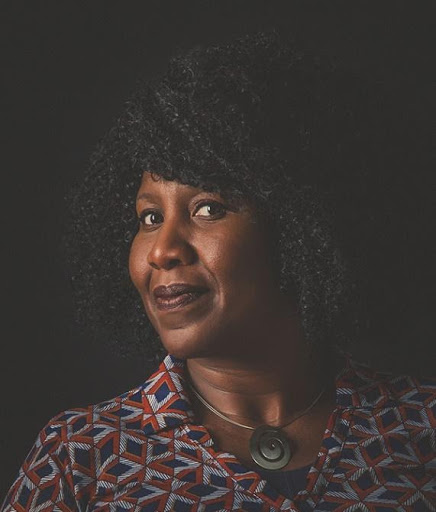 By creating space for community members to respond directly to their experience in Nick Cave: Until, Parrish Craig and Thrower will spark an honest discussion about discrimination, race, and our lived experiences as community members in Northwest Arkansas.
Saturday, January 2, 7 to 8 pm
Nick Cave: Until was curated by Denise Markonish, MASS MoCA, and organized for the Momentary by Lauren Haynes. The exhibition was organized by MASS MoCA and co-produced with Carriageworks, Sydney, Australia, and Crystal Bridges Museum of American Art. Principal exhibition support was provided by an anonymous gift. Major exhibition support was provided by the Horace W. Goldsmith Foundation, the Barr Foundation, the Mass Cultural Council, the National Endowment for the Arts, Jack Shainman Gallery, Marilyn and Larry Fields, BeadKraft, and the Robert Lehman Foundation.
Sponsored at the Momentary by Cox Communications, Goldman Sachs, Airways Freight Corp., Sarah Simmons, Anna and Carl George, Esther Silver-Parker, Visit Bentonville, Greenwood Gearhart, J&D Pallets, Atreides Management, LP, Caryl Stern and Donald LaRosa, Demara Titzer, Tony Waller, and Sue and Charles Redfield.