Past Exhibitions and Projects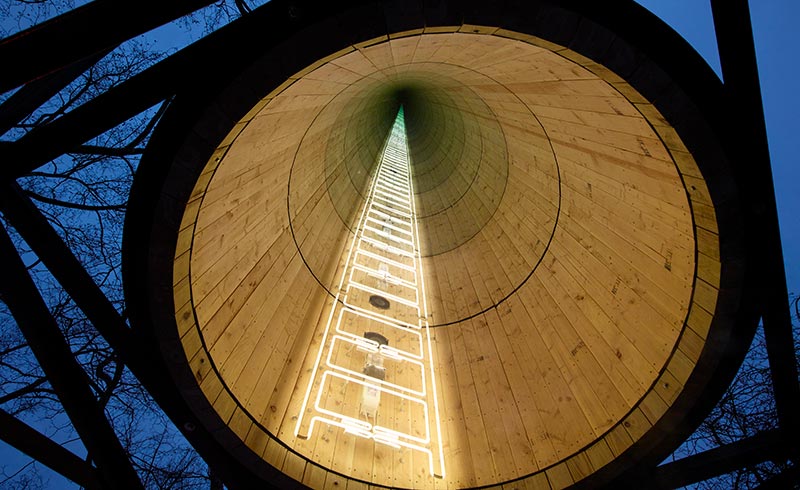 This Land is Your Land
Inspired by Woody Guthrie's iconic 1940 song of the same name, Iván Navarro's series of three water towers examines the history of migration in the Americas and the United States. During the Great Depression, the water tower became a symbol of hope and opportunity for nomadic workers. According to Navarro, "every time they saw a water tower, they jumped out of the train because it signaled economic activity in that town." Visitors can step beneath the towers and look up at the repeated messages that are inspired by Navarro's personal history as an immigrant. "Bed" recalls our most intimate form of inhabited space. The ascending ladder symbolizes progress, while the inverted words "me" and "we" reference Guthrie's call for collective belonging.
FREE: No tickets required.
Sponsored by: Olivia Tyson, Larry and Winnie Kearns, Visit Bentonville
MORE INFO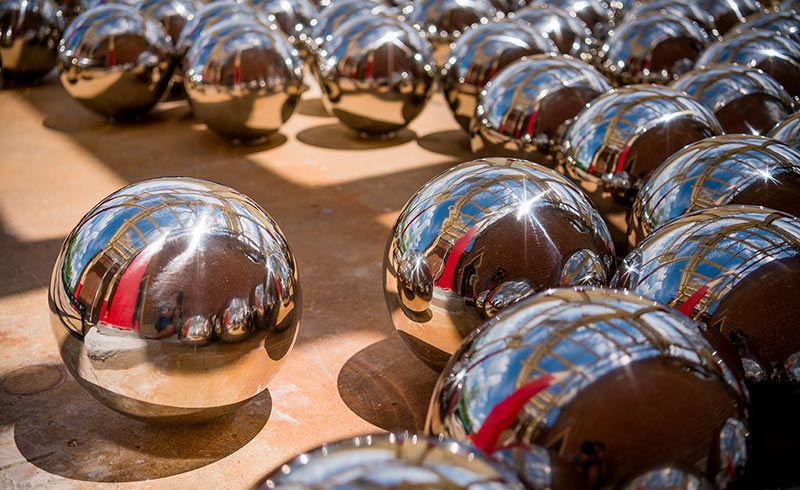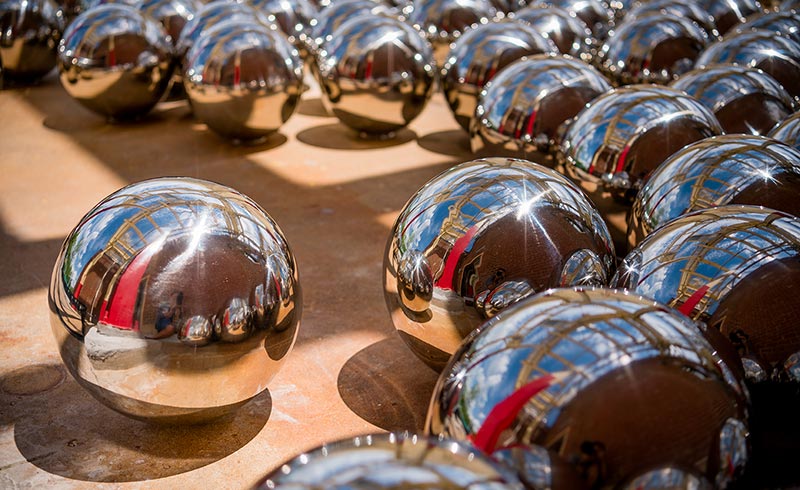 Narcissus Garden
First installed in 1966, Yayoi Kusama's Narcissus Garden invites us to slow down and appreciate our surroundings. Comprised of nearly 900 mirrored spheres, this playful installation creates unique reflections of people, architecture, and nature. The mirrored spheres symbolize those orbs that occur in nature—sun, moon, and Earth—while also referencing the polka dot, a common motif in Kusama's work. Through this mesmerizing field of possibilities, the artist encourages us to see ourselves as one sphere within an interconnected universe.
Collection of OZ Art. Courtesy of Ota Fine Art and Victoria Miro © YAYOI KUSAMA.
MORE INFO

Tower Views
In Tower Views, the Momentary presents a rotating series of videos and short films created by artists that explore various themes. The videos are projected nightly on the Momentary's Tower, located outside in the Arvest Bank Courtyard, offering a unique viewing experience with 80 feet of projection space, dynamic lighting, and sound capabilities.
DEC 13—FEB 13, 2022: Primordial 3 | Jennifer Steinkamp. Read more about the film here.
OCT 1—31, 2021: A New Between | Jaimie Henthorn. Read more about the film here.
JUN 29—SEP 26, 2021: Smash | Marilyn Minter. Read more about the film here.
APR 13—JUN 13, 2021: Jeffrey Gibson, She Never Dances Alone. Read more about the film here.
FEB 23—APR 11, 2021: Robert Wilson, KOOL Snowy Owl. Read more about the film here.
JAN 21—FEB 14, 2021: Nick Cave, Drive-By Remix. Read more about the film here.
FREE: no tickets required